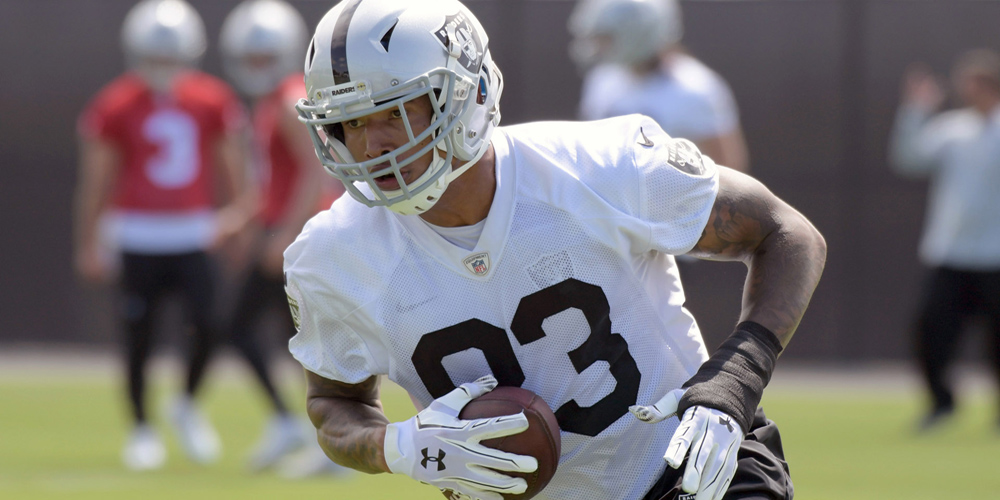 12 Fantasy Football Sleepers for 2019
---
The phrase "Fantasy Football Sleeper" is fraught with danger for those who use it. Some folks out there are bestball junkies and have already drafted hundreds of leagues, living a life that includes a deep knowledge of runnings backs available in 16th-round of a 12-team fantasy draft. Others are in just a couple of redraft leagues that don't even have a 16th round, those who may be just starting to read some articles on the current crop of rookie wide receivers. One man's sleeper tight end is another man's "Seriously bro? I was drafting Darren Waller in the 24th round in February" (spoiler alert: Darren Waller gets some love in this piece).
For the purposes of this article, we're going to define "sleeper" as any player available after pick 150 by ADP in a PPR scoring format. This was originally going to be 10 sleepers, but removing two players from my list turned into a Sophie's-Choice-style dramatic meltdown. So guess what? Here are 12 sleepers going into the 2019 fantasy football season. That's right. That's how much I love you.
Sam Darnold, QB, New York Jets - ADP 162
Sam Darnold experienced his share of struggles during his 2018 rookie season, finishing as fantasy's QB27 with 2,865 passing yards, 17 touchdowns, and 15 interceptions. Out of context, these stat's do not scream "THAT'S MY GUY" when it's your turn to pick in the 14th round. Context is important here, such as the fact that Darnold is one of only 11 quarterbacks since 1970 to play their rookie season at age 21, and his was the second-best season statistically among that group. You'd also like to see in-season improvement in a quarterback you expect to take a leap forward in their sophomore season, and that's exactly what you get with Darnold. Over his last four games from Week 15 to Week 17, Darnold's 64.94 fantasy points were 15th most at the position, with six touchdowns to go along with just one interception. The Jets spent quite a bit of capital improving the offense around Darnold during the 2019 offseason, bringing in Le'Veon Bell at running back, highly-efficient slot receiver Jamison Crowder, and returning Robby Anderson and Quincy Enunwa as well as ascending tight end Chris Herndon (following a four-game suspension to start the season). Early preseason offensive formations would seem to indicate that new head coach Adam Gase will lean more heavily on the passing game than the 2018 Jets did, which should only help Darnold's fantasy prospects. You may not want to rely on Darnold as your QB1, but you don't have to. If you spend a pick in the Round 8-12 range on a QB1 and target Darnold in the 13th or 14th round, you have the freedom to use the all-important middle rounds to stock up at the skill positions and still end up with a quarterback who has a path to match the performance of QB2 prospects being drafted far earlier.
Tre'Quan Smith, WR, New Orleans Saints - ADP 163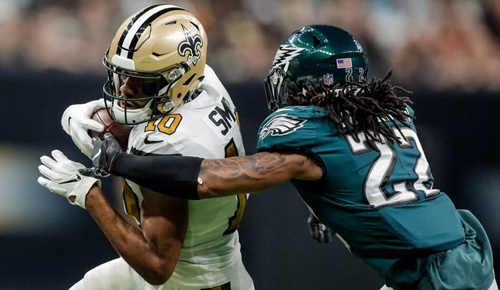 There's been quite a bit of buzz this offseason about most of the second-year wide receivers from the class of 2018. D.J. Moore, Calvin Ridley, Courtland Sutton, Christian Kirk, James Washington; all worthy targets in the earlier rounds, but based on ADP, Tre'Quan Smith is being treated like a piece of radioactive graphite from the Chernobyl disaster. Smith caught 63.6% of the passes thrown in his direction and averaged 15.25 yards per reception. To put that in perspective, only 68 total rookie wide receivers have caught over 60% of their targets since 1970, and Smith's yards per reception figure is the 10th-highest among them. Drew Brees had the third-highest completion percentage on passes of 20-plus yards, while Smith posted a catch rate far above the league average on targets of 20-plus yards. New Orleans scored the third-most points per game in 2018, and the potential for Smith to increase his target share in 2019 in his second season in the offense is wildly enticing in the 14th round of your fantasy draft.
Kenny Stills, WR, Miami Dolphins - ADP 164
Kenny Stills was the fantasy WR45 in 2018 on a disastrous Miami Dolphins offense that was 26th out of 32 teams in points scored per game. Stills is a blazing-fast deep threat with 4.38 speed, further bolstered by his average of 12.4 air yards per reception, seventh among all wide receivers last season. The Miami Dolphins may not offer the promise of a high-flying offense to maximize the skillset Stills possesses, but he's being drafted as the WR70, while Miami has a new coaching staff led by Brian Flores and one of either Ryan Fitzpatrick or Josh Rosen as their new starting quarterback. He's a worthy choice should he remain in Miami, but if rumors of Stills' possible trade or release prove founded, there's a near-zero chance that his new team wouldn't be an upgrade over his current surroundings. At his current ADP, he offers arguably more upside than any of the wide receivers in his neighborhood.
Marqise Lee, WR, Jacksonville Jaguars - ADP 180
Marquise Lee tore his ACL in the preseason a year ago, so you should ignore him completely in drafts in 2019 because he got hurt, and if you don't have any game-changing memories of him in the last 365 days, he should rightfully disappear from fantasy reality as if he were Thanos-snapped from existence. It's definitely not worth noting that he was the fantasy WR42 in 2017 on 96 targets, the fantasy W43 on 105 targets in 2016, but he's currently priced as the WR77 by ADP, despite the fact that he's a year removed from his ACL repair, he'll be receiving targets from Nick Foles instead of Blake Bortles, and he was recently activated to the Jaguars roster despite earlier concerns that he would start the season on the PUP list. Also, his 1.78 yards per route run in 2017 was 30th among all wide receivers. Please disperse, there's nothing to see here, nothing to see here.
Jalen Richard, RB, Oakland Raiders - ADP 190
Jalen Richard is technically a running back, and he will get carries here and there, but the majority of his work is done as a receiver. In 2018, receiving yards made up 70% of his total yardage, and he finished the season as the PPR RB43. While he dominated snaps on third downs in 2018, he wasn't just a third-down running back. Richard also saw the majority of targets among the Oakland running backs on passes on first and second downs as well. The Raiders replaced their primary rushing duo of Marshawn Lynch and Doug Martin with rookie Josh Jacobs this offseason, and while Jacobs should be more of a receiving threat than the running backs he's replacing, it's unlikely that he threatens Richard's receiving role significantly. The Raiders only targeted their running backs 13 total times in the red zone last year, which partially explains Richard's zero touchdowns, and while there's no reason to expect this tendency to shift massively, even a slight shift toward the mean should equal positive touchdown regression for Richard. The addition of Antonio Brown and Tyrell Williams to the Raiders wide receiving core along with Darren Waller taking over as the starting tight end should open up the passing game and create far better scoring opportunities than the offense saw in 2018. Richard is being drafted as the RB68, 25 spots behind his 2018 actual finish at the position, despite what projects to be a much better surrounding offense. Draft him in the 16th round with a smile.
Jaron Brown, WR, Seattle Seahawks - ADP 198
The wide receiver corps that the Seahawks will enter the season with is not what they had planned when training camp began. Rookie D.K. Metcalf is likely to miss some time after minor knee surgery while returning veteran David Moore will also miss some time with a slight hairline fracture in his arm. Tyler Lockett will return as the team's WR1, and to start the season, veteran Jaron Brown will start opposite of him as the WR2. Brown showed some flashes early in the season in 2017 with the Cardinals but never passed three receptions after Week 4. He saw light usage after signing with Seattle in 2018, but did manage to score five touchdowns on six red-zone targets, part of only 19 total targets on the season. While it may give you pause to target wide receivers on one of the run-heaviest teams in 2018, signs point to a greater reliance on the passing game this season. Not only did Seattle look to improve Wilson's receiving options in the offseason, but they also lost key players from their once-dominant defense. Allowing more scoring by their opponents will force the Seahawks to keep up via the passing game, even if it's done kicking and screaming. Jaron Brown is going undrafted in the majority of fantasy leagues, and the Seahawks open their season with games against the Bengals, Steelers, and Saints. It's time to get on Jaron.
Ryquell Armstead, RB, Jacksonville Jaguars - ADP 215
The Jacksonville Jaguars project to utilize their lead running back heavily, and Leonard Fournette can stay healthy for 16 games, he should be a fantasy RB1 and relegate rookie backup Ryquell Armstead to handcuff-only status. The problem with the "stay healthy" part of the previous sentence is that Fournette has yet to play 16 games, and he's the 11th-most likely running back to succumb to injury according to sportsinjurypredictor.com. He had a hamstring strain twice in 2018, the kind of soft-tissue injury that tends to reoccur. He's also on thin ice with the team, after they voided any remaining guarantees in his contract after he was suspended following an in-game fight. Enter Ryquell Armstead, Jacksonville's fifth-round rookie running back with 94th-percentile 112.2 speed score, who could see significant opportunity should Fournette miss any time.
Chase Edmonds, RB, Arizona Cardinals - ADP 219
Chase Edmonds role going into 2019 looks to be similar to what it was in 2018: help take some of the load off of David Johnson. If your draft has a 19th round, that's where he's going, which means he's mostly going undrafted. Edmonds's skill as a pass-catcher means that he's capable to cover for any of the play calls that Johnson would operate in, and should Johnson miss any time with injury, Edmonds would immediately become one of the most in-demand waiver pickups. What makes Edmonds more interesting even with a healthy David Johnson is the new offense that Kliff Kingsbury and the Cardinals will be operating with. The "Air Raid" offense seeks to spread out the defense, regularly operating with four receivers along with a running back. This should keep Cardinals running backs from seeing many stacked boxes, but Kingsbury's offense is also expected to incorporate an extremely high tempo (and therefore volume) of plays, which in turn should present more snaps for Edmonds even if his percentage of total running back snaps stays static. If a modified Air Raid offense translates successfully, you're going to want a piece of it for fantasy, and Edmonds is a very inexpensive way to get one.
Jake Kumerow, WR, Green Bay Packers - ADP 234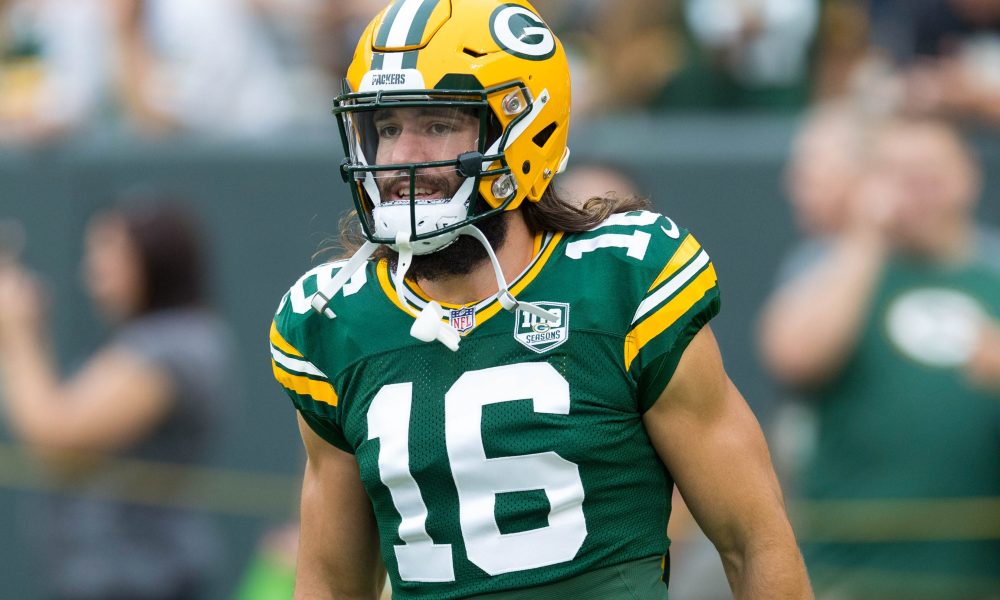 Jake Kumerow spent the first few seasons of his career bouncing from one practice squad to another before landing in Green Bay at the close of the 2017 season. Kumerow impressed in the Packers' first two 2018 preseason games, securing a combined 6 receptions for 190 yards and two touchdowns. He was placed on IR after injuring his shoulder during his second touchdown, but was designated to return and flashed in Green Bay's Week 16 game with 68 yards and a touchdown on three receptions. Kumerow now looks to have locked up a roster spot as the WR4, if the Packers' Preseason Week 3 snap counts are predictive, and Green Bay's offense with Matt LaFleur at the helm should be one you want to invest in. When you're a 6'5" wide receiver getting accolades from your head coach and love from Aaron Rodgers, you're gonna have a good time. Kumerow is available in the final round of the many bestball leagues and will go undrafted in all but the deepest redraft leagues.
Gerald Everett, TE, Los Angeles Rams - ADP 252
Sean McVay coached the Los Angeles Rams into a spectacular 2018 season that saw them reach the Super Bowl, with an offensive game plan based primarily in 11-personnel usage (three wide receivers, one running back, and one tight end). It worked remarkably well throughout the regular season until Bill Belichick's defense dismantled it almost entirely in the Super Bowl. Sean McVay is talented enough to know that he will likely need a contingency plan if other teams successfully use that defensive scheme as a blueprint, and one probable solution is an increase in the usage of 12-personnel (two wide receivers, one running back, and two tight ends). If they do this, Gerald Everett should see more opportunity as a receiving option, which would significantly increase his value. Everett isn't a target as your TE1 among the deep group of receiving options in Los Angeles, but after having finished as the TE22 last season, he's a worthy pick as your TE2 with upside. He's got the added benefit of being available in the last round of drafts (or on the waiver wire if you only draft one tight end), leaving you with more ammunition to target running backs and wide receivers in the mid-to-late rounds.
Darren Waller, TE, Oakland Raiders - ADP 343
As I promised earlier, here is some love for Darren Waller. A converted wide receiver, the 6'6" 256-pound tight end knows his way around a route tree, and his workout metrics are truly something to behold. His worst score lands him in the 82nd percentile. The only reason Waller is available here is due to his past struggles with drug abuse and addiction that cost him the entire 2017 season, and he's only playing for the Raiders because they were able to sign him off of the Ravens' practice squad late last season. While there may be a risk of a relapse, all indicators are that Waller is committed to sobriety and giving everything he has to take advantage of what might be his last chance in the league. Count me among the people who want to see him succeed as a human being, and as a fantasy asset, Waller may incinerate his ADP. Tight end Jared Cook put up 125 fantasy points in this offense in 2018, good for the TE5 overall, so Waller's potential under John Gruden and Derek Carr has an immense ceiling. Take a shot on him in the final round of your draft, because if his breakout comes to fruition, it should be massive.
KeeSean Johnson, WR, Arizona Cardinals - ADP 374
Remember that Air Raid offense you read about earlier? Again, you're probably going to want a piece of it, and they don't come any cheaper than wide receiver KeeSean Johnson. Johnson's workout metrics are somewhat less than exciting, but it ultimately may not matter if he's finding ways to get open and he's getting target volume. Reports indicate that Johnson will enter the season as Arizona's WR3, and given their expected offensive tendencies, this means he will be on the field for the vast majority of the Cardinals' offensive plays. Despite this reality, Johnson's bestball ADP has barely cracked the 19th round, while his redraft ADP makes him undrafted even in that league your cousin brags about that has a 30-round draft and 18 starters (spoiler alert: he's lying). You can almost certainly pick Johnson up off of waivers post-draft, but be ready with that mouse-clicking finger, because aside from a daunting Week 2 matchup with the Ravens, the Cardinals are projected to face one of the easiest pass defense schedules in the league up until their Week 12 bye. If he hits, it should happen early.
---
Dominate Your Fantasy League!
Become a member at FantasyData and get access to the industry's best fantasy football subscription available!
---
STAY IN TOUCH
Sign up for FantasyData's newsletter and get awesome content sent to your inbox.
We'll never share your email address and you can opt out at any time, we promise.
---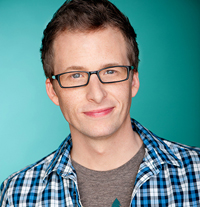 I'm just a guy who was born in Massachusetts and went to college in Minnesota (Macalester College) and moved to New York and then went to grad school in San Francisco (The American Conservatory Theater) before moving back to New York and finally to Los Angeles. I began playing fantasy football in a single league in 2001, which quickly grew into multiple leagues and has continued into just about every form that fantasy football takes today (no developmental leagues yet). My strong opinions are loosely held, always trying to get better.