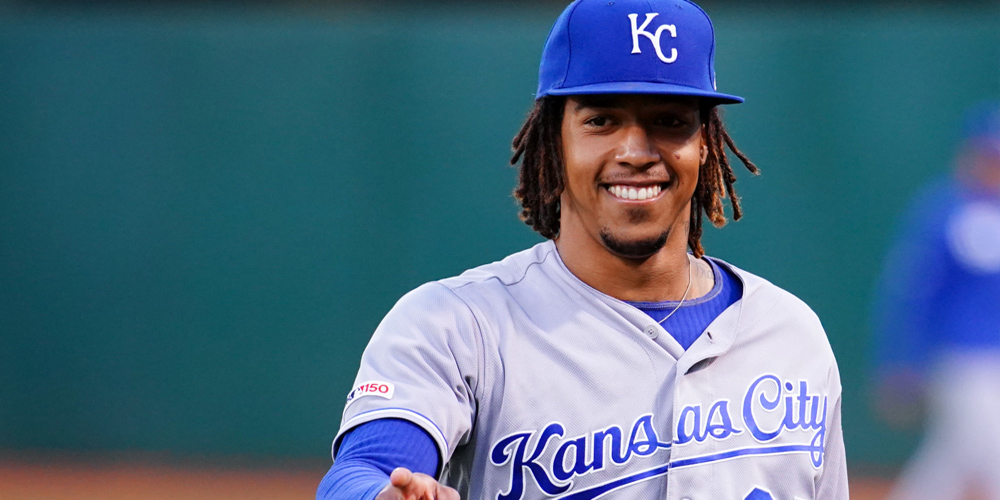 Adalberto Mondesi Fantasy Profile 2020
---
Adalberto Mondesi Fantasy
Coming into the 2019 season, Adalberto Mondesi was one of the most hyped-up fantasy players in the MLB. Everyone saw the stats he tallied in less than a full season of work and fantasized about a 20-60 season that would propel their team to the top of the stolen base category while not bringing them down in other categories (unless you are playing in an OBP league). While Mondesi put up very useful statistics last season, he did not quite fulfill his lofty price tag in drafts and auctions due to regression in his power statistics and a shoulder subluxation that led to season-ending surgery.
Now it is 2020 and Mondesi's fantasy perspectives are amongst the most polarizing in the game. Out of the 19 experts that have already submitted their rankings, Mondesi has the highest variance of where is he ranked amongst the top 50 hitters. He is ranked as high as the 14th best positional player (18th overall) and as low as the 81st (127th overall). Why all this confusion about Mondesi's value?
🗣️ Adalberto Mondesi is tied for the @MLB lead in triples and has the second most steals in the Majors.#AlwaysRoyal pic.twitter.com/y9qDuuMmSI

— Kansas City Royals (@Royals) September 17, 2019
For one, I believe that the stolen base category is the offensive category that is consistently valued with the most variance on a year-to-year basis because stolen bases do not correlate strongly with other categories in a 5x5 league besides runs to a moderate degree. Some owners may feel confident about somewhat tanking the category a going stronger elsewhere. Not a bad strategy, but I typically try to win all of the batting categories and manipulating the standings on the pitching side.
Secondly, players with a recent injury are subject to criticism. Some owners may want to stay away at all costs barring an incredible drop in price, while some owners may view it value play. It depends on the specific owner's risk tolerance as well as the specific type of injury that the player endured. Mondesi initially sustained a left shoulder subluxation during a dive of a popup. He rehabbed his shoulder for six weeks before making his return. He then played in 19 games before tearing his labrum in his left shoulder while diving for a ground ball. Ned Yost, the Royals manager at the time, believed that surgery was inevitable after he injured himself the first time. "This is really the best-case scenario," Yost said. "I didn't think this was unavoidable. So, it is better that it happened now rather than sometime in the offseason or during Spring Training. He'll have the surgery now, get it fixed, and be ready by Opening Day." Royals GM Dayton Moore recently said he expects Mondesi to be ready by opening day.
Adalberto Mondesi On Track For Opening Day https://t.co/qBjqOnXjT3

— RotoBaller MLB (@RotoBallerMLB) February 20, 2020
How will his injury affect his hitting? To be honest, that is an impossible question to answer. After coming back from his first injury, Mondesi had the highest average exit velocity month of his career at over 90 MPH; so, it didn't seem to affect him negatively. Surgery is another beast, however. A positive is that the shoulder he got surgery on is his left shoulder. Given that Mondesi is a switch hitter, he takes most of his at-bats as an LHH, so it is better for his outlook that he hurt his back shoulder rather than the front. There is some risk that his power will diminish somewhat.
There is no getting around this: Mondesi's hitting metrics are downright UGLY. His plate discipline and contact skills are the most concerning. Out of the 451 hitters who had at least 100 PA, Mondesi had the 35th highest chase rate and the 13th highest swing and miss percentage. That is a combination that will lead to a ton of strikeouts and cap his batting average upside. Aging curves suggest that these skills, on average, improve as a player heads to his mid-to-late 20s. The fact that Mondesi is just 24 years old leads me to believe that he will improve on these skills. That is not to say I think he will be anywhere near average, but an improvement is an improvement.
What makes Mondesi attractive is his speed. According to the Statcast, he is in the 99th percentile for sprint speed. With a new manager in Mike Matheny, there have been some worries that he may not get the green light as often. I am not worried about that. There are no analytical ideas that suggest one of the fastest players in the league, with a career 84% success rate, should not have the green light at almost any scenario.
Stolen bases are gold in modern-day fantasy baseball. In 2019, there were 2280 SBs throughout the MLB. If you exclude the 1994 and 1981 strike seasons, that is the lowest total since 1973. Compare that to the number of home runs last season, 6,776. A stolen base is a lot more valuable than a home run. Mondesi was three SB shy of leading the league last year in just 102 games. The one player with more steals was Mallex Smith, who is a strong negative in every other category. Realistically Mondesi has a shot at 65+ if he remains healthy.
Verdict: For the average owner, I would avoid the risk. If you are not very adept at finding strong value plays at the end of your drafts, then I don't believe Mondesi is worth the risk. If you are a prepared owner that has confidence in your ability to get substantial value plays later in the draft/auction, then I consider him worthy of an upside 4th round pick and a target in auction leagues.
Recommendation: If you draft Mondesi, surround him with several other players that produce a decent number of stolen bases. This way, you can establish an early and sizeable lead in the stolen base category and look to trade Mondesi around June. There are going to be owners that are stolen base deprived and willing to overpay for Mondesi. At that point, you will have hopefully already cashed in a good number of stolen bases from Adalberto and have enough support from the rest of your team to keep you amongst the leaders for the remainder of the season.
STAY IN TOUCH
Sign up for FantasyData's newsletter and get awesome content sent to your inbox.
We'll never share your email address and you can opt out at any time, we promise.
---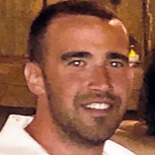 I grew up a Mets, Jets, Knicks and Islander fan. Those teams are on a cumulative 103 season championship drought since being born. Currently, I am a graduate student studying data science in order to improve my chances of obtaining my dream job of working in an MLB front office. I have two years of interning experience with MLB teams (Mets and Rangers). Always seeking market inefficiencies in fantasy, sports betting and life. DFS player since the early Draftkings days.