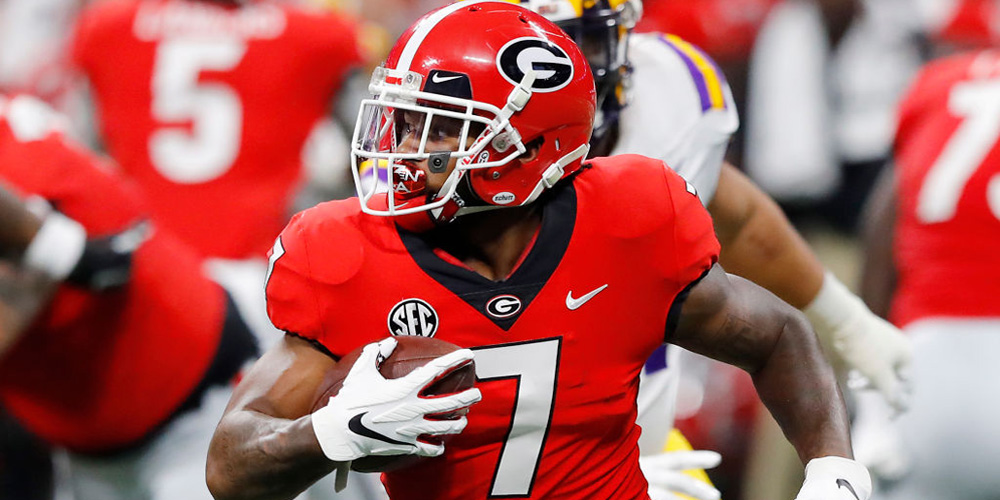 The Best and Worst Possible Landing Spots for 2020 NFL Rookie Running Backs
---
Rookie Running Back Breakdown in 2020 Draft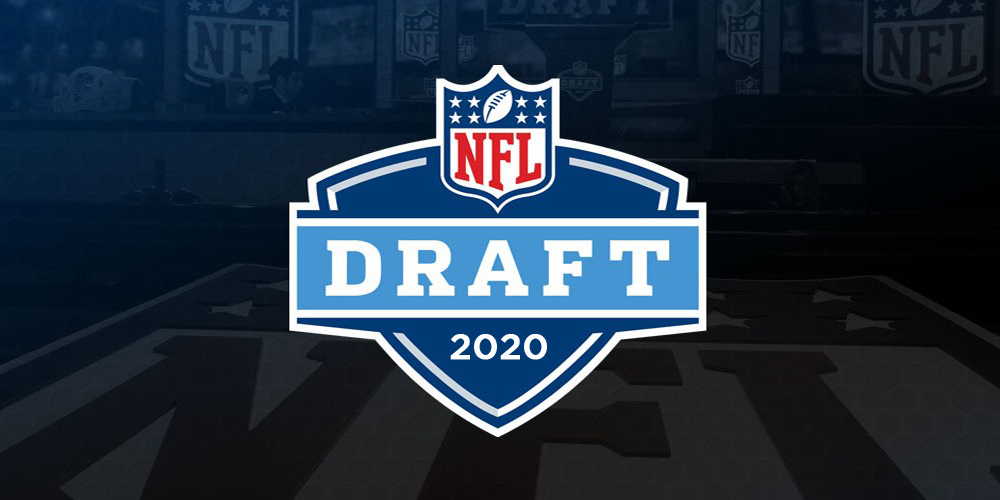 The NFL draft is just days away as rookies wait to see what organization they're going to play for, what scheme they're going to be plugged into, and who their teammates/competition is going to be. That last part is why Fantasy players are on edge and why they should be extremely excited by the possibilities of the 2020 NFL draft. Who an NFL rookie plays for, and with, will have a huge impact on their Fantasy potential, both in yearly and Dynasty leagues. That is what makes the 2020 NFL draft one of the best in years for one of the neediest positions in Fantasy football - Running Back.
According to ESPN.com's Mel Kiper, there are only three running backs ranked in the top 32 overall players, and he projects only D'Andre Swift of Georgia to be drafted in the first round (to Kansas City with the 32nd selection). That means that every backfield situation in the NFL is a potential landing spot for every potential rookie running back. Certain possibilities are more likely than others while some situations are better or worse than others as well. That's what we are here to address. The Good, the Bad, and the Ugly landing spots for rookie running backs in the 2020 NFL draft.
The New Normal at Running Back
Bell-Cow, dual-threat, three-down running backs like Saquon Barkley or Dalvin Cook are few and far between in today's NFL because of the physical demands of the position and because NFL teams have come to believe that "managing" the touches, targets, and snaps of their top runner is the best way to get their best Sunday. This relatively new approach has led to fewer touches and targets for individual players and more "running back-by-committee" situations for Fantasy players to navigate. There is nothing worse than hearing on Monday or Tuesday, or Friday or Saturday for that matter, that a coach has decided that he is "going to go with the hot hand."
Being drafted into a "running-back-by-committee" situation, like in New England or Chicago or Cleveland could kill the potential of even the most talented running back while falling into the lap of a non-contender with a gaping hole at RB has the potential to be a windfall for Fantasy owners. It's strange to say but where a player plays might be more important to their Fantasy futures than their talents or specific skills. Aaron Jones in Green Bay, as well as Kenyan Drake in Miami, are good examples. Fantasy players have been screaming for these teams to unleash these players for years and, finally, in 2019, we saw why. Unfortunately, many Fantasy players drafted these talented runners in 2016,2017, and 2018 and got almost nothing.
The Math of Fantasy Viability
The NFL has become a passing league like never before and running backs are both benefiting and suffering as a result. Pure runners are having their touches reduced enough to impact their value while pass catchers and dual-threat playmakers are seeing their touches and targets increase enough to turn what was once a "change-of-pace" player into a viable Fantasy contributor.
There were 20 running backs that rushed the ball 200 or more times in 2019, only 14 in 2018 and 18 in 2017. In a league of 32 teams, in one season of the last three, less than half of NFL teams had a rusher attempt 200 carries and the other two seasons there were less than 2/3rds of the league handing it off at least 14 times per game to one running back. Running backs like Tarik Cohen and James White are viable, low-end RB2's or Flex starters because they play enough snaps, receive just enough touches to contribute in total yards, and receive enough targets and receptions in Point Per Game (PPR) formats to be viable.
In 2019, 29 of the top 50 Fantasy running backs had fewer than 200 rushing attempts, 18 of the top 50 had at least 40 receptions and 31 running backs had 40 targets or more. Eight of the top 25 Fantasy scoring running backs had fewer than 200 carries and only three ranked between 26-50 had more than 200 carries. Fewer running backs justify a first-round pick, in either the NFL draft or Fantasy ones, and more than ever before we are finding serviceable options at much more reasonable draft costs. This is what makes this years NFL draft so fascinating at the running back position for Fantasy players.
There are only three running backs that rank in the top 32 according to ESPN.com's overall draft rankings and Mel Kiper has the first running back, D'Andre Swift of Georgia, being selected 32nd overall by the Kansas City Chiefs. There isn't a Saquon Barkley or Christian McCaffery, or even a Nick Chubb, in this years draft which means that every team in the NFL will have an opportunity to draft the best running back on their boards if they choose to. That means that all 32 running back situations could be your Fantasy players opportunity to thrive or the unfortunate place where their skills will be underutilized and potentially road blocked.
The Running Back "Types"
There are three basic types of running backs. Three-Down Running Backs, Plodders (or Rushers), and Pass Catchers. There are a few players that are almost exclusively one type or the other, but most are hybrids or varying degrees of a Plodder and a Pass Catcher. Three-Down Running Backs are exceedingly rare.
Three-Down Backs
Examples: Saquon Barkley/Dalvin Cook
A player talented enough to run around the edge, between the tackles and to catch the ball out of the backfield while being durable enough to manage a full workload of snaps. There aren't many true three-down backs. Durability is an important part of being one, but they also need to be able to pass protect, run between the tackles and be as good or a better playmaker in the passing game than smaller, quicker pure pass-catching running backs. They are the elite of the elite in most cases.
"Plodders" or Pure Rushers
Examples: Derrick Henry/Jordan Howard/Frank Gore
Not all running backs can catch the ball out of the backfield or handle the brutal physical toll that 200 carries a year takes, but these guys are viable because they can. There were 20 running backs that toted the rock 200 times or more in 2019. There isn't a ton of upside or "sizzle" on draft day for these guys but they are cost-efficient and Fantasy viable, especially in non-PPR formats.
Pass Catchers
Examples: James White/Tarik Cohen
They are normally quick and athletic but lack the size to consistently run between the tackles or manage a full-time workload running the ball. These players are athletic and it's easy to dream on their upside and potential, but they often prove just how difficult it is to be a true "Three-Down Back." Devonta Freeman was a "Pass Catcher" that flashed the potential to be a "Three-Down back" a season or two. Aaron Jones finally did it in 2019, we'll see if he can repeat it. Freeman was only able to do it twice. Austin Ekeler will be the next "hybrid" to prove it's possible or how difficult it is in 2020.
In the 2020 draft, here are examples of the three "types" of running backs.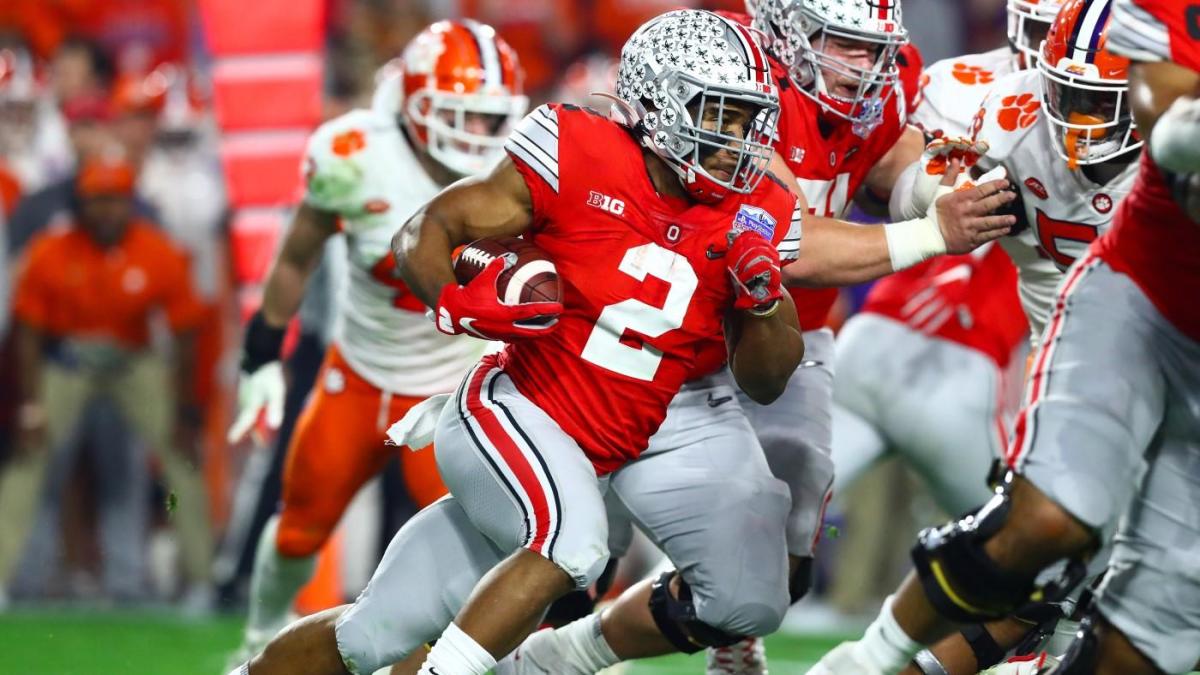 Three Down Rookie Running Backs
J.K. Dobbins, Ohio State Buckeyes
ESPN.com Ranking: #28
Dobbins has the potential to be a "three-downer" because of his power, open-field playmaking potential, and plus the ability to pass block. His below-average pass-catching skills could result in Dobbins being more of a "plodder" than a "three-downer," making him a "Plodder with Potential."Even though he is ranked in the top 32 overall by ESPN.com, he isn't projected to be drafted in the first round.
D'Andre Swift, Georgia Bulldogs
ESPN.com Player Ranking: #17 | Projected: Kansas City Chiefs #32
He has all the tools and the athletic ability to be a three-down back while lacking the transcendent potential to force an NFL team to select him in the top 10, like a Saquon Barkley. Swift is the only true, pure "Three Downer" in the draft. There are "Three Down" hopefuls, but only Swift projects to be one the first day they arrive in the building.
Jonathan Taylor, Wisconsin Badgers
ESPN.com Ranking: #30
Similar strengths and weaknesses to Dobbins with the exception of pass blocking, which is a meaningful weakness in Taylor's current profile. He is a "Plodder with Potential."
Other Potential "Three Downers"
Clyde Edwards-Helaire, LSU Tigers (Ranked #34)

Cam Akers, Florida St Seminoles (Ranked #54)

Rookie "Plodders" or Pure Rushers
Zack Moss, Utah Utes
ESPN.com Ranking: #58
He is a prime example of the rushing part of a "committee" situation. He isn't a bruiser like Derrick Henry and he lacks the pass-catching ability to dream on his upside, but he has the skills to contribute.
AJ Dillon, Boston College Eagles
ESPN.com Ranking: #87
Dillon is the poster boy for plodders. He is big and bulky while lacking the quickness, explosiveness and pass-catching skills to be an elite running back. With a good offensive line creating holes he does have enough explosion to take advantage.
Other Potential "Plodders"
Ke'Shawn Vaughn, Vanderbilt Commodores (Ranked #92)

Eno Benjamin, Arizona State Sun Devils (Ranked #176)
Rookie Pass Catchers
Running backs that can be categorized as pass catchers, regardless of how explosive they might be, aren't Day One draft picks or often selected in even the first three rounds. A running back like the Washington Huskies Salvon Ahmed has explosive playmaking potential in the passing game and yet ESPN.com ranks him #134 overall. There will be plenty of these types of running backs drafted and when we see where they land we will have that for you, but I am not going to run down the numerous scouting reports here pre-draft. There are teams that need this type of player and each team will decide which one is their preference. We care about the "type" of running back more than the specific player in this article.
Here are the best, worst and a few interesting places rookie running backs could land in Thursday's NFL draft.
Best Rookie Running Back Opportunities
Because so many teams want to split the distribution of their touches and targets to multiple running backs with specialized skills it's difficult to find great landing spots, but there are a few that stand out from the field.
Los Angeles Rams
Rostered Running Backs
Darrell Henderson - Malcolm Brown
Todd Gurley and Brandin Cooks are gone while Darrell Henderson and Malcolm Brown are all that remains for a rookie runner to compete with for touches and targets. That's very good. The Rams ranked 18th in rushing attempts in 2019 and eighth in 2018. That's good times two.
A Three-Down back like D'Andre Swift would be a Home Run for Fantasy owners while Plodders with Potential like J.K. Dobbins, Jonathan Taylor, or Clyde Edwards-Helaire and his pass-catching ability would all be in a great place to succeed the day they arrive in the building.
Plodders and Pass Catchers would be Fantasy viable as well, but there is a great opportunity for a future first-round Fantasy pick if the Rams were to draft one of the top running backs in this draft. D'Andre Swift could be a 2019 Josh Jacobs type guy in 2020 as a Ram.
Tampa Bay Buccaneers
Rostered Running Backs
Ronald Jones - Dare Ogunbowale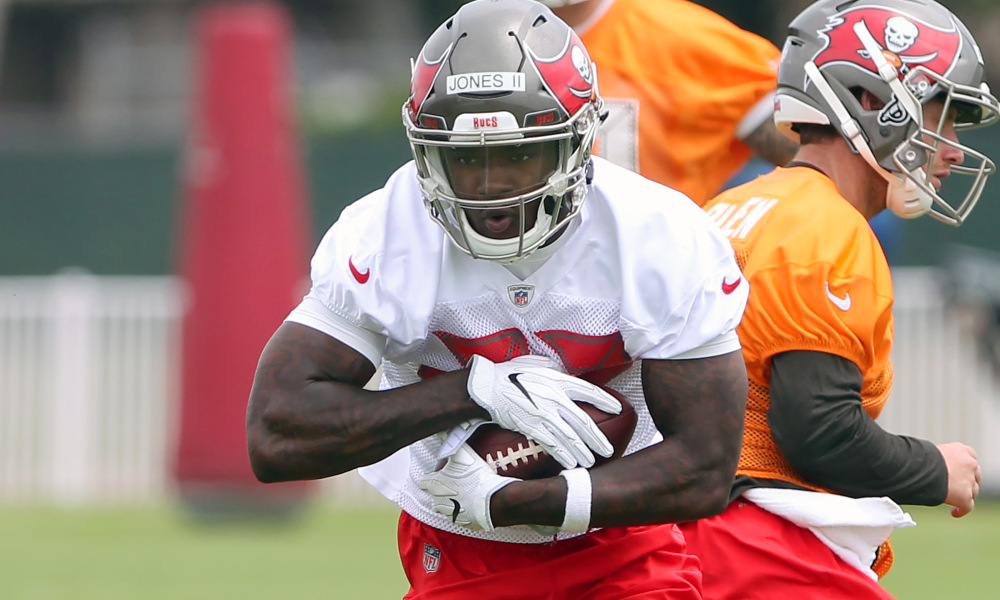 The most appealing aspect of being a Bucs rookie running back is the lack of competition for touches and targets followed by how explosive their passing game has the potential to be. If you can't outplay Ronald Jones or Big O then you weren't a viable Fantasy player to begin with. And, it's easy to see how Chris Godwin, Mike Evans, and newly acquired Rob Gronkowski with Tom Brady quarterbacking the thing will create significant mismatches and easy opportunities for chunk yards from a dual-threat running back.
The Bucs ranked 22nd in rushing attempts in 2018, but they ranked 15th in 2019. A Plodder that struggles to pass protect who can't play in the passing game would be a waste of a prime opportunity while a Pass Catcher or Plodder with Potential that can block like J.K. Dobbins could be a low-end RB1 or legitimate RB2 in 2020.
Interesting Rookie Running Back Opportunities
In 2019, in a 32 team league, only two running backs rushed the ball over 300 times and only 20 rushed at least 200 times. At the same time, 15 were targeted at least 60 times in the passing game, 14 had 400 or more receiving yards and five caught at least 60 passes. A lot of types of running backs are receiving enough touches and targets to be Fantasy viable and because of that there are a lot of "interesting" landing spots for rookie running backs in the 2020 draft.
Here are a few of them:
Philadelphia Eagles
Rostered Running Backs : Miles Sanders - Boston Scott
In 2019, the Eagles ranked seventh in rushing attempts, 11th in rushing yards and 14th in rushing touchdowns and they did it all without an impact rusher on the roster. I am not sold on Miles Sanders as a Three-Down back or a consistent 175+ carry RB even though he did do that as a rookie and with Jordan Howard gone, there is a lot of potential for a rookie in Philly in 2020. Sanders would eat into the upside of a Three-Down guy like D'Andre Swift, but a Plodder with Potential like J.K. Dobbins or Jonathan Taylor could be lined up for 150-200+ carries and meaningful Fantasy value in 2020. The Eagles rank as "interesting" rather than one of the best because of the potential of Miles Sanders. He had a very good rookie campaign, both rushing the rock and receiving it, but I am not convinced that he can consistently handle that kind of workload. He doesn't strike me as "that kind of guy." I see a potential opening for opportunities.
Detroit Lions
Rostered Running Backs: Kerryon Johnson - Bo Scarbrough - Wes Hills - Ty Johnson
Johnson has flashed the potential to be a Primary Plodding starting RB but he has only played 18 games with 1,044 rushing yards and 42 total receptions in two NFL seasons. He would be an impediment to an impact #1 back like Swift or Dobbins reaching their full Fantasy potential while his lack of durability and limited ceiling would provide a great opportunity for a Pass Catcher or Plodder with Potential like Taylor, Edwards-Helaire or Cam Akers. The Lions ranked 16th in rushing attempts in 2019 with the potential to be one of the best landing spots for a rookie runner in this years NFL draft.
Seattle Seahawks
Rostered Running Backs: Chris Carson - Rashaad Penny - C.J. Prosise - Travis Homer
Pete Carroll has always been committed to running the ball, going back to Marshawn Lynch and "Beast Mode" and continuing to present day with Chris Carson. That's both a great opportunity and potential obstacle for an incoming rookie. The Seahawks have ranked in the top three in total carries in back-to-back seasons, with 481 rushing attempts in 2019 and a staggering 534 attempts in 2018. The primary beneficiary of that kind of dedication to the run game has been Chris Carson who rushed 278 times for 1,230 yards in 2019 and 247 times for 1,151 yards in 2018.
A rookie isn't going to overtake Chris Carson as the Seahawks lead back, but C.J. Prosise and Rashaad Penny aren't formidable obstacles for any overflow carries, opening the door for a Pass Catcher or Plodder with Potential. Volume carries and an offensive scheme dedicated to the run is reliable and exciting, even when it's a crowded backfield to navigate. A pure Pass Catcher would have a consistent role with the potential to find viability if they were to win the battle to be Carson's #2. It's a risky situation, but with all those carries it's hard not to dream about what could be for a rookie runner there.
Buffalo Bills
Rostered Running Backs: Devin Singletary - T.J. Yeldon - Taiwan Jones - Christian Wade
At the very least, there is an opportunity for a Plodder to fill the role that Frank Gore and his 166 rushing attempts occupied in 2019. And, while Devin Singletary is an intriguing playmaker, there are questions as to whether he can handle the pounding of a full time workload toting the rock between the tackles. A Pass Catcher/playmaker could receive enough touches and targets to be Fantasy relevant, but the optimal situation would be a Plodder with Potential so the Bills could maximize production by managing Singletary's touches. A pure Plodder would have a role carved out for himself as well and while it wouldn't maximize their potential, they could be Fantasy viable, especially if they are good in the red zone.
Tennessee Titans
Rostered Running Backs: Derrick Henry
Derrick Henry led the league in rushing yards and attempts in 2019 and is a workhorse back if there ever was one. There is no need for a backup or someone to provide him a breather. What we did learn from 2019 is that Ryan Tannehill can be an effective leader behind center if he is managed. The Titans need to limit Tannehill's passing attempts and one way to do that is to draft a Pass Catching running back to generate easy yards on easy throws and limit the potential for turnovers. It wouldn't take a top pick to add what could be a meaningful contributor to a ball-control offense that has hopes for a Super Bowl in 2020. The Titans are one of the most intriguing opportunities for a rookie with pass-catching ability who can make plays in space.
Worst Rookie Running Back Situations
There aren't many bell-cow, three-down running backs in the NFL but where there are, you don't want your rookie running back to be on Monday.
Here are a few of the worst places a rookie RB could land in this year's NFL Draft.
New York Giants
Rostered Running Backs: Saquon Barkley - Javorius Allen
Opportunities are key and it's foreseeable that a rookie could see a reasonable share with Saquon Barkley as the only legitimate roadblock to touches and targets. That's the optimistic take. The reality is that the Giants only rushed the ball 362 times in 2019 and they have one of the worst offensive lines in football. With a true, immensely talented Three-Down back on the roster, there won't be enough opportunities for a second running back to eek out a living for Fantasy owners. Even a Pass Catcher is unlikely to see enough snaps to tally the yards and receptions to be viable.
Cleveland Browns
Rostered Running Backs: Nick Chubb - Kareem Hunt
Running back-by-Committee situations can be an opportunity, but in the case of the Browns, it's a killer of Fantasy potential. It's such a detriment in Cleveland that Nick Chubb's immense talent will come at a draft day discount because Kareem Hunt's almost as immense talent will almost certainly handicap his upside.
New England Patriots
Rostered Running Backs: James White - Sony Michel - Rex Burkhead
The Patriots ranked ninth in rushing attempts in 2019 and Sony Michel is the type of limited lead-back that typically opens the door for a Fantasy viable committee situation. It's James White that makes this situation a dead end. A rookie RB won't receive many playmaking targets in the passing game and at best would receive limited touches in the run game, regardless of how talented they might be. And thats before we even discuss Rex Burkhead's impact.
Minnesota Vikings:
Rostered Running Backs: Dalvin Cook - Alexander Mattison - Ameer Abdullah - Mike Boone
If Cook wasn't one of the two or three best running backs in the NFL Alexander Mattison would be someone for Fantasy owners to be seriously concerned about or legitimately excited about. The fourth most rushing attempts in the NFL will create some intrigue about Mattison, but even 476 touches aren't enough to matter. There is nowhere to thrive for a third wheel in this overly-talented committee.
Denver Broncos
Rostered Running Backs: Melvin Gordon - Phillip Lindsay - Royce Freeman
Like in Minnesota's backfield, too much legitimate talent to overcome and Melvin Gordon is a red zone monster, so even that limited potential opportunity doesn't exist for a rookie new to this bureaucracy.
San Francisco 49er's
Rostered Running Backs: Rasheem Mostert - Tevin Coleman - Jerick McKinnon - Matt Breida
I wanted to list the 49er's as an interesting landing spot purely because of the volume of team rushing attempts. They rushed the ball 498 times, for 2,305 yards and 23 touchdowns in 2019. But, I couldn't.
It is just too crowded back there and instead of reducing the number of roster spots dedicated to the RB position, they restructured McKinnon's contract in order to keep him. Even if they find a taker for Tevin Coleman on the trade market, that still leaves at least three legitimate running backs who can either run between the tackles or catch passes out of the backfield. There just isn't a role to be filled with anything but token touches or targets for a rookie. Dynasty leagues….now that is intriguing, but not in yearly formats for 2020.
We are living in interesting times and the 2020 NFL Draft is sizing up to be a perfect symbol of these times, for a variety of reasons. Succeeding at Fantasy football is about being informed but also measured. I have analyzed the good, the bad, and the ugly locations for rookie running backs and come Monday morning there is going to be hysteria about who landed where. As important as it is, don't let it overcome your evaluation of a player's talent. Don't let the buzz throw you off. Use the information, absorb the advice, make your projections, and decide what you believe and go forward. Good Luck.
You can follow me on Twitter @CJMitch73.
STAY IN TOUCH
Sign up for FantasyData's newsletter and get awesome content sent to your inbox.
We'll never share your email address and you can opt out at any time, we promise.
---
Chris Mitchell began his Fantasy Sports Writing/Podcasting career with RotoExperts.com, writing about Minor League Prospects, Fantasy Football and Baseball. He won a 2017 FSWA award for "Best Comedy Article" and was Nominated for "Best Fantasy Podcast" in 2018. He has worked as a freelance writer and season-long contributor to BaseballAmerica.com and as a Daily Fantasy Sports analyst for Fantasydraft.com. His content has appeared in a multiple of outlets like The AP, The New York Daily Post, USAToday, Fantrax.com and more. He is President of Bosco Nation, where his Podcasts can be found BlogTalkRadio