Buy Low Sell High: Week 3
---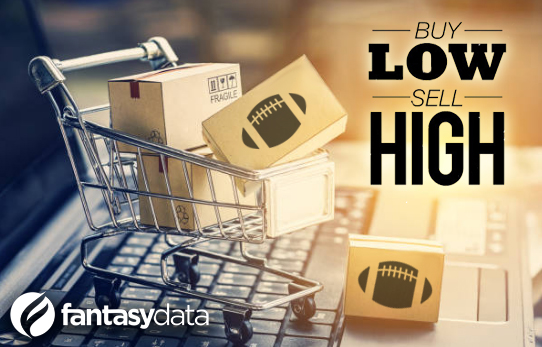 After another exciting week in the NFL, it is time to look at some names to buy and sell in your fantasy football leagues. While Week 2 wasn't quite as crazy as Week 1, there were definitely some performances that give us yet another week to buy low and sell high on some big names. Keep in mind, it is still very early in the season and some owners may be much more panicked than others. Some newer players may be more likely to panic than more seasoned fantasy players are. It can be to your best interest to take advantage of teams that are either undefeated and could afford to sell someone, or of a team that is 0-2 and might be a little worried.
Buy Low

TE George Kittle
The first name on this list is someone that I'm looking to go out and make an offer for in every single league that I can. George Kittle has started off a bit slowly this year, as he's totaled 54 yards in each of the 49ers two first games. In Week 1 he saw 10 targets and caught eight of them, while in Week 2 he was targetted just three times and caught all three of those targets. Kittle has seen four red zone targets over the first two weeks and had two touchdowns called back on penalties in Week 1 against the Buccaneers. In the first three weeks in 2018, Kittle had just 12 receptions for 191 total receiving yards with zero touchdowns. It's safe to say, it took a bit for Kittle to get going last year, and that is going to be the case again this year. He is clearly the number one receiving option in San Francisco, and this is a great opportunity to get out there and acquire him where you can.
RB Sony Michel
Next up on this list is one of the many pieces of the New England Patriots backfield, Sony Michel. Some owners were banking on Michel being more involved in the passing game this year, which has clearly not been the case as he's yet to see a target this year. In Week 1, we saw Michel put up an abysmal 14 yards on 15 carries. In Week 2 however, we saw him find the end zone as well as put up 85 yards on 21 carries. You were never buying Michel to be a pass-catching back with PPR upside, but buying him to be a potential workhorse with high red zone usage. The biggest thing that is appealing about Michel is the goal line usage, and we saw him get six carries in the red zone in Week 2. You aren't buying Michel to be an elite running back, but as someone who has a nice floor on a weekly basis and should see consistent red zone usage, he's someone that I'm targetting where I can heading into Week 3 as the owner has likely been a bit disappointed with him so far.
WR Tyler Boyd
The next name on this list is the fourth-year wide receiver in Cincinnati, Tyler Boyd. We have fellow teammate, John Ross to thank for Boyd being a potential buy-low candidate heading into Week 3 of the NFL. Ross has taken the league by storm after putting up a ridiculous stat line of 11-270-3 in just two weeks. Boyd has quietly been quite productive himself, but the main reason here is taking advantage of the hype surrounding Ross. Boyd has caught 18 of 21 targets so far this year but has yet to find the end zone. I'm buying Boyd as the future WR1 of this offense while A.J. Green remains out and Ross is actually someone I'm looking to sell. We saw Boyd put up great fantasy numbers at the end of 2018 and as stated previously, Boyd has been quietly very productive and efficient this year. Take advantage of the hype surrounding Ross and make a move for Boyd while you can. I didn't include Ross in this article since I had him in the Week 2 piece, but he's someone I'm still selling high on.
WR John Brown
The last name of players to buy low on, is the now WR1 for the Buffalo Bills, John Brown. Coming into the 2019 season, Brown was someone who I was targetting late in drafts after we saw his brief connection with Josh Allen towards the end of the 2018 season. So far this year, Brown has caught seven passes in each of his first two games. He's also seen 18 targets and has 195 receiving yards and a touchdown. Allen has looked solid during his time as the starter in Buffalo, and it's clear that Brown is his favorite target. He's been more than just a deep threat and has seen the volume that you want to see from a team's potential WR1. Brown may not be the cheapest buy right now, but many owners may be used to seeing him as an inconsistent option since his time in Arizona. The volume is great and while I don't expect it to stay just as high as it's been, it's good enough that Brown should be a solid WR3 or even Flex option week in and week out.
Other Buy Lows: O.J. Howard, Curtis Samuel, and Mike Evans.
Sell High
RB Todd Gurley
The first name of players on this week's sell-high candidates is none other than Todd Gurley. Heading into the 2019 season, we all knew about the concerns surrounding Gurley and his knee. The first week was terrifying for Gurley owners as we saw Malcolm Brown get the usage in the red zone as he vultured two touchdowns. While we did see Gurley bounce back slightly and get in the end zone in Week 2, the biggest concern is that clearly, the Rams aren't going to utilize as they did in the past. While Gurley will still be productive, he realistically may never be utilized like he was in the last few seasons. Gurley saw 16 carries or fewer just six times in 2018, and four of those games came in Week 10 or later when Gurley was dealing with knee issues. Don't totally bail on Gurley, as he will still be very useful for fantasy purposes, simply put, he may not be the same elite fantasy option that we saw in the past. If you have plenty of depth I can't blame you for sticking with him, but this is a good opportunity to package Gurley with another player to try and upgrade to an elite option like Saquon Barkley or Christian McCaffrey.
RB Austin Ekeler
The next name on this list may be a bit tough to stomach based on just how good he's been, but hear me out. Austin Ekeler has stepped into the lead running back role extremely well as he's posted 124 rushing yards and two rushing touchdowns on 29 carries. Not only has he been great on the ground, but he's also been great in the receiving game as he's caught 12 of 13 passes for 163 receiving yards and two receiving touchdowns. While Ekeler will still be a nice option as long as Melvin Gordon is out, the last we've heard on the topic is that Gordon will return at some point in the 2019 season. This isn't promising by any means, but it's pretty much expected at this point that we will see a return at some point this year. This is definitely a risky move but is something that could be done if you have plenty of depth at the running back position. Take this one with a grain of salt, but based on just how great he's been, it's worth throwing an offer out to the Ekeler owner or seeing just how much you can get out of him.
WR Antonio Brown
Antonio Brown made his debut with the New England Patriots last week, and he surely did not disappoint. He totaled a stat line of 4-56-1 and definitely reminded us just how good he can be. Let's also keep in mind, that it was against the Dolphins, who are an absolute mess this year. There has been non-stop concern surrounding Brown since last year when he sent a tweet suggesting that the Steelers should trade him. While there is a chance that he ends up being his typical elite self for fantasy football purposes, the concerns surrounding him are hard to deny. It seems like every day we're seeing some new story about how Brown is getting into some new problems. The eight targets that he saw were nice, but the consistent volume from week to week makes me a little hesitant. With Josh Gordon and Julian Edelman on the field and with the drop that we've seen in Tom Brady's passing volume in recent years, there is definitely concern surrounding Brown. If I own him, I'd be looking to package him with another piece for an elite running back or even swapping him straight up for a guy like Mike Evans who has started the season slowly. The sell-high window for Brown has opened up once again and I'm taking of advantage of it where I can, especially in dynasty leagues.
WR Emmanuel Sanders
Coming back from his torn Achilles at the end of the season in 2018, Emmanuel Sanders is someone that many fantasy owners had written off. If you were one of the lucky owners who took a shot on him in the latest rounds of your fantasy drafts, you've been extremely happy. It is really tough to trust Joe Flacco to give Sanders the consistent production that you'd like to see out of your wide receivers in fantasy football. Sanders is someone that is perfect for best ball leagues, but if you were lucky enough to draft him in redraft leagues, your chance to sell is now. There is a good chance that his price will not be higher this year, and he's not going to be someone that you ever feel confident about starting. Take advantage of his hot start and capitalize by selling high.
Other Sell Highs: John Ross, Marquise Brown, and Derrick Henry.
Quick Links
STAY IN TOUCH
Sign up for FantasyData's newsletter and get awesome content sent to your inbox.
We'll never share your email address and you can opt out at any time, we promise.
---