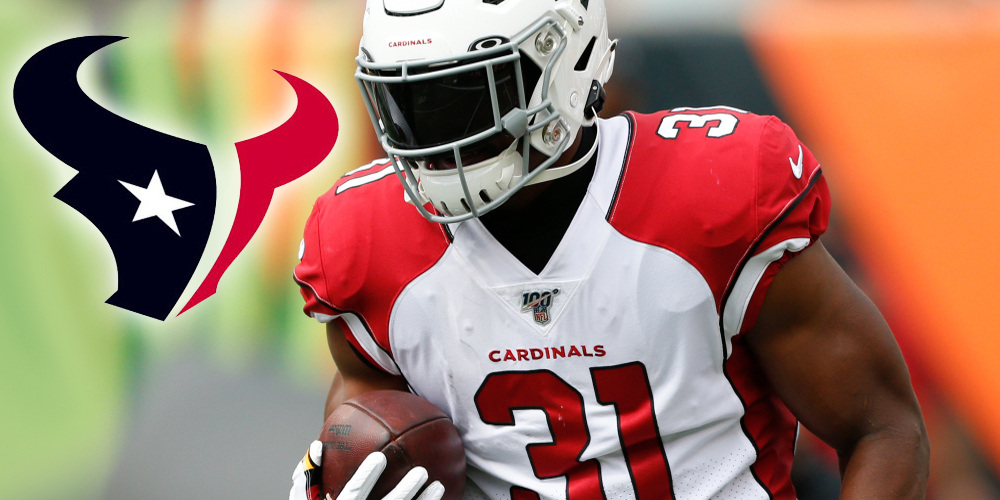 David Johnson Fantasy Impact 2020
---
David Johnson to Texans In DeAndre Hopkins Trade
You can't accuse the Houston Texans of not trying. Many are accusing Bill O'Brien et al of incompetence and the shock across the otherwise shuddered sports world is palpable, but the Texans have been aggressive in recent offseasons and the start of the 2020 NFL Legal Tampering period is no different. They made the biggest splash of a busy, busy day, trading elite Wide Receiver DeAndre Hopkins to the Arizona Cardinals for running back David Johnson, a 2nd Round Pick and a swap of 4th rounders to put a cherry on top of what is being universally described as an epic disaster on O'Brien's part.
Hopkins is one of the elite wide receivers in the game and obviously the headliner of the Houston Texans/Arizona Cardinals blockbuster, but what may be the biggest misstep of such a controversial trade by O'Brien and his management staff is the addition of David Johnson.
The Breakdown
Bill Barnwell of ESPN.com wrote:
"Let's start with Johnson, who should have had negative trade value, especially after the Cardinals slapped the transition tag on Kenyan Drake earlier this morning. Johnson is now three years removed from his only productive NFL season. He missed almost the entire 2017 season with a wrist injury and has been a replacement-level back over the last two seasons. The Cardinals' offense instantly got better when they replaced him with Drake, who was available for a late-round pick from the Dolphins."
A quick fact Check: Barnwell is actually incorrect here. Johnson has had one great season (2016) and one very productive one (2018). I don't agree that 940 rushing yards, 446 receiving yards, 10 touchdowns and 16 games played in 2018 is "replacement-level." It's much better than that - to be fair.
Regardless of whether the Texans believe Johnson's once-promising career can be resurrected or Barnwell's evaluation is accurate, this trade is financial folly by the Texans and must have Johnson and his agents dancing in the streets.
From Barnwell in that same article for ESPN.com:
"Johnson would likely be in line to get a one-year deal in the $2 million range if he hit the open market. Instead, his $10.2 million base salary is already guaranteed for 2020, and $2.1 million of his base salary in 2021 guarantees in five days. Throw in $960,000 in per-game roster bonuses and the Texans are on the hook for more than $13 million for Johnson over the next 12 months."
Barnwell goes even further:
"Johnson's deal is about $11 million underwater. If the Cardinals wanted to trade Johnson's deal to a rational team, my best estimate is that they would have needed to attach a third-round pick to get it done, and even that would have been on the light end of possible compensation."
So, by acquiring Johnson, the Texans transition him from being, potentially, a $2 million dollar free agent acquisition to a guaranteed $13 million Texan. DeAndre Hopkins was due to be paid $13.1 million over that same period. Hmmm. Difficult to see how a 2nd round pick and a swap of 4th's balances those books.
The Texans trading one of the best wide receivers in football, who only costs $39 million over the next three years, for almost nothing is what most of the sports world is focused on. But, it's the Johnson side of the swap that is the seedy underbelly of a rancidly bad deal by O'Brien. If the Texans see bright days ahead for Johnson then why didn't they wait and see if the Cardinals released him and then sign him for $2 million as a free agent? Heck, splurge and pay him $4 million.
Why Oh Why Texans?
It's impossible to excuse this trade from a financial perspective, but it's difficult to endorse for the Texans on-the-field as well. No team wants to trade a DeAndre Hopkins type talent regardless of the reason, but the Texans have a lot more reasons than just that.
Kenny Stills or the recently signed Randall Cobb aren't #1 type wide receivers, Will Fuller can't stay healthy and on the field, they don't have a between-the-tackles running back and they paid a steep price to acquire Laremy Tunsil in 2019 because they have a desperate need on the offensive line. The removal of Hopkins exponentially expands those holes while David Johnson eats into their cap space off the field and does very little to replace the lost production on it.
According to Pro Football Focus, the Houston Texans offensive line ranked 22nd in run blocking and 27th in pass protection while allowing 49 sacks. The absence of Hopkins and the addition of David Johnson isn't going to help those numbers in 2020.
For the Cardinals, Watson's loss is definitely Kyler Murray's significant gain, adding a consistent, sure-handed, elite target to further his development. So, the Cardinals added a great player and subtracted a bad contract in the process while the Texans did the exact opposite. Why oh why Texans??
How do the Texans spin paying David Johnson the same money as they would have paid DeAndre Hopkins in 2020? How do the Texans explain to their fans that the Minnesota Vikings acquired 2020 1st, 5th, and 6th round draft picks along with a 2021 4th round pick for Stefon Diggs and a 2020 7th round pick and avoided the financial obligations that Johnson is now guaranteed?
The one silver-lining, or plausible mitigation, in this trade is the second-round pick heading from Arizona to Houston. The Texans sacrificed A LOT of draft capital (two first-round picks - 2020 and 2021 - and a second-round selection in 2021) to acquire Laremy Tunsil and Kenny Stills this time last year. It doesn't excuse in a meaningful way just how lopsided this swap was in the Cardinals favor, but it is something the Texans needed and they got it in a draft overloaded with wide receiver talent.
Off-The-Field Drama?
When a team makes a trade as lopsided and as foolish as the one the Texans appear to have made here, we all look for an explanation and off-the-field drama is being floated as one possibility. Stories about sideline explosions and a disastrous in-person meeting where "baby mamas" and "Aaron Hernandez" were discussed between Hopkins and Coach O'Brien have emerged. A desire from Hopkins' side to restructure his current three-year, $39.91 million contract have been leaked since the news of the trade as well. Whether these are legitimate explanations or Monday Morning Quarterback spin, they are reasons for the Texans to explore moving on from Hopkins. However, it doesn't justify such a low return or the decision to acquire David Johnson to play alongside Duke Johnson while guaranteeing the money Johnson is now guaranteed.
Fantasy Impact on David Johnson
Johnson entered the 2019 season in position to be a bell-cow running back with the skills to be an impact Fantasy player in both the passing game and the running attack. His performance resulted in a bust of a season. The Cardinals were forced to acquire Kenyan Drake in a trade with the Miami Dolphins, which led to Johnson being demoted from the #1 RB, to a timeshare, to a clear backup and Drake was only a Cardinal for eight games.
Entering the 2020 season in Houston he will be in a similar situation as he was in Arizona in 2019. Carlos Hyde refused to resign with the Texans and as of now, Duke Johnson is the only real challenger for touches and targets. Assuming the Texans don't add a Frank Gore, between-the-tackles type running back then the majority of early downs and running opportunities should be his and his almost alone. He rushed for 940 yards on 258 carries in 2018 and 1,239 yards on 293 carries in 2016. That's the good.
The Bad - Duke Johnson
Duke Johnson has always been an above-average pass-catcher out of the backfield and a below-average one running between the tackles. In five NFL seasons, he has been targeted 62,62,93,74 and 74 times (a career total of 365 targets). He has never caught fewer than 44 passes in a season, reaching a high of 74 on 93 targets in 2017 while with the Browns. David Johnson, over those same five seasons, has been targeted 309 times (he has missed 18 games due to injury).
Duke isn't going away and he is a formidable roadblock to targets in the passing game. Combine that fact with a weak offensive line and David Johnson's health and performance issues in recent seasons and you have a player with two standout seasons and a whole lot of question marks.
I don't know why Johnson was essentially useless in Arizona in 2019. Only 94 rushing attempts and 47 passing targets for a Top 10 Fantasy draft pick qualifies as useless in my book. Maybe he never generated a report with rookie quarterback Kyler Murray. Maybe new head coach Kliff Kingsbury's offense didn't fit Johnson's skill set even though he seemed to have it all in his elite seasons. Maybe he played through injuries that sapped his ability to perform. Whatever the case may be, he was bad and he is now in a situation that's similar, or worse, than in Arizona with one potential benefit - Deshaun Watson. Maybe being a potential three-down back in a Watson led offense revitalizes him. I suspect Fantasy owners are going to be excited to try and find out at a discounted draft day rate.
Hot Takes - David Johnson and 2020 Take-Aways
The consensus opinion in the Fantasy community is that Deshaun Watson was harmed while Kyler Murray and Kenyan Drake were helped by this trade - and by A LOT. I agree wholeheartedly and I expect Murray to be grossly over-drafted in 2020 leagues as a result. There was already buzz around the talented youngster after a fairly successful rookie campaign; this just adds fuel to the fire. There's hot take #1.
The players most likely harmed are Christian Kirk and Maxx Williams of the Cardinals and, to a lesser degree, Duke Johnson of the Texans. DeAndre Hopkins has been targeted 150 times or more in five straight seasons, with a high of 192 in 2015. Hopkins is the type of elite talent that regardless of how defenses choose to handle him, he is getting his and that means those targets have to come out of the hands of lesser players. In Arizona, that's Kirk and Williams. As far as Duke Johnson in Houston is concerned. There should be enough balls to go around to both Johnson's, but David Johnson's presence should result in fewer snaps for Duke and that alone is likely to result in fewer catches and fewer yards from scrimmage. It's purely numbers.
Hot Take #2
This could lead to a snowballing effect that results in David Johnson being over-drafted.
David Johnson was a monster in 2016. 293 rushing attempts for 1,236 yards, 120 targets, 80 receptions, and 879 receiving yards and 20 total touchdowns. In 2018, he rushed 258 times for 940 yards, was targeted 76 times, caught 50 balls for 446 yards and 10 total touchdowns. He has the potential to be an impact, three-down, dual-threat running back and with DeAndre Hopkins gone, the Texans will need a playmaker. And, DeShaun Watson may need a safety valve to dump the ball off to save his life from the pass rush. These are all possible narratives that could excite Fantasy drafters looking for an edge on the competition. And Johnson is going to be reasonably priced.
Entering 2019 drafts owners were nervous about what they might get from Johnson. We were all still enamored with his talent and he was still selected in the first or early second round of most drafts, but there was a feeling of concern and hesitation surrounding Johnson at the time. He was coming off a very good 2018 season and yet he wasn't a top-five pick in any formats and nobody was excited about him taking that next step and being the Fantasy MVP that he was in 2016. At picks #8-12 he looked like a potential early-round bargain instead of the eventual bust that he turned out to be.
Now, he is going to fall. Early projections rank Johnson as the 30th best running back after the likes of Damien Williams, Derrius Guice and Sony Michel. In 2020 Best Ball Drafts he is being selected 84th overall as opposed to ninth in standard 2019 league drafts. I expect his Best Ball ADP to rise after this trade. He's the same player coming off the same bad season with the same injury concerns and yet owners are going to want shares of him, sparked by a new situation that is only slightly better than his last one, because at #9 in 2019 versus….#75? #65? Even #45? He looks like a bargain. "EHHH, he had a bad year. Arizona misused him. The Coach didn't like him and the QB ignored him." Johnson may be considered "A sleeper" by some. Get used to hearing this word attached to Johnson for 2020 - "Upside." Hot Take #2. David Johnson drops outside the Top 50 and is still being overdrafted in 2020.

You can follow Chris Mitchell on Twitter @CJMitch73, Talk Sports on Facebook with him in the group "A Podcast To Be Named Later," or join BoscoNation here ----> https://www.blogtalkradio.com/bosconation
Other Popular Articles
STAY IN TOUCH
Sign up for FantasyData's newsletter and get awesome content sent to your inbox.
We'll never share your email address and you can opt out at any time, we promise.
---
Chris Mitchell began his Fantasy Sports Writing/Podcasting career with RotoExperts.com, writing about Minor League Prospects, Fantasy Football and Baseball. He won a 2017 FSWA award for "Best Comedy Article" and was Nominated for "Best Fantasy Podcast" in 2018. He has worked as a freelance writer and season-long contributor to BaseballAmerica.com and as a Daily Fantasy Sports analyst for Fantasydraft.com. His content has appeared in a multiple of outlets like The AP, The New York Daily Post, USAToday, Fantrax.com and more. He is President of Bosco Nation, where his Podcasts can be found BlogTalkRadio