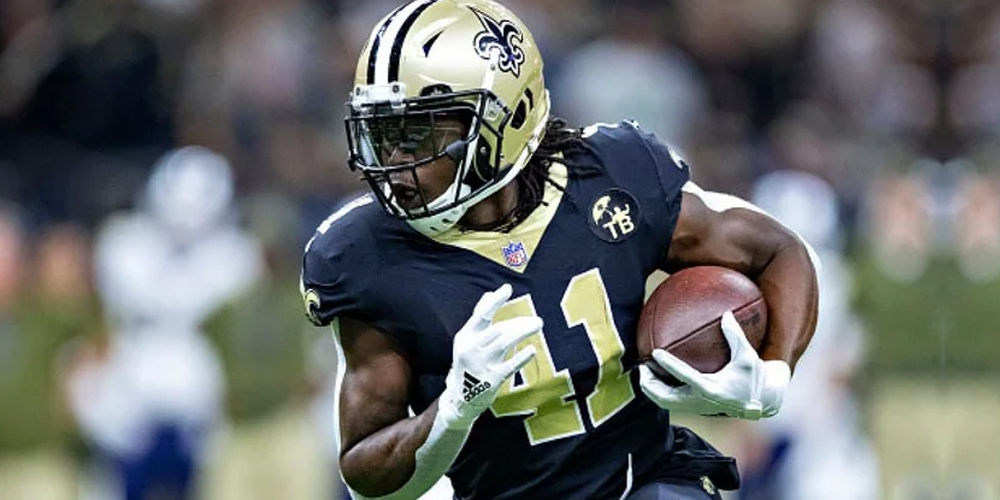 DraftKings NFL Picks: Chalk, Pivots, and Punts for Week 2
---
DraftKings NFL Picks
Hey gang, hope you had a successful first week of the regular season. Let's repeat that or improve for week 2. "Chalk, Pivots, and Punts" is an NFL DFS series focused around main slate GPPs. We go game by game looking at potential chalk plays to pivot away from, and perhaps discover some diamond in the rough type punt plays to add a differentiation piece to our builds. Each game will have a brief write up and will include the team's projected point total and Vegas Implied point spread as of the time of writing. Here is a link to a Google Sheet that presents data I collect throughout the season breaking down points allowed to specific positions, and displays home/road splits, as well as the combined data. Below are links to the final data from last year I posted to Twitter.
Link to Tweet: Chart showing where defenses allowed fantasy points by position last year
Link to Tweet: Chart showing how defenses allowed TDs by Passing & Rushing last year
When discussing pivot plays, it's not always as simple as saying "Player A" is chalk so pivot to "Player B". Pivots can be a pivot from one player to another player at the same position, a pivot from one position to another, or just a way to pivot to the other side of a game that everyone else might be heavy to one side of. Simply put, the pivots will not always be direct pivots, more like other ideas to consider in the macro-view of the slate.
Below is my Chalk, Pivots, and Punts Chart based on my opinion of the slate and what the field will likely be on this week.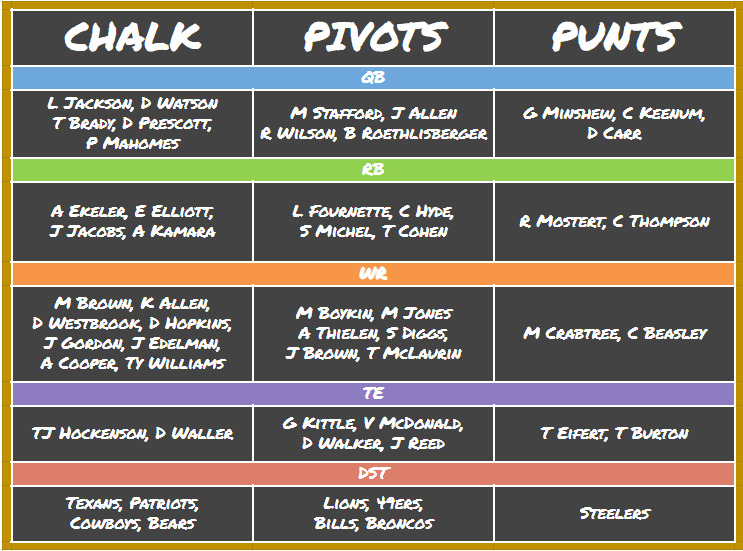 Let's get after it...
Arizona Cardinals (16.75/+13) at Baltimore Ravens (29.75/-13) [46.5]
The Cardinals took around 3 quarters to finally get going last week. It doesn't get any easier this week traveling back east to face the Ravens defense. If it doesn't click early for Arizona this week, they could be in for trouble. Kyler Murray ($5400) favored his two inside WRs Larry Fitzgerald ($4600) and Christian Kirk ($4500) last week. With Humphrey and Smith on the outsides in coverage, it would seem that will be their best bet to move the ball here. Fitzgerald had a couple of nice deep catches from out of the slot and makes for a nice target for Murray. He's probably the best play from this offense in this match-up. David Johnson ($7100) get a little price drop this week and makes for a decent contrarian play due to his high floor as a receiver. Kingsbury says Michael Crabtree ($3300) will play against his former employer this week if you like those narratives. Suggs, too, but we don't roster him in DFS.
***Post publish update: CB Jimmy Smith has been ruled out for the Ravens, and their stud CB Marlon Humphrey is Questionable. If both guys miss this game, feel free to use Arizona passing pieces at very low ownership. they could actually have a solid game here.
Lamar Jackson ($6700) should be pretty chalky this week, but should not be avoided. Stafford threw for 322 yards and 3 TDs through 4 quarters against Arizona last week, and Lamar had his big game in Miami. A peek at our Advanced QB Metrics shows Stafford attempted the most deep balls last week against Arizona, and Jackson had the second-highest Distance per Attempt. This could indicate Jackson is likely to have another big passing game. This is the Ravens home opener, and I expect them to steamroll the Cardinals defense. Stacking Jackson with Hollywood Brown ($5000) or Mark Andrews ($3800) makes some sense, or you could pivot over to Miles Boykin ($3200) and/or Willie Snead ($4500) to save on salary and differentiate your stack. Mark Ingram ($6000) only saw 33% of the Ravens snaps last week and had no targets. He likely would have had more snaps had the game been closer. This should be a good match-up for him on the ground, but we're going to need some more targets so he's not so TD dependent, and this has blowout potential, so he could be off the field for parts of the 4th quarter.
San Francisco 49ers (22.0/+1.5) at Cincinnati Bengals (23.5/-1.5) [45.5]
The 49ers defense just handled one of the more high powered (on paper) offenses in the league down in Tampa and flew up to Youngstown, OH afterward to prepare to take on the Bengals who looked great on the road in Seattle last week. Jimmy Garoppolo ($6000) looked a bit rusty against Tampa and got a price increase. The 49ers are more likely to lean on the running game than Garoppolo this week, so I doubt I'll pay up for him. Matt Breida ($5200) also got a price increase, but he should be worth the extra cost this week since Coleman is expected to miss a few weeks. Raheem Mostert ($3800) should mix in a bit and could be a solid punt if you need to save on RB salary this week. The 49ers 12 WR targets last were spread out fairly evenly. Deebo Samuel ($3700) and Marquise Goodwin ($4400) saw the most snaps and would be where I would look if you're considering rostering a 49ers WR. George Kittle ($6800) had a bit of a down week last week, which could help keep his ownership lower. He did have 10 targets though, so we see the volume will be there. He's the top 49er to roster this week, an makes a solid pivot down from the chalkier Kelce who is the only priced above Kittle.
Cincinnati quickly figured out they weren't going to be able to run on Seattle which led to Andy Dalton ($5400) throwing the ball 51 times. They could look a little more balanced this week, depending on the health of Joe Mixon ($6500). If Mixon is out, then Cincy will have to rely on the combo of Gio Bernard ($5300) and Trayveon Williams ($3000). Williams makes for an interesting min-priced punt option, but starting RBs against the 49ers front 7 isn't ideal. Tyler Boyd ($6500) and John Ross ($4600) are worthy considerations at WR, but both could have increased ownership this week. Boyd was already chalky last week, an Ross will attract attention after his coming-out game back in his collegiate state of Washington. Ross will likely draw a lot of Witherspoon in coverage. Witherspoon is coming off a solid game where he shut down Mike Evans, albeit Evans may have still been a bit under-the-weather. It will be a good challenge for both players to face one another. Tyler Eifert at $2900 has my attention, even though the 49ers were mostly tough on opposing TEs last year. We saw Cam Brate catch two TDs against the 49ers last week, but both were called back for holding by the right tackle.
Los Angeles Chargers (25.25/-2.5) at Detroit Lions (22.75/+2.5) [48]
Two teams that like to slow roll through their games will square off here, so we're going to have to look for efficiency plays from this game. Austin Ekeler ($6100) had the most efficient week 1 of any RB, posting a whopping 2.07 fantasy points per opportunity. That's 0.45 more points than Mark Ingram, who was 2nd. With Hunter Henry out, Ekeler should be a key player this week. David Johnson scored 25.7 DK points against Detroit last week, and Ekeler is used as a dual-threat the same way Johnson is. Keenan Allen ($7600) could have a good game if he gets the same type of targets Arizona was providing Fitzgerald last week, who was getting an average of 5.84 yards of cushion (5th best). Detroit does not appear to have found a good slot corner yet, so Allen's slot snaps could be quite valuable here. If Mike Williams ($5500) is healthy, then he's likely to see quite a bit of Slay in coverage, who only allowed 1 reception for 6 yards last week. Williams has big-play potential, but that may be shut down by injury or coverage. I'm not looking to target this game too much, so Ekeler and Allen are about as deep as I'll go for Chargers plays this week. Fair warning on Keenan though, Darius Slay played some slot snaps last week and could shadow Keenan for much of this game. Allen is good, and so is Slay, so we'd be looking for a best brings out the best situation if this match-up takes place.
Matthew Stafford ($5200) had a heck of a game last week, and his price went down. That speaks to what DK thinks of the Chargers pass defense. The Chargers are good, but Stafford gets them in his team's home opener. If you're looking to spend down at QB, and pivot, this is your guy. The Chargers allowed 7 yards per pass attempt last week and Brissett threw 2 TDs. There is potential for Stafford to crush his price again this week. The most damage done to the Chargers defense was in the running game. Kerryon Johnson ($5700) has a similar skill-set to Marlon Mack but doesn't get the same usage rate. Johnson only saw 57% of his team's snaps compared to Mack's 76%. If the Lions coaches are smart, which they are not, then Johnson should see 70%+ of his team's snaps in this one. His price is worth the risk of a 60% share and hope that he breaks off a couple of big plays with his chances. I would assume Casey Hayward will follow Kenny Golladay ($6600) around in this game, making him a harder to buy play. Like Keenan Allen, you can play this match-up and hope the competition level raises Golladay's game. However, the Chargers have other weaknesses that we can exploit, so Golladay makes for more of a contrarian play. Where we can attack the Chargers is on the ground, as noted, with TJ Hockenson ($3000 - FREE SQUARE), or with Marvin Jones ($4900) against Brandon Facyson who allowed a 5/61/1 line in coverage last week. Stafford led the league in deep attempts last week, so Jones stands out as an underrated play to me, as does Hockenson and his 15.8 aDOT. Hockenson is going to be chalky this week though, due to the mispricing.
Minnesota Vikings (20.5/+3) at Green Bay Packers (23.5/+3) [44]
The idea of Minnesota running heavy personnel right at Green Bay and their lack of linebackers has me thinking Dalvin Cook ($7200) is in for another big game here. Green Bay did a solid job shutting down the Bears rushing offense, so it's possible Cook will not be as chalky as last week, but he'll still carry some ownership. Kirk Cousins ($5300) only threw 10 passes last week, so we should be in wait and see mode on him and most of the pieces in this passing game. The Bears attacked the Packers defense with passes to their RBs, Allen Robinson, and Tarik Cohen in the slot. If those remain the vulnerabilities again this week, we have some options in the passing game. Adam Thielen ($7100) and Stefon Diggs ($6300) have played well against the Pack during their careers. Per this tweet by Hobie Artigue, "In their last five games together vs. Green Bay, they've combined for 999 yards, 10 TDs, and five 100+ yard games." It's possible the general field is not aware of this and we can snag one of these guys at low ownership, especially after last week's 10 pass attempts. If so, get on board and take whichever guy fits your build, or pick one to build around. Also note, Stefon Diggs is not on the injury report this week.
The Packers offense under LaFleur had a total of 52 run + pass attempts, which indicates a slow pace. Slower still were Minnesota's 48 run + pass attempts. So this game could have limited play potential. The Vikings were hard on Atlanta, but there was one area that jumps out. Austin Hooper led them in targets, receptions, and yards. That puts Jimmy Graham ($3700) in a nice spot this week if Minnesota chooses to focus on Green Bay's trio of WRs as they did with Atlanta. Jimmy Graham was third in "Hog Rate" for TEs last week, and saw 2 targets in the end zone (second to only Kelce's 3). In the limited time we've seen LaFleur as a play-caller, the TE has been the #2 target in his offense with an 18% target share. The top spot naturally goes to the #1 WR with a 24% target share. Davante Adams ($7700) is coming off a down week, and Minnesota did a good job on Julio, so people may be off of him a bit this week. Adams has never had a 100 yard game against the Vikings, but he has 5 TDs, mostly coming over the last few years. He's a contrarian play this week, and we might be better off fading him in smaller tourneys. I don't imagine myself paying up for Aaron Rodgers ($6500) this week in smaller stuff either. One guy that could come in at super-low ownership and has a great match-up as long as Mackenzie Alexander doesn't play (which is expected) is Geronimo Allison ($4400) in the slot. He played 22 snaps in the slot last week, and Adams played 11. Whoever gets to run routes in the slot will be the top play for Packer receivers this week.
Jacksonville Jaguars (17.0/+9.5) at Houston Texans (26.5/-9.5) [43.5]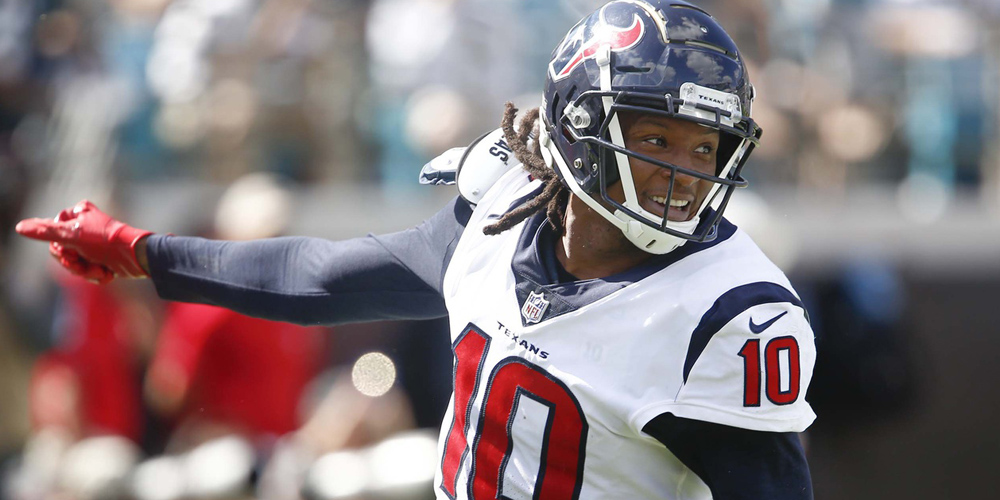 The Gardner Minshew (4800) era is upon us. Punt with him if you like. The Texans are a formidable opponent for a rookie 6th round pick to have to navigate, so I won't be doing so myself. The only two Jags I can see worth taking a chance on this week are bell-cow back Leonard Fournette ($6300) and slot dynamo Dede Westbrook ($5400). With a rookie QB taking over, I would expect the Jags to lean heavier on Fournette. His usage should be able to pay off that $6300 price. Westbrook stands out as a good play based on the fact the Texans had to fire their slot corner form last week. It's hard to imagine the next guy up will do as poorly as Colvin did, but that is still a match-up to exploit.
With how bad the Jags defense looked last week, I'm going to try and pick on them in this spot as well. The Texans are not the Chiefs, but they are loaded with talent on offense, starting at QB with Deshaun Watson ($6600). Watson is a dual-threat QB capable of hitting the 300-yard milestone bonus and rushing for 30-50 yards or a rushing score. Stacking him with DeAndre Hopkins ($8100) is not cheap, but it makes a lot of sense as a start to a build this week. Hopkins has had a few big games against the Jags, including last year's season finale when he caught 12 of 16 targets for 147 yards. After what Sammy Watkins did to Jacksonville last week, I would guess the field is going to be on this stack, too, but the match-up is one we want exposure to. You can differentiate the stack by adding Will Fuller ($5300) or Carlos Hyde ($3600) who created 46 of his own yards last week and posted 8.3 yards per carry. LeSean McCoy posted 8.1 yards per carry against this Jags defense last week, making him a solid pivot off the passing game in other builds. The Texans DST ($2800) is mispriced this week and should be chalky because of it. Don't be afraid to use them though. The situation is ripe for them to have a great game.
***Post publish update: Jaguars pass rusher Ngakoue, corner Bouye, and LT Robinson have all been ruled out. this boost the match-ups for Watson and the Texans DST, and even more for Will Fuller. Ramsey will shadow Hopkins, and either Hayden or Herndon will try to cover Fuller.
New England Patriots (33.5/-18.5) at Miami Dolphins (15.0/+18.5) [48.5]
The Patriots are going to be meg-chalk this week. The Dolphins just dropped a dud against the Ravens and the Pats just smashed the Steelers. Those ex-Pats coaches down there in Miami could come up with a game plan to make this closer than everyone thinks, but the problem is they don't have the roster talent to execute it. Pats should roll in this one, but I do have a faint bit of hesitation saying don't go all-in (not just for game theory purposes). It is worth noting Tom Brady ($6400) is 7-10 against the Dolphins in Miami, so there's that. Stack Brady with any 1, 2 or 3 of his WRs Josh Gordon ($5800), Julian Edelman ($6900) or Antonio Brown ($7000), assuming Brown plays a full complement of snaps (UPDATE - it doesn't sound like Brown will play a ton here, so he's easier to fade in that case). The pivot here is to go with last week's under-performer Sony Michel ($6200) and hope to capture all those rushing yards and TDs he could rack up if this game gets out of control early. The Patriots DST ($3700) will be a popular play this week, and any time you get a chance to roster a defense against Fitzpatrick, go for it.
This offense is not good. There are no recommended plays. The only guy I can even give a thought to is Kenyan Drake ($4300) who had a huge game against the Patriots in 2017 when he went 21/114 on the ground and 5/79 through the air against the Patriots. He's cheap, and no one will play Dolphins. I probably won't either, but he's at least on my radar as an option if I'm scrounging for salary during roster construction.
Buffalo Bills (22.5/-1.5) at New York Giants (21.0/+1.5) [43.5]
The Bills offense didn't light up the Jets secondary last week as many had hoped, but there were still some positives to take away from that game. Josh Allen ($5300) still threw 5 deep balls and ran for 38 yards and a touchdown. His price is low again, and he is on my radar for a core play this week after seeing what Dallas did to New York last game. John Brown ($5200) smoked the Jets for 123 yards on 7 catches and should remain the top option in this one. Allen to Brown is a combo I'll going to ride until their prices get too high. Cole Beasley ($3800) is cheap and saw 9 targets last week. He's in play for me as well as the Bills DST ($3400) against an injury-depleted Giants offense missing their top 3 WRs heading into the season - assuming Shepard misses this game with his concussion.
The Giants offense is in bad shape already this year and wasn't loaded to begin with. The only two remaining pieces, assuming Sterling Shepard ($5100) sits out with a concussion, are Saquon Barkley ($9200) and Evan Engram ($5200). Engram will see a ton of coverage rolled his way making him less appealing than last week. Barkley is good and will get a ton of touches, so he's an option, but at that price I may look elsewhere.
Seattle Seahawks (21.25/) at Pittsburgh Steelers (25.25/-4) [46.5]
The Seahawks did damage on the ground last week, but face a much tougher run defense in Pittsburgh. This game is going to be decided by how well Russell Wilson ($6200) plays. Tyler Lockett ($6200) has a pretty nice match-up in the slot against Mike Hilton. Hilton allowed 64 yards and a TD in coverage last week. Russell Wilson is one of the best deep-ball passers in the league, so if Lockett can beat coverage, we could see a monster game from these two (keep an eye on Lockett's status, he didn't practice Wednesday with a back injury). This is a top stack to consider based on the added volume the Seattle passing game will have to attempt this week. DK Metcalf ($4300) came back from injury to start week 1, and it looks like he will be plenty involved in the offense when they do pass. He's worth consideration in a Seattle stack, or as a one-off. Chris Carson ($6400) led the Seahawks in targets week 1, and after seeing James White and Rex Burkhead combine for 10 catches and 97 yards, there still some appeal for using Carson in this match-up.
The Steelers are in a similar situation as the Seahawks in this one, as both defenses can shut down the run. With the Steelers getting embarrassed by new England in prime time last week, I'm expecting them to come out throwing hay-makers early in this one. Ben Roethlisberger ($5800) was the first QB I threw into my dummy build this week, and I have him stacked with JuJu Smith-Schuster ($7500). I may add, or pivot to Vance McDonald ($3900) after seeing the Seahawks allowing 9 catches and 93 yards to the Bengals TEs. John Ross's big game has me considering Donte Moncrief ($4000) in this spot as well. However it works out, I'm going to have some sort of Steelers passing stack this week. The Steelers DST ($2400) makes an interesting punt. Russell Wilson had the 3rd worst protection rate last week, and the Steelers have some horses up front that can get after him, especially if they force him into a passing game script.
Indianapolis Colts (20.5/+3.5) at Tennessee Titans (24.0/-3.5) [44.5]
The Colts hung with the Chargers forcing overtime last week and now get to face the team that surprised everyone after the Titans shut down the Browns lauded offense. This should be a slow-paced, low-scoring, tight match-up between division rivals. Marlon Mack ($5900) is the only Colt I have interest in. Perhaps a punt on the Colts DST ($2500) is worth a shot, as Mariota was the most pressured QB of week 1.
The Titan I have the most interest in will be Delanie Walker ($3500). He is still a key piece to that offense, and the Colts allowed the 2nd most points to the TE position last year. Derrick Henry ($6000) had a great game last week and should be in for a positive game script again here. As the case seems to go with Henry, one big play can make his day. Last week he scored 14.5 points on his 75 yard TD catch. If the Colts can limit his home run ability, he may not be the best play for this week. Either defensive unit is a solid play in this game, but I'd favor using the Titans DST ($3100) here.
Dallas Cowboys (25.25/-6) at Washington Redskins (19.25/+6) [46.5]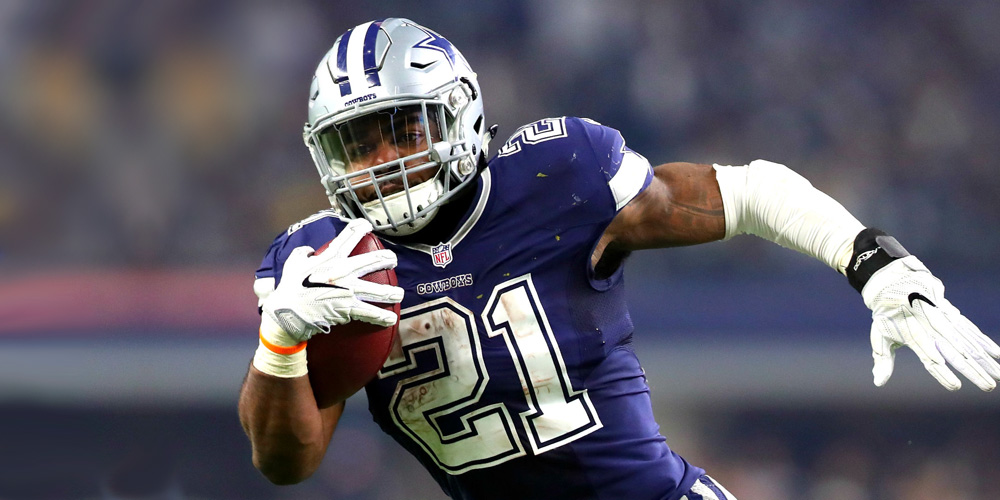 Ezekiel Elliott ($8700) was treated with kid-gloves upon his return to the team and scaled back week 1 workload. He should see closer to his usual snaps in this one unless it gets out of hand early and he misses some 4th quarter action. What I like about Zeke this week is how Dallas put on a show in the passing game and the Redskins just got torched by the Eagles passing attack. they are going to concentrate on keeping the game in front of them here. The Redskins may be without Jonathan Allen in this game as well, which makes Zeke's match-up even tastier. What I like about the Dallas passing offense is Kellen Moore's creativity in play-calling, the injuries in the Redskins secondary, and the speed and skill their WRs have. Rostering a stack of Dak Prescott ($6300) with Amari Cooper ($7400) and/or Michael Gallup ($5600) will probably be chalky, but has to be considered. If the game is close, the way it was for the first half last week for Washington, then the passing attack will stay involved. If this one gets out of hand early, it could be due to some passing game TDs, or Zeke, but it could also spell more work for Zeke. I'm leaning toward Zeke in this one, and maybe the Cowboys DST ($3300).
Jordan Reed ($3400) looks like he'll return from his concussion this week. If so, he's on my TE list. Reed averages 5.1 catches for 53.4 yards per game against Dallas (10 games) and has caught 2 TDs total. Dallas allowed 14.0 fantasy points per game to the TE position last year, which is 8th most. If Reed meets his average and catches a TD, we're in business for a $3400 TE. I can see a case for Case Keenum ($5000) here as well. He threw for 380 yards and 3 TDs last week on the road, and there will be plenty of throwing for him to do in this one. Chris Thompson ($3900) saw 10 of Keenum's targets last week and would be a decent punt in a lopsided game here. If interested in going full contrarian here, roster Keenum, Reed, and Terry McLaurin ($3800) will only account for 24% of the salary on DK, and you could pay up and roster some studs with the other 5 offensive slots.
Kansas City Chiefs (27.25/-7) at Oakland Raiders (20.25/+7) [53.5]
Of course, we're looking at Pat Mahomes ($7500) this week. How to get to his salary is going to be difficult for roster construction, but we're probably going to want at least 1 Chiefs stack if only making around 5 line-ups, and plenty more if we're going MME. Mecole Hardman ($4800) may be the most popular WR to combo with Mahomes this week because of the salary relief he'll provide. Sammy Watkins ($7200) and Mahomes is going to cost 29.4% of your salary, which will force you into some creative decisions elsewhere, and likely get you into a unique build. Adding Travis Kelce ($7300) to a Mahomes/Watkins stack is going to force us to scrounge for punt plays this week. While it's rare for a 2 TE line-up to hit the million, Kelce can be considered a FLEX/WR in our minds while we use the actual TE slot for $3000 TJ Hockenson or $2900 for one of the Tylers. Grab a punt defense, and there is plenty of room to create a fantastic roster.
The Raider have to obvious chalk pieces this week, and either would make a nice play to run back a Chiefs stack with. It's clear Gruden views Josh Jacobs ($4700) as his new Caddy, and he's going to ride him until the wheels fall off. Darren Waller ($3300) will probably be the highest owned TE on the slate due to his misprice. Either of these guys or Tyrell Williams ($4400), who is also mispriced allow us to game stack this game form multiple angles. Derek Carr ($5100) may fly under the radar a little here, but he shouldn't. In each of his last two games where KC has come to the Bay Area, he's thrown for 3 TDs in both of those games. He doesn't add a lot of yards or rushing, but at $5100 he's the ideal punt QB.
Chicago Bears (21.5/-2.5) at Denver Broncos (19.0/+2.5) [40.5]
Vic Fangio's defense let out a stinker in their opener against the Raiders Monday night. As if facing his former employer wasn't enough motivation, that should be an extra kick in the ass to get it together here. That spells bad news for the Bears offense on the road, in high elevation. The main guy I'd have some interest in on the Bears side is dealing with a groin injury and likely heading for a GTD tag. Trey Burton ($3700) is that guy since Denver has had trouble with TEs over the last couple of years. Tarik Cohen ($4500) is interesting because of the way Chicago used him last week. He played 47 of his 51 snaps in a WR role, either in the slot or out wide. He could be the key mismatch piece for the Bears offense in this one, as I would expect Chris Harris to shadow Allen Robinson ($6100) for much of the game.
Chicago allowed 19 QB pressures last week, and Trubisky did not look like he had much awareness for what to do with the ball. The Broncos DST ($2700) has to be licking their chops here. Miller and Chubb are going to eat, making them one of my favorite defenses for this week. As such, the Bears DST ($3900) also intrigues me, more so than any offensive player on the Broncos. I like Manny Sanders ($4700), but I don't love this match-up for him. He's a contrarian pivot option, at best.
New Orleans Saints (25.25/) at Los Angeles Rams (27.25/-2) [52.5]
Putting the non-called pass interference mess behind them may be a little easier if the Saints can steal a win on the road and maintain position above the Rams all the way into the postseason. This game will have the feel of a playoff game, and these two teams have battled 3 times in the McVay era for the Rams, including that aforementioned game with the non-called PI. The Saints have heavily involved Alvin Kamara ($8200) throughout this 3 game series over the last two years. His numbers are phenomenal, 32/184/3 rushing and 21/231/2 receiving good for an average score of 27.8 per game, including a milestone bonus from 2017. McCaffrey just put 200+ yards and 2 TDs on the Rams defense last week, and Kamara is a similar player. He is the top RB option for this slate, especially if Brockers and/or Matthews miss the game to injury. Michael Thomas ($8000) has the highest average score per game of anyone in this series with 30.0 points, but most of that came during last year's regular-season match-up where he went bonkers and caught 12 of 15 targets for 211 yards and a TD. The other two games he was much quieter. Drew Brees ($6200) has thrown 7 TDs and averaged 21.85 per game, which includes a milestone bonus from last year's regular-season game. This is the core group to work with for the Saints. New to the Saints this year is a guy who plays kryptonite to the Rams defensive scheme: TE Jared Cook ($4700). The Rams allowed an average of 13.6 fantasy points to TEs last year (11th worst), and Cook has the athletic profile to hurt them. Eric Weddle looks like he may be ready to play this week, which could affect Cook's production, but he's still a worthy option to consider.
The Rams have won 2 out of 3 of the games in this series. However, they had to do so without much help from Todd Gurley ($7000) in their last meeting. Gurley has averaged 15.0 fantasy points per game in all three contests, but 18.4 in the games he was healthy. Gurley handled 44% of the carries last week and only 3% of the target share. That type of usage shouldn't command a $7000 price tag. You can bet he'll be under-owned this week, but until we see old Gurley back, I'll probably be among the faders. The Rams WRs have been pretty good in this series. Brandin Cooks ($6300) has been the best of the bunch averaging 23.6 fantasy points against the Saints defense, including the yardage milestone in both games. He also has a former employer narrative going for him here and is my favorite WR of the three. Cooper Kupp ($6000) is right behind Cooks though, averaging 21.3 PPG in this rivalry, including 1 milestone bonus for yards in his two games. With the questions around Gurley and the RBs, and after seeing Watson throw 3 TDs against them, we have to consider stacking these two guys with Jared Goff ($5900) this week. Goff has averaged 23.7 PPG against the Saints with 2 yardage milestone bonuses. Robert Woods ($6400) is the most expensive WR of the group and has the lowest average PPG in the series with 10.7. If you're looking for a sneaky play from this game, Tyler Higbee ($2900) has recorded 9 catches for 113 yards and 1 TD in the last three games against the Saints, good for an average of 13.2 FPPG. You could also try Gerald Everett ($2700) who has a 6/107/0 line in the series, and an average PPG of 8.4.
***Post publish update: Sheldon Rankins being ruled out is a boost to Gurley's potential in this game. He will be low owned, and makes for an interesting pivot option.
Final Thoughts
There are some great games on this slate that you can make a case to just build line-ups around those game stacks, ie. Seattle/Pitt, KC/Oakland, and Nola/LA. There are other games that look completely lopsided for team stacks, like New England, Baltimore, Houston, and Dallas. There so much good stuff to work with here, it's going to be a chore whittling this all down to a tight core. Those three game-stacks are where I'm looking for now, since those should be competitive games with teams that match-up well for fantasy points. Some of my favorite plays as of now are Kamara, Zeke, and Ekeler at RB; Hopkins, Lockett, and Cooks at WR; Hockenson, Kelce, and Waller at TE; and Mahomes, Watson, and Wilson at QB. Good luck this week, and thanks for reading!
BTW - since this article is usually up on Friday, best practice would be to follow injuries through the beat writer reports. I have a link to every team's beat and other writers pinned to my profile on Twitter. Here is a link to that list.
---
Dominate Your DFS in 2019
Become a member at FantasyData and get access to the industry's best fantasy football subscription available!
---
STAY IN TOUCH
Sign up for FantasyData's newsletter and get awesome content sent to your inbox.
We'll never share your email address and you can opt out at any time, we promise.
---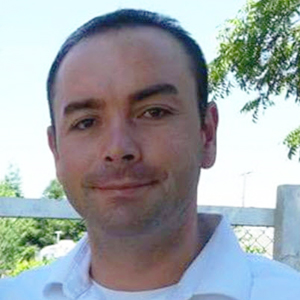 NorCal native Jesse Jones has been obsessed with fantasy football since first joining and winning a league in 1994. Always looking for an edge, Jess has been ahead of the curve mining data and building customized spreadsheet rankings and projections while others showed up to draft day asking for a pencil and a cheat sheet. As an avid NFL DFS, Bestball, and re-draft player Jess will work hard to find the edge you need to win in all formats. Jess is married to the wonderful wife of their 2 kids and enjoys traveling, playing tabletop games, and trying new craft brews. Let's make some money at this hobby of ours!