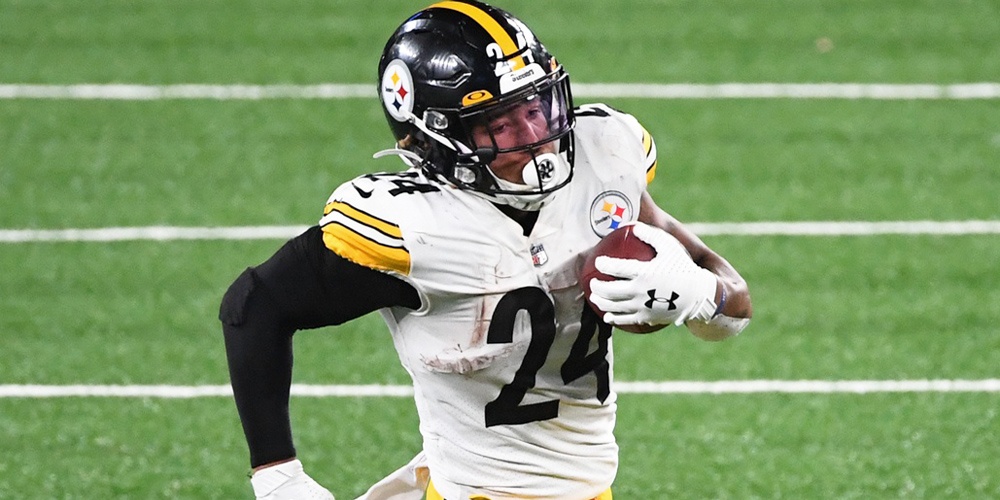 Fantasy Football News & Notes: Week 2
---
Fantasy Football News
For an analyst who writes a weekly column about "Trends and Noteworthy" occurrences for FantasyData, it is especially helpful to have data to speculate about and to use to provide backbone to the analysis. Opening week certainly provided a lot of Fantasy football news to chew on and scheme around. Cam Newton led quarterbacks in rushing attempts with 15 Noteworthy rushes and two scores in a Patriots victory, while Derrick Henry was worn down to the nub, continuing a 2019 trend, with 31 rushing attempts after a 300+ carry season. We saw curveballs from committee situations in Cleveland and Buffalo while the Los Angeles Rams did what early reports suggested they would do, spread the ball around with Malcolm Brown being their lead guy. There were surprises on the touches and targets front with Dallas Goedert, not Zach Ertz, leading the way in Philly, Russell Gage holding his own with Julio Jones and Calvin Ridley, and Corey Davis in Tennessee showing what many thought he had ahead of AJ Brown, a splashy hot-ticket item in 2020 drafts. And, on the lighter side of sports, Stephen Gostowski missed three field goals, the worst day of any kicker so far, and still turned out to be the hero, helping the Tennessee Titans defeat a beleaguered and injured Denver Bronco's squad.
One week doesn't a trend make, but there is a morsel or two of Fantasy Football news to chew on, even with a small sample size. What there is more than I can handle of are noteworthy occurrences and Fantasy football news to be made of them. I grappled away a group of players worth speculating about. I will discuss the Fantasy impact of the touches and the targets, the totals, and the distributions in this week's Fantasy Football News & Notes: Trends and Noteworthy's, so let's get to it.
Running Backs
Clyde Edwards-Helaire, RB Kansas City Chiefs
25 carries, 138 rushing yards, Two Touchdowns
Two Targets, Zero Receptions, Zero Receiving Yards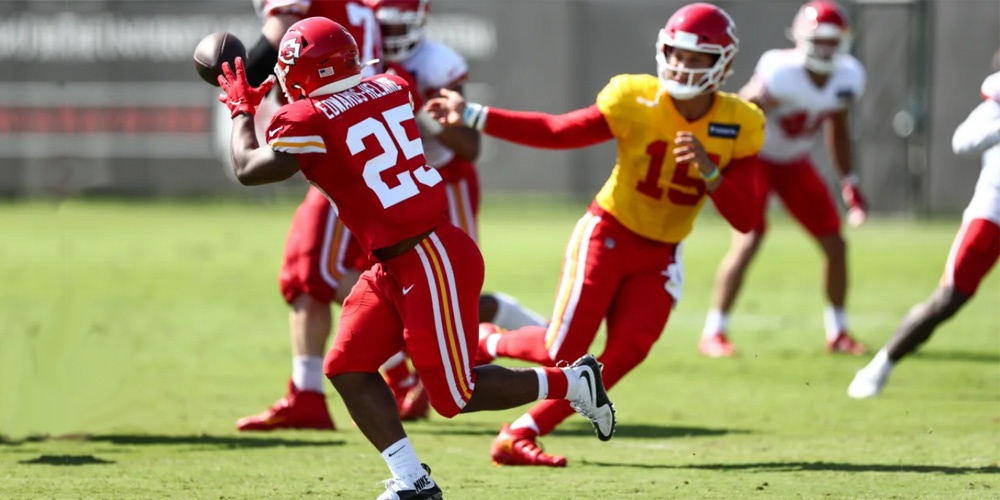 Analysts and Fantasy team managers will use CEH's statistical breakout to validate his ridiculous Average Draft Position (#6). What this Black-Sheep analyst saw was proof of my concerns and that I was correct to sound the alarm about just how insane his ADP was. He was anemic in short yardage, goal line, and...really.. any obvious run situations, relying solely on his explosive playmaking ability in space to produce yards on the ground against a mediocre Houston Texans defense that put up little resembling a fight in the opening game of the 2020 NFL season. Right now, this is Noteworthy because the stats and the analysis don't mesh. CEH believers are touting it as a huge success. Asking if he is a superstar in the making? The numbers can easily be portrayed that way. CEH led the NFL in rushing as a rookie in a big win. He even carried the rock 25 times, second-most to only Derrick Henry. Another Noteworthy stat. But, it's the situational data that's in question and much more telling.
Edwards-Helaire had six carries inside the five for -2 yards and zero touchdowns. If you watched the game you saw the same struggles between the 20s in obvious rushing situations as well. As good as CEH is in space, his 5'7" frame is not going to be effective as a leading rusher when defenses have run-first personnel on the field and it is going to hurt Daily Fantasy and Fantasy team managers most when it comes to his futility in the red zone. The Chiefs are eventually going to find a touchdown vulture running back to pair with Edwards-Helaire and will likely be forced to limit his snaps on obvious rushing situations so they can stay on schedule offensively.
One grim aspect of Week #1 that could provide some upside rather than concern is CEH's lack of a role in the passing game. Edwards-Helaire's best skill is as a pass-catcher out of the backfield and his explosiveness in space. It's hard for me to envision a scenario where Edwards-Helaire doesn't become a factor in the passing game going forward in spite of our limited sample so far. Two targets, zero catches. That's not going to be the norm and that, and his explosive playmaking ability in space is why CEH is going to be a must-start, RB2 all season long. However, in Dynasty leagues and to some degree in yearly leagues...I might survey the field and see what kind of price tag you can demand. There are legitimate reasons for concern when it comes to goal line, short yardage, and obvious rushing down situations. He isn't built for those situational opportunities and the Chiefs will have to find a second RB to fill that role going forward. Edwards-Helaire for Saquon Barkley straight up in yearly and Dynasty formats? Maybe target McCaffery with CEH and an additional piece to finish it off? I would never agree to those kinds of deals if I rostered one of the elite running backs, but that doesn't mean someone else won't buy-in. Worth a shot.
Malcolm Brown, RB Los Angeles Rams
18 Carries, 79 Rushing Yards, Two Touchdowns
Four Targets, Three Receptions, 31 Receiving Yards, Zero Touchdowns
The Rams have an untrustworthy, crowded committee situation going on and Week #1 suggests Brown is where the shares should be invested. I still believe in Cam Akers, but for now, and especially with Brown's success in the red zone, that's on hold. After the opening week, I am open to the idea that Brown, at the very least, will be a goalline guy and that's enough to be lukewarm about Akers. Don't release Akers, but don't start him until Head Coach Sean McVay shows us he likes Akers as much as I did a week ago. Brown needs to be in Week #2 lineups after his early workload and goalline success.
Peyton Barber, RB Washington Football Team
17 Carries, 29 Rushing Yards, Two Touchdowns
Zero Targets in Passing Game
The Washington running game is a mess and Barber's two-scores aside, it isn't that much clearer in my analysis. 17 carries is a legitimate workload and two touchdowns in the red zone make Barber an intriguing deep-league guy, but under two yards per carry makes him a sit until he proves he can tote the rock effectively. Barber needs to be rostered, not because of his performance, but because someone has to be "The Guy" in Washington and it's noteworthy Fantasy football news that it was him this week. I am leaning "Don't Be Fantasy Fooled" with Barber and his track record as a pedestrian rusher, but that doesn't mean he isn't worth watching and seeing for now.
Quarterbacks
Cam Newton, New England Patriots
15 Pass Attempts, 155 Passing Yards, Zero Touchdowns
15 Carries, 75 Rushing Yards, Two Touchdowns
One to One rush to pass ratio is noteworthy to say the least...as well as unsustainable. Offensive Coordinator Josh McDaniels isn't considered an Offensive guru because he can only develop a game plan for immobile quarterbacks. The Patriots were innovative with what Cam brings to the position and that's to be expected this season. 15 carries per game is not going to happen, but 8-10 and one of the league leaders at the position in rushing attempts is. Newton needs to throw the ball more and better. He also needs to absorb the pounding of all those carries and stay on the field. The volume carries between the 20's and success inside the five make Cam Newton a must-own QB right now and it could make him a Top 10 finisher in 2020. That is Fantasy football news after Week #1 from a player with an ADP of #116.8. Drafting a QB outside the Top 100 overall and outside the Top 12 at the position is how Fantasy Team Managers win leagues. Newton could be that guy in 2020.
Aaron Rodgers, Green Bay Packers
32 Pass Attempts, 364 Passing Yards, Four Touchdowns
I think it's safe to say that with an ADP of #87.3, ranking him 10th at the QB position in 2020 drafts, there wasn't a lot of draft day love for Mr. Rodgers. The Minnesota Vikings defense isn't a laughing stock but Rodgers made it look that way. He focused heavily on Devante Adams - no surprise - with 17 targets, leading the league in the opening week. It's early to say "Buy Low" on Rodgers (Draft day was the time), but it's noteworthy that he exploded in Week #1 after a tumultuous offseason. I believe in rostering multiple, viable quarterbacks and Rodgers was the value that I have shares of most across most of my leagues. Imagine drafting Rodgers 87th and Cam Newton at #116? That's a rosey looking roster after the first week.
Committee's
Buffalo Bills
Devin Singletary:
Nine Carries, 30 Rushing Yards, Zero Touchdowns
Seven Targets, Five Receptions, 23 Receiving Yards
Zach Moss
Nine Carries, 11 Rushing Yards, Zero Touchdowns
Four Targets, Three Receptions, 16 Receiving Yards, One Touchdown
It's not a good sign for Fantasy Team Managers that bought into Singletary to see Josh Allen out carry him and for a rookie RB to match him in rushing touches while being comparable in passing targets. The Week #1 distribution suggests Rookie Zach Moss is his partner in the Bills backfield. It isn't Fantasy Football news to see a partnership here, but it is noteworthy that the first game confirmed what reports suggested was possible. It's not a trend, but it's the start of one. Early on, this is looking like a very talented NFL backfield and a very frustrating Fantasy one. Especially if Josh Allen continues his heavy rushing workload.
Cleveland Browns
Nick Chubb
10 Carries, 60 Rushing Yards, Zero Touchdowns, One Fumble
One Target, One Reception, Six Receiving Yards
Kareem Hunt
17 Carries, 72 Rushing Yards, Zero Touchdowns, One Fumble
Six Targets, Four Receptions, Nine Receiving Yards
It's disturbing how bad the Browns were, even against a good Baltimore Ravens defense. It's more disturbing for Fantasy Team managers that used a Top 10 pick on Nick Chubb to see Kareem Hunt out carry him in the run game and for Chubb to be almost entirely absent in the passing attack while Hunt tied Jarvis Landry for the second-most targets. Hunt's presence has always made me nervous and his contract extension exacerbated those worries. I even suggested that it was possible that Hunt became "the lead guy" in a recent column. It's too early to sell Chubb, but Week #1's developments are certainly noteworthy and disturbing. Something isn't right in Cleveland.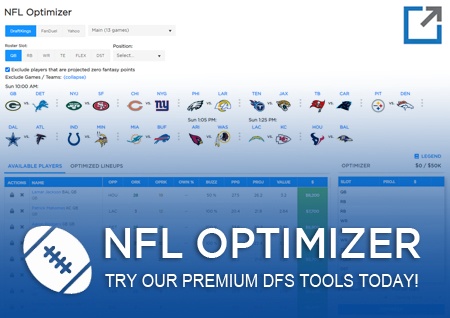 Wide Receivers
Scotty Miller, WR Tampa Bay Bucs
Six Targets, Five Receptions, 73 Receiving Yards, Zero Touchdowns
Brady made a Hall of Fame career, and a Dynasty, throwing to small, shifty receivers like Deion Branch, Troy Brown, Wes Welker and Julian Edelman. Big-play guys like Mike Evans and Chris Godwin are almost foreign to Tom Brady and we saw him fall back on old habits in his first game in a new uniform. Miller tied for second in targets and was second in receiving yards in a disappointing loss to the New Orleans Saints. Red zone throws and touchdowns are likely to be elusive for Miller, but targets and production could make him a WR3 or Flex play this season. His skill set is unique on what is a crowded offensive unit, but that unique ability in the slot should prove viable going forward. He should be on rosters in deeper leagues. Miller is some of the more intriguing Fantasy Football News so far.
Russell Gage, Atlanta Falcons
12 Targets, Nine Receptions, 114 Receiving Yards, Zero Touchdowns
It seemed like every Falcon had nine catches and over 100 receiving yards against the Seahawks Sunday. Their defense could put the Falcons in a lot of shootouts this season, but 54 passing attempts, 450 passing yards, and THREE 100 yard receivers in one game? A weekly thing? With Hayden Hurst, Calvin Ridley, Julio Jones, and Todd Gurley all eligible in the passing game, it's hard to see how Gage becomes Fantasy relevant, even if an unprecedented onslaught of targets develops on a weekly basis. The opening week performance is noteworthy, but Don't Be Fantasy Fooled people.
Darius Slayton, New York Giants
Nine Targets, Six Catches, 102 Receiving yards, Two Touchdowns
Slayton and Sterling Shepard were drafted #113 and #114 overall - two interesting observations. One, someone is looking right and someone wrong when picking which of this pair. Two, Slayton may be a draft day steal. It looks early on like he could be in line for a breakout campaign. The Giants, under new Head Coach Joe Judge, look like they could be a pass-heavy team if his NFL premiere is any indication. 41 pass attempts compared to 16 rushes. Even Saquon Barkley was targeted nine times in the passing game versus 15 rushes in the running attack. Slayton was the 44th wide receiver taken in 2020 drafts. It looks like he has a chance to be a Top 20 performer. That's good value and early-season noteworthy Fantasy Football News.
Tight Ends
Dallas Goedert, Philadelphia Eagles
Nine Targets, Eight Receptions, 101 Receiving Yards, One Touchdown
Who thought the second tight end on a Philadelphia Eagles team in a losing effort to a Washington team without a name or many talents on it would have the only 100-yard receiving tight end of the opening weekend? I don't see any raised hands. Zach Ertz's contract issues could be playing a part here, though that is unsubstantiated speculation on my part. Goedert is a legitimate talent stuck behind an even more legitimate one and that's the problem. He needs to be on rosters and based on Week #1 he has earned a start in Week #2, but don't go all-in just yet. It isn't a "Don't Be Fantasy Fooled" situation, but it has the ingredients to be "Don't Be Overly Fantasy Zealous."
Logan Thomas, Washington Football Team
Eight Targets, Four Receptions, 37 Receiving Yards, One Touchdown
Dwayne Haskins might be the worst starting quarterback in the NFL and everyone on Washington's offense will likely suffer as a result, but Thomas was the second most targeted tight end in football in the first week of the NFL season. It's noteworthy at the very least. Tight Ends are always Red Zone targets and hopes of a touchdown are all Fantasy Team Managers need to start one over another. Thomas looks like he could be a security blanket for Haskins and that would make him viable. I hate tight ends, but I play in MANY two tight end leagues, and in those formats, Thomas is a must-claim, must-start for Week #2.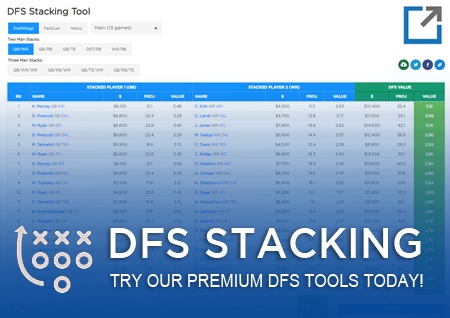 Trends
Derrick Henry, Tennessee Titans
31 Carries, 116 Receiving Yards, Zero Touchdowns
Three Targets, Three Receptions, 15 Receiving Yards, Zero Touchdowns
Zero touchdowns are noteworthy but "Don't Be Fantasy Fooled" about that, they will be there in the end. It's the touches that are more than noteworthy. It's a trend going back to 2019 when Henry led the NFL in carries and finished as the fifth-highest scoring RB in Fantasy. I don't love the lack of participation in the passing game and a lack of ceiling from a Top 10 draft pick, but Henry is a touches hog between the tackles. Week #1 confirms it.
Nyheim Hines, RB Indianapolis Colts
Seven Carries, 28 Rushing Yards, One Touchdown
Eight Targets, Eight Receptions, 45 Receiving Yards, One Touchdown
I was bullish on Marlon Mack during the draft season and reports that Jonathan Taylor would carry his bags rather than be his partner in the Colts backfield were encouraging though I doubt 100% true. Mack's season-ending injury opens the door for Taylor to be a RB1 and for Hines to be a legitimate low-end RB2 or strong weekly Flex consideration. Hines brings a different skill set than Taylor, which should enhance both of their values going forward. Hines is athletic and agile, a playmaker in the passing game, and in space but not a guy that can handle a full workload between the tackles or at the goal line. If the Colts did intend to limit Taylor's carries then that suggests Hines' touches and targets are more assured than would normally be the case. It's a developing trend to watch. His value is enhanced in PPR formats.
Benny Snell Jr., RB Pittsburgh Steelers
19 Carries, 113 Rushing Yards, Zero Touchdowns
One Target, Zero Receptions
James Conner is the guy until proven otherwise, but it isn't just his injury that opens the door for touches and targets for Snell. Conner wasn't the big-timer Fantasy Team Managers expected when they selected him in the first round in 2019 drafts and he struggled Monday Night before being injured. Snell was one of the few 100-yard rushers in the opening week. That's Noteworthy Fantasy Football news and he has a friendly Denver Broncos defense on the slate for Week #2. One target in the passing game is a little disconcerting, so it's between the tackles or the bench for Snell. He is a must-start against the Broncos if Conner is out, but he isn't a must-start if a committee situation develops. A potential Trend to watch.
STAY IN TOUCH
Sign up for FantasyData's newsletter and get awesome content sent to your inbox.
We'll never share your email address and you can opt out at any time, we promise.
---
Chris Mitchell began his Fantasy Sports Writing/Podcasting career with RotoExperts.com, writing about Minor League Prospects, Fantasy Football and Baseball. He won a 2017 FSWA award for "Best Comedy Article" and was Nominated for "Best Fantasy Podcast" in 2018. He has worked as a freelance writer and season-long contributor to BaseballAmerica.com and as a Daily Fantasy Sports analyst for Fantasydraft.com. His content has appeared in a multiple of outlets like The AP, The New York Daily Post, USAToday, Fantrax.com and more. He is President of Bosco Nation, where his Podcasts can be found BlogTalkRadio