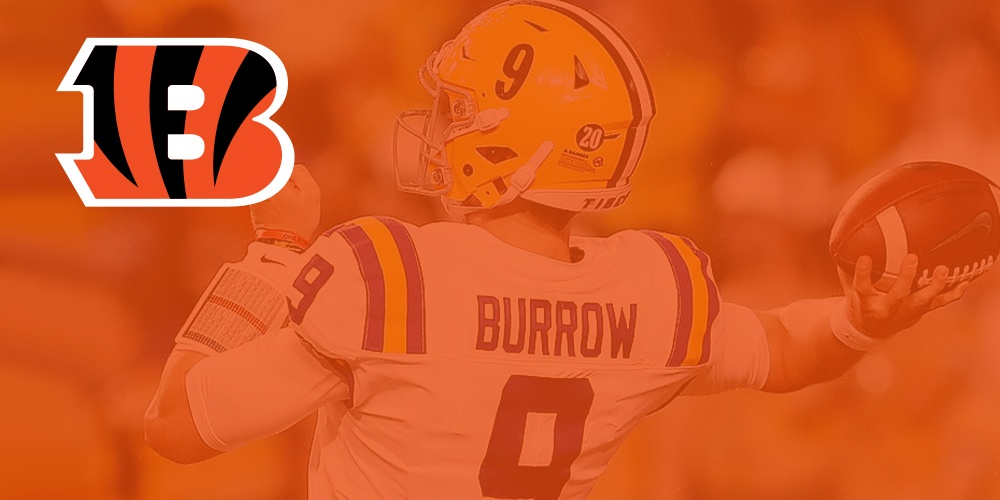 Joe Burrows Fantasy Value 2020
---
Joe Burrows Fantasy Value
For Fantasy players in competitive leagues to win their championships they have to find values on draft day. We don't have control over injuries or fluke scoring oddities like being the highest-scoring team with the least amount of wins, which happens every year to some unfortunate soul, but Fantasy managers do have choices on draft day and those choices can overcome the anomalies that the Fantasy Gods throw at us.
Finding value on draft day wins leagues. It's that simple. And the best place to find potential value - known as upside - without absorbing unacceptable amounts of risk is at the quarterback position. And, for team managers willing to throw a Hail Mary, the cheapest place to chase upside is rookie and first-year starting quarterbacks. That's Joe Burrow of the Cincinnati Bengals and the conditions for success are potentially there. He is in an interesting spot and is an intriguing late-round flier as a rookie.
Kyler Murray (#13 quarterback drafted - #102.9 ADP) was a Top 10 Fantasy quarterback in 2019 as a rookie, while Lamar Jackson (#11 quarterback drafted - #88.2 ADP) in 2019 and Patrick Mahomes (#15 quarterback drafted - #114.9 ADP) in 2018 won Fantasy players leagues. Jackson and Mahomes weren't rookies like Murray was and Burrow will be, but they were first-year starters and second-year NFL players. What those three quarterbacks have in common is that they were inexperienced, extremely impactful, and great draft day Fantasy values. Finding a Top 10 Fantasy scorer at their position outside the Top 75-100 draft picks is the definition of value. What two of those three had that Joe Burrow doesn't have is playmaking ability with their legs and that could be what makes or breaks Burrow's Fantasy viability in 2020.
If every single player you draft ends the season ranked exactly where you drafted them when it began then you're going to have a team with a middle-of-the-pack finish and no nickels in the PayPal. That's why analysts like myself write articles breaking down Average Draft Positions and "Sleepers" - a term I don't believe truly exists anymore in this saturated Fantasy world - and "Breakouts and Busts."
Depth at the QB Position
One of the ways Fantasy players hedge their draft-day bets is selecting running backs and wide receivers en masse and settling for their quarterback whenever the WR's and RB's are all gone. Sometimes, extremely late. Josh Allen finished 2019 ranked sixth in QB scoring with an ADP of #144.8 overall. The flip of that coin, Baker Mayfield and his #58.5 ADP, was the fourth QB selected and the 20th highest scorer at his own position. Owners that paid for Mayfield got burned while those that waited were rewarded.
In 2019, Dak Prescott finished second in QB scoring with an ADP of #127.3 according to Fantasydata.com. On his best days Blake Bortles was a bad NFL quarterback and his worst, it was ugly, but he finished in the Top 10 in QB Fantasy scoring twice (9th in 2016, 4th in 2015). Not once but TWICE. Blake "bumbling, stumbling" Bortles. That's value….and reason for changing the scoring rules but that's a debate for another column and another day.
Quarterback has a proven track record of producing Top 10 scorers drafted outside the Top 10 at their position and often outside the Top 100 overall. We all love the arm talent of Aaron Rodgers, the passing yards of Drew Brees and the ridiculous potential of Patrick Mahomes (look back at his 2018 season - 5,097 passing yards and 50 touchdowns), but we don't love an ADP inside the Top 75 and we definitely don't love spending a pick in the first three or four rounds on a QB rather than a wide receiver or running back. And, history has proven we don't have to do it. That's what makes Joe Burrow an intriguing possibility.
The Unproven Young QB
What makes Joe Burrow intriguing is that rookies and unproven first-year starting quarterbacks aren't typically drafted inside the Top 150 to 200. That's what I mean by a Hail Mary pick with a league shattering potential impact. Lamar Jackson and Kyler Murray circa 2019 were the exceptions that prove the rule, but they weren't drafted THAT late either. They were both very good values and Jackson was a Ring Maker, but they weren't a Hail Mary selection like Burrow will be in 2020.
Sam Darnold was selected #162.3, Jacoby Brissett #164.4, Daniel Jones #299, Gardner Minshew II #459. Those four unproven young picks had value in two-QB leagues, but they weren't viable weekly starters or impact QBs in standard 10-12 team leagues. They prove both that there is potential value if one of these late-round fliers hits as well as the problem - the odds of success are low. If you drafted Dwayne Haskins, regardless of where, it was a waste of a selection and a waste of a roster spot, however long a team manager waited on him too.
The Case For and Against Drafting 2020 Joe Burrow
The strongest case I can make against Joe Burrow is historical precedent and his lack of playmaking ability with his legs. Rookies, and unproven young quarterbacks, aren't typically Fantasy relevant with their arms. They don't throw as many passes as veterans and established NFL quarterbacks and they don't tally the passing yards that even average quarterbacks in the league do. Fewer attempts, fewer total yards and to no surprises, fewer touchdowns as well.
Kyler Murray was a Top 10 Fantasy quarterback in 2019, DeShaun Watson in 2018 (his first full season, second with the Houston Texans) and Dak Prescott in 2016 for the Dallas Cowboys all finished as Top 10 quarterbacks. They all have two things in common. They were the only first-time, full-time starting quarterbacks to finish Top 15 at their position in Fantasy scoring those seasons and they all rushed for a minimum of 280 yards. We don't know how Burrow will finish 2020, but I do know that I am not projecting 25-30 Fantasy points from Joe Burrows legs - making it a much tougher climb for him than the typical rookie QB. Josh Allen can struggle as a passer, Blake Bortles struggled MIGHTILY as a thrower, but they remained both reliable and viable because they ran the ball. Burrow will have to throw it often as well as successfully and the Bengals will have to throw it aggressively downfield to overcome the easy 25-75 points that the more mobile quarterbacks use as a crutch to hold up the argument for their viability.
Another factor hurting Burrows case is we don't know how many games he will play. The consensus as of May 22, 2020 is that he will start on day one, but most rookies don't. Most rookies sit for at least two or three games and some don't find the field until mid to late season. It isn't prudent for Fantasy owners to take a flier on Joe Burrow only to see his contributions begin as their hopes for a championship are already over in Week seven or eight. That doesn't mean he isn't worth a late-round flier but it does mean that there is a better than average chance that managers drop him before they have a chance to cash in on their lottery ticket. A Hail Mary pass doesn't do anybody any good if it's shot out of the air via release to the waiver wire pile.
A third factor. He has one season of exceptional play. Could he be a one-term wonder? His 2019 at LSU was one of the best Heisman Trophy-winning campaigns we have ever seen, but he did it with a team that had double-digit NFL draft picks peppered across both the offense and defense, he had a loaded wide receiving core and running back position and he had an offensive coordinator (Joe Brady) who is now bringing his brilliance and insights to the NFL for the Carolina Panthers. Was Burrow a product of his environment or was he the glue that made it stick, the gas that made it go? A lot of unknowns for a position loaded with other, less uncertain options than Mr. Burrow.
Have we considered the possibility that Joe Burrow and this Bengals offense could be legit good sooner rather than later pic.twitter.com/57mF5nTwCI

— Ian Hartitz (@Ihartitz) May 20, 2020
Joe Burrow Breakdown
What Burrow has going for him is that he illustrated in 2019 at LSU that he could be an elite passer at the next level and he will have an offensive-minded head coach with very good weapons to work with at the offensive skill positions. It's surprising for a team as bad as the Bengals were in 2019 to have such a strong group of skill position players, but they do.
The Bengals Weapons
A.J. Green and Tyler Boyd at wide receiver with Joe Mixon at running back are strong skill position players to begin day one of the Burrow era with. That's the upside. The lack of a pass-catching tight end could be a bit of a downer, but not a total killjoy. Tight end is a great safety net for rookies to use as a crutch, but we want upside, downfield throws, and yards. Tight end is more of a building block and a crutch than a kingmaker, so it isn't a killer.
C.J. Uzomah didn't produce much in 16 games at tight end in 2019 but if Fantasy players are hitching their wagons to the tight end then they are looking in the wrong place when doing projections. However, Lamar Jackson's best, and far and away most popular target in a season when he threw 36 touchdowns was his rookie tight end, Mark Andrews and Burrow won't have that kind of crutch to lean on. So, it's relevant and it could matter.
The Physical Attributes
Burrow was a beast in 2019. He completed 402 passes in 527 attempts for 5,671 yards, a 76.3% completion percentage, 60 touchdowns, and only six interceptions for a Quarterback rating (QBR) of 202 according to sports-reference.com. He set or tied seemingly almost every offensive record there is for a quarterback to challenge all while going 13-0 and winning the National title on his way to unanimously winning the Heisman trophy.
He threw for a lot of yards, for a lot of touchdowns and he threw extremely accurately. Everything you need from an elite Fantasy thrower. If he has a weakness, and it will limit his potential as a Fantasy rookie as well as his potential as an elite Dynasty league quarterback, it's his lack of mobility. He is mobile enough to do what needs doing in the pocket, like Tom Brady some would say, but he doesn't profile to be the type of quarterback whose legs will demand defenses prepare for them. That's the biggest reason why he doesn't project to be a viable Fantasy quarterback in his rookie season. If he was Kyler Murray circa 2019 with the Bengals weapons then he would have a shot to be a Top 10 starting Fantasy quarterback, but as his legs currently work, he isn't.
Fantasy Analysis
It's impossible to ignore how promising a spot Joe Burrow has fallen into in Cincinnati and trust me when I say how odd it is to be typing that without laughing my way to the floor from my chair, but it's true. Zac Taylor is thought of as an innovative offensive coach and he has a contributing cast with explosive offensive potential and well-above-average skill position players. But, that's not enough to confidently believe that Burrow can be a viable QB1 as a rookie.
Rookies and quarterbacks in their first year as starters don't throw for enough of a combination of yards and touchdowns to be viable on their own with the exception of the true elites. That's basically Patrick Mahomes, Lamar Jackson because of his 36 touchdown passes and many believe Kyler Murray has emerged as one already. Without 40-70 Fantasy points created by rushing yards and rushing touchdowns, any Fantasy quarterback but especially a rookie one, is going to struggle to be a viable Top 15 starter for team managers.
Without the running stats to elevate Burrow's floor and raise his ceiling to significant levels, he isn't a viable fantasy starter in 2020. Something in the neighborhood of 3,500 yards, 17-20 touchdowns, and 200 rushing yards would have to be considered a very successful rookie campaign while it more than likely will fall outside the Top 20 in fantasy scoring at the quarterback position. Those numbers in 2020 by Burrow would be comparable to Ryan Fitzpatrick in 2019. He ranked 17th overall in 15 games played - a number of starts we can't be assured Burrows plays either.
For owners that want to take a flier who are enticed by the Bengals weapons or their schedule or Burrows raw potential, I am alright with those managers drafting a Tom Brady (18th QB off the QB board with an ADP of #132) or Ben Roethlisberger (20th off the QB board with an ADP of #144.4) somewhere in 11th-13th rounds and using a late-round pick on Burrow and if the lottery hits, congratulations. Otherwise, Burrows is a wait and see waiver wire warrior until he proves he is worth a roster spot. 350-400 rushing yards and a few rushing touchdowns are that important for inexperienced young quarterbacks and Burrow doesn't have the legs to do it.
The Schedule
One argument Fantasy analysts always made about Blake Bortles even when he was finishing in the Top 10 in QB scoring was that while his season-totals ranked high, his week to week performance was average. He was rarely a Top 10 scorer in any given week and because of that, he didn't win Fantasy players games in head-to-head formats. Looking at Joe Burrow's schedule, he will face the Baltimore Ravens, Cleveland Browns, and Pittsburgh Steelers twice, the Los Angeles Chargers and the Dallas Cowboys. That's half his schedule against teams that ranked in the Top 10 in yards allowed passing in 2019. Not an easy group of opponents for a rookie passer to unleash huge yardage totals and big-time Fantasy points.
Conclusion
I am intrigued by Joe Burrow, but the one-year wonder narrative, the lack of impact athleticism and mobility, and the Bengals history of futility are all reasons why I am watching and waiting rather than buying and owning in 2020. His potential and his impressive 2019 does have me less concerned about the Bengals weapons though. Tyler Boyd and Joe Mixon are still high on my list and if A.J. Green falls far enough, I am taking the chance on a comeback from him as well. That's probably the best compliment I can give to Joe Burrow. He won't have a detrimental effect on the Fantasy fates of the players around him and that can't be said about everyone across the league and he is a rookie. Go Get Em kid.
STAY IN TOUCH
Sign up for FantasyData's newsletter and get awesome content sent to your inbox.
We'll never share your email address and you can opt out at any time, we promise.
---
Chris Mitchell began his Fantasy Sports Writing/Podcasting career with RotoExperts.com, writing about Minor League Prospects, Fantasy Football and Baseball. He won a 2017 FSWA award for "Best Comedy Article" and was Nominated for "Best Fantasy Podcast" in 2018. He has worked as a freelance writer and season-long contributor to BaseballAmerica.com and as a Daily Fantasy Sports analyst for Fantasydraft.com. His content has appeared in a multiple of outlets like The AP, The New York Daily Post, USAToday, Fantrax.com and more. He is President of Bosco Nation, where his Podcasts can be found BlogTalkRadio