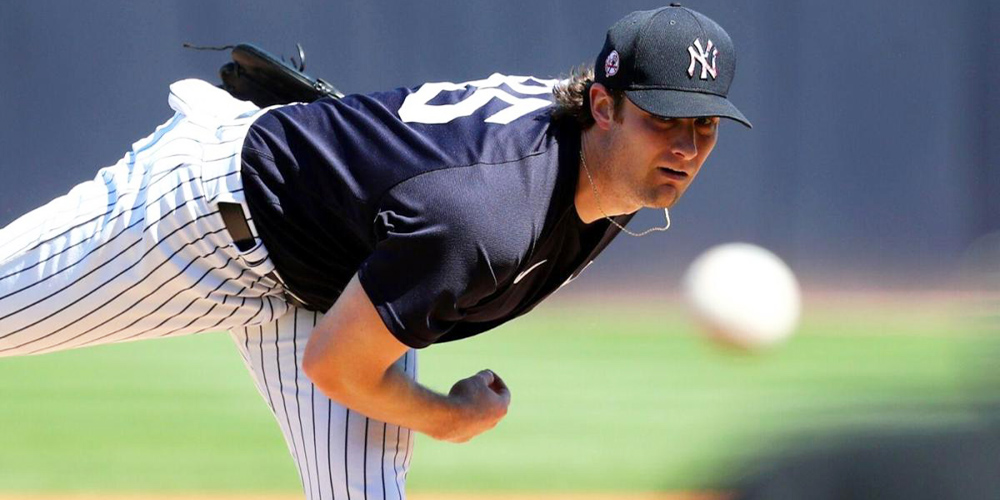 The MLB Fantasy Impact of The Hot Stove
---
Offseason Moves and Their Fantasy Impact
It has been a fast and furious offseason for Major League Baseball. Gerrit Cole will be pitching in the Bronx after leading the Astros to the promise land. Anthony Rendon decided that the entertainment capital of the world was better for him than the nation's, Starling Marte and Mookie Betts were both traded to National League pennant contenders and Zach Wheeler signed as a free agent with a division rival. With all this excitement comes the day after. The ramifications.
Once the sugar high has subsided, we immediately swing into evaluation mode. What does it all mean? How do changes in leagues, in teams and more broadly, in circumstances, impact a players Fantasy projections for 2020 and beyond? Fantasy baseball games aren't being played, but our interest in it is certainly peaked by the possibilities happening around our players.
There are assumptions made by the Fantasy playing world when it comes to changes in circumstance and here are a few of the basic ones.
Change of any kind adds an element of unknown, an element of instability, which means an element of risk. And, the specifics of that change impacts perceptions of a player's upcoming season. Changing circumstances is a significant contributor to narratives about whether a player is going to have a good or bad season and these draft-season narratives have a huge impact on where a players Average Draft Position (ADP) will be throughout the process. In most cases, owners shouldn't overreact to a players change in circumstances, but we often do. When a player moves to a park friendly to their skills or becomes a part of an organization that fits their style of play it's hard not to be bullish. The opposite is also true. It's difficult to be aggressive about drafting a flyball pitcher who will throw a majority of their innings in a bandbox or Coors field. It's understandable, but it needs to be tempered. Good players are good while mediocre and bad players are just that, mediocre or bad. These perceptions and these assumptions, however, create inequities. It results in players being over-drafted or underrated. It creates value for Fantasy owners to gain an edge on their competitors.
Here are a few of the basic assumptions we make.
Switching leagues is a moderately bad thing for hitters and can be a slightly good one for pitchers. Where they go matters more, but the switch in and of itself has a slight impact on perception, less so in Dynasty leagues, but definitely in yearly ones.
A pitcher going from the American League to the National League is good.
A pitcher going from a hitters park to a pitchers park is good, and a pitchers park to a hitters park is bad.
A batter going from a hitters park to a pitchers park is bad, and from a pitchers park to a hitters park is good. (Ask Christian Yelich)
Going from a bad team to a good team is perceived, almost universally, as a good thing.
These are common-sense assumptions made by all of us, but I am a data-driven, fact-based analyst and this is FantasyData.com. I try to focus the emphasis of my projections on a player's ability rather than the environment he plays. So, I researched some of the more recent, high profile free agent signings and trades to see how players performed the season after their circumstances changed to enlighten us.
Gerrit Cole, SP
Previous Team: Pittsburgh Pirates
Next Team: Houston Astros
New Team: New York Yankees
Gerrit Cole will pitch in the Bronx for the New York Yankees in 2020, but before he chose to move to New York as a free agent, he was traded from the Pittsburgh Pirates to the Houston Astros. He went from a mediocre team to a contender, a pitchers park to a hitters one, and from facing the pitcher in the National League to lineups with the designated hitter in the American.
Here were the results in categories used in Fantasy leagues.
2017: Pittsburgh Pirates
203 Innings Pitched - 12 Wins - 196 Strikeouts - 4.26 ERA - 1.25 WHIP
2018: Houston Astros
200.1 IP - 15 Wins - 276 SO's - 2.88 ERA - 1.03 WHIP
In Cole's first season with the Astros, he overcame the perceived hurdles of changing leagues and a negative change in park effects. He went from a friendly pitchers park to a hitters haven. He did win more games, which was to be expected when they change from a Pirates uniform to an Astros one, but it's his other Fantasy statistics that bucked the conventional assumptions and significantly so.
Cole's improvements continued in 2019, suggesting that he made a breakthrough as a pitcher with the Astros and that that was the reason for his improvements. Changes in the environment can matter, and often do, but they aren't the biggest determinant in future success or failure. It should also be noted that even with the expected changes, the consensus opinion in the Fantasy "Expert" community and baseball media, in general, was that Cole would have a breakout season in his first with the Astros.
Patrick Corbin - SP
Previous Team: Arizona Diamondbacks
New Team: Washington Nationals
Corbin went from pitching for an 82 win Arizona Diamondbacks team to what turned out to be a 93 win, eventual 2019 World Series champion Washington Nationals squad. Corbin didn't switch leagues and while pitching in Washington is friendlier than it was in Arizona, it isn't a significant change. The same can be said for switching from the Diamondbacks to the Nationals. The Nationals were a better team in 2019 than the D-backs in 2018, but the change was relatively incremental.
2018: Arizona Diamondbacks
200 IP - 11 Wins - 246 SOs - 3.15 ERA - 1.05 WHIP
2019: Washington Nationals
202 IP - 14 Wins - 233 SOs - 3.25 ERA - 1.18 WHIP
From a performance perspective, Corbin had far and away his best years in 2018, his contract year, and 2019, his first year with the Washington Nationals. His strikeouts were up significantly while his ratios (ERA and WHIP) were significantly better than any previous season, with the exception of 2013 when he had an ERA of 3.41 and WHIP of 1.17, but only 178 strikeouts.
Corbin's environmental changes were relatively minor and the difference in his performance was as well. That being said, he was worse even though his circumstances improved. He is an example of a player whose perceived value entering 2019 should have been the same as what we knew about his performance from 2018. Sometimes change is irrelevant and should be perceived that way on draft day.
Analysis
I emphasized these two Free Agents because they buck the conventional wisdom, our common-sense assumptions, and that change in environment has to have a meaningful impact on a player's projections. Change doesn't mean as much as many Fantasy players attribute to it and yet you see Average Draft Position, especially early in the draft season, swaying significantly in some cases. ADP is a good barometer to determine which players are over or underrated.
Here are a few starting pitchers in new places, the possible impacts and their ADP's.
Hyun-Jin Ryu, SP Toronto Blue Jays
2019: 182.2 IP - 14 Wins - 163 SOs - 2.32 ERA - 1.01 WHIP
Current ADP: #117 (according to Fantasypros.com)
In 2019, Ryu had career bests in strikeouts, ERA and WHIP, while he pitched the second-most innings of his career and tied his career-high in wins with 14. Ryu's career year, especially his dominant first half of it, is why his ADP is where it is.
The environmental factors I outlined above that often impact the perception of a player's potential are all trending in the wrong direction for Ryu. He'll be facing lineups with right-handed power hitters like Giancarlo Stanton, Aaron Judge, Aaron Hicks, and Gleyber Torres, a strong Red Sox lineup, even without Mookie Betts, in Fenway Park, a place known to be harsh on left-handers. Ask David Price next time you see him in Hollywood.
And, the Rogers Centre, his new home ballpark, was the most homer-friendly stadium in baseball and 12th most friendly in runs scored according to ESPN.com's Park Factor metrics. Add to the park effects, three youngsters in Vlad Guerrero (a defensive liability who will be moving to first base or DH as soon as they find another third baseman to play there), Bo Bichette and Cavan Biggio in the Jays infield and you have an uphill climb for Ryu to overcome.
Ryu is this years early-season ADP head-scratcher. His injury history along with all of the risks associated with his change in environment hasn't had the kind of negative impact it typically would, and in my opinion, should. Even though I am advocating that readers minimize the impact of environmental changes, I can't apply the argument to Ryu that I normally might. His ADP is a tough one to wrap my common sense head around. As of five days ago, when I started researching this article, he was being drafted before Madison Bumgarner (#116), Zack Wheeler (#115) and Robbie Ray (#146). Pitchers with significantly higher upside and strikeout potential and all beneficiaries of National league lineups. Even Kyle Hendricks (#144) was a safer option at a significantly lower ADP. My advice, stay away from Ryu unless his ADP takes a significant nosedive. He is the one player whose changes in circumstance suggest he will be a 2020 bust.
Madison Bumgarner, Arizona Diamondbacks
2019: 207. IP - Nine Wins - 203 SOs - 3.90 ERA - 1.13 WHIP
Current ADP: #116
Changing from San Francisco's Oracle Park, baseball's most friendly pitching environment, to Arizona's Chase Field would have been a drastic change in 2016-2017, but Chase Field isn't the launching pad it once was. In 2019, it was the 16th friendliest park for runs scored and 20th friendliest in home runs according to ESPN.com's Park Factor metrics. San Francisco's Oracle Park was the stingiest, and by a lot, but Arizona's wasn't the menace to pitchers that it once was.
The Giants are in full rebuild mode while the Diamondbacks are a playoff contender even though the National League has a lot of potential contenders and fewer and fewer doormats. It's difficult to see how Bumgarner's Win total isn't bolstered by the improvement in his supporting cast while the change in environment shouldn't be a drastic impediment to success in his ratios.
He has struck out 191 batters or more in seven of his last nine seasons and 199 or more in five of his last seven. Memories of partial seasons, though not bad ones, in 2017 and 2018, seem to be dragging down his ADP.
Often a player changing from a loser to a winner after the kind of career and the type of season Bumgarner had in 2019 would bolster their perceived value, but it doesn't seem to have done it so far. He is being drafted 46 spots later than Noah Syndergaard (#70) in spite of his relatively disappointing career, 56 positions after Luis Severino (#61) in spite of his recent injury issues (this was originally written PRE-TJ diagnosis), 57 picks after Lucas Giolito (#59) and 60 slots after Zack Greinke (#56) even though he is changing leagues, and moving to a friendly hitters environment in Houston. Tyler Glasnow (#77) is being drafted 39 spots ahead of Bumgarner while Brandon Woodruff is being selected 90th overall compared to Bumgarner's #116.
It appears that the high-profile free agent signings of Gerrit Cole, Stephen Strasburg, and Zach Wheeler have overshadowed Bumgarner. He is currently being drafted as the 31st pitcher off draft boards while he could easily strikeout 200 batters, win 15 games, and finish with ratios of 3.25-3.50 ERA and 1.15-1.20 WHIP. That potentially could be a top 10, at worst top 15, pitcher in 2020. Owners need to take advantage.
Zack Wheeler, Philadelphia Phillies
2019: 195.1 IP - 11 Wins - 195 SOs - 3.96 ERA - 1.26 WHIP
Current ADP: #115
Wheeler is being drafted right around where he should be. He certainly isn't being overdrafted while he isn't currently a steal either. That's interesting because he had a career year in 2019 and he is playing in 2020 for a Philadelphia Phillies team that is a contender for the division, potentially a 90+ win team (though that would be better than what most believe they are capable of at the start of Spring Training).
There are reasons to be bullish about Wheeler's 2020 projections and yet, early on, drafters are being cautious rather than aggressive.
He is coming off back-to-back successful, relatively healthy seasons where he pitched 182.1 and 195.1 innings while striking out 179 and 195 batters respectively. There were parts of September when Wheeler's performance was on par with Jacob deGrom and yet owners are reaching for risky, unproven starting pitchers like Mike Soroka (#93) of the Atlanta Braves, Brandon Woodruff (#90) of the Milwaukee Brewers and when I first started researching this article, Shohei Ohtani (#119). Rather than betting on the continued improvement, they appear to be projecting regression instead, choosing to accept more risk with less upside from other pitchers.
Explanations Why? There isn't an obvious boost to his potential Win total in Philly than there was, or would have been if he stayed in New York with the Mets. The Phillies allowed 794 runs scored while the Mets allowed 737 in 2019. The Mets finished with a better record, and while I expect the Phillies to be the better team in 2020 (not a popular opinion in the baseball media or Pecota), they are more-or-less competitive equals if we are being fair about things.
Citizens Bank Park ranks 10th in runs and 7th in Home Runs according to ESPN.com's Park Adjusted Metrics while Citi Field is 26th in runs and 16th in Home Runs. That's a meaningful difference and anyone who follows baseball knows that Citi Field is pitcher-friendly while Citizens Bank Park is more like a little league field than a professional one in many respects. This kind of Park Factor adjustment often gives Fantasy players reason for pause and Wheelers ADP suggests that it could be having a meaningful impact early in the draft season.
Wheeler has a reputation for being injury-prone, but it isn't entirely fair to label a player injury prone when he has pitched 182 innings or more in back-to-back seasons and three of his last four. But, he has never pitched 200 innings in a season and he does seem to have a DL stint or two each year. It feeds a narrative, accurate or not, and it affects the perception of a pitcher.
There are reasons to believe the Phillies were less than wise to sign Wheeler for five years and $118 million as a free agent, but that contract isn't a reason to draft him after the names I mentioned above. Trevor Bauer (#80) and Jose Berrios (#83) are better, safer values than Wheeler, but Sonny Gray (#107) along with the names I mentioned above are not. Once the draft is in the #85-90 neighborhood, Wheeler and his strikeout potential becomes a viable option depending on how things are developing. It isn't beyond the realm of possibility that, like Gerrit Cole, Wheeler is in position to break out in 2020.
I am not suggesting 250+ strikeouts and a Cy Young are in the cards, but 220 with a 3.00 ERA isn't impossible. If drafters were more optimistic about Wheeler continuing his strong 2019 season and potentially having a career year in 2020, it would be justifiable for owners to reach for Wheeler ahead of Jose Berrios (#83) or Trevor Bauer (#80) rather than being cautious and chasing Mike Soroka (#93) or Brandon Woodruff (#90) instead. I absolutely would wait a round to acquire Wheeler than Soroka and Woodruff.
Park Factors and the uncertainty that change can create could explain some of the hesitation. The Phillies paid Wheeler because they think he has upside remaining, but it appears Fantasy owners aren't sold. I expect his ADP to rise while Soroka's tumbles. Woodruff's a 2020 Darlin so we won't see any ADP drops for him, but he will be a 2020 Monday Morning Quarterback bust. Trust me on this.
Marcus Stroman, New York Mets
2019: 184.1 IP - 10 Wins - 159 SOs - 3.22 ERA - 1.31 WHIP
Current ADP: #196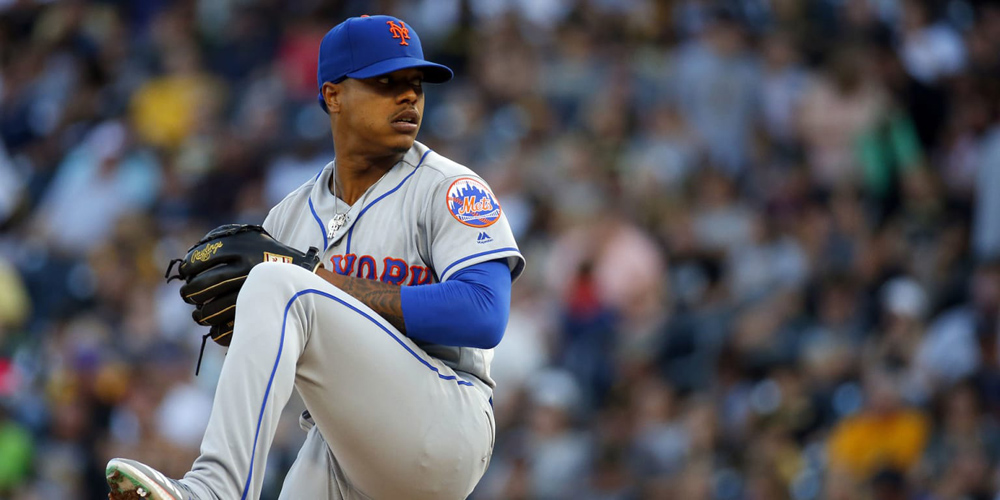 Stroman was a 2019 trade deadline acquisition by the Mets rather than a Hot Stove mover this offseason, but he is a player that could benefit significantly from a change in his surroundings. His environmental changes for the better are almost exactly the opposite of those for Hyun-Jin Ryu.
He's out of the American League East and away from the Rogers Centre and he will face the opposing pitcher two or three times a game rather than 30+ home run DH's every start.
An odd thing about Stroman's 2019 season was that he switched leagues, a change presumed to be a good thing for pitchers, and yet his ratios got worse. It was primarily due to an increase in BB/9 and home runs allowed and the sample was small enough to distort those ratios.
In 59 National League innings for the Mets he allowed eight home runs as opposed to 10 home runs in 124 innings pitched for the Toronto Blue Jays. And, he allowed 23 walks as a Met vs. 35 as a Blue Jay in significantly fewer innings.
Owners need to be careful not to see something and go "AHA. I have an edge on other owners because I see something they don't." It lacks common sense to think that a ground ball pitcher like Marcus Stroman is going to allow more home runs in the National League for the Mets than he did in the American League for the Blue Jays in one of the most homer-friendly ballparks in baseball. I try not to overrate external factors and downplay a player's ability and how their careers have developed, but the stars are aligned for a career year from Stroman in 2020.
In 2019, Stroman had career bests in HR/FB% (12.6%), K/9% (7.76) and WAR (3.9) and the one thing that improved when he moved from the AL to the NL was his strikeouts. He struck out 60 batters in 59.2 innings pitched as a Met, the first time he has struck out anything close to a batter per inning as a major leaguer. That has always been Stroman's Fantasy Achilles heel. Prior to 2020, his career-high was 166 strikeouts and that was in 204 innings pitched. The change in environment should result in improved ratios and more than 180 strikeouts for Stroman this season.
I would draft Stroman over Hyun-Jin Ryu (#117) straight up in the exact same draft spot even though he is currently being selected 79 picks (almost eight rounds) after Ryu. Stroman is currently being selected alongside Jake Odorizzi (#187), Andrew Heaney (#200), and Masahiro Tanaka (#194). He is a good value in February. We'll see if he stays that way as drafts ramp up in March.
The Hot Stove is fast and it's furious and with all the moving parts it's easy to lose track of it all. Sometimes change is a good thing, sometimes it's a bad thing and sometimes it's more or less nothing at all. Don't overrate the changes in circumstances and be sure to follow the fluctuations in a player's perceived value as reflected in their ADP.
Another lesson. Don't use ADP as an absolute indicator of when a player will be drafted in your specific league because that can lead to missing on a player you want. ADP should be used to evaluate the perception of a player in Fantasyland to determine whether owners should reach for a player they like or sit back and wait for them to fall. It's a way to create an edge and maximize value in a draft.
You can Follow Chris Mitchell on Twitter @CJMitch73 and be a part of Bosco Nation for his FSWA Nominated podcast "A Podcast To Be Named Later" and "The Prospects Podcast" here ---> https://www.blogtalkradio.com/bosconation
STAY IN TOUCH
Sign up for FantasyData's newsletter and get awesome content sent to your inbox.
We'll never share your email address and you can opt out at any time, we promise.
---
Chris Mitchell began his Fantasy Sports Writing/Podcasting career with RotoExperts.com, writing about Minor League Prospects, Fantasy Football and Baseball. He won a 2017 FSWA award for "Best Comedy Article" and was Nominated for "Best Fantasy Podcast" in 2018. He has worked as a freelance writer and season-long contributor to BaseballAmerica.com and as a Daily Fantasy Sports analyst for Fantasydraft.com. His content has appeared in a multiple of outlets like The AP, The New York Daily Post, USAToday, Fantrax.com and more. He is President of Bosco Nation, where his Podcasts can be found BlogTalkRadio