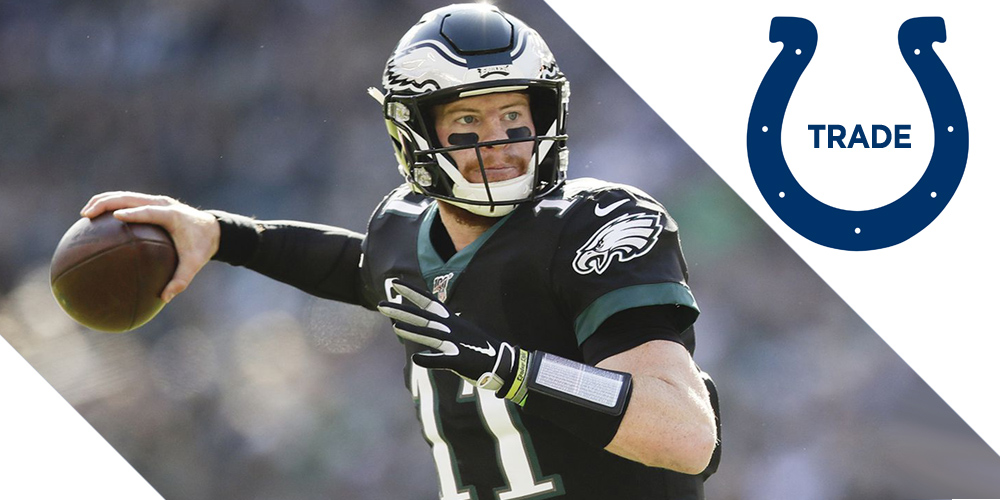 Wentz to the Colts: Trade and Fantasy Impacts
---
Carson Wentz Traded
It finally happened - the Philadelphia Eagles shipped Carson Wentz out of Philly.
Wentz was sent to the Indianapolis Colts on Thursday for a 2021 third-round pick and a conditional 2022 second-round pick. The second-rounder will turn into a first-round pick if Wentz plays 75% percent of the Colts' 2021 snaps, or if he plays 70% of the snaps and Indianapolis makes the playoffs next year.
Here, we will break down what this means for the Eagles, the Colts, Wentz, and the rest of the NFL.
Eagles Outlook: Hurts So Good
Unless the Eagles pick a QB with the 6th overall pick, which would be an absolute nightmare and could put this team back in the exact same situation they were with Wentz, the Birds should be all in on their breakout rookie Jalen Hurts. They trust Hurts and will be crossing their fingers the team can mentor him in a new system with new head coach Nick Sirianni. Other than the Hurts decision, the trade does not mean a lot else for the Eagles. They get two picks and $34 million in cap space next year due to the dead cap space, but the starting lineup doesn't change, as Hurts took over the starting role late last season.
Colts Outlook: The Missing Piece?
At 11-5 last season, it's safe to say the Colts are a good football team. Indianapolis lost in the Wild Card round this year to an excellent Bills team, and the game came down to the wire. The only roster hole they had was their quarterback situation. Indianapolis had 39-year-old Phillip Rivers at the helm last year, but the Colts needed an immediate option under center after his retirement.
Acquiring Wentz was an excellent move on Indianapolis's part. They see some long-term value in Wentz and want him to be their play-caller, and they only had to give up two picks for what they think is the franchise's solution. They only needed one win extra win last year to claim the division, and a healthy Wentz can get them there.
Carson Wentz Outlook: Fresh Start
A new home in Indy is the chance that Carson Wentz needs. He has shown that he is an extremely talented football player stuck in a terrible Doug Pederson system with an awful O-line and inconsistent weapons.
Wentz now has the opportunity to join a team on the rise in Indianapolis. He'll have one of the best protection crews in the NFL headed by Quinten Nelson, which will give him the time that he didn't have in Philly to work his magic. A star running-back like Jonathan Taylor also takes some of the pressure off because Wentz will not have to throw as much.
Lastly, the Colts defense will get stops and provide Wentz with good opportunities in the field position battle. However, if Wentz cannot win with this Colts team and does not make the most of this opportunity, his NFL career could be over. Given his injury history, staying healthy and on the field is more critical for Wentz than ever.
Fantasy Implications
Wentz instantly becomes a viable fantasy football option following the trade. Though a good percentage of the offense will come through the ground game, Wentz will put up good numbers behind a capable offensive line, making him a solid lower-tier option in deeper leagues.
Wentz will have plenty of opportunities for huge downfield plays with his new receiving core, which has downfield potential but couldn't run deep routes due to Rivers' arm strength last year.
Additionally, you can expect to see a boost in the numbers of Michael Pittman Jr., Zach Pascal, and T.Y. Hilton if he comes back. With Wentz's young arm and previously shown bold throws, these guys will see a significant boost in the deep threat game. In terms of runners, though, it will still be all Taylor, all the time. He will be a top back next year.
Implications Around the League
Look out, AFC. Last year, the Colts were a dangerous playoff team, even with an old quarterback. If Wentz plays to his ability, and the rest of the team continues to play like last year, especially the defense, the Colts could very well make a deep run next year.
The Tennessee Titans should be particularly worried because they only won the division last year on their head-to-head record with the Colts, so their top spot is certainly in danger. The AFC already has the Chiefs, Bills, and Ravens, and has another viable contender with the Colts, which would make that side of the playoffs exciting for teams and fans alike next year.
STAY IN TOUCH
Sign up for FantasyData's newsletter and get awesome content sent to your inbox.
We'll never share your email address and you can opt out at any time, we promise.
---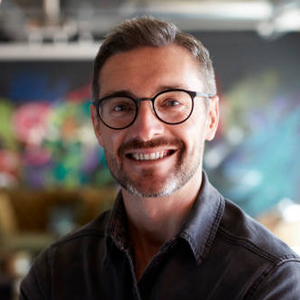 Derek is a long time sports bettor who grew up in Providence, RI. Derek is data driven and believes the key to betting the sportsbooks is finding an edge in analytics. Derek is happily married and has two young boys. Derek will bet on anything if you let him.