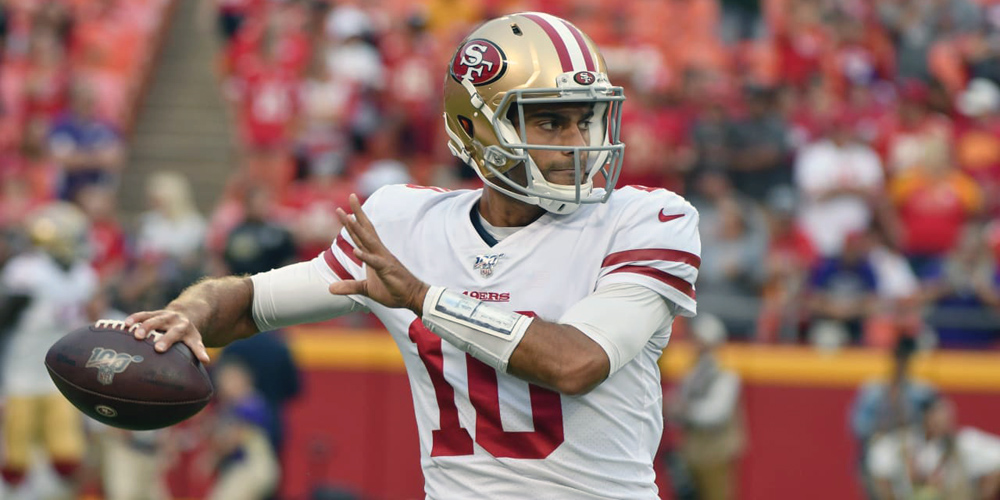 14 Interesting Advanced Metric Stats For Week Six
---
Advanced Fantasy Metrics
This article will tell you about eight must-read advanced stats you should know about as we approach Sunday's Week 6 slate of NFL action. The advanced metrics that FantasyData provides our subscribers are not the end all be all. They are very useful at helping you better understand matchups and make the best possible lineup decision.
Quick Links:
1) Jimmy Garoppolo's True Passer Rating (116.9)
Garoppolo completed 20 of 29 passes for 181 yards and two touchdowns in the 49ers blowout win over the Browns on Monday Night Football. One of his touchdown passes was to tight end George Kittle while the other was to running back Matt Breida. San Francisco leaned heavily on its defense in this game. The only other team allowing fewer yards per game defensively is the Patriots. San Francisco is winning football games by leaning on its running game (leads the NFL with 38.5 rushing attempts per game) and suffocating defense. Garoppolo is playing well, but he's more a mid-range QB2 in fantasy football.
2) Baker Mayfield's True Passer Rating (76.2)
Mayfield's true passer rating is another way to quantify just how terrible he's played so far this season. He completed just eight of 22 passes for 100 yards and two interceptions against the 49ers. Mayfield was also sacked four times and fumbled twice. He's only averaging 32.2 pass attempts, 249.4 passing yards, and 9.6 fantasy points per game. Mayfield is currently the fantasy QB28. This is not the statistical production those who drafted him this summer expected. It would be prudent for Browns head coach Freddie Kitchens and the Browns offensive coaching staff to lean heavily on Nick Chubb and the running game. The 23-year-old running back is averaging 0.86 fantasy points per opportunity this season.
3) Gardner Minshew's Red Zone Pass Attempts (17)
Minshew is currently the QB11 and averaging nearly 18 fantasy points per game. He's completed 26 of 44 passes for 374 yards and two touchdowns in the Jaguars loss to the Panthers last week. Minshew's 17 pass attempts in the red zone are tied for 21st among quarterbacks with Derek Carr and Matthew Stafford. Minshew and the Jaguars offensive coaching staff should lean on wide receiver D.J. Chark more. He's had six end zone targets and has scored five touchdowns this season.
4) Dalvin Cook's Opportunity Share (66.7%)
Cook is in the midst of a monster season. He rushed 21 times for 132 yards while catching all six targets for 86 yards in the Vikings win over the Giants in Week 5. He's currently the RB3 in PPR formats averaging 24.6 fantasy points per game. Cook's opportunity share is tied for 14th with Marlon Mack among running backs. The Vikings offense averages 30.6 rushing attempts per game. If Alexander Mattison is still available in your fantasy football league it would be wise to stash him on your bench. He's averaging 2.57 yards created and would be a league winner in the Vikings offense if Cook were ever to miss time.
5) Derrick Henry's Stacked Front Carry Rate (40.8%)
Henry's unfortunately tied to a Titans offense averaging only 307.8 total yards per game which ranks 27th. Tennessee quarterback Marcus Mariota does not intimidate opposing defenses and it's reflected in the number of stacked boxes Henry encounters. He rushed 20 times for 78 yards and a touchdown against the Bills last week. Henry's usage on as a receiver out of the backfield and on third downs remains limited. He continues to be very game flow dependent. Henry is a player I'd consider selling high on.
6) David Johnson's Light Front Carry Rate (67.2%)
Johnson is currently the RB7 in PPR formats. He rushed 17 times for 91 yards in the Cardinals win over the Bengals last week. Johnson also had three receptions for 65 receiving yards. He's averaging 18.6 fantasy points per game with an opportunity share of 77.6 percent. No other running back with an opportunity share similar to Johnson is seeing a light front on that high of a percentage of rushing attempts. He ranks 22nd in yards created and 47th in juke rate. Johnson's been more effective as a receiver as opposed to a runner this season. It would not be surprising to see Chase Edmonds have a career game this week against the Falcons if Johnson is inactive due to a back injury.
7) Ronald Jones' Yards Created Per Attempt (2.03)
Jones rushed nine times for 35 yards in the Buccaneers' loss to the Saints. He also had two receptions for 21 receiving yards. Jones (42.5%) and Peyton Barber (45.8%) have an eerily similar opportunity share this season. Jones (32) has had more opportunities than Barber (19) over the last two games. He's also been more effective with higher total fantasy points over expectation. Jones' ability as a receiver is something that could create additional opportunities moving forward especially when you look at Tampa Bay's schedule for the rest of the season.
8) Le'Veon Bell's Breakaway Runs (0)
Bell is one of my favorite buy-low candidates. He's played 94 percent of the Jets offensive and has averaged 26 opportunities and has arrived 93 total yards per game. Bell has been productive given the team's woes at quarterback with Sam Darnold being out. He looks to get back on track with Darold expected to make his return as New York comes out of its bye week.
9) Todd Gurley's Number of Drops (6)
Many had concerns about Gurley's offensive snaps and touches heading into this season. Entering Week 6 he's played 75 percent of the Rams offensive snaps and has averaged 17.2 opportunities per game. Gurley is averaging 67.6 total yards and 15.2 PPR fantasy points per game. This is reasonable fantasy production considering his average draft position this summer. Gurley rushed 15 times for 51 yards and two touchdowns in the Rams loss to the Seahawks in Week 5. He also had three receptions for six yards. This game presented fantasy players with an excellent sell high opportunity. Now Gurley is dealing with a quad injury and his Week 6 status is up in the air according to NFL Network's Ian Rapoport. The most alarming statistical observation is his number of drops so far this season. Gurley only had seven last season.
10) D.J. Chark's Average Cushion Afforded to Him by Defenders (5.32)
Chark caught eight of 11 targets for 164 yards and two touchdowns against the Panthers last week. He's currently the WR5 in PPR formats and is a great example of the growth a player can have from one season to the next. Chark has the sixth most receiving yards (485), tied for the second-most touchdowns (5), and the fourth most air yards (382). Assigned defenders are affording him a cushion of 5.32 yards on each route Chark runs. This is the third-highest among wide receivers.
11) Tyler Boyd's Success Rate on Contested Targets (70%)
Boyd's caught 10 of 14 targets for 123 yards and a touchdown in the Bengals loss to the Cardinals. He's averaged 10.4 targets per game, 17 PPR fantasy points per game, and has been very productive catching contest targets. Boyd has the highest success rate among wide receivers with 10 or more contested targets.
12) Michael Gallup's Yards Per Pass Route (3.85)
Gallup caught seven of 14 targets for 113 receiving yards and a touchdown in the Cowboys loss to the Packers. He played 86 percent of the offensive snaps in his first game back following a meniscus injury. A high percentage of Gallup's receiving yards came in garbage time as the Cowboys were in the midst of an attempted comeback. No other receiver with 25 or more targets this season has a higher yards per pass route than Gallup.
13) Chris Godwin's True Catch Rate (94.3%)
Godwin enters Week 6 as the WR1 in PPR formats. The only two wide receivers with a higher true catch rate are Cooper Kupp and Keenan Allen. Godwin ranks third in receiving yards (511), first with six receiving touchdowns, and ranks third with 3.38 yards per pass route.
14) Darren Waller's End Zone Targets (0)
Waller's currently the TE6 in PPR formats and is in the midst of a breakout season. He's averaging 8.4 targets, 7.4 receptions, 72 receiving yards, and 15 PPR fantasy points per game. It's surprising to watch Waller not be used in the red zone. The gap between TE1 and TE6 is less than 10 points. Waller is the only tight end in the top-30 without a receiving touchdown.
Conclusion
FantasyData has a wealth of statistical information available to you at your fingertips. Do you ever wonder how to weave all of the information together in order to make informed decisions for your fantasy football team? That's the purpose behind the Advanced Metrics series that Jody Smith and I are writing this season. One way to approach any decision in fantasy football is to analyze two things. The first one revolves around the narrative. What are NFL Insiders, beat writers, and coaches saying. The second one revolves around the statistics, metrics, and other data. Take a moment to think of a piano. You can play music with one hand, but once you use both hands the music is even better. You should have the same mindset when it comes to managing your fantasy football team.
Please read my Start 'Em Sit 'Em column to help get ready for Week 6. If you have additional questions you can also refer to my fantasy football rankings or better yet reach out to me on Twitter for an immediate response (@EricNMoody). Thanks for reading and please sign up for FantasyData Premium.
STAY IN TOUCH
Sign up for FantasyData's newsletter and get awesome content sent to your inbox.
We'll never share your email address and you can opt out at any time, we promise.
---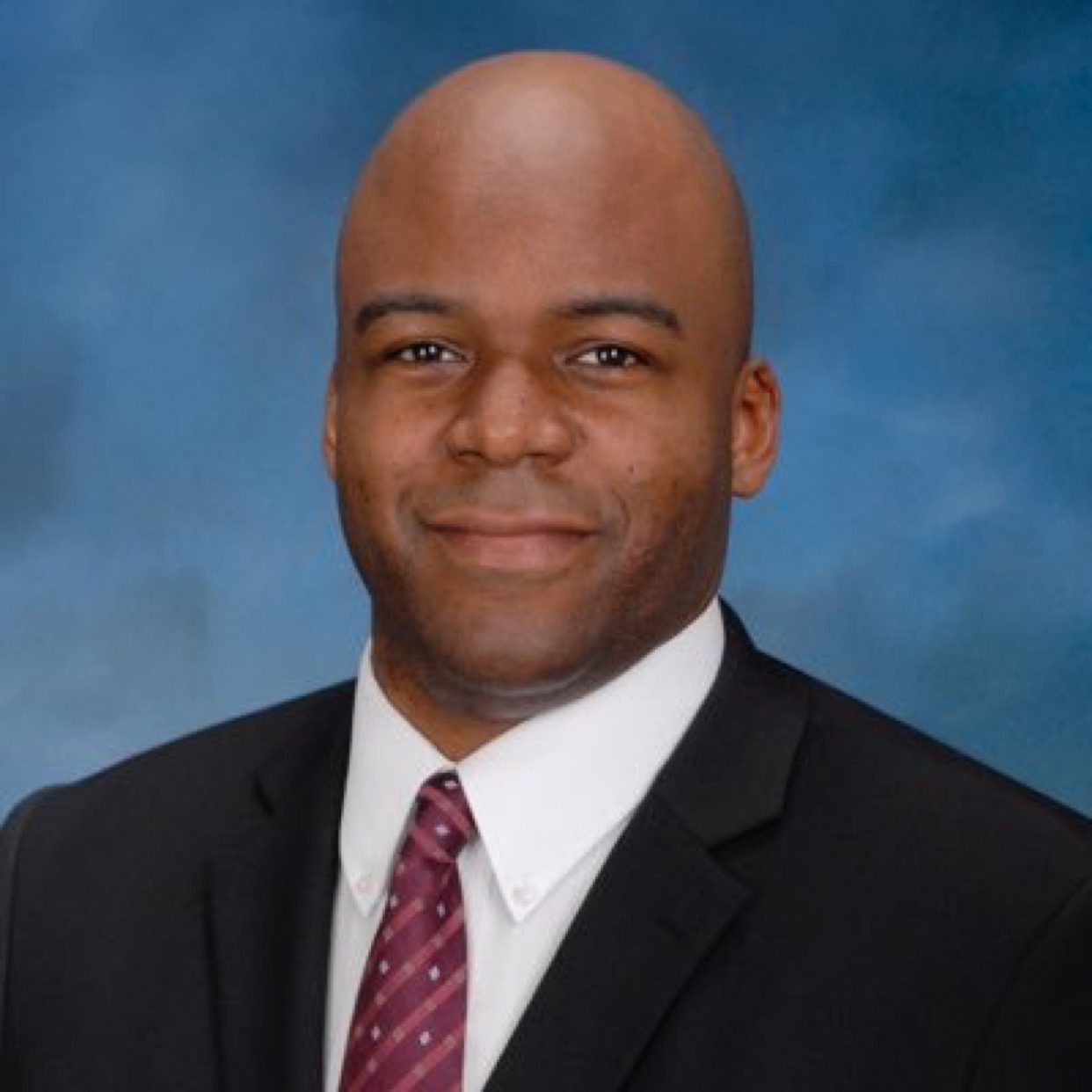 Eric Moody is a member of the FSWA (Fantasy Sports Writers Association). His writing has been featured at FantasyPros, Gridiron Experts, RotoViz, and TwoQBs. He has a lifelong passion for the game and even played at the collegiate level as an offensive lineman. Eric also participated in Dan Hatman's Scouting Academy in order to learn the process of player evaluation at an NFL level. When Eric provides advice, he uses game film, analytics, and statistics to help you understand his perspective. He enjoys time with his family, Netflix, music, bass guitar, and coffee