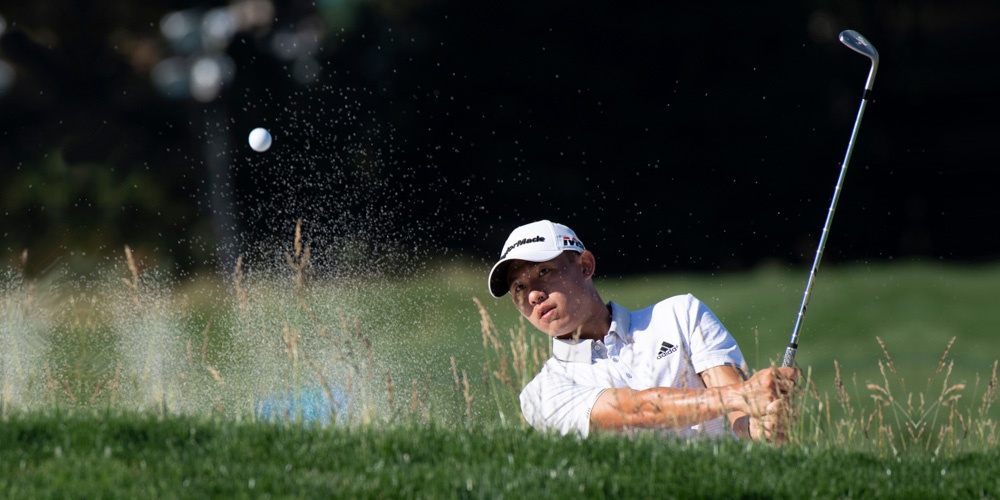 15 DFS Golf Picks for the 2020 RBC Heritage
---
Daily Fantasy Golf Tips
It was incredible to be able to watch live PGA Tour golf again last week despite not seeing fans and feeling their passionate energy. Congratulations to Daniel Berger on winning the Charles Schwab Challenge after defeating Collin Morikawa in the first playoff hole. We were expecting last week to be hard to predict as the players haven't competed professionally in a few months, and we certainly saw the rust as Rahm, Fowler, Simpson, Day, and other big names missed the cut as a result. I expect more of the same this week and think it's a good idea to invest in as many players as possible who played last week as they should be more dependable than the golfers who are making their first PGA Tour start since February or March. The field is again very strong this week as players aim to play in as many events as possible not knowing if another stoppage in play will be needed and with a limited number of tournaments on tap until the playoffs begin.
There is $7.1M on the line this week for the RBC Heritage, with the winner adding $1.278M to his bank account and earning 500 FedEx Cup points. Improve your odds to win more PGA DFS contests with these powerful tools. We typically see 132 golfers play the RBC Heritage but this year we are treated to a field size of 154 players as each tournament is qualifying more players given there are fewer tournaments down the stretch of the 2019-2020 campaign. We will see the top 65 players plus ties moving on to play rounds 3 and 4 on Saturday and Sunday, respectively. The past five winners at this event include 2019's champion Pan Cheng-tsung, Satoshi Kodaira was victorious in 2018, 2017 saw Wesley Bryan take the cake, Branden Grace was the best player in 2016, and in 2015 Jim Furyk won for the second time at this event. The winning score is typically in the teens, and the course record is held by Brian Gay who shot -20 in 2009. As you can see, the winning names haven't been super impressive but that should change with the elite caliber field teeing it up this week.
Since the event's inception some 51 years ago, it has been played at Harbour Town Golf Links in South Carolina - it's a par 71, 7,099-yard length track, with greens that feature Bermuda grass. Some of the key player stats to research for this course are Fairways Gained, Greens in Regulation Gained, Strokes Gained: Around the Green, Total Strokes Gained in Windy Conditions.
Let's get to the information and intelligence you need - the 15 consists of my top 10 players to pay up for and 5 value picks (all 15 players are in no particular order), plus I include player salaries for DraftKings. I provide recent and seasonal finishes for each of my picks, their past 5 years of results at this event (when available), and mix in some interesting pieces of information as well.
10 Players to Spend Big on This Week
Rory McIlroy (Salary: DraftKings - $11,300) - McIlroy was looking like a strong contender to win last week's event before he faltered on the weekend to shoot 3 over and settle for 32nd. Every other start for him this season resulted in a top 5 finish and he does have a win on the board already. He has only played in this event once in his career and that was 11 years ago when he finished 58th, but expect a top 10 finish this week as the world's number 1 ranked golfer rounds back into form.
Jon Rahm (Salary: DraftKings - $10,500) - Rahm was a very surprising cut last week, but don't expect that to happen again this week. He has 5 top 10's this season in just 7 starts and is looking for his first win on the campaign. Much like many of the world's biggest stars, Rahm is making his RBC Heritage debut this week and I expect a nice rebound from last week.
Justin Thomas (Salary: DraftKings - $10,900) - Thomas now has 7 top 10's this season, including last week's 10th which included a 64 in round one of the tournament. He already has two wins this season and will be looking to add the tri-factor this week. He only competed here in 2016 when he finished 75th - safe to say he will do much better this year.
Bryson DeChambeau (Salary: DraftKings - $10,700) - DeChambeau added 20 pounds of muscle during the time off and now looks more like a solid football player than a golfer, but with his clubhead speed now reaching 130 MPH, it's very beneficial to his long-game. He was very sound last week with two 65's, one 66, and had it not been for his 70 in round 3, he very well could have won it all. He now has 5 top 8's in his last 6 starts and should add another impressive result this week. He was a cut here last year but had a 3rd in 2018, and I expect more of the same this year.
Daniel Berger (Salary: DraftKings - $8,900) - Berger is now perhaps the hottest player on Tour over the last few months as he won last week thanks to his 65, 67, 67, 66, and has finished no worse than 9th over his last four starts. He was 33rd here last year and 72nd in 2015 when he was still finding his way as a pro golfer. I really like Berger's sub $9K price as the most recent winner on Tour.
Sungjae Im (Salary: DraftKings - $9,700) - Im just keeps on playing and performing, week in and week out. He has played in 15 events this season with just one missed cut (on the number), has 6 top 10's including last week's 10th, and won The Honda Classic just three starts ago. He was a cut here last year in his debut but you can bank on a strong finish this year.
Collin Morikawa (Salary: DraftKings - $10,000) - It was looking like Morikawa's first huge win on the PGA Tour (he did win at the Barracuda Championship last year) was coming last week but he missed some key putts down the stretch, especially in the playoff against Berger. He was very consistent last week shooting a 64, 67, 67, and 67 and silenced the critics on his salary being too expensive as a DK play. He is making his debut at this event this week and could be hungry to finish high again after last week's ultimate letdown in the clutch.
Justin Rose (Salary: DraftKings - $9,200) - Rose wasn't really on my radar last week as he had been playing some terrible golf this season, but he showed he's still elite by finishing 3rd thanks to his opening round 63. He had previously won the event though so he had a track record to go off of, unlike this week where this track is largely unfamiliar to him. Will he show up again this week? Time will tell, but I think we will see another solid performance, just not another top 3.
Xander Schauffele (Salary: DraftKings - $10,200) - Schauffele didn't have a top 10 finish since earlier this year but last week he showed he is still a big talent by finishing 3rd, and had a chance to win it all but unfortunately lipped out on hole 17 to miss a short bogey putt and put himself one back of the leaders after failing to birdie the 18th. His price tag is a bit high for my liking this week but he's still a solid bet to finish top 20.
Patrick Reed (Salary: DraftKings - $8,800) - Reed continued to roll along last week in his native Texas by finishing 7th thanks to four strong rounds, especially in round 3 when he shot a 63. He won three starts ago at the WGC-Mexico Championship and has 6 top 10's on the campaign. Reed doesn't have much playing experience at this event in the past few years, but don't let that deter you from taking advantage of the great value Reed has.
5 Solid Value Picks ($7,500 or less on DraftKings)
Joel Dahmen (Salary: DraftKings - $7,500) - Dahmen has played some fantastic golf this season with just two missed cuts in 14 starts, 4 top 10's with two of those being 5ths in his past three starts, and he was 19th last week. He was 16th here last year when not playing nearly as well as he is right now, and that was his first start at the event. He's a very strong play this week for just $7.5K on DK.
Jim Furyk (Salary: DraftKings - $7,100) - Furyk is a two-time winner at this event and with good reason as his game fits perfectly on this shorter track. He played very well in his first three rounds last week scoring two 67's and a 69 but let himself down on Sunday with a 74. Expect Jim to make this cut this week, with a decent upside.
Talor Gooch (Salary: DraftKings - $7,000) - Gooch just keeps playing great golf with just one missed cut in 14 starts this season, and had a 43rd last week by shooting very consistently in the 68-70 range. Gooch doesn't have a track record at this event, but should make yet another cut this week and could nab a top 30 finish.
Harry Higgs (Salary: DraftKings - $6,900) - PGA Tour rookie, Harry Higgs, has only missed one cut in his last 11 starts and has 7 top 40's during that time including a runner up finish. I expect the streak to continue this week and he could even improve on last week's 38th place finish.
Maverick McNealy (Salary: DraftKings - $7,100) - With just one missed cut in his last 13 starts, McNealy is another good young player to keep an eye on. He was 32nd last week with two eagles made and could see another similar finish this week.
Recapping my 15 pick's finishes from last week's Charles Schwab Challenge
My High-Priced Picks
Rory McIlroy - T32nd
Jon Rahm - Surprisingly missed his first cut in a very long time, the rust showed in his game with the 3 months-long break
Justin Thomas - T10th
Bryson DeChambeau - T3rd
Webb Simpson - Was the highest owned player in the field but regardless, he missed his first cut in quite some time
Sungjae Im - T10th
Collin Morikawa - 2nd
Marc Leishman - Opened with a 69 but shot a second-round 72 to miss the cut
Gary Woodland - 9th
Jordan Spieth - T10th
My Value Picks
Harris English - Missed the cut
Byeong Hun An - T60th
Billy Horschel - T38th
Max Homa - Missed the cut for the first time in 11 starts
Ryan Palmer - Missed the cut even though he's a member at Colonial and had only missed one cut previously this season
STAY IN TOUCH
Sign up for FantasyData's newsletter and get awesome content sent to your inbox.
We'll never share your email address and you can opt out at any time, we promise.
---

Jeremy has been playing fantasy sports for over 20 successful years, and actively plays golf, hockey, baseball, and table tennis. He has over three years of fantasy sports writing experience - including writing a daily fantasy sports strategies and tools eBook in 2016. He is an active member of DraftKings - specializing in NHL and PGA contests over the past 5 years. He enjoys spending time with his family, traveling to hot places in the frigid Canadian Winters, binge-watching on Netflix, and starting and managing digital businesses.