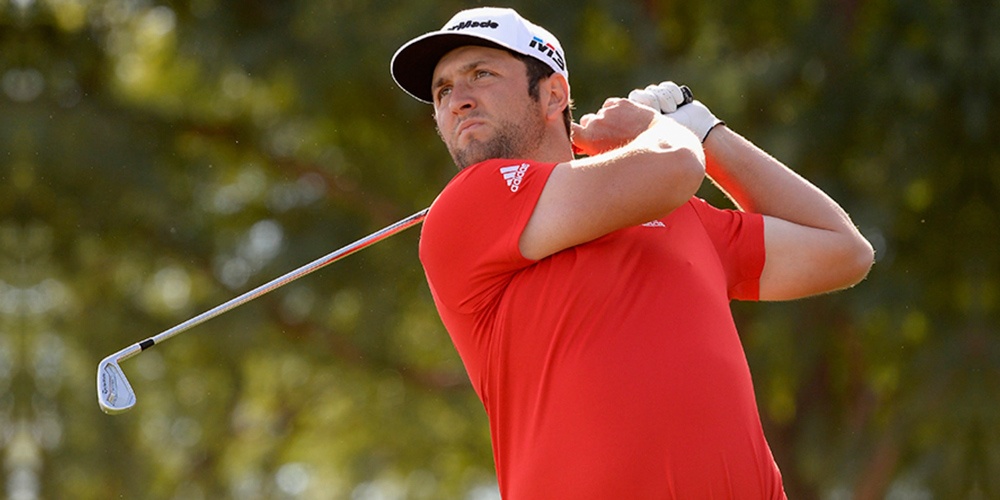 15 DFS Golf Picks for the 2020 Travelers Championship
---
Daily Fantasy Golf Tips
Before you digest this article for the 2020 Travelers Championship, I encourage you to take advantage of FantasyData's FREE PGA Optimizer that you can use to construct your daily fantasy lineups. Study up, and good luck this week!
It almost feels like a major tournament week in and week out since the PGA Tour returned and this week will be no different as it's another very strong field for the Travelers Championship. Tiger Woods still hasn't committed on a return to golf just yet, so we won't see him playing this week, but many of golf's biggest names are ready to do battle in Cromwell, CT. Last week we were treated to a four-way tie after round 3, and Webb Simpson managed to pull off the victory on Sunday through exceptional play to win the RBC Heritage by a stroke over Abraham Ancer and set a new tournament record.
There's a $7.4M purse this week for the Travelers Championship, and the golfer who reigns supreme will pull down $1.332M and secure 500 FedEx Cup points. Improve your odds to win more PGA DFS contests with these powerful tools. The field size will be a full 156 golfers and the top 65 players plus ties will move on to play rounds 3 and 4 on the weekend. The past five winners at this event include 2019's champion Chez Reavie, the top golfer in 2018 was Bubba Watson who is a three-time champ at this event, 2017 saw Jordan Spieth win in a playoff, Russell Knox was your 2016 winner, and Bubba Watson was the best that 2015 saw thanks to his playoff win. -22 is the tournament record but a typical winning score is around -12 to -17. I'm expecting to see a new event record this year with all of the elite talent at this event.
This event started back in 1984 and has always been played at TPC River Highlands - it's a par 70, just 6,844 yards, and the greens are bentgrass/poa annua. Some of the key stats to pay attention to this week are Stokes Gained: Tee to Green, Strokes Gained: Approach, Strokes Gained: Par 4s (400-450 yards), and Birdies or Better Gained.
You want to win lots of contests this week so let's move on to my 15 picks which includes my top 10 players to pay a high price tag for and 5 value picks (all 15 players are in no particular order), plus I include player salaries for DraftKings. I provide recent and seasonal finishes for each of my picks, their past 5 years of results at this event (when available), and mix in some interesting pieces of information as well.
10 Players to Spend Big on This Week
Rory McIlroy (Salary: DraftKings - $11,200) - McIlroy hasn't looked like the #1 ranked golfer in the world since the PGA Tour has come off its break, but he can pop on any given week and this could easily be the one in which he does. He still has 6 top 5's in 8 starts this season and did shoot a 65 and a 66 in rounds 2 and 3 respectively last week at the RBC Heritage, so he has the ability to go low every time he tees it up. Rory had a 12th in 2018 and a 17th in 2017 at this event.
Jon Rahm (Salary: DraftKings - $10,200) - Rahm bounced back in a decent way last week to finish 33rd after missing the cut the previous week. Had he not shot an opening-round 71 last week he would have had a much better result as he went 67-66-68 the rest of the way. He has 5 top 10's in 8 starts this season so far, and will be adding a few more very soon. Rahm last played here in 2016 to place 25th and was 64th in his 2015 debut.
Justin Thomas (Salary: DraftKings - $10,800) - Thomas maintained his strong play this season with an 8th last week and had a 10th in the PGA Tour's return to play two weeks ago at the Charles Schwab Challenge. JT had a 63 in round 4 last week and I think he will carry that fire forward this week to have yet another top 10 and continue to pace the PGA Tour in that big stat category. Thomas was 36th here last year, was 56th in 2018, 3rd in 2016, and does have a couple of missed cuts too over the past five years.
Bryson DeChambeau (Salary: DraftKings - $11,000) - DeChambeau continues to light up every course he plays on as he finished 8th last week but looked poised to win heading into the weekend only to scuffle in round 3 by shooting a 70. He now has 5 top 8's in a row and I believe he will add another one this week. Bryson was 8th here last year when in much worse form than he is this year, took home 9th in 2018, 26th in 2017, and claimed a 47th in 2016. He's my top pick to win this week!
Gary Woodland (Salary: DraftKings - $8,300) - Woodland was a bit off his game last week as he finished 62nd - his worst finish since January. He still has 3 top 12's in his last four starts and will be looking to get back to his top 10 ways this week to add number 7 on the campaign. He's a fantastic value when you look at his results against his salary, and he's a strong buy for me this week. Over the last half-decade, Gary was 38th in 2016 and 20th in 2015.
Justin Rose (Salary: DraftKings - $9,200) - The break did Rose a lot of good as he had missed three cuts in four events before the PGA Tour returned, but has a 3rd and a 14th over the past two weeks. His results got better and better last week as he went 70-67-66-65 and is trending in the right direction for the tournament this week. He's getting his star-status back in a hurry and I expect another strong showing for Rose this week. Over the past five years, Rose has no history on this track but don't let that information scare you off from investing in him.
Bubba Watson (Salary: DraftKings - $8,800) - As previously mentioned, Bubba is a three-time winner at this event and should be firmly on your radar this week. He was 7th two weeks ago and 52nd last week but finished the tournament with a 65 and I think he will carry that hot play forward for this week. Watson was 54th here a year ago, 25th in 2016, and won in 2015 to round out his previous five years at the tourney.
Webb Simpson (Salary: DraftKings - $10,500) - Last week's champion will look to go back to back this week and he certainly has the potential and poise to contend once again. Simpson has 6 top 10's in 8 starts this season, and is well-positioned to add another come Sunday. He was 8th here in 2017 and 34th in 2016.
Abraham Ancer (Salary: DraftKings - $9,000) - What a strong showing Ancer had last week and actually led the field in proximity to the hole to finish a solid 2nd so that's a very positive sign coming into this week. More good news for him is that he was 8th here in 2019 and had a 56th in 2016. His price is way up this week compared to last, but it may be justified given his strong current form and sound course history at the Travelers Championship.
Brooks Koepka (Salary: DraftKings - $10,000) - Koepka finally looked like himself last week to put in four solid rounds with 22 birdies and 2 eagles to finish in 7th place - his first top 30 on the season. He was 57th here last year, 19th in 2018, and 2016 saw him earn a 9th. If he's motivated to win this week then he could do just that as he certainly has the talent to do so.
5 Solid Value Picks ($7,500 or less on DraftKings)
Dylan Frittelli (Salary: DraftKings - $7,100) - Frittelli shot up the leaderboard on Sunday with a 62 and was actually in 1st for a while before others caught up to him and he ultimately settled for an 8th. He was a cut here last year in his rookie debut, but I expect him to make the cut and he does offer some good upside, especially if he carries his 4th round from last week forward.
Matthew NeSmith (Salary: DraftKings - $6,600) - NeSmith has just missed one cut over his last 11 starts, and finished 33rd last week thanks to his two 66's in his opening and closing round. He is a rookie at this event but should be able to keep his cut streak alive and could pull down another top 35 finish.
Lucas Glover (Salary: DraftKings - $7,000) - Glover has been playing some good golf over the last two weeks and proof comes in the form of a 23rd and a 21st last week while shooting under par in each round. He has three missed cuts over the past five years at this tournament, but he's in fine form right now and should break that nasty streak this week.
Harry Higgs (Salary: DraftKings - $6,400) - Higgs just keeps on making cuts to play weekend golf - only missing one cut in his last 11 starts. He has a 42nd and a 38th since the PGA Tour came back and I expect the rookie to continue his impressive play this week.
Corey Conners (Salary: DraftKings - $7,500) - Oh Canada, Conners must have put in a good deal of work into his golf game while the PGA Tour was on hiatus as he has returned with a 19th and a 21st after missing 3 of 4 cuts before professional golf was put on hold. He missed the cut in his only start at this event in 2018 but he's a much more polished professional now, and I think another top 25 isn't out of the question this week for the elite ball striker.
Recapping my 15 pick's finishes from last week's RBC Heritage
My High-Priced Picks
Rory McIlroy - T41st
Jon Rahm - T33rd
Justin Thomas - T8th
Bryson DeChambeau - T8th
Collin Morikawa - T64th
Justin Rose - T14th
Xander Schauffele - T64th
Patrick Reed - He missed the cut and hurt many lineups
Sungjae Im - Missed the cut, a true rarity for him
Daniel Berger - T3rd
My Value Picks
Joel Dahmen - T48th
Jim Furyk - Missed the cut
Talor Gooch - Missed the cut
Harry Higgs - T52nd
Maverick McNealy - T58th
STAY IN TOUCH
Sign up for FantasyData's newsletter and get awesome content sent to your inbox.
We'll never share your email address and you can opt out at any time, we promise.
---

Jeremy has been playing fantasy sports for over 20 successful years, and actively plays golf, hockey, baseball, and table tennis. He has over three years of fantasy sports writing experience - including writing a daily fantasy sports strategies and tools eBook in 2016. He is an active member of DraftKings - specializing in NHL and PGA contests over the past 5 years. He enjoys spending time with his family, traveling to hot places in the frigid Canadian Winters, binge-watching on Netflix, and starting and managing digital businesses.