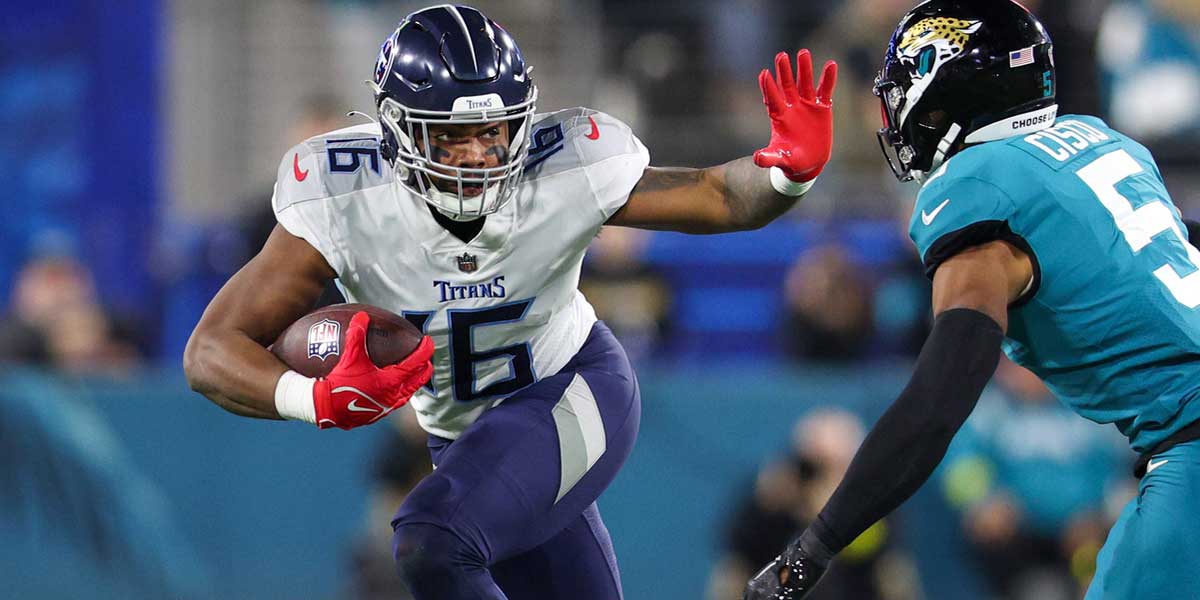 9 Dynasty Buy-Low Targets for 2023
---
Dynasty Buy-Low Targets
Here is a collection of players I believe have higher value or potential than their ADP suggests. Some of these players are young and unproven, and others simply might have fallen out of the good graces of their dynasty managers. Regardless, these are some players that you might think of making a move for, as they could develop into very fruitful contributors to your lineup. I'll be listing in order of their Half-PPR ADP.
Quick Links
Cam Akers (ADP: 64)
If you like playing with fire, Cam Akers may be your guy. His ADP isn't necessarily the lowest, but his performance last year might have been just frustrating enough for his dynasty owners to let him go for cheap. It seemed like he was going to be the reigning Super Bowl Champion Rams' go-to guy last year, but to say his season was disappointing was an understatement. Akers did not top 65 rushing yards until Week 16, and he struggled to lock down the starting job in a relatively weak running back room until very late in the season. For a while, it looked like he had fallen out of Coach McVay's good graces even though he had proven himself to be an effective young runner in the previous year's playoffs. Many redraft and dynasty fantasy owners got burned by drafting Akers last year expecting that he was going to take a big step into a workhorse role, only for him to rush for just 236 yards through week 12.
Sean McVay on Cam Akers: pic.twitter.com/VECwdtRfHc

— Ari Meirov (@AriMeirov) October 14, 2022
While he was a fantasy nightmare for the first half of the season, and it looked like his team had lost some faith in him, the Rams still reportedly turned down multiple trades for the 3rd year RB. Then, by week 13, the Rams were starting to give Akers more touches and opportunities to prove himself again. In his last 6 games of the season, Akers racked up 512 rushing yards and 6 touchdowns. Although his late season burst may have revived a bit of Cam Akers hype, it wouldn't be a stretch to assume that Akers dynasty owners are weary of his consistency. His early season play likely contributed to many of his owners missing the playoffs, so there's a chance they wouldn't mind moving on from him. Akers is still only 23 years old, and the Rams notably didn't add much competition at the position besides 6th-round rookie draft pick, Zach Evans. If Akers is able to fend off Evans for the starting role, he could have a few solid years ahead of him. If you can get Akers for the right price, he could be a worthy investment.
Treylon Burks (ADP: 69)
Out of all of the rookie wide receiver prospects from the 2020 season, Treylon Burks may have had the heaviest weight on his shoulders. Burks was drafted by the Tennessee Titans with the 18th pick in the 2022 NFL Draft. This pick was acquired through a trade with the Philadelphia Eagles, in which Philly received star wide receiver A.J. Brown. The Eagles have clearly benefitted from adding the gifted receiver, but it is yet to be seen if the Titans got fleeced or ended up with a future star in Treylon Burks. Burks had a rough rookie season, as he was drafted to a run-first offense led by the dominant Derrick Henry. While Burks struggled with injuries throughout 2022, his production was also hurt by below-average quarterback play by Ryan Tannehill and rookie Malik Willis.
Treylon Burks on #Titans new offense. pic.twitter.com/0aAn4yrmMF

— Paul Kuharsky (@PaulKuharskyNFL) May 16, 2023
Treylon Burks is back to full health, and he is ready to help turn the tides of the Tennessee passing offense. The Titans traded up to draft quarterback, Will Levis, with the first pick of round 2 in the 2023 NFL draft, and there has already been buzz that Levis could win the starting role relatively soon. While some may be concerned about Levis' NFL ability, he has a big arm and likely has a chip on his shoulder because of his less-than-ideal draft experience where all 32 teams passed on him. Additionally, the Titans are another squad that have not added any competition at the wide receiver position. While his rookie season was disappointing, Burks should command a large target share in a Tennesee offense that can only be so reliant on 29-year-old Derrick Henry.
Calvin Ridley (ADP: 82)
Calvin Ridley's story is an interesting one. Once part of a dangerous tandem including himself and Julio Jones, Ridley had the potential to become one of the NFL's greatest wide receivers. He was dominant in 2020, even outperforming hall-of-fame caliber receiver, Julio Jones. When Jones signed with the Tennessee Titans in 2021, it was the perfect opportunity for Ridley to take the next step into the NFL elites. However, after playing only 5 games, Ridley decided to step away from football indefinitely to focus on his mental health. This was an honorable move that helped place more emphasis on mental health across the country, but it was difficult for Falcons fans and fantasy owners to process. While taking some time away from playing football, he did not shy away from betting on it. Ridley was suspended for the 2022 season for betting on NFL games while still being a member of the Atlanta Falcons. Ironically, Ridley was suspended for betting on the Falcons to beat the Jacksonville Jaguars in 2022, and the Jaguars later boosted their offense by betting on Ridley's talent and trading 2 conditional draft picks for him. He should fit right in there.
Although Ridley has not played in an NFL game for 2 years, he is as natural of a receiving talent as there is. Additionally, he has had plenty of time to look after his mental and physical health during his hiatus. He will now be catching passes from former 1st overall pick, Trevor Lawrence, whose breakout season led the Jaguars to the Divisional Round against the soon-to-be Super Bowl Champion Kansas City Chiefs. He will join Christian Kirk, Zay Jones, and tight end Evan Engram as Lawrence's top targets this year, and he is a dynamic addition to the Jaguars' new offense who have their sights set high for 2023. If you can acquire Ridley from a dynasty owner who thinks he may have lost a step in his time off, you could be in for a huge payout.
Tua Tagovailoa (ADP: 89)
I really can't understand all of the Tua hate. The Dolphins hate, maybe, but Tua? No. Tagovailoa has been scrutinized for his entire NFL career, starting when he replaced beloved veteran, Ryan Fitzpatrick, as the starter. Tua endured some growing pains in his first year, as every rookie does, but he showed a lot of promise for a bright NFL future. Throughout his first few years as a Dolphin, fans and ownership seemingly wanted to replace him at every step. They were linked to the Lamar Jackson, Deshaun Watson, and even Tom Brady sweepstakes. It wasn't until this past season that Tua was truly given the tools and the opportunity that he needed to be successful. In just 13 games, Tua threw for over 3,500 yards and 25 touchdowns. The Dolphins, who have been no stranger to controversy the past few years, made the ill-advised decision to put Tua back in the game after clearly suffering a concussion from a hit just before half-time in week 3 against the Buffalo Bills. Although he was able to finish the Bills game, he was knocked out of the game with a concussion the very next week against the Bengals. His health issues lingered throughout the year, and he was ultimately unable to play in the playoffs as the Dolphins narrowly lost to the Bills in the wildcard.
Tua's long-term health is a major concern from a fantasy standpoint, but more importantly, a from humanistic standpoint. It would be devastating to see his promising career cut short by these health issues, so one can only hope the Dolphins will take the proper precautions to ensure he only plays when he is ready to play. Despite all of this, Tua is still massively underrated. In dynasty formats, he is on average the 12th quarterback to be drafted based on his ADP. He has elite weapons in Tyreek Hill and Jaylen Waddle, and coach Mike McDaniel seems to know how to properly utilize his quarterback's strengths. While his longevity is certainly a risk, Tua's upside is enormous if he can overcome these difficulties. The Dolphins are in a difficult division, so it wouldn't be a surprise to see Tua airing out the ball quite a bit throughout the next few seasons. If you're willing to bet on Tagovailoa, there's a chance he could end up being a savior for your team.
Gabe Davis (ADP: 92)
Did anyone buy into the Gabe Davis hype last year after his historic Divisional Round performance? Me too. To be fair, it was hard to resist investing in a 23-year-old receiver who caught 8 passes for 201 yards and 4 touchdowns in one of the best NFL games in recent memory. Also, it helped that he would continue to be thrown to by one of the NFL's brightest young superstars in Josh Allen. His 2022 season would turn out to be a great disappointment. It started out strong with a few dominant performances in early games, but Davis would eventually fizzle out and become a lineup liability for fantasy teams. The hype train for Davis may have been a bit too ambitious last year, but he is still only 24 years old on a Bills offense that can be an unstoppable force at times. Additionally, Davis's production was hindered by an ankle injury that seemed to linger throughout the season.
Gabe Davis with a performance to remember this weekend!

Stats vs the #Chiefs:
8/10 Rec
201 Yards
4 TD
75 Yard Long

⬇️Every Target vs Kansas City⬇️ pic.twitter.com/eV4fCDfcHB

— Dynasty Nerds (@DynastyNerds) January 25, 2022
While the Bills seemed to be a likely landing spot for Deandre Hopkins this offseason, they really haven't made any significant moves at the wide receiver position. As it stands, Gabe Davis seems to be the most likely candidate to be Josh Allen's WR2 once again in 2023. He has shown flashes of high-tier talent, and he is in one of the best offensive situations in the NFL. Davis' average dynasty draft position is 92, which is about the same as Leonard Fournette who is not even on an NFL roster at the moment. Gabe Davis dynasty owners might also be sour on the wide receiver after his performance last year, so you may be able to get him for a good deal.
Elijah Moore (ADP: 109)
Eli Moore is another talented wide receiver who did not meet expectations in 2022. Before suffering a season-ending injury in his 2021 rookie season, Eli Moore seemed to be establishing himself as the top wide receiver target on the New York Jets. In 2022 though, Moore all but disappeared. This was very strange, as it seemed like someone as talented as Moore would at least be somewhat productive, but he ended the season 4th on the Jets' roster in receiving yards. This lack of production can largely be attributed to the emergence of 2022 Offensive Rookie of the Year, Garrett Wilson, along with Zach Wilson's dreadful quarterback play. After his trade request was ignored for most of the season, the Jets ultimately sent him and a third-round pick to the Cleveland Browns in exchange for a second-round pick.
Cleveland will be a fresh start for Elijah Moore, where he will not have much competition for the WR2 spot behind Amari Cooper. He will be thrown to by Deshaun Watson, who spent most of last season adjusting to his new offense after sitting out the 2021 season and missing most of 2022 because of a suspension. Despite Deshaun Watson's controversial behavior and lack of play-time in the past 2 years, it is important to note that he led the league in passing yards (4,823) the last full season he played in the NFL. It is yet to be seen if Watson will be able to return to his former self, but if he does, Eli Moore will certainly benefit. Moore could be an intriguing player to buy-low on if his dynasty owner does not share the ambition that I do about him.
Alexander Mattison (ADP: 122)
This is a buy-low candidate that you might want to target sooner rather than later. The Minnesota Vikings have been rumored to be looking to part ways with veteran running back, Dalvin Cook, all offseason. If these rumors turn out to be true, Alexander Mattison's value will skyrocket. In his 6-year NFL career, Dalvin Cook has only had 1 season in which he did not miss any games. When he was inactive, Alexander Mattison filled in effectively. Effectively might actually be an understatement. When Cook was inactive, Mattison almost always jumped to RB1 territory. He was often just as effective as Cook was himself. While Mattison has been a high-end handcuff for his first 4 years in the NFL, there is a decent chance he will have the opportunity to be a starter in a high-powered Minnesota offense for years to come. His role had been increasing in the Vikings' offense even when Cook was active, and it is clear that Minnesota has begun to realize that they have a potential star buried in their depth chart. If Mattison's dynasty owners are following the Dalvin Cook speculation, it might be hard to get him off of their hands. However, there's a chance that they aren't buying into it and still see him as a second fiddle in Minnesota. His current ADP sees him being drafted between Allen Lazard and rookie Israel Abanikanda, and this seems incredibly low considering the circumstances. Now might be the lowest you'll be able to trade for Mattison for the next couple of years, so he profiles as a very high-potential buy-low target.
83 seconds of Alexander Mattison jumping over people pic.twitter.com/TOEMhK50rK

— Ian Hartitz (@Ihartitz) May 16, 2023
Rondale Moore (ADP: 133)
Rondale Moore is a strong, quick, and versatile wide receiver on a struggling Cardinals offense. He has battled injuries throughout his first 2 years in the NFL, but his talent and playmaking ability make him an intriguing buy-low target. Currently buried in the depth chart behind Deandre Hopkins and Hollywood Brown, Rondale Moore has not had a ton of great opportunities to show off his ability as a receiving threat in the NFL. Deandre Hopkins' life on the Cardinals seems to be coming to an end relatively soon, so Moore could end up seeing an increased target share within the next few years. When Hollywood Brown or Deandre Hopkins was inactive last year, allowing Moore to be the WR2, he was very productive. In the 6 games before he was injured, Moore caught 38 passes for 403 yards. Hopes for the Cardinals aren't very high this year, and Moore might not even produce right away. However, if you're able to get him for cheap and play the waiting game, it could end up working out in your favor. Rondale Moore is only 22 years old, and he could have a bright future in the NFL if he is able to stay healthy.
Tyquan Thornton (ADP: 223)
Tyquan Thornton was drafted to the Patriots in the second round of the 2022 NFL draft, and we have not quite been able to see what he's capable of in the NFL. The 22-year-old out of Baylor has blistering speed and big-play ability, but his production suffered because his offensive coordinator was really a defensive coordinator in disguise. With Matt Patricia gone and the reluctance of the New England Patriots to make any significant moves at wide receiver, Tyquan Thornton will have the opportunity to carve out a big role in the Patriots' offense. Although Mac Jones and the New England offense in general struggled in 2022, there is reason to believe there could be significant improvement in 2023. Bill O'Brien was hired as the new offensive coordinator, and Mac Jones is determined to prove his worth as a passer after not making big improvements from his impressive rookie season. Juju Smith-Schuster will likely be the WR1 on the Patriots, but Thornton could end up squeezing his way up the depth chart to WR2. Trading for Thornton in Dynasty would likely be pretty low-risk because of his underwhelming rookie season and extremely low ADP, so his long-term risk/reward is quite favorable.
TYQUAN THORNTON 4.21u 💨💨

The official record is 4.22 👀👀
pic.twitter.com/uamwBBrdmw

— PFF (@PFF) March 4, 2022
.
---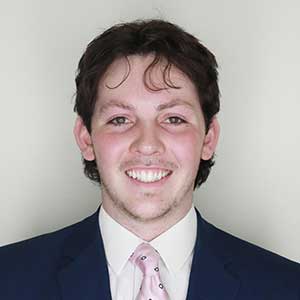 Logan was born and raised in Louisville, Kentucky, where he grew up watching sports with his parents and brother. He recently graduated from the University of Colorado Boulder, where he studied Psychology. While getting his Bachelor's degree, his favorite pastime was researching and writing about sports, particularly the NFL. His interest in writing about fantasy football started when he began writing comedic editorials for the enjoyment of his long-time league mates. He is a die-hard Patriots, Bruins, and Red Sox fan, but when it comes to basketball, he roots for the Cleveland Cavaliers.