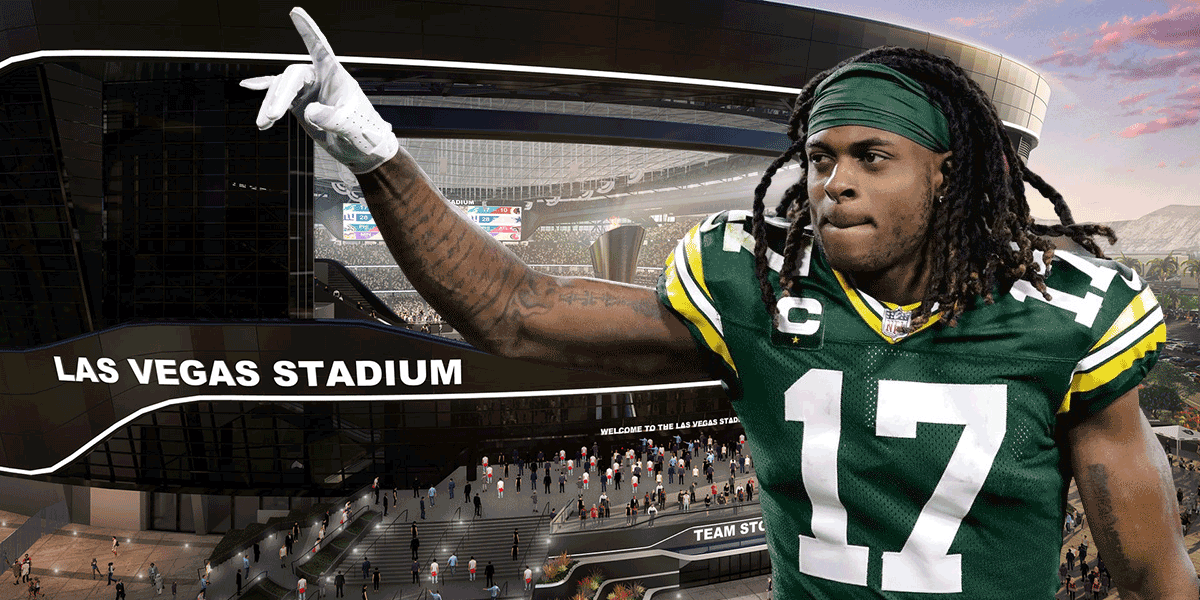 Davante Adams Trade Fantasy Impact
---
Davante Adams Traded Fantasy Impact
The Green Bay Packers traded away arguably the NFL's best wide receiver to the Las Vegas Raiders for their 2022 first-round pick (22nd overall) and 2022 second-round pick (53rd overall). On top of that, the Raiders signed Davante Adams to a whooping 5yr/$141.25 million deal, the largest among wide receivers and a record-setter for the NFL. The $28.25 million average is definitely nothing to sneeze at either.
Fantasy managers will remember the damage that Adams did on the field whether you were fortunate enough to draft him or unfortunate to have to go up against him during the season as he finished second among wide receivers in fantasy points while averaging 21.5 fantasy points per game last season.
The Packers are now missing their top receiving option. Let's take a deeper look into the ramifications of Davante Adam's departure from Green Bay and what his arrival in Las Vegas could do for the 2022 season.
Leaving The Big Cheese
Not only did the Packers lose their biggest and most targeted weapon in the Green Bay offense but they also lost wide receiver Marquez Valdez-Scantling to the Kansas City Chiefs in free agency as well. Currently, Allen Lazard and Randall Cobb are penciled in as their top two wide receivers on the Packers Depth Chart.
In terms of targets, Davante Adams saw 169 targets (10.6 targets a game) in 2021. Adams finished the season with a 3.6% drop rate with just six total drops in 2021. To make things worse, Adams was such a threat to opposing defenders that he was afforded 4.22 yards of cushion and produced an astounding 91.1% True Catch Rate while with the Packers last season.
Adams finished 3rd among wide receivers in red zone fantasy points (89) scoring 10 touchdowns from inside the 20. Adams also saw the 3rd most targets (28) inside the red zone with fellow wide receivers Stefon Diggs and Cooper Kupp finishing higher. Adams also totaled 110 receiving yards inside the red zone with a 64.3% catch rate. That rate jumped to nearly 86% when inside the five-yard line. There, five of his 11 touchdowns can be accounted for with the Packers. Only Cooper Kupp and Mike Evans (T-6) had more.
While it's not all gloom and doom for the Packers offense, it certainly isn't the best way to kick off a new season with your MVP quarterback signing a huge deal to stay with the team only to be disarmed from one of his favorite targets. Despite that, Adams's departure does open up for other players to step out of the shadow of Davante Adams and become Rodgers's new "favorite target".
According to Fantasy Football Calculator, Randall Cobb's draft value was sitting around the 14th round (14.04 ADP) with Allen Lazard not even being listed (likely beyond the 15th round). With Adams out of the way (as well as Marquez Valdez-Scantling), these two could see a boost in ADP heading into the 2022 draft.
With Allen Lazard and Randall Cobb, at least for now, being the top wide receiver options for the Packers, they may not be as appealing as targeting one of the bigger names during a fantasy draft but they shouldn't be completely overlooked. I mean, Rodgers has to throw the ball to somebody, right? With Adams and Valdez-Scantling gone from the team, they leave behind a 224 target void with them that should open the way for either Lazard or Cobb to be benefactors to more targets from Rodgers.
Who Will Step Up?
Aaron Jones is one of the best fantasy backs to target in your fantasy draft because of how he's used in the Packers offense. Based on targets for the Packers in 2021, Jones was actually second on the team in targets behind Davante Adams with 65. Jones is often relied upon to catch passes out of the backfield so with Adams gone and Jones being one of the more consistent pass-catching options still on the team, expecting Jones to get more of a target share in 2022 is highly plausible and should greatly boost his fantasy value heading into the 2022 fantasy draft. Jones finished inside the top 10 among targets among running backs in 2021, tying with Ezekiel Elliott.
With Jones seeing the field as a bonafide pass-catcher to facilitate the Packers offense, AJ Dillon should see more playing time to help out with one of it's biggest weapons gone at wide receiver. Dillon saw a 6.5% target share last season (37 targets) in 2021 and should also get a bump in targets as well. Not only that but Dillon showed his prowess as a runner behind Jones last season, rushing for 4.3 y/a for 803 yards on just 187 carries while adding another 313 receiving yards on 34 receptions. The guy had just three drops the whole season! That's a nearly 91% catch rate, mind you!
Another guy I could see getting more involved in the passing game is tight end Robert Tonyan. Tonyan recently re-signed with the team under a one-year deal after having his season cut short after tearing his ACL. The opportunity is surely there but if I could tell fantasy managers one thing, it would be to at least put Tonyan on your radar but have a stronger option upfront. Why? For starters, Tonyan averaged just 4 fantasy points per game over the eight games he played last season and had just two games with 10+ fantasy points and two games with 5+ targets. That's not exactly a confidence builder even if you're hoping to score a tight end on the cheap.
Packers NFL Draft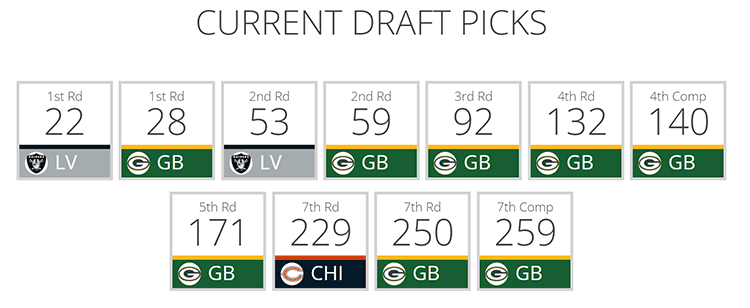 Image Credit: Tankathon.com
The Packers have two first-round picks, in what is considered a deep draft for the wide receiver position. However, the Packers organization has dropped the ball when it comes to adding weapons for Aaron Rodgers in the past. If you recall, two seasons ago the Packers were looking for players to put the final touch on a potential playoff run but decided to draft Jordan Love instead. With all the drama that pick caused them, the front office should learn from their mistakes and target one, if not two playmakers for their gunslinger QB.
---
Win Your Fantasy League!
Become a member at FantasyData and get access to the industry's best fantasy football subscription available!
---
Davante Adams in Black & Silver
On the surface, the deal looks like a boon for the Raiders' offense. I mean, how couldn't it be, right? The Raiders get one of the best wide receivers in the game. The flip, however, could be said that Davante Adams was elite because of the MVP quarterback Aaron Rodgers throwing him the ball. While some will say that Adams is elite on his own merit, I won't completely disagree with that. Adams does bring a lot to the table. But let's look at the Raiders wide receivers and Derek Carr to see the contrast.
Hunter Renfrow was a bad man last season, seeing a career-high in targets (128), going over 1,000 yards (1,038), and nine touchdowns. Solid stats, right? But prior to that, Renfrow was your average wideout stuck in an average passing attack sported by the Raiders.
In 2020, the Raiders' wide receivers were hardly used as they ranked 31st in targets with 237. That season, Renfrow saw just 56 targets and was the only receiver to see that many targets among the Raiders wideouts. Darren Waller with 107 targets, led the Raiders pass-catchers in targets that season. Let's not forget that the Raiders wide receiver group consisted of Henry Ruggs, Bryan Edwards, Hunter Renfrow, Zay Jones, and Nelson Agholor. I know, not a ton to write home about.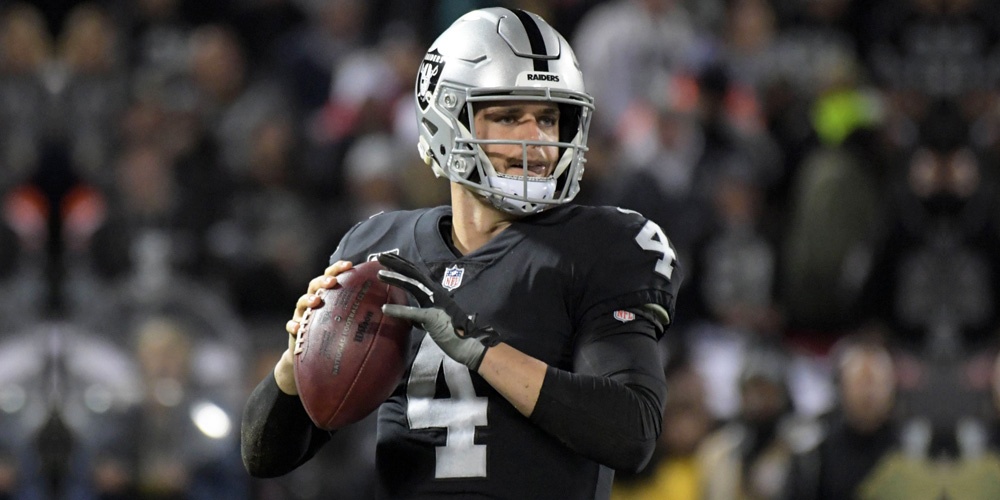 The situation did improve overall in 2021 with the Raiders wide receivers seeing a jump in targets to 317 from the 2020s 237. The Raiders wide receivers saw 52.6% in terms of target share when compared to other positions being targeted by Derek Carr, a nice jump from the 45.5% in 2020. As a whole, those numbers improving are good but when you look at the individual numbers among the wide receivers, they aren't good and this is where fantasy managers make their hay.
Heading into the 2022 season, Zay Jones will be in Jacksonville, Desean Jackson is still in free agency limbo, and Henry Ruggs is… well we know how that story went down last season. Bryan Edwards is still the red-headed stepchild of the Raiders offense and the addition of Davante Adams won't be doing him any favors. Adams's addition could be more of a "subtraction" to Hunter Renfrow than Darren Waller's as well. Adams will command both attention and targets but there won't likely be a ton of targets to go around. This leads us to Derek Carr.
Carr hasn't been in the dregs of the NFL in terms of passing attempts. He finished fifth overall in that category in 2021 with 626. Much better numbers than the 513 in 2019 (14th) and 517 in 2020 (14th). This is a reflection of the Raiders moving more to the pass than the run. Just last season the Raiders ran the ball 39.7% compared to 60.3% passing. Keeping that in mind, Adams's addition to the team after that big of a payday should mean that he should be the focal point going forward in the Raiders passing attack.
We could see Derek Carr target both Adams and Waller as his top options. We saw back in 2016 that Carr can support two dominant pass catchers when Michael Crabtree and a younger Amari Cooper had 145 and 132 targets respectively. During that season, Seth Roberts was third on the team in targets with 77. While I would hope that Hunter Renfrow doesn't fall that far, it's more likely to happen than not considering Adams and Waller are bigger targets. Renfrow's third-down ability makes him a trusted target for Carr too so he should still have an important role on the Raiders offense.
As far as Josh Jacobs is concerned, I don't think that his role in the passing game takes a hit. It feels more neutral territory than anything else. While Jacobs has seen a target increase since his rookie season (27 in '19, 45 in '20, and 64 in '21), Kenyan Drake's role on the team as well as Renfrow's emergence as one of Carr's trusted targets may keep Jacobs targets in the 50-60 range. In 2021, the running back group saw a 24% target share, which may not drastically change even with the addition of Davante Adams.
Final Thoughts
It boils down to this, there is a stark difference in quarterback play with Adams going from Aaron Rodgers to Derek Carr. That should be enough to knock Adams fantasy value down a peg or two. In 2021, Adams was a first-round draft pick, being drafted no later than 1.06, per FFCalculator. Factoring in the change in a quarterback for Adams, his fantasy value should take a hit likely knocking him out of the first round of fantasy drafts to about the early to mid-second round. At a slightly cheaper price, I'd still take the shot at drafting Adams over guys like A.J. Brown or Ceedee Lamb in redraft leagues because the volume is going to be there for Adams in the Raiders pass-heavy offense.
Should Adams fall a little later in the second round, he should be considered a steal at that point and if you grab him after that, you should feel comfortable knowing that you still have a prime wide receiver in a pass-heavy offense ready to get a ton of looks from his best buddy at QB.
STAY IN TOUCH
Sign up for FantasyData's newsletter and get awesome content sent to your inbox.
We'll never share your email address and you can opt out at any time, we promise.
---

William has been playing fantasy football since 2012 and has loved every year of it. Plus, trash-talking with friends over football is great too. He's been writing over the past 3 years, contributing for RealDealFantasyHQ.com, Fantasysphinest.com, and LeagueWinners.com just last season. He also started up his own fantasy football podcast "The Fantasy's Phinest Podcast". William enjoys helping provide advice through research and when he's not doing that, he's taking care of his family and cooking in the kitchen.