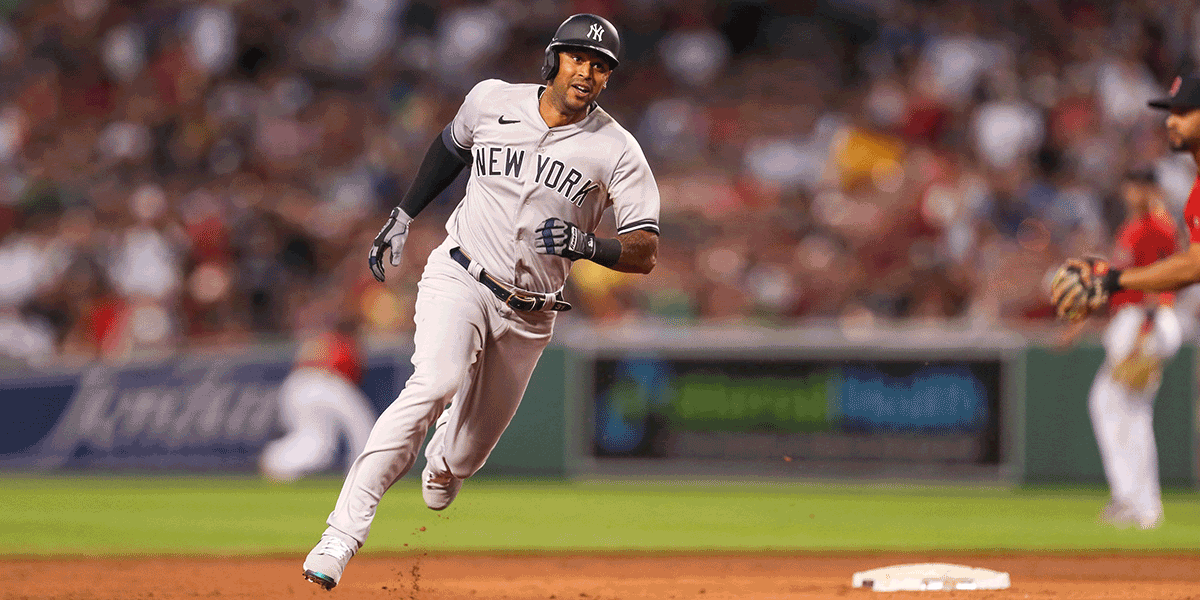 Fantasy Baseball Waiver Wire Week 14
---
Cheap Stolen Base Sources For Fantasy Baseball
Stolen bases are one of the scarcest categories in fantasy baseball, and save for a few notable exceptions, there are no legit steal threats anymore. According to MLB.com, in the 2021 regular season, there were 2,213 stolen bases, the fewest in a full season in 30 years. The number so far in 2022 is 1,315, which would be a significant increase over last year, but that doesn't mean there are a lot of reliable base stealers available on the cheap.
In this space, we will run through four potential stolen base sources from the waiver wire: one of them isn't even in a major league roster, one was just called up, and the other two are veterans who have been running a bit recently.
Overall, the outlook doesn't look so promising, but we can re-visit the four candidates in about a month and see if they are contributing the precious stat or not.
4 Potential Cheap Alternatives In The Wire For Stolen Bases
Esteury Ruiz, OF, San Diego Padres
Esteury Ruiz is a 23-year-old outfield prospect from the San Diego Padres' system. He is not a future star, or at least talent evaluators haven't been paying much attention to him, but he is a prospect nonetheless. Here is the thing with Ruiz: his power, with 13 home runs so far between Double-A and Triple-A, appears to have taken a step forward. But we are not here because of his power, right? Well, kind of.
Ruiz has stolen 60 (!) bases this season, leading the minor leagues. He has also hit .333/.467/.560, which is, as you can imagine, very, very good. For now, he joined the Padres' taxi squad in Denver. With utilityman Jurickson Profar on the concussion injured list, the team is in need of outfield insurance, and Ruiz provides that.
Now, Ruiz is a roll of the dice. However, if he performs like he did in the majors (elevated BB%, manageable K%, lots of power, and game-changing speed), he could earn himself some extra playing time, and if that happens and you grab him on the cheap, the reward could be huge.
Oswald Peraza, SS, New York Yankees
Another roll of the dice, but stolen bases are such a scarce category that in most cases, we have no choice but to make adds with potential future rewards. In this specific case, the Yankees' starting shortstop, Isiah Kiner-Falefa, has really cooled off after a decent start and is hitting a lousy .267/.317/.314 with no homers and an 81 wRC+.
IKF has 13 stolen bases of his own, but there is a growing chance the Yankees replace him, and if that's the case, Peraza could be the one tasked with taking over shortstop.
Peraza has a cool 10 homers and 18 stolen bases for Triple-A Scranton, and while his season OPS is .724, he has been white hot as of late: in 18 games since June 11, he has five homers, seven steals, and is hitting .366/.425/.648 with a brilliant 1.073 OPS.
Once the Yankees realize he is their best internal option to start at shortstop, you could have stashed Peraza, especially if you have an available NA spot. He probably won't have a 1.073 OPS in the majors, but even if he settles in the .750 range, he will much, much better than IKF and will add some stolen bases to your weekly tally.
Aaron Hicks, OF, New York Yankees
After his horrible May, you probably wrote Aaron Hicks off as a fantasy option. But if you are looking for cheap steals, this is the perfect moment to snatch him from waivers: according to Yahoo, he is available in 82 percent of the leagues.
In the last 14 days, Hicks is doing his best to convince the Yankees not to trade for an outfielder, or at least not to replace him. And he is succeeding, with 10 runs, three homers, eight RBI, a couple of steals, a .324 batting average, and a 1.187 OPS.
He won't maintain those numbers over the course of a full season, but a healthy Hicks is capable of stealing bases on a 25-per-season pace. He is more likely to settle at around 18 or 20, though, but even those will be valuable.
Jonathan Schoop, 2B, Detroit Tigers
The Detroit Tigers' infielder is known more for his power than his speed, but a quick search will tell us that he has been willing to run more as of late. With four stolen bases in the last 14 days, he is the category leader among players with a low ownership percentage.
It's almost as if Schoop, who is hitting a meager .212 with six homers and five thefts over the season, said to himself that if he is not producing at the plate, at least he will try to do it on the basepaths. He stole bases in four consecutive games from July 4 to July 7, and he could get hot in a hurry – it seems like his career is made out of hot and cold stretches – and offer some power upside, too.
If it doesn't work out, you can just return him to the wire, but if it does, you will have a handful of steals and some power potential on the cheap. That's not bad.
---
Win Your Fantasy League!
Become a member at FantasyData and get access to the industry's best fantasy baseball subscription available!
---
STAY IN TOUCH
Sign up for FantasyData's newsletter and get awesome content sent to your inbox.
We'll never share your email address and you can opt out at any time, we promise.
---

Andrés Chávez loves sports above (almost) everything else, especially fantasy baseball. He hates batting average as a category and as a tool to assess offensive performance and is open to punting saves in the right situation. He also believes leagues are won through hard work, dedication, and the waiver wire. He is not the perfect fantasy player, but is eager to improve every day, and is willing to share his daily experiences with his readers. "Sports are the most important, least important thing.