The FFPC: An Introduction to High Stakes Fantasy Football
---
An interview with 21-time award-winning broadcaster, host, and producer of the High Stakes Fantasy Football Hour Podcast, and media coordinator for the FFPC, Eric Balkman.
No matter what platform I play fantasy football on, MFL, Sleeper, or ESPN, It's always lovely to come back to the FFPC. They say home is where the heart is, and my home in the fantasy football community is at the FFPC. Anyone who plays high-stakes fantasy football knows the name. The FFPC, or the Fantasy Football Players Championship, is the gold standard in the high stake's community and home to the world-famous Main Event Tournament and largest online contest in the world, the Footballguys Players Championship. Players from far and wide register to compete head-to-head versus the best players in the world for a chance to win the notorious $500k grand prize. But the FFPC is more than a place to play high stakes fantasy football; it is a place for the diehards to mingle, conjoin and share their passion for fantasy football; it is not for the faint of heart. I sat down and interviewed Eric Balkman to learn more about him and the FFPC to introduce our readers to the high-stakes fantasy football community and all its glory it has to offer. Welcome to the place I call home.
Eric Balkman, Aka Balky, is the Media Coordinator for the FFPC. He was born and raised in Wisconsin, where he grew up a Packer fan rooting for Brett Favre and now Aaron Rodgers. When he is not assisting the FFPC, commissioning drafts in high stakes lobbies, he is outdoors, playing sports with his kids, sturgeon fishing in the icy tundra with a spear in hand, testing the virtue of patience. Balky started his career in the fantasy football community assisting Dave Gecrzak (co-founder of the FFPC), commissioning drafts, inputting rosters, and answering customer service inquiries. His role has since transformed and transitioned into much more. This year marks season nine hosting the High Stakes Fantasy Football Hour Podcast with over 500 episodes produced. He also hosts the high stakes lowdown, a RotoVis Podcast dedicated to high stakes fantasy football. A typical week for Balky starts Tuesday when he is preparing interview questions for interviewees for his RotoVis Podcast. Wednesday, he's buried in waiver claims. Thursday morning is dedicated to setting lineups. Friday, he hosts HSFF Hour Friday Night Live. Saturday is a day off with college football, and Sunday, he's watching football for 11 hours with his wife's blessing. Before diving into the FFPC, I wanted to thank Balky for his contributions to the high-stakes platform I call home, the FFPC.
The FFPC was formed in 2008 by co-founders David Gerczak, Lou Tranquilli, and Alex Kaganovsky. Year one, the FFPC launched its flagship Main Event Tournament with a mere 180 teams, the base foundation for its success today. In 2009, the Main Event grew to 228 teams, and they created the notorious offline drafts that we still enjoy today at Caesars Palace in Las Vegas. One of the main factors of the FFPCs' success is trust. Prize money is held in attorney escrow accounts; they are known for fast payouts and have an enthusiastic customer service team (hi Balky and Chris). You can learn more about the FFPC History any time on their website to understand how the high-stakes community came to be and the team that helped build it.
With growing demand, innovation brought players back year after year, along with new members joining annually. One of the most innovative pieces is its scoring format. Diverse yet straightforward, the FFPC's creative lineup and scoring make this tournament fun, creative, and anything but simple. Below is the official FFPC Lineup & Scoring Explained:
QB – Start 1 – Score 4 points per TD. We prefer the single QB format and believe that 4 points per touchdown are a fair value for QB contribution. The passing yardage and other scoring opportunities for QBs permit them to score enough points to be a valuable position on the starting roster.
RBs – Start 2 – Score 6 points per TD and 1 Point Per Reception. Having played in many PPR leagues, our experience is that scoring 1 point per reception is a fair method. It gives lesser RBs real value on a weekly basis. The 1/2 point per reception rule, offered in some formats, is not suitable in a 12-team format and makes an RB less valuable than a WR or TE.
WRs – Start 2 – Score 6 Points per TD and 1 Point Per Reception. Having played various other high stakes events, we as players just like this scoring format and feel it's the best way to allocate points for WRs.
TE's – Start 1 – Score 6 Points Per TD and 1.5 Points Per Reception. This is where the FFPC breaks from the crowd in a big way, and there are multiple reasons. Having the option of selecting high-scoring TEs gives owners more lineup flexibility and adds to draft strategy. Tight ends may be drafted early and often by some drafters and ignored by others. NFL teams have made the tight end more of an offensive weapon in recent years, and the FFPC has emulated that trend with its Tight End scoring. The 1.5 PPR rule also has a bearing on the Dual-Flex option, as explained below.
Ks & Ds – start one of each.
Flex Position – Start 2 – The FFPC Dual-Flex. Fantasy owners can choose the Flex from the TE/WR/RB positions. With 6 Points Per TD, 1-Point per Reception (1.5 for TE), fantasy owners have many more lineup choices and decisions using this versatile format. There are 6 different lineup combinations that can be utilized with the Dual-Flex:
(2RB, 4WR, 1TE)
(2RB, 3WR, 2TE)
(2RB, 2WR, 3TE)
(3RB, 2WR, 2TE)
(3RB, 3WR, 1TE)
(4RB, 2WR, 1TE)"
The unique roster creation allows for diverse drafting. Teams can be successful in many ways, shapes and forms. With Full PPR and TE premium, drafters can create specific draft strategies to separate themselves from the industry norms, zigging while others zag to create a one-of-a-kind team. It is essential to familiarize yourself with this scoring as it is the base for all its tournaments and most of its leagues.
The FFPC is known for its Flagship Tournament, the Main Event. Before we continue, I wanted to remind you, this tournament is not for the faint of heart. The tournament is broken down into leagues of 12 competing head-to-head for prizes and an entry into the tournament of champions for a chance to take home the grand prize of $500k. As a reminder, this is high stakes, and the entry fee is as such. Teams cost $1,900 but can be obtained cheaper if you register early and or purchase multiple teams. The Official Tournament Rules are listed below:
2021 MAIN EVENT LEAGUES DETAILS
Early Bird Entry Fee (Online Draft): $1,800
Early Bird Entry Fee (Live, In-person Draft): $1925
Multiple Team Discount Pricing: $1,500
I have had the pleasure of competing in this tournament for the past few years. Last year I won two main event leagues and placed third in another, but the Saints wanted to get cute with Taysom Hill, and it cost me another title. Yes, I'm still salty, and I will be for quite some time. Nonetheless, with its unique rosters, scoring, high prizes, and competitive spirit, I was hooked from day one. Don't fear; if the price tag is out of your fantasy football budget, you can enter the FFPC Footballguys Tournament, a more economical version of the Main Event with the same scoring and setup but its reduced price allows players to enter a tournament at a more manageable price.
There are several other formats and tournaments the FFPC offers. A few fan favorites include the Pro's Vs. Jo's; where industry experts face off against the FFPC Joes to see who will reign supreme. They also have Dynasty league entries as low as $35 and as high as $2500. They offer Best Ball entries between $5 and $1,250, and they offer classic high stakes leagues ranging from $750 to 10,000. I would encourage you to take a look at everything the FFPC offers. You can learn the format at a reduced cost before jumping in the deep end with the sharks.
If you think you have what it takes to face off with some of the best players in the world and you want a shot at $500k, I encourage you to visit the FFPC. I have been a diehard fan and competitor for many years; I have won a lot of money, and I have also made many friends in the process. I plan on drafting offline this year at Caesars Palace and hope to see our readers there as well. Good luck on your entries, and please tag me in any drafts you partake in on Twitter @FFMuzio; iron sharpens iron.
To view the full interview with Eric Balkman, and learn more about the FFPC, make sure to watch the full interview below.
STAY IN TOUCH
Sign up for FantasyData's newsletter and get awesome content sent to your inbox.
We'll never share your email address and you can opt out at any time, we promise.
---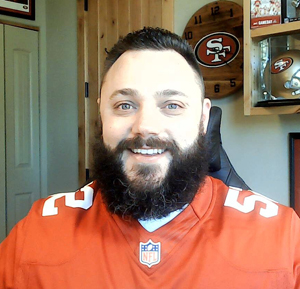 Billy Muzio - with over 16 years' fantasy football experience, he utilizes film review and analytics to create a competitive edge in FFPC high stakes drafts, player selection, roster construction and position theory. His expertise is in season-long high stakes drafts, whereas his primary focus of interest is the FFPC Main Event and FFPC Footballguys Players Championship, with a 62.34% win rate. Most recently he won 2 Main Event leagues and finished 28th overall in the FFPC Playoff Challenge Round 2. Billy resides in Bend Oregon where he is married with two children and runs his own business. Outside sports, he is considered a foodie and wino and loves to build relationships with family and friends through food. You can find him on twitter @FFMuzio.