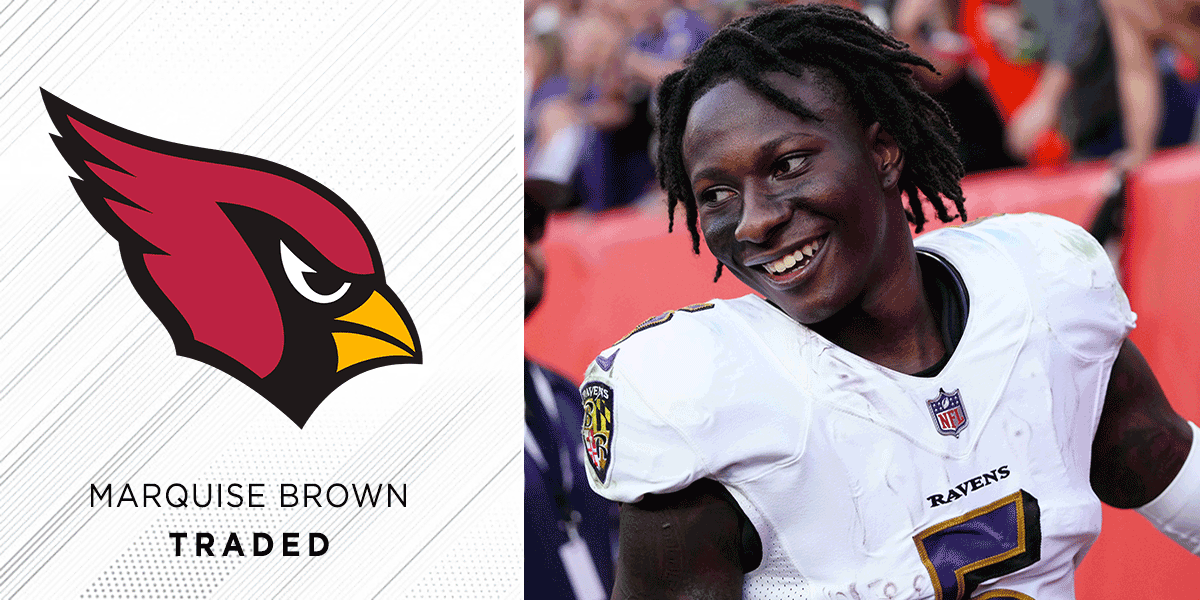 Fantasy Outlook: Marquise Brown Traded to the Cardinals
---
Marquise Brown Fantasy 2022
Already delivering the most exciting offseason ever, the NFL kept the good times rolling with the 2022 draft. In a stunning move that caught just about everyone off guard, the Baltimore Ravens traded their top wide receiver Marquise Brown to the Arizona Cardinals. The full details of the trade were as follows:
Baltimore Receives:
23rd overall pick (selected center Tyler Linderbaum of Iowa)
Arizona Receives
WR Marquise Brown
100th overall pick (selected edge rusher Myjai Sanders from Cincinnati)
Brown has been perpetually labeled as a fantasy underachiever, but his numbers tell a different story both in terms of past production and forward-looking potential. While only finishing as the WR25 last year, Brown was the WR12 prior to quarterback Lamar Jackson suffering an injury. The soon-to-be 25-year-old Brown should just be entering his prime going into his fourth year, but also has a new system to acclimate to.
Hollywood Brown to the Cardinals is more about Bateman's value in Baltimore than a massive change for Brown. pic.twitter.com/LqI0RILO6D

— Matthew Berry (@MatthewBerryTMR) April 29, 2022
After the trade, it was reported that Brown himself had requested to be traded, and later went on SiriusXM Mad Dog Radio to set the record straight. "I love Lamar [Jackson]," the receiver said. "It was just, you, know, it's just the system just wasn't for me personally."
It's not surprising that Brown felt a disconnect between his abilities and the run-heavy offense that the Ravens have operated since he entered the league. While he had his best year in 2021, it came largely in a role as a possession receiver. His 11.1 yards per catch ranked 63rd among wide receivers while his average depth of target of 10.46 yards ranked 45th. That is simply not in line with what Brown brings to the table.
There are two opposing forces that impact Brown's fantasy outlook moving forward: his move from a run-first scheme to an aggressive passing game, and his bump down from being his old team's WR1 to his new team's WR2 behind DeAndre Hopkins. Now that Hopkins has been suspended for the first six games of the 2022 season, we can split our projections more favorably for Brown over the early part of the year.
Cardinals' Pro-Bowl WR DeAndre Hopkins is being suspended six games for violating the NFL's Performance Enhancing Drug policy, league sources tell ESPN. pic.twitter.com/hNGNX4Aegx

— Adam Schefter (@AdamSchefter) May 2, 2022
A Closer Look at Brown in Baltimore
While Brown at times has fallen short of expectations, he has steadily improved on the field and for fantasy teams each year since entering the league in 2019. His targets, receptions, and yardage have jumped each year in spite of inconsistent quarterback play since Lamar Jackson's MVP season in 2019.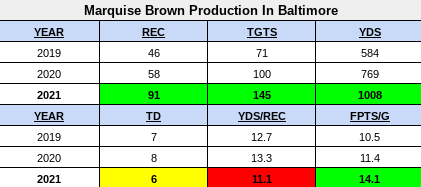 Of course, since Brown is changing teams, we must look at the sources of his production to gauge how much of it may be transferable to his new team. This starts with how big a slice of the total pie he was able to secure in Baltimore. The Ravens have been notorious for being a low-volume passing attack, but this changed out of necessity in Brown's final year with the team. Below is a look at Baltimore's total pass attempts along with Brown's associated target share.

Brown was unequivocally the top wide receiver on the Ravens, and while Mark Andrews emerged as an elite tight end, Brown still largely monopolized the outside for the offense. While his total targets saw a significant increase in 2021, it was due to the uncharacteristic volume increase for the team rather than a large increase in his share.
Brown's 26.7% target share was good for 11th-best among wide receivers. While his big-play ability could be unlocked with Kyler Murray, his ability to carve out a large enough role in Arizona to deliver for fantasy is contingent on competing for targets in one of the most loaded offenses in the league...
Target Distribution in Arizona
The leading target recipient for the Cardinals last year was Christian Kirk, the player Brown is replacing, with 103 targets. While this may seem encouraging for Brown's prospects, 50% of those targets came in the seven games that Hopkins missed. In the 10 games that Hopkins played (where of course he was the team leader in target share), the second-highest target share actually came from A.J. Green at 17.5%, with the split between Green, Kirk, and Rondale Moore extremely close to one another. Murray's propensity to distribute evenly to his non-Hopkins targets is a BIG concern for Brown once Hopkins returns, particularly as the Cardinals run a lot of 3 and 4WR sets.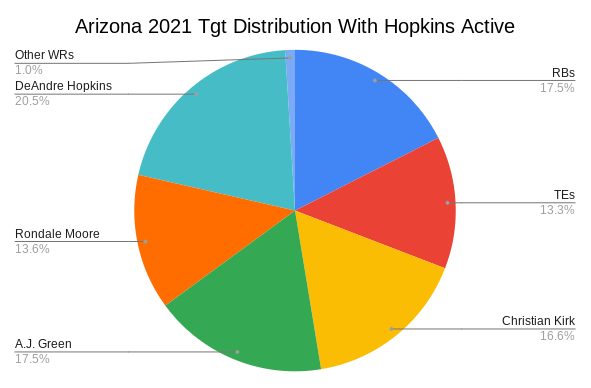 While Brown should have a secured role on the outside both during and following Hopkins' absence, his target share is likely to dip all the way into the high teens when Hopkins returns. This is especially concerning if Hopkins returns to what he was accustomed to prior to last year, averaging a dominant 30% share over the previous four seasons.
In addition to the quantitative analysis of Brown's value, there are also a few qualitative aspects to consider with his change of scenery…
Kingsbury's Track Record With Established Veterans
Head coach Kliff Kingsbury has been under a lot of fire for seemingly underperforming relative to the talent on his roster, but his usage of veteran pieces has been undeniably strong.
Kliff Kingsbury doesn't do great with drafted prospects.

Andy Isabella
Rondale Moore
Christian Kirk
Chase Edmonds
Hakeem Butler
Dan Arnold

But he brings out the best in veterans.

DeAndre Hopkins
Kenyan Drake
James Conner
Zach Ertz

Wheels up for Marquise Brown? Maybe? 🫠 pic.twitter.com/bk3biSM0PG

— Dave Kluge (@DaveKluge) April 29, 2022
While it may be frustrating for Cardinals fans to see players like Rondale Moore and Andy Isabella buried in game plans, the utilization of Hopkins, Green, running back James Connor, and tight end Zach Ertz certainly sets a strong precedent for quickly and seamlessly integrating Brown into the offense.
Based on both the quantitative and qualitative analysis above, there are a few assumptions I will use to project Brown's 2022 season:
A 19% target share. This is a weighted average of 22% for the six games Hopkins will be out and 17.5% for the 11 games Hopkins is expected to be active. The 22% share is higher than Christian Kirk's 20% share that he received when Hopkins missed time last year, but still considerably lower than the 26.7% share that Brown received in Baltimore due to the variety of other weapons in Arizona. The 17.5% share estimate upon Hopkins' return is in line with A.J. Green's share during Hopkins' active games last year.
Increases in yards per catch and catch rate to 15 yards and 68%, respectively. Kyler Murray lead the league in air yards per attempt last year at 4.73. Murray has been outstanding with the deep ball in his young career. Last year he had an incredible 50% completion percentage on passes traveling 20 yards or more. He had 72 such attempts, good for eighth-most even though he missed three games. Nobody else was particularly close to that combination of volume and efficiency with the deep ball. The next highest completion percentage for anyone with at least 60 deep attempts was Justin Herbert at 43.7%. This should all translate into efficiency gains for Brown. The 15 yards per catch assumption is based on what A.J. Green recorded last year (rounded down from 15.7 to be conservative), good for eighth-best in the league, and easily the best on the Cardinals. The 68% catch rate is the weighted average between Brown and Kirk from last year. Factoring in the yards per catch from Green while using the catch rate from Kirk cherry-picks the stronger efficiency metrics from each player, but Brown is good enough to warrant those assumptions.
Breaking down Brown's complete funnel of production using the above assumptions looks as follows:
Total Team Pass Attempts: 584 (Murray's pace last year if he had played all 17 games)
Target Share: 19% (weighted average with and without Hopkins)
Targets: 111
Catch Rate: 68% (weighted average of Brown and Kirk's catch rates in 2021)
Receptions: 75
Yards Per Catch: 15 (A.J. Green benchmark)
Receiving Yards: 1,125
Touchdowns: 6 (applying Murray's 5.0% touchdown rate from last year, the highest of his career)
My 2022 Projection for Marquise Brown: 75 receptions on 111 targets, 1,125 yards, and six touchdowns. 223.5 PPR fantasy points.
This stat line in 2021 would have only been good for the WR23 in PPR scoring.
Brown's ability has never been paired with a quarterback like Murray at the NFL level (though they were teammates at Oklahoma), so the upside is certainly there to thwart the analytics. It's also possible that A.J. Green completely falls off, or Hopkins' injury last year was the start of his decline entering his age-30 season. However, reasonable assumptions of volume and efficiency based on what we know today project him more as a low-end WR2 who could get over-drafted due to the excitement surrounding his opportunity. If he comes out of the gate on fire without Hopkins, he may an ideal candidate for his fantasy owners to flip for other assets.
Before moving on to the rest of the fantasy impact of this trade, it is worth noting that I am higher on Brown in Dynasty formats. The team did pick up his fifth-year option soon after the trade, and I would expect him to earn an extension eventually. Brown has the youth and talent to be the alpha for Arizona in due time, but there are simply too many veteran mouths to feed in 2022 for him to be a fantasy WR1.
A Look at the Broader Fantasy Fallout
Now let's get to the other winners and losers impacted by this trade for both Arizona and Baltimore. While I view the trade as relatively neutral for Brown himself, it is arguably a net win for fantasy when evaluating adjacent assets…
Biggest Winner: Rashod Bateman
The Baltimore wide receiver depth is now as follows:
Rashod Bateman
Devin Duvernay
James Proche
Tylan Wallace
Jaylon Moore
Binjimen Victor
If you haven't heard of anyone after Duvernay, you are not alone. Bateman enters the season as the clear WR1 who is likely to get force-fed targets almost regardless of his second-year development. Bateman actually fits the profile of how the team tried to use Brown last year and will be one of the hottest mid-round receivers in upcoming drafts.
Winner: Kyler Murray
Quarterback Kyler Murray may not have succeeded in securing a long-term extension just yet, but his contract dispute may have been a catalyst for giving him his shiny new toy in Brown. Former teammates at Oklahoma, Brown was Murray's top target when he won the Heisman Trophy in 2018.
It's underrated how solid of a fit Hollywood Brown is in Arizona.

When Kyler won the Heisman in 2018, Brown was his lead receiver and put up a 75/1318/10 line. Pretty, pretty, pretty good.

— Sam Wagman (@swagman95) April 29, 2022
While I am highly skeptical of Brown's standalone value, his presence could give Murray his best year yet.
Winner: Mark Andrews
The biggest question mark for Andrews entering 2022 was whether he could replicate the remarkable efficiency that made him the top fantasy tight end and a league winner in 2021. This seemed extremely unlikely entering the new year, but Brown's departure makes him a very viable candidate to repeat last year's elite production. Even if his touchdowns drop and the Ravens' total passing volume normalizes with returning starters in the backfield, offensive line, and defense, Andrews could realistically increase his league-leading 25.8% target share at the tight end position. Combine this with Kelce entering his age-33 season, Raiders tight end Darren Waller competing for targets with Davante Adams, and Falcons tight end Kyle Pitts with countless questions around his offense, and Andrews is about as safe as it comes at the position.
Winner: J.K. Dobbins
The fact that the Ravens not only traded an aerial weapon but also used their resulting draft pick to take the best center in the class is tremendous news for Dobbins and the run game. This is a team that clearly wants to get back to the style of play it ran two years ago before its roster was decimated by injuries in 2021. Add in the fact that they did not sign running back Melvin Gordon after it seemed imminent, and Dobbins is set up for an outstanding 2022 campaign even without being much of a receiving back. There are certainly concerns about a running back's first year back from an ACL tear (see Saquon Barkley and Rashaad Penny), but if we give him the benefit of the doubt with his rehab, his situation is lining up nicely for the upcoming season.
Biggest Loser: Rondale Moore
Rondale Moore truthers can't seem to catch a break. While the Hopkins suspension should give Moore plenty of opportunities to own Christian Kirk's role in the slot to start the year, it still seems like he is the odd man out. Moore will have to consistently battle for snaps and targets to the point where he will be extremely difficult to rely on. His athleticism makes him an intriguing DFS play during Hopkins' absence, but other than that I don't imagine him providing much value in the near term.
Loser: Lamar Jackson
As I began thinking about strategy for redraft leagues prior to the NFL Draft, the two quarterbacks I considered the best values to warrant taking one in the middle rounds were in fact, Jackson and Murray. I leaned toward the Jackson side, but the Brown trade has me firmly in the Murray camp. Jackson is still a highly valuable fantasy asset, but it is hard to see his overall QB1 ceiling remaining intact.
Losing Brown creates four possible avenues for Jackson to excel for fantasy in 2022. At least two, and possibly three of the following would need to hit in order for Jackson to return value on his draft price:
A significant step forward for Rashod Bateman
Repeated efficiency from Mark Andrews
A return to elite rushing production
The emergence of a WR2
While Bateman's upside has already been covered, we still haven't seen it from him yet. Andrews is fantastic but his level of efficiency has not been replicated by any tight end in recent memory other than Travis Kelce. Jackson's rushing production is promising, particularly as the team utilized the pick they received for Brown on the best center of the class in Tyler Linderbaum. Lastly, looking at the depth chart, it is difficult to put much faith in a non-Bateman wide receiver making much noise.
Jackson is unlikely to kill anyone's fantasy team, but his expectations need to be lowered a notch after losing his best deep threat.
STAY IN TOUCH
Sign up for FantasyData's newsletter and get awesome content sent to your inbox.
We'll never share your email address and you can opt out at any time, we promise.
---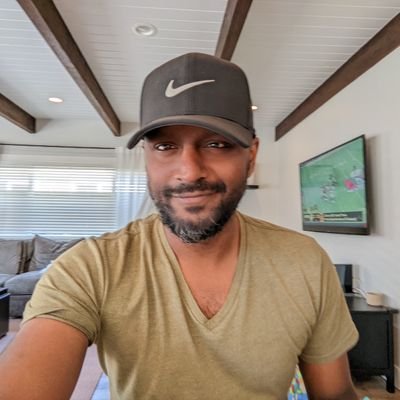 Dessy John is a 20 year fantasy football player, combining data and intuition to offer a valuable perspective on the game. He has spent 15 years as a marketer in Silicon Valley, and is currently pursuing his passions of writing and sports media. He holds an MBA from the University of California, Riverside. Dessy is an avid 49ers fan and resides in the Bay Area with his wife and two daughters.