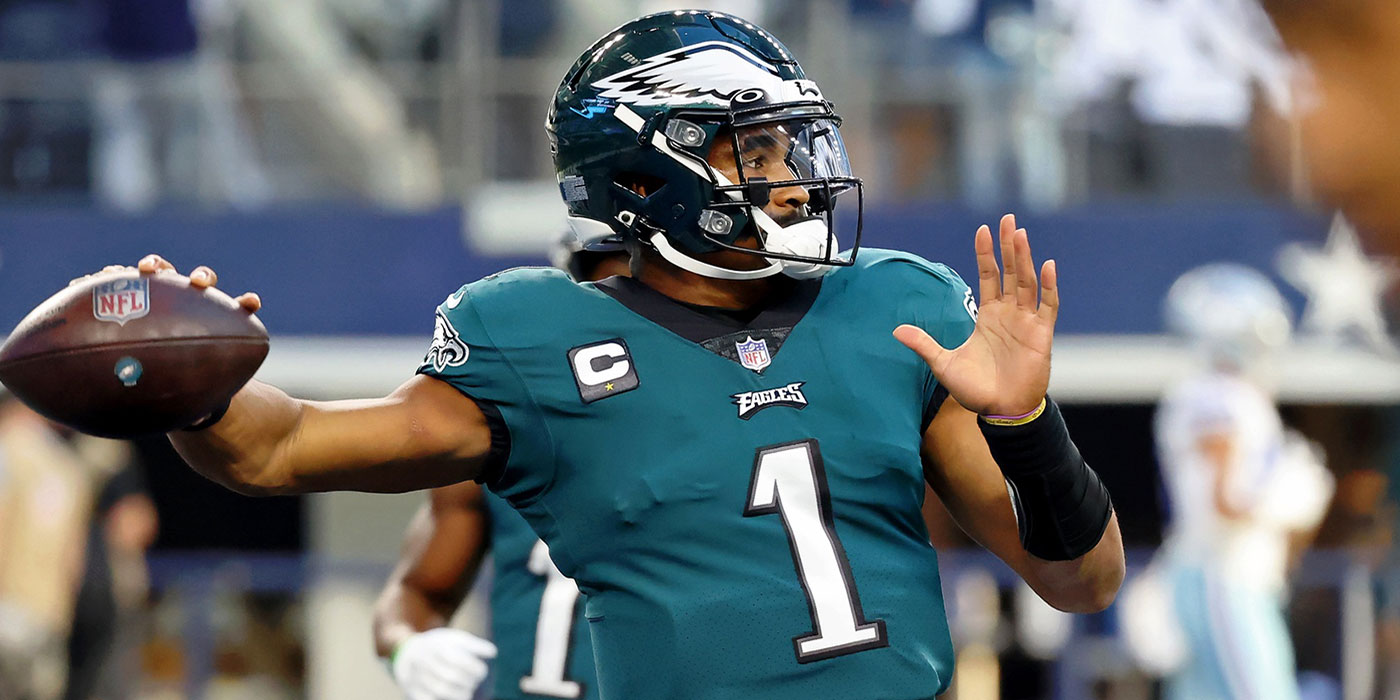 NFL DFS Sleepers For Wild Card Sunday
---
NFL DFS Slate: Sunday
The NFL playoffs start this weekend, and with the start of Wild Card Weekend also comes more DFS opportunities to walk away from the weekend with some extra cash. So we will break down the games on Sunday and show you the best sleeper plays to add to your build when it comes to roster construction so you can profit this weekend.
Before the games start, we need to break down which games we will look to for roster construction.
Quick Links
Jalen Hurts (DK $6,100) (FD $7,700)
Jalen Hurts can be the Konami code for fantasy football and DFS. His ability to rush allows for a safer floor in your lineup. In addition, after taking Week 18 to rest, his nagging ankle injury will feel better and enable him to become more mobile than he has been in recent weeks. Combine his health with the Buccaneers, who have allowed the fourth-most rushing yards to quarterbacks, and that safe floor now has a more robust ROI (return on investment).
Darrell Williams (DK $5,200) (FD $6,600)
The Steelers have bled rushing yards to their opponents all season long. They have allowed 2,054 yards which are second-worst in the NFL. With these running backs having similar price points, you must trust your gut. My gut says that this game should be a cakewalk for the Chiefs to lean on Williams more than CEH, allowing Clyde to rest up for next week.
Quez Watkins (DK $3,800) (FD $5,100)
You can always use the well-known names of Mike Evans and DeVonta Smith for your lineups, but chances are, so will most other DFS players. So how do we get different with our lineups? Enter Quez Watkins. With the banged-up secondary of the Buccaneers, Watkins can see more targets as the Eagles try to expose this weakness. With all eyes on Smith, Watkins could outperform his price point against a defense that has allowed 235 receptions, the fourth-worst in the NFL. Wide receivers against the Buccaneers are also receiving a plethora of targets. 384 targets throughout the season have placed the Buccaneers third-worst; the Eagles should take advantage of this secondary, and Watkins could be the clever play to save money while maxing out the potential of your lineup.
Tyler Johnson (DK $4,000) (FD $5,100)
With Chris Godwin out due to injury and Antonio Brown being released from the team. The next guy up will be Tyler Johnson. With Mike Evans drawing Darius Slay for most of the game, Tyler Johnson can see a higher target share. In the last two weeks, Johnson has seen 13 targets. I expect this to continue during Wild Card Weekend.
Cedrick Wilson (DK $4,300) (FD $6,000)
Cedrick Wilson, whenever he is given the opportunity, he shines. Since Michael Gallup went down for the year due to injury Wilson has recorded six targets in each game(including the one with Gallups injury). Earlier in the year, when the wide receiver core was missing a few pieces, he received ten targets which he turned into a seven-catch, 104-yard performance. Wilson has talent, and the 49ers have allowed the tenth most yards to the wide receiver position. Wilson is a fine play this weekend.
Jauan Jennings (DK $3,700) (FD $5,200)
Here is a dart throw against the Cowboys' defense that has allowed the seventh most receiving yards to the wide receiver position. Since Week 14, Jennings has only had one game under five targets, and last week he recorded six receptions for 94 yards and two touchdowns. The 49ers should find a way to use Jennings and take some pressure off Deebo Samuel.
Byron Pringle (DK $3,900) (FD $5,400)
We know about the Tyreek Hill, Diontae Johnson, and Chase Claypool's of this game. However, let's introduce to you the sleeper play of Byron Pringle. In the last four games, he has totaled 23 targets. In two of those four games, he has surpassed 50 receiving yards. So if you wanted to add another piece to the Kansas City Chiefs attack to your lineup, Pringle is your guy.
Rob Gronkowski (DK $6,800) (FD $7,400) | Cameron Brate (DK $2800) (FD $4600)
The whole tight end room makes this section because the Eagles have allowed the most touchdowns to this position in the NFL. They also allowed the most receptions and the sixth most yards to tight ends. Gronkowski should be a lock play, but you may want to get fancy and play the double TE DFS lineup here.
Chiefs DEF (DK $3,300) (FD $4,800)
This defense isn't a sleeper play. However, I put the Chiefs DEF here to say one thing: use your common sense here. The Steelers have struggled on offense all season and mightily in Week 18. So you may end up with a few interceptions here in a blowout atmosphere.
STAY IN TOUCH
Sign up for FantasyData's newsletter and get awesome content sent to your inbox.
We'll never share your email address and you can opt out at any time, we promise.
---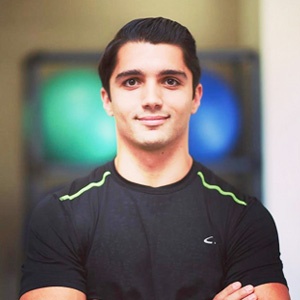 Former minor league soccer player/winner of TKO. Avid Philadelphia Eagles fan, Philadelphia born and raised, who also named their mascot (Swoop) for the team. Huge fantasy football fanatic who is all about the stats and ready to debate any topic. I have written for major publications within the sports and fitness world. Things I will debate until my last breath: Superman is the best superhero, Tim Tebow would have been a sustainable QB if he went to the Jacksonville Jaguars, and pineapples dont belong on pizza.