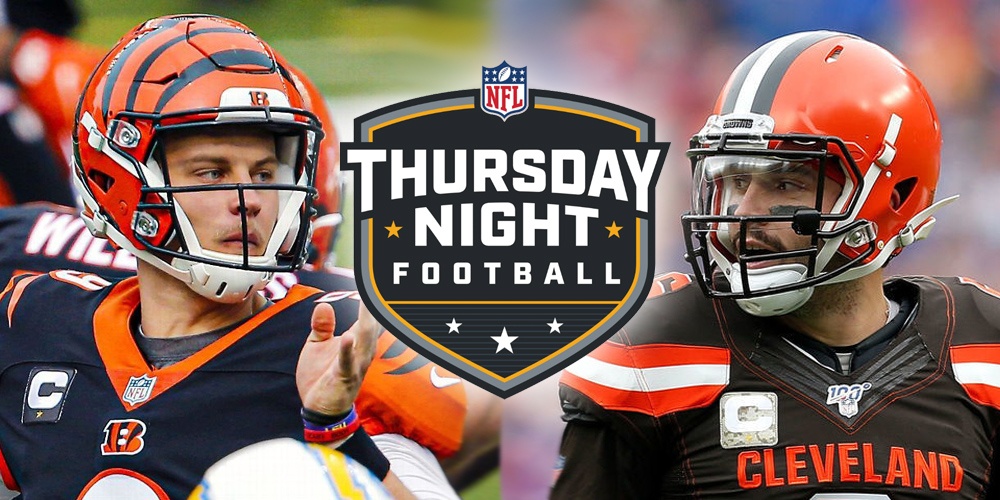 Thursday Night Football Preview: Bengals at Browns + DFS Picks
---
Thursday Night Football Preview
Cincinnati Bengals @ Cleveland Browns (-5.5) | O/U 43.5
Week 2 is here and it was a tough start to the NFL season for the state of Ohio.
For the Cincinnati Bengals, it was a heartbreaking loss in the final seconds to the Los Angeles Chargers who escaped with a 16-13 win thanks to a questionable OPI(Offensive Pass Interference)call and an even more questionable kicker.
For the Cleveland Browns, it was the biggest deficit any NFL team has taken in the return to football, as they lost 38-6 to the Baltimore Ravens. Dating back to last season, Cleveland has now lost four straight games, including a Week 17 defeat to these very Bengals.
Despite all of this, oddsmakers still aren't giving Cincinnati much of a chance to win in Cleveland this Thursday in Round 1 of the Battle of Ohio. The initial spreads for Week 2 have the Browns favored by six points, which is a lot of points to give a team that looked as lost and anemic in Week 1 as they did all of last year.
Then again, the Bengals are 3-22 over their last 25 games.
So who wins the battle of Ohio in the Thursday Night Football game? let me break down how each team can win.
How The Cincinnati Bengals Can Win
The Bengals were able to accumulate 295 yards (on 67 plays) in Joe Burrow's debut. This has them in the top half of offense's in the league this year. The name of the game in Week 2 for the Bengals is being more efficient when they are driving. They converted 42.9% of their third downs, and only entered the red zone once(which was a failed attempt at the end zone). The Bengals must also work on not beating themselves, as they were the 8th most penalized team in the NFL last week.
Expect more of their bell-cow running back, Joe Mixon, against the Browns rushing defense. He was only present on 58.8% of the snaps this season. As one of their more talented players surrounding this rookie quarterback. They should give the ball early and often to Joe Mixon.
When Joe Burrow does drop back, he will be looking for his talented wide receiver core of A.J. Green and Tyler Boyd. The Browns cornerbacks( Greedy Williams and Kevin Johnson) missed the game last week and coming into a shortened week with the Thursday night game, their prospects to play are not high. The Browns head coach, Kevin Stefanski, has already come on record and stated that it is hard to say if Greedy Williams will play, and with no update on Johnson, this matchup could feature high totals from the Bengals wide receiver core.
How The Cleveland Browns Could Win
The Browns need to build their team around the best duo in the game (Nick Chubb and Kareem Hunt). The less they put the ball in the hands of Baker Mayfield the higher their chances of winning this game become. I expect a big running game for both of these backs this week. Hunt had a 49.3 snap percentage, Chubb had a 47.9 snap percentage.
Does this make the water murky on which back to roll with this game?
I don't believe it does. I believe you can run both backs into your DFS showdown play safely as the Cincinnati Bengals rushing defense ranks 28th in the NFL.
For the Browns to win this game, they must control the clock and turn Baker Mayfield into a game manager instead of asking him to win the game from behind for their team.
So how will this division battle break down for fantasy? Let's break it down by position
Quarterback
Joe Burrow ($10,800)
Joe Burrow looks calm, cool, and collective in his first game in the NFL. He did have an interception that I am sure he wants that play back. However, minus a bad OPI call and a wonky kicker, Burrow would have won his debut in the NFL.
I have burrow as my 21st overall quarterback this week. He is facing a depleted Browns secondary on a shortened week, which should force the Browns to sit those players still. This will open up his talented weapons on the outside and allow Burrow to sling the ball all game. He will also add in his rushing ability to add some points to your lineup(8 rushes for 46 yards and a touchdown last week). Burrow should be picked in your lineups this week.
Baker Mayfield ($10,200)
Even in a game script that demanded him to throw due to being shellacked by the Baltimore Ravens, Mayfield looked average at best with a mediocre performance. He is surrounded by talent however time after time he shows fantasy managers why you can not rely on him. With a game being much closer in week two than last week. I do expect Mayfield to throw nearly as much as last week (40 attempts).
Running Backs
Joe Mixon / Giovani Bernard
($8,600 / $3,000)
The Cincinnati Bengals have a lot of talent on the offense for Joe Burrow. The most talented player being Joe Mixon. With his contract extension, you should expect the Bengals to build their game plan around him and allow Joe Burrow to get acclimated to this offense, especially without a preseason under his belt. I expect a lot of touches for my 10th ranked running back on the week. He should see around 20 touches with a few targets in the passing game, just like last week. Joe Mixon will be in my lineup.
Not much to speak about with Bernard in the running game with only one touch, however, he did total 4 catches for 21 yards. At his price point, I am throwing him in my DFS lineup as my cheap upside play for the week.
Nick Chubb ($7,600)
A lot of fantasy owners are tilting on Nick Chubb in week two. This is something we can use to our advantage. The game script got out of hand for the Cleveland Browns as the Ravens came into town and ended the game long before the final whistle. This week NFL battle should be a much closer contest. This means Nick Chubb should stay on the field more and rack up the fantasy points. Chubb should double his total rushing attempts last week(which were 10). If he averages anywhere near his 6 yards per carry from last week, he should give you a solid play this week in DFS.
Kareem Hunt ($7,400)
This Thursday, I expect both teams to run the ball throughout the game to control the clock and allow their team the advantage to win the game. When speaking of the Browns running backs, Kareem Hunt is right there in the picture with Nick Chubb. He totaled 13 carries for 72 yards in his season debut with another 4 receptions for 9 yards to add to his final totals. He ran for a clip of 5.5 yards on average and I expect him to do more of the same in week 2 of Thursday night football.
Wide Receivers
A.J. Green($9,000), Tyler Boyd( $7,000), Tee Higgins ($3,200), John Ross ($5,200)
Five receivers saw nine or more targets against the Browns last year, and while all of them finished as top-28 receivers, four of them finished as the WR21 or better. This means the Bengals wide receiver core is a stellar play for this week.
A.J. Green was targeted nine times last week against a much more stout defensive back group in the Los Angelos Chargers. He also had a touchdown called back against him that would have padded his stat line. I think as long as AJ Green is healthy, Joe Burrow will see him as his safety blanket. With the Browns starting corners injured and coming into this short week, I expect more of the same for Green.
Tyler Boyd only had five targets for 33 yards in his debut. However, this defense is weaker as stated before. John Ross and Tee Higgins are upside, cheaper plays from this team as well. if you wanted to add one of these players in your lineup, you would have to score a touchdown for their prospects to pan out on your DFS Showdown play. I'll take the upside of the targets from AJ Green for this matchup.
Odell Beckham Jr. ( $8,200), Jarvis Landry ($8,000)
As long as these talented wide receivers are tied to Baker Mayfield you will always have to wonder if they will Boom or Bust for you in the week. Due to this fact, paying the extra $200 for Odell Beckham is the play for this week's game. he was given 10 targets in his debut and although he didn't do much with them(22 yards), the game plan is there to let him be the featured player in this passing game.
Jarvis Landry, although a very talented player, is someone I am swerving away from for this week. Until Baker Mayfield can show me he can play in the NFL as even an average quarterback it will be hard for him to produce two fantasy-relevant wide receivers, especially in a run-first offense.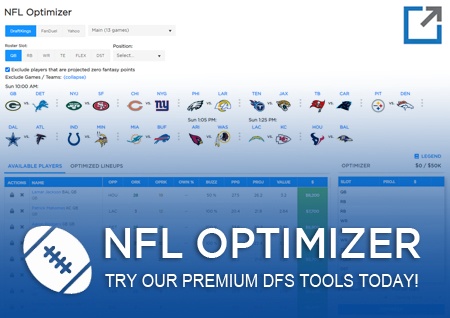 Tight Ends
C.J. Uzomah ($5,000)
C.J. Uzomah had a solid debut to his 2020 season with 4 catches(5 targets) for 45 yards. They say a tight end can be a quarterback's best friend, especially a rookie. However, with all the talent that surrounded Joe Burrow, my DFS play will not feature a tight end that I have ranked 29th overall on the week.

Austin Hooper ($6,800)
Austin Hooper gets a tiny bump up this week with avid Njoku going to the IR. It is still not enough for me to play him at this price point in my lineup. He only received two targets, and although he caught them both, I am staying away from Hooper. This team was not the ideal landing position for him this offseason as he has to jockey for targets around Odell Beckham Jr, Jarvis Landry, and Kareem Hunt, plus without an offseason Mayfield connection with his new tight end may take them.
Kickers
Cody Parkey ($4,400) Randy Bullock ($4,200), Austin Seibert
Are you confused with three kickers on the list? Well, Randy Bullock after shanking the kick to win the game last week shows up on the injury report with a leg injury. Enter Austin Seibert, who was just cut by the Cleveland Browns of all teams. This allowed Cody Parkey(the Double Doink King) to become the kicker in Cleveland.
Stay away from this batch of kickers, we don't know who will kick for the Bengals in this game. Cody Parkey has shown us who he is as a kicker as well. Don't waste your DFS money in this position.
Defense
Bengals($3,600)/ Browns ($4,000)
If you are playing a defense this week, you are hoping for Mayfield to turn it over or Burrow to have a rookie mistake-filled game. Neither team's defense is worth the money this week when you can play your money elsewhere.
Free DFS Plays For Head To Head Games
Nick Chubb ($11,400)
Odell Beckham Jr. ($8,200)
Giovani Bernard ($3,000)
Joe Burrow ($10,800)
A.J. Green ($9,000)
Kareem Hunt ($7,400)
Prediction
The Cleveland Browns win a close, low scoring affair against the Cincinnati Bengals 21-17.
STAY IN TOUCH
Sign up for FantasyData's newsletter and get awesome content sent to your inbox.
We'll never share your email address and you can opt out at any time, we promise.
---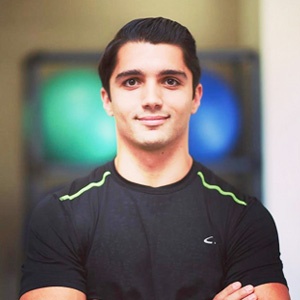 Former minor league soccer player/winner of TKO. Avid Philadelphia Eagles fan, Philadelphia born and raised, who also named their mascot (Swoop) for the team. Huge fantasy football fanatic who is all about the stats and ready to debate any topic. I have written for major publications within the sports and fitness world. Things I will debate until my last breath: Superman is the best superhero, Tim Tebow would have been a sustainable QB if he went to the Jacksonville Jaguars, and pineapples dont belong on pizza.