10 Biggest Value Studs Of The 2022 Season
---
Fantasy Football Recap: 10 Biggest Value Studs In 2022
The 2022 fantasy football season is officially in the books and this is a perfect opportunity to take a look back at the season and see what players stood out as this season's fantasy studs and duds. Most of these guys on this list either led your fantasy teams to the promised land or sat on your fantasy teams hoping to get something out of them until you got tired and dropped them to the waiver wire.
Whatever the case, I made sure to go through the fantasy player with a fine-tooth comb and give you my selections for my studs and duds. I hope I landed the guys you were thinking of. Let's jump in, starting with the studs!
Daniel Jones, QB - NYG
I called it! But honestly, this take was hedging on the hiring of Brian Daboll as the head coach and turning this team around after having to deal with weaknesses at the head coach/offensive coordinator positions prior to the 2022 season. Daboll was able to get more out of Daniel Jones this season than others have since he was drafted in the first round (6th overall) of the 2019 NFL Draft.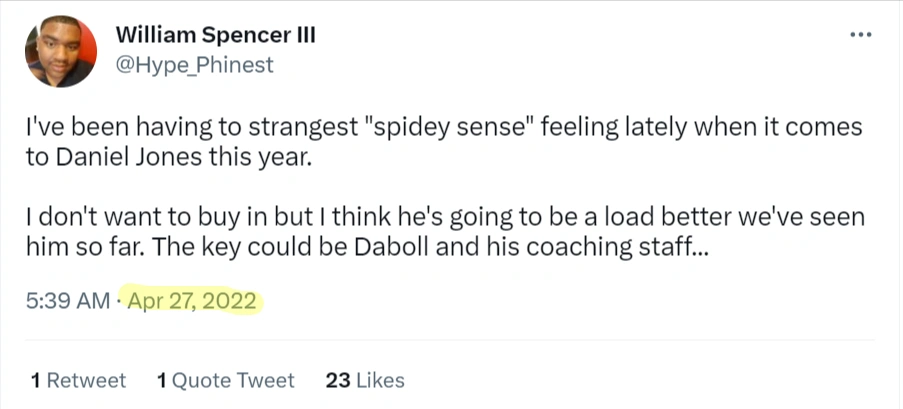 Jones managed to crack 3,000+ passing yards for the second time since his rookie year and threw for 15 touchdowns. Now I know what you're thinking. "How is that impressive?". Well, Jones was able to also do damage as a rusher as he finished with 708 yards on the ground and added seven more touchdowns. Jones would finish 5th in rushing yards among quarterbacks and averaged 18.1 fantasy points per game.
Jones was drafted as the QB22 by fantasy managers during the 2022 fantasy draft, placing him in the QB 2/Super flex range but managed to finish as a top-10 quarterback on the year.
Jared Goff, QB - DET
Goff is another quarterback that outplayed his fantasy draft stock this year, with the Detroit Lions playing better than anyone expected. Goff was drafted as the QB25 but was another quarterback to finish as a top-10 quarterback for the 2022 fantasy season. In arguably his best season as a quarterback since 2019, Goff nearly took the Lions to the playoffs with a 9-6-1 record.
Goff averaged 16.7 fantasy points per game during the 2022 season. That's better than Tom Brady, Justin Herbert, Russell Wilson, and Derek Carr all of those played more
Geno Smith, QB - SEA
There's no possible way we could have a stud list without putting Geno Smith in it. I personally had no belief that Smith would turn out a season quite like this after what we have seen so far from him in his career. But Smith had faith in himself and it translated to the football field as he was another underrated fantasy quarterback that no one was initially checking for in fantasy drafts.
Smith vastly overplayed his QB30 draft price and finished as the QB5 on the season, better than your favorite quarterbacks like Tom Brady, Aaron Rodgers, Kyler Murray, and Lamar Jackson to name a few.
Geno Smith ranked 11th in fantasy points per game with 17.9, throwing 30 touchdowns to just 11 interceptions during the 2022 season. Smith also finished fifth in passer rating, just edging out Joe Burrow's 100.8 with a 100.9, and finished with the best completion percentage at 69.8% among all quarterbacks. If these are things to come at the quarterback position, Geno Smith could be another quarterback that could be drafted on the cheap with some considerable upside.
Jamaal Williams, RB - DET
There was a lot of hype coming out of the Detroit Lions backfield with D'Andre Swift being a highly sought-after fantasy piece. And if we're being honest, I can get behind it. Unfortunately, Swift has had an issue with staying healthy for long periods of time during the season. Swift's durability was the very thing that opened the door for Jamaal Williams to shine this season. Williams was being drafted as the RB50 but crushed his draft price as he stomped his way to 17 rushing touchdowns and a top-15 finish. Williams finished as the RB13 and averaged 13.3 fantasy points per game.
Fun Fact: Williams at his RB50 ADP averaged the same amount of fantasy points per game as the consensus number-one draft pick in Jonathan Taylor (13.3). Isn't that crazy?!?
Tony Pollard, RB - DAL
Tony Pollard exploded on the scene this season for the Dallas Cowboys and fantasy managers in 2022 and most managers couldn't have been happier. Pollard's RB30 ADP wasn't horrible but no one was counting on a season like this while sharing a backfield with Ezekiel Elliott and running behind an injury-riddled offensive line for most of the season. Pollard's efficiency out of the backfield as well as his pass-catching ability were just some of the things that helped Pollard produce among the running back class this season.
Pollard saw just 193 rushing attempts (23rd among running backs) but averaged a healthy 5.2 y/a and cruised to his first thousand-yard season finishing with 1,007 yards. Pollard's breakaway ability was also on display during the 2022 season as Pollard finished tied for second in breakaway runs with New York Giants running back Saquon Barkley.
Pollard is reportedly going to get hit with the franchise tag by the Cowboys but you can expect his fantasy value to shoot up ahead of the 2023 fantasy draft.
Devonta Smith, WR - PHI
The Eagles wide receiver deserves some credit here for the kind of season that he had in just his second year in the NFL. After the Eagles traded for former Titans wide receiver AJ Brown during the 2022 NFL draft, it was a wonder what Smith's role would be inside a seemingly run-oriented offense and not a lot of targets to go around with Brown becoming the new WR1 for Jalen Hurts. But you could throw all those notions out of the window once the season starts.
Smith not only outplayed his WR35 ADP but finished as a top-10 wide receiver averaging 15 fantasy points per game. The Eagles' offense finished with 535 passing attempts, up from the 494 attempts from the 2021 season. Smith accounted for nearly 27% of the Eagles' targets on the team with 136, just 10 fewer targets than AJ Brown (28.9% target share).
Christian Kirk, WR - JAX
Are you shocked that I threw this guy on the list? I know he missed five games during the regular season due to a hip injury. However, that's exactly why he's on the list. This dude is a problem. Missing that many games and still managing to finish as the WR4 on the season is no small task. Chase is one of the next big names fantasy managers look to add to the roster during the draft and could see even more work should the Bengals decide to move on from fellow wide receiver Tee Higgins. Recent reports have stated that the team could move on if an extension isn't reached and that Higgins's financial requests are "outrageous".
Report: Bengals WR Tee Higgins "could be traded" for a top draft pick if the team can't reach an extension with him and the money he's asking for is "outrageous", per @TheAtlantic

Higgins is entering the final year of his rookie contract, and went over 1,000 back to back seasons pic.twitter.com/cW0bKNxKqO

— Dov Kleiman (@NFL_DovKleiman) February 3, 2023
Whatever happens in the future, Chase will be the center of the Bengals' passing attack with Joe Burrow under center. Chase saw 134 targets in 2022, averaging 7.5 targets per game. Any boost in that regard could lock Chase into elite production territory for the future. Chase gave fantasy managers a solid 19 fantasy points per game to boot. You definitely were holding onto Chase hoping he returned sooner rather than later.
Evan Engram, TE - JAX
It's been said plenty of times by different people within the fantasy community. The tight end position is basically a wash after Travis Kelce is picked up during your drafts. There's a significant drop-off after Kelce comes off the board and that much was true this season. But there were still some guys that outperformed their fantasy draft value. One of those guys was Evan Engram.
Engram was signed to the Jacksonville Jaguars after parting ways with the New York Giants during the 2022 offseason and he actually performed pretty well with Trevor Lawerence as his quarterback. Engram's draft ADP had him coming off the board as the TE22 between tight ends Gerald Everett (TE21) and Austin Hooper (TE23).
Engram would go on to average 10.4 (seventh among fantasy tight ends) fantasy points per game, with seven games on the season in double figures including a 39-point performance against the Titans in Week 14.
Rhamondre Stevenson, RB - NE
Rhamondre Stevenson was one of my favorite sleepers picks this season because of what Stevenson was able to show during his rookie season even though he had to share the spotlight with fellow Patriots running back Damien Harris. Stevenson averaged five yards per carry in 2023, up from the impressive 4.6 y/a he had in 2021. Stevenson's attempts would also see a jump to 210 from the 133 the prior season and produced when Harris would miss time because of injury.
Stevenson, being drafted as the RB34, completely roasted his draft ADP by finishing inside the top 10, seventh overall among fantasy running backs while averaging 14.7 fantasy points per game (11th overall). That's incredible! Stevenson is a problem in the backfield for the New England Patriots and hopefully, he'll get even more work next season.
Kenneth Walker, RB - SEA
There were plenty of rookies coming out of the 2022 NFL Draft that had some decent outputs. One of them that comes to mind is Breece Hall. The Jets were a bit slow to hand over the backfield to him but once Hall got the reins, he was doing damage for fantasy managers. It was unfortunate that he would later tear his ACL nearly halfway into his rookie campaign.
Another one was Damien Pierce. While he was able to have decent production on the season, the Texans' offense was just unable to give Pierce enough scoring opportunities for him to finish higher among running backs this year. But Kenneth Walker was able to produce and showcase why he is so dangerous with the rock in his hand.
Walker's fantasy draft ADP puts him at the RB39 which makes a bit of sense. Walker was playing behind Rashaad Penny to start the season but once Penny went down, it became the Walker show. Walker would shoot up from the RB54 over the first five weeks of the season to the RB11 the rest of the way, finishing as the RB18 on the season. Walker should likely be the Seahawks leading rusher in 2023 with Rashod Penny continuing to struggle to stay on the field due to injury.
STAY IN TOUCH
Sign up for FantasyData's newsletter and get awesome content sent to your inbox.
We'll never share your email address and you can opt out at any time, we promise.
---

William has been playing fantasy football since 2012 and has loved every year of it. Plus, trash-talking with friends over football is great too. He's been writing over the past 3 years, contributing for RealDealFantasyHQ.com, Fantasysphinest.com, and LeagueWinners.com just last season. He also started up his own fantasy football podcast "The Fantasy's Phinest Podcast". William enjoys helping provide advice through research and when he's not doing that, he's taking care of his family and cooking in the kitchen.