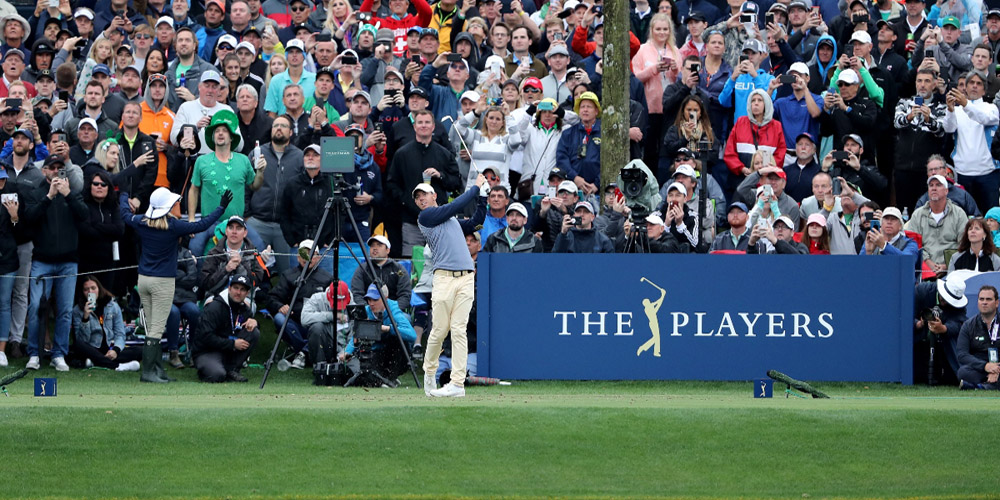 15 DFS Golf Picks for THE PLAYERS Championship
---
Big News: FantasyData has launched a Daily Fantasy PGA Optimizer! Research, build, tweak and repeat the process until you are satisfied with each one of your lineups using our very own PGA Optimizer! FREE until April 9th.
---
Daily Fantasy Golf Tips
It was a very tough test of golf last week with Bay Hill playing very difficult, but Tyrrell Hatton triumphed with a -4 despite shooting +2 in the final round - congrats to him on winning his first PGA Tour event! The unofficial 5th major of the PGA Tour arrives this week, and I couldn't be more excited for THE PLAYERS Championship with a super stacked field even with Tiger Woods on the shelf. The prize money is a whopping $15M this year, and the winner will take home the most money ever in PGA Tour history at a single event (outside of the FedEx Cup final) with $2.7M going to the victor and also getting 600 FedEx Cup points.
144 golfers have earned the right to compete this week at THE PLAYERS Championship, and the top 65 plus ties will make the cut after round 2 on Friday and play rounds 3 and 4 on the weekend. The last five winners at this huge event include 2019's champion Rory McIlroy, Webb Simpson won in 2018, Si Woo Kim hoisted the trophy in 2017, 2016 saw Jason Day as the top player, and Rickie Fowler was the best that 2015 had to offer. The winning score is typically in the mid-teens.
TPC Sawgrass - Stadium Course is once again the host course for THE PLAYERS Championship, it's a 7,189-yard track, a par 72, and the greens are Bermuda grass. Some of the key player stats to research this week for this difficult course are Strokes Gained: Tee to Green, Strokes Gained: Approach, Strokes Gained: Par 5s, Strokes Gained: Par 4s (450-500 yards), and Scrambling Gained. Improve your odds to win more PGA DFS contests with research and statistical tools.
Let's get to my top selections for this week - the 15 consists of my top 10 players to pay the piper for and 5 value picks (all 15 players are in no particular order), plus I include player salaries for DraftKings and FanDuel. I provide recent and seasonal finishes for each of my picks, their past 5 years of results at this event (when available), and mix in some interesting pieces of information as well.
10 Players to Spend Big on This Week
Rory McIlroy (Salary: DraftKings - $11,700, FanDuel - $12,200) - The world's top-ranked golfer is the defending champ at this prestigious tournament and will surely bring his A-game this week. McIlroy now has 6 top 5's in a row this season but hasn't sealed the deal with a win since the WGC-HSBC Champions last fall. He was a surprising cut in 2018, 35th in 2017, 12th in 2016, 8th in 2015, and has other top 10 finishes. He is nearing another win and I feel it could easily come on Sunday.
Jon Rahm (Salary: DraftKings - $11,000, FanDuel - $12,000) - Rahm is another top 10 monster with 5 in just 6 events this season, and should be hungry to get his first win this week. He was 12th here last year, 63rd in 2018, and 72nd in 2017. It's safe to say he should see his best career finish at the event this week, and it wouldn't be surprising to see him put his first win on the board for the 19-20 campaign.
Justin Thomas (Salary: DraftKings - $10,800, FanDuel - $11,900) - Thomas has two wins on the season so far and could add his third this week if he can follow up on what he did at the WGC-Mexico Championship when he placed 6th. He has two missed cuts in his past four events but is most dangerous at these big events. He was 35th here a year ago, 11th in 2018, 75th in 2017, 3rd in 2016, and 24th in 2015.
Webb Simpson (Salary: DraftKings - $9,200, FanDuel - $10,700) - Simpson had five straight top 10's to start his season only to slide to 61st last start at the WGC-Mexico Championship. He had the huge win in 2018, was 16th last year and in 2017, and was 66th in 2015. I'm expecting a bounce-back for him this week, maybe not another top 10 but a top 20 is likely.
Hideki Matsuyama (Salary: DraftKings - $8,800, FanDuel - $10,900) - Matsuyama was humbled last weekend with an 80 and a 77 to close out his Arnold Palmer Invitational stop and finished 56th. Before that, he was rolling with two top 6's, and another 5 top 16's in 6 starts prior. The Japanese superstar was 8th here a year ago, 22nd in 2017, 7th in 2016, and 17th in 2015.
Gary Woodland (Salary: DraftKings - $8,300, FanDuel - $10,300) - Woodland comes at an attractive price point this week, especially considering he has 5 top 8's in 9 starts this season. He was 30th in 2019 and 28th in 2016 with some missed cuts mixed in there. I'm going to make a prediction that he has his best finish here yet to beat his 11th from 2014.
Bryson DeChambeau (Salary: DraftKings - $9,100, FanDuel - $11,300) - "DeChamwow" has four top 8's in his past five starts and seems poised to have a great week at TPC Sawgrass this week. He was 20th here last year, 37th in 2018, and there's no reason to think the trend won't continue were he moves even further up the leaderboard to get inside the top 10.
Sungjae Im (Salary: DraftKings - $8,600, FanDuel - $10,400) - Im has really been on top of his game over his past two weeks with a win at The Honda Classic and a 3rd last week at Arnie's tournament. He was cut here last year in his rookie debut but should see great success this week as he carries tons of confidence with him after his first PGA Tour win.
Dustin Johnson (Salary: DraftKings - $10,000, FanDuel - $11,800) - When does Johnson have that big week that we've all been waiting for this season? It could be this week as he was 5th here last year, 17th in 2018, 12th in 2017, 28th in 2016, and has had other good years here as well.
Tyrrell Hatton (Salary: DraftKings - $7,400, FanDuel - $9,000) - His price means he could be a value pick for me this week but I like him so much right now that I'm making him a top 10 pick. He is coming off the huge win at the Arnold Palmer Invitational last week, has two 6ths this season, and a 14th in just 4 starts. He was cut here in both 2019 and 2018, and was 41st in 2017. I have no doubt that he has a strong finish and puts behind the bad voodoo here at TPC Sawgrass.
5 Solid Value Picks ($7,500 or less on DraftKings)
Scottie Scheffler (Salary: DraftKings - $7,500, FanDuel - $8,700) - Has kept getting better over his past 5 starts going 120th, 67th, 30th, 26th, and 15th last week. He is making his debut at THE PLAYERS Championship, but he is at a lot of tournaments this season and that hasn't stopped him from putting up 4 top 7's and another 6 top 30's in 13 starts.
Matthew Fitzpatrick (Salary: DraftKings - $7,300, FanDuel - $9,200) - Fitzpatrick shot the best round of anyone last week in the final round with a 69 to finish 9th. He is a perfect 8 for 8 this season between the PGA and European Tour and will see that streak extend to 9 this week. He was 41st last year in worse form than he is this season, was 46th in 2018, and was a cut in both 2017 and 2016, but don't let his past results dictate his future success as he's coming in hot and should be in the top 40 this week.
Taylor Gooch (Salary: DraftKings - $6,900, FanDuel - $7,000) - I'll continue to ride Gooch - he's paying off as he's made 12 straight cuts and is coming off a 13th last week. He missed the cut last year in his rookie debut, but he was missing lots of cuts at the time so it was more a result of a bad stretch than the course itself. Lucky number 13 is coming this week.
Christiaan Bezuidenhout (Salary: DraftKings - $6,800, FanDuel - $8,400) - Bezuidenhout turned some heads last week when he shot a 68 in round one and finished 18th. He has mostly played on the European Tour this season but in his three PGA starts he has a 17th, an 18th, and a 29th. He should do just fine this week in his first PLAYERS Championship.
Joel Dahmen (Salary: DraftKings - $6,600, FanDuel - $8,100) - Dahmen is coming off of back to back 5ths, has 4 top 10's this season, and just two missed cuts in 13 starts. He was 12th here last year after enduring four straight missed cuts, and that was his first go-around at this event. I wouldn't expect another top 12 despite him being in much better form this year than last, but you can expect a made cut with good upside.
Recapping my 15 pick's finishes from last week's Arnold Palmer Invitational
My High-Priced Picks
Hideki Matsuyama - T56th
Xander Schauffele - T24th
Patrick Reed - T15th
Sungjae Im - 3rd
Adam Scott - Missed the cut
Rory McIlroy - T5th
Tony Finau - Missed the cut
Bryson DeChambeau - 4th
Byeong Hun An - T56th
Tyrrell Hatton - Won the tournament!
My Value Picks
Harris English - T9th
Maverick McNealey - Missed the cut
Carlos Ortiz - Missed the cut
Talor Gooch - T13th
Lanto Griffin - T36th
STAY IN TOUCH
Sign up for FantasyData's newsletter and get awesome content sent to your inbox.
We'll never share your email address and you can opt out at any time, we promise.
---

Jeremy has been playing fantasy sports for over 20 successful years, and actively plays golf, hockey, baseball, and table tennis. He has over three years of fantasy sports writing experience - including writing a daily fantasy sports strategies and tools eBook in 2016. He is an active member of DraftKings - specializing in NHL and PGA contests over the past 5 years. He enjoys spending time with his family, traveling to hot places in the frigid Canadian Winters, binge-watching on Netflix, and starting and managing digital businesses.