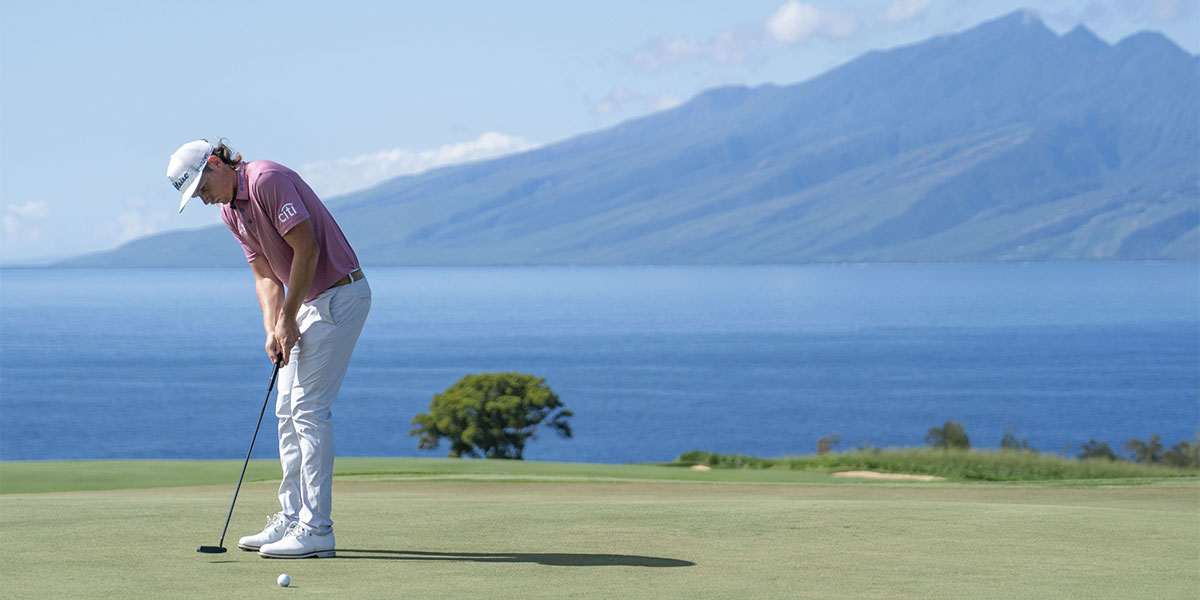 15 DFS Golf Picks for the Sony Open in Hawaii
---
DFS Golf Picks
Digest the data, predictions, and insights from this article to help with your fantasy golf picks for the Sony Open in Hawaii, and check out our PGA Lineup Optimizer to make more informed player selections for your DFS lineups. Best of luck this week!
The Sony Open in Hawaii
Recap from the Sentry Tournament of Champions: Cameron Smith went wire to wire last week to win and set a new tournament record at the Tournament of Champions - huge congrats to the talented young man! We saw lots of eagles and birdies last week, and more should come this week too with the PGA Tour staying in Hawaii for another event.
Preview for the Sony Open in Hawaii: This tournament has a rich history going back to 1965 when Gay Brewer beat Bob Goalby in a playoff to win the first-ever Hawaiian Open event with a score of -7 to earn $9,000. From its inception, this tournament has always been played at the same course in Honolulu, Hawaii, and Sony has been the title sponsor since 1999, taking over from United Airlines. John Huston has the best score all-time here thanks to shooting a -28 in 1998 to beat Tom Watson by 7 strokes. We are back to a near full-field event with 144 players set to tee it up, so we get a cut line back after a no-cut, small field last week at the Sentry Tournament of Champions. Winners of the Sony Open in Hawaii over the past five years include Kevin Na in 2021, Cameron Smith in 2020, Matt Kuchar in 2019, Patton Kizzire in 2018, and Justin Thomas in 2017.
Get in the money with more consistency in your PGA DFS contests and other sports leagues too including the NFL, by utilizing insightful player projections.
Tournament purse: The prize money for this week's event is set at $7.5M, the winner collects $1.35M and also earns himself 500 FedEx Cup points.
Course and key stats: Waialae Country Club is only 7,044 yards in length, is a par 70, and the greens are Bermudagrass and average a generous 6,500 square feet. The winning score range here over the past decade is -11 to -27, so the track can be torched if the winds and weather cooperate. Some core key stats to focus on this week include strokes gained: putting, strokes gained: around the green, driving accuracy percentage, strokes gained: approach, and strokes gained: tee to green.
The field: There are 144 golfers who will play the Sony Open this week, and we will see a cut line after round 2 on Friday where the top 65 golfers plus ties will advance to weekend play on Saturday and Sunday. We will see some talented players over the next few days including last week's winner in Hawaii, Cameron Smith, Sungjae Im, Hideki Matsuyama, Webb Simpson, and others. On a scale ranging from A to D, I rank the field strength to be a B-.
Three questions I have about the Sony Open in Hawaii this week:
1. Will we see an elite player win this week? Big names haven't traditionally won this event, at least not in more recent years. Justin Thomas won five years ago, but he was still making a name for himself at the time.
2. Will it be a photo finish? Three of the past four years have seen the victor win by a single stroke or in a playoff, and unless we see a player embrace a magical week, I believe it will be another tight leaderboard.
3. Will weather play a significant factor? As of now, it looks like the winds won't be blowing too strongly and we will see a mix of sun and cloud throughout the week with a low chance of rain and very little precipitation if it lands. It should be all systems go this week for the players, and the winning score should be in the low to mid -20's when all is said and done.
Lineup construction strategy this week: With a fairly large field and a cut line to contend with this week, you have to put together six-man lineups that have a high upside and a decent chance for every player to play all four rounds. It will be nice to see the ownership more spread around this week between the 144 players vs last week's 39 player field where more than half of the golfers were 15%+ owned. Try to keep your total projected ownership collectively under 80% for each of your lineups, and I would suggest taking a hybrid build approach in GPPs for your core lineups.
All the best in your journey to win or at least be in the money in some contests this week - here are my 15 DFS golf picks which feature my top 3 players from each tier on DraftKings (DK) in no particular order, plus I include player salaries for DK, as well. I consistently provide recent and seasonal finishes for each of my picks, their performances at the event over the last 5 years, and add in some tasty pieces of information, also.
The $10K+ Range
Cameron Smith (Salary: DraftKings - $11.2K) - The Aussie had been playing very well since last Summer with five top 10's in eight starts heading into last week, and he confidently won the Tournament of Champions thanks to outstanding ball-striking and putting where he gained over 6 strokes in both categories. He won this tournament two years ago and I wouldn't be surprised if Smith wins for the second time in three years this week and goes back-to-back in Hawaii. Sony Open finishes over the last five years: 2021 - T62, 2020 - Won, 2019 - T22, 2018 - T18, and 2017 - T27.

Webb Simpson (Salary: DraftKings - $10.5K) - This course really fits Simpsons' eye with three straight top 4's here since 2018. He has been solid lately too with seven top 19's in his last ten starts including a T8 at The RSM Classic two starts ago where he gained almost 10 strokes on approach. He's expensive this week, but all signs point to a big week coming from Webb, so he's worth paying up for. Sony Open finishes over the last five years: 2021 - T4, 2020 - T3, 2018 - T4, and 2017 - T13.
Hideki Matsuyama (Salary: DraftKings - $10.6K) - Matsuyama won twice last year including his unforgettable Masters win in April and he won just two starts ago at the ZOZO CHAMPIONSHIP. Last week wasn't one of his finer efforts, but he still finished T13 thanks to solid ball-striking which he's well known for. He has some good finishes on this course, is a cut-makers dream, and should finish inside the top 19 here for the third straight year. Sony Open finishes over the last five years: 2021 - T19, 2020 - T12, 2019 - T51, and 2017 - T27.
The $9K Range
Corey Conners (Salary: DraftKings - $9.6K) - We haven't seen the talented Canadian since November, but he's a solid finisher almost every time he puts on his working boots, and he has excellent finishes here including his T3 from two years ago. If you want a ball-striker who pops from time to time when his putter fairs well, then look to Conners to deliver the DFS goods this week. Sony Open finishes over the last five years: 2020 - T12, 2019 - T3, and 2018 - T39.
Kevin Na (Salary: DraftKings - $9.9K) - Na is the defending champ here from a year ago and has been playing sound golf since last July with four top 8's in his last nine starts including a solo 3rd at the Tour Championship where he gained 6 strokes on approach and 5.29 with his short game. He's a bit of a high-risk/high-reward type of golfer, so roll him out when you want to be aggressive in GPPs. Sony Open finishes over the last five years: 2021 - Won, 2018 - Cut, and 2017 - T36.
Talor Gooch (Salary: DraftKings - $9.1K) - He won his first PGA Tour tournament two starts ago at The RSM Classic in November thanks to an outstanding approach game and his short game was in fine form too as he gained almost 8 strokes in that stat category. He's still finding his legs on this track, but he has officially broken out in his career and this week he should top his best showing so far which came in 2018 when he earned a T18. Sony Open finishes over the last five years: 2021 - Cut, 2020 - T63, 2019 - Cut, and 2018 - T18.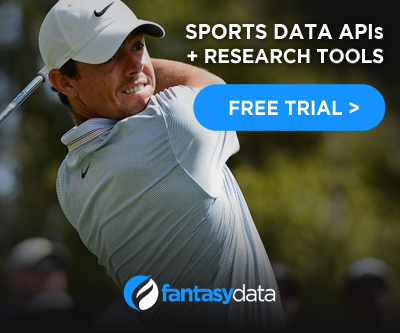 The $8K Range
Kevin Kisner (Salary: DraftKings - $8.9K) - I wasn't too big on Kisner last week, but he stuck it to me with a T8 thanks to good approach play and a hot putter. The course this week fits his game a lot better than last week, so I can endorse him as a quality play this week for balanced and hybrid lineup builds. Sony Open finishes over the last five years: 2021 - T32, 2020 - T4, 2019 - T69, 2018 - T25, and 2017 - T4.

Cam Davis (Salary: DraftKings - $8.0K) - Davis ripped some nice bombs last week and managed to finish T10 thanks to a balanced game where he didn't lose any strokes in any of the major stat categories. He won his first PGA Tour title last July at the Rocket Mortgage Classic, has done well here including his top 10 two years ago, and offers decent mid-tier value for this week. Sony Open finishes over the last five years: 2021 - T31, 2020 - T9, and 2019 - Cut.
Russell Henley (Salary: DraftKings - $8.5K) - The 2013 Sony Open champ has a sexy approach game that carries him, and he has two T7's in his last eight starts and another three more top 25's during that stretch. He seems to be all or nothing on this course, and I'm betting that he will be more of the former versus that latter this week, so I'm a buyer, especially at his attractive price tag. Sony Open finishes over the last five years: 2021 - T11, 2020 - Cut, 2019 - T66, 2018 - Cut, and 2017 - T13.
The $7K Range
Brendan Steele (Salary: DraftKings - $7.9K) - Steele faded a bunch down the stretch last year but he did have a T2 at the ZOZO CHAMPIONSHIP three starts ago and gained almost 12 strokes total. He really caught my attention when I looked at his results from last year and in 2020 where he finished outstanding in both, especially his solo 2nd two years ago where his approach game and putting were rather impressive. I don't know if he can extend his top 4 streak here to three consecutive years, but he should finish well and pay off his salary number. Sony Open finishes over the last five years: 2021 - T4 and 2020 - 2nd.
Aaron Rai (Salary: DraftKings - $7.7K) - He is officially on my radar now with three straight top 19 finishes and Rai has gained at least 7 strokes ball-striking in his past two starts - at The RSM Classic and the Houston Open thanks to succulent approach play. We haven't seen him in months so it's hard to say what his game looks like now, but if it remains the same from last Fall, then he should threaten to place top 20 once again. Sony Open finishes over the last five years: None.
Joel Dahmen (Salary: DraftKings - $7.6K) - I like his hats and the way he plays golf as he keeps making cut lines, finishes in the 20's and 30's with regularity, and pops here and there too as he has two top 7's in his last nine starts. Dahmen has a balanced game and he's consistent with it, so it allows him to finish respectably quite often. He's trending in the right direction at this event and if it continues, then he should have a top 10 this week. Sony Open finishes over the last five years: 2020 - T12, 2019 - T22, and 2018 - T73.
The $6K Range
Max McGreevy (Salary: DraftKings - $6.9K) - He's a recent grad of the Korn Ferry Tour and is making the most of his PGA Tour starts as he has two straight top 19's including his T16 at The RSM Classic where he gained strokes across the board except for a 1.16 loss around the greens and a modest 0.27 loss off the tee. If you're looking for some value plays, then do your due diligence on McGreevy and see if he's worthy of a roster spot on a lineup or two of yours. Sony Open finishes over the last five years: None.
Hudson Swafford (Salary: DraftKings - $6.8K) - It's hard to find players in the $6K range who have a nice-looking history at the Sony Open, but Swafford's is the best with six straight made cuts and a T3 coming three years ago, plus he's 7 for 8 here with three top 9's. He has three top 35's in his last four starts, and seems like a good bargain to me for this week. Sony Open finishes over the last five years: 2021 - T25, 2020 - T57, 2019 - T3, 2018 - T54, and 2017 - T13.
David Skinns (Salary: DraftKings - $6.3K) - If you need some very low-cost players, then Skinns should be looked at as he has two top 34's in his last two starts and is hungry to make a name for himself. He won on the Korn Ferry Tour last August at the Pinnacle Bank Championship, and is a player to watch out for now that he has earned his big break on the PGA Tour. Sony Open finishes over the last five years: None.
Read more PGA DFS Articles like this here.
STAY IN TOUCH
Sign up for FantasyData's newsletter and get awesome content sent to your inbox.
We'll never share your email address and you can opt out at any time, we promise.
---

Jeremy has been playing fantasy sports for over 20 successful years, and actively plays golf, hockey, baseball, and table tennis. He has over three years of fantasy sports writing experience - including writing a daily fantasy sports strategies and tools eBook in 2016. He is an active member of DraftKings - specializing in NHL and PGA contests over the past 5 years. He enjoys spending time with his family, traveling to hot places in the frigid Canadian Winters, binge-watching on Netflix, and starting and managing digital businesses.