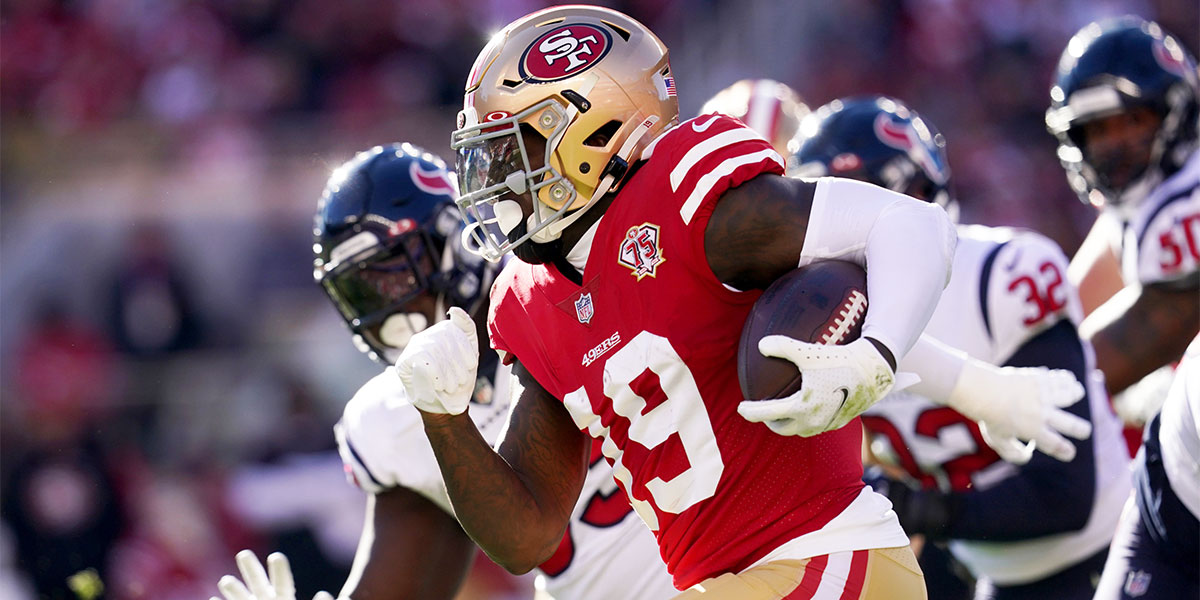 DraftKings Cash Game Core: Week 18
---
DraftKings Cash Game Core
It's Week 18 and our final full slate of games to work with this season. One of the main things we need to do this week is to sort out the teams and players with nothing to play for, then dig deeper to figure out if we think the starters for the teams with playoffs on the line will need to keep their starters in the whole game (ie. Josh Allen vs the Jets). Another thing we need to consider is player bonuses. Who is playing to hit monetary incentives? I'll be digging into that this weekend and will come back and update this article if I find some that are meaningful for the main slate. For now, let's take a look at what we can do to create a solid pool of players to work with for Cash Games and Single Entry, 3-Max, and small field GPPs.
Quick Links
Quarterback
My primary focus for QBs this week will be players that will play a full game because the stakes of the game they're in will force them to. The first stop on that train is on Baltimore where either Lamar Jackson ($7000) or Tyler Huntley ($5700) can provide us a sweet rushing floor against a defense that has allowed the second-most rushing yards this year. With their top cornerback (Joe Haden) also on the C19 list as of Thursday, we can also look for the Baltimore QB to pick on the secondary a bit, too. These teams each have a slim chance at making the playoffs and will be fighting the whole way. The Saints are in a back against the wall position and have to win and get help from a game that plays the same time as theirs. Taysom Hill ($6200) has a great matchup to produce fantasy goodness. From the metrics, we're looking at a game where Hill faces the #12 Net Pass DVOA, #10 Net Adjusted Sack Rate, #10 QB Passing points matchup, and the #6 QB Rushing points matchup. Top this off with what the Falcons have allowed to QBs on the ground this year with Atlanta just letting Josh Allen run for 81 yards and 2 TDs. Other QB rushing lines they've allowed include (Yards/TDs): Cam Newton 47/1, Lawrence 39/0, Darnold 66/0, Heinicke 43/0, Dan Jones 39/0, and Hurts 62/0.
Kyler Murray ($7400) is in an interesting spot as his team has the motivation to win but unless the Seahawks come out fighting, his day could be cut short if the Cardinals are too far ahead too soon. If we play Murray, we're hoping that either he puts up a solid price-considered score by the time he gets to rest, or that the Seahawks make this a game and we see Murray put up the type of box scores he did versus Seattle in his two games last year. Mac Jones ($5400) and the Patriots are playing for the #1 seed in the AFC and/or the AFC North title and will face a pass-funnel defense when they go to Miami. The defensive concepts for the Dolphins are rooted in New England with Brian Flores moving from the Pats to the Dolphins as a head coach, so the Patriots offense will have a good read on how to exploit the Cover-0/Man-Heavy Dolphins defense. The Dolphins have mixed in some more zone coverages and zone blitzes lately but Jones still sets up well to post another efficient, multiple TD game.
Running Back
Jonathan Taylor ($9300) again leads the pack at running back this week. His salary is a bit restrictive and we may need to look for other options, but there will be some value opening up on teams that will play more backups this week so he's still an option. The Colts will make the playoffs if they win and the Jags defense has sprung a leak against the run lately, allowing the Patriots backs to run for a combined 146-yards and 4 rushing TDs. The week before, they allowed the Jets RBs to cruise to 175 yards but no TDs. For the year, the Jets have allowed the most DK points to RBs by 3.8 points more than the next team (Seattle).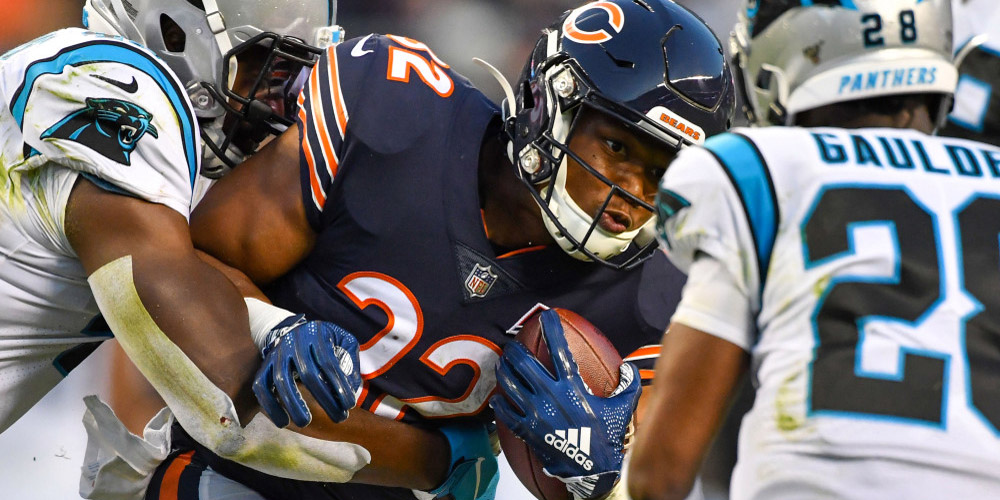 David Montgomery ($6800) continues to be a bit of a bargain for his workload. He's capable of 20 points against the Vikings defense that has poor underlying run defense metrics. They have the eighth-worst Run DVOA and have allowed the most Adjusted Line Yards, per Football Outsiders, along with the sixth-most raw rushing yards. Rashaad Penny ($6500) takes a bit of courage to play in cash games and may be better suited for GPPs but with the way Seattle calls games (Run, RUN, RUN!!!), we can expect his workload to keep him on pace to pay off his salary at a 3x rate. The Cardinals have been much better at stopping the run over the second half of the season but with Adrian Peterson sparking some sort of fire in Penny, there's a good chance he goes for another 100-yards and a TD with potential for another 2-3 targets. Penny is a free agent after this season and Alex Collins was just put on IR so the Seahawks will try to get everything they can out of him this week.
Eli Mitchell ($6000) has seen 21-27 carries over his last 4 games and has scored a TD in each of the last three. One of those last four games was a 27 carry, 91-yard effort against the Rams where he ceded 36 rushing yards and a rushing TD to Deebo Samuel. Samuel is still getting the type of touches that take away opportunities from Mitchell but Mitchell has seen 2, 3, and 6 targets in the last three games to give him a boost on the zero targets had last time he faced the Rams. At $6k, with a recent run of 17-30 points, and in a high-stakes game environment, Mitchell looks like a solid bet this week. D'Onta Foreman ($5700) already had a crack at his former employer this year but was not as heavily utilized in that game as he has been recently. This time he should see the required volume to show the Texans what they're missing (and lacking in their own running game) and perhaps earn a contract there next year. Ke'Shawn Vaughn ($5300) only has the cooked Le'Veon Bell to contend with for touches out of the Tampa backfield this week. Tampa has clinched what they need to and will likely run out the back-ups, but at RB, they're down to only back-ups. Vaughn should give us a nice price-considered score with the volume we need to get him there.
Wide Receiver
Two of the top WRs of the slate, Cooper Kupp ($9700) and Deebo Samuel ($8500), will face off in a game with playoff implications for both sides. Kupp's price is getting to prime CMC status but the floor has been there if we're willing to spend up to lock in those points. His matchup is favorable as well with SF allowing the eighth-most points to slot WRs and the #1 Net Slot WR Targets matchup (an average of what LAR does on offense and what SF allows on defense). The Rams are likely to tilt pass-heavy in this one while facing the #9 Net Passing DVOA matchup that gets softer if the 49ers secondary remains on the C19 list. Of note, Kupp needs 12 catches and 136 yards to break the single-season record in each of those categories. Deebo remains in play at his elevated salary if we look at the broad range of outcomes this game provides and we're betting on a higher than implied final score. Samuel has been getting touches from every alignment and through carries and targets so we can bet his floor is safe if we're betting on the higher range of outcomes for this game. Justin Jefferson ($8100) could break Randy Moss's record for most receiving yards in a single season if he gets 124 yards this week. The Vikings seem to have coaches and their QB on the hot seat and could be highly motivated to get a win to close out the year. Jefferson could be a big contributor in that scenario.
Stefon Diggs ($7800) abused the Jets secondary once already and should be penciled in for at least 6 receptions this week (that's what he needs to reach an incentive to raise his salary for the next two years). The Bills can clinch the AFC East title with a win and gain home field for their first playoff game. There is an unlikely incentive still to be reached for Diggs, as well. If he can get 231 receiving yards, it will also boost his future salary. A "get rich or die trying" Diggs is an interesting play this week. Brandin Cooks ($6300) may have nothing to play for but his team has a first-year head coach trying to set a tone for the culture of the franchise and they will be fighting for a win to go out on a high note and play spoiler in the process (could help knock TEN out of the #1 seed in the AFC). Cooks is coming off of three straight games with at least 10 targets and 7 catches. He's managed two 100-yard games and 3 TDs in those games as well. Amon-Ra St. Brown ($6800) is another guy on a team with seemingly nothing to play for but pride and tone-setting for the team. He'll likely see some backup defenders at some point in this game with the Packers having absolutely nothing to play for in this matchup. Brown has either 11 or 12 targets in each of his last five games and has scored 23.5 or more in four of them.
Gabriel Davis ($4900) could be in line for plenty of work, even if starters come off the field at some point in this game. Manny Sanders is still battling injury which will open the door for Davis to be on the field for the majority of snaps (he had 87% last week with Sanders out). The Bills will want to win this game and Diggs should draw the rolled coverage. Cyril Grayson ($4400) popped for 20 points last week after two straight games of 12 DK points. With AB no longer employed, he should step into a heavier snap count and whether he's playing with Brady (who targeted him 8 times last week) or Gabbert (his practice partner as a member of the second-string offense all year), he looks to benefit from the extra opportunity. Deonte Harris ($3200) stands out among the super-cheap options this week as he was a key piece of the Saints offense and special teams before his suspension. In Week 13 he went for 19.9 DK points and he put up double-digit points (11.2) against Atlanta once already.
Tight End
This week, the TE position is headlined by George Kittle ($6700). Kittle will have to be a major part of the game plan to beat the Rams, just as he's always been. If we take away Week 3 of his rookie season, we have an 8 game sample of Kittle facing the Rams defense. In those games, he's put up 100+ yards in half of them (4 times) and in the other half, he's managed to still put up at least 50-yards AND one touchdown. If I can't get to Kittle, then I want to get to Zach Ertz ($5300). The Seattle defense has allowed the 2nd most Pass Attempts, Completions, and Yards, mostly at a shallow depth of target, then they allow pass-catchers a high rate of run after the catch yards (most per game). In a game Arizona needs to win to clinch the NFC West (with help from SF), Ertz should be a key player in that win. The "cheap" TE I like this week will be Hayden Hurst ($3200) even though the Saints are not a great TE matchup. If Kyle Pitts plays, he could be gunning for a rookie TE record and will draw plenty of attention from the defense leaving Hurst to possibly catch a handful of passes and hopefully a TD. There is also a case to be made for Harrison Bryant ($2600), who has a TD in three straight games and may not have Hooper and Njoku in his way if they decide to let the injured starters take the day off.
Defense/Special Teams
The top DST for me this week will be the Saints ($3400). The combination of price and matchup put them in the sweet spot. Of course, teams like the Colts ($3800) playing against a checked-out team with a rookie QB throwing so many interceptions is solid if we can get there. Washington ($3100) would be my next choice after these two. The Giants offense is a dumpster fire. The Cardinals ($2700) also stand out among the cheaper options.
Cash Game Core
Using the players listed above, you could construct something along these lines. However, keep in mind, I am not advising using this build. You should come to your own conclusions and build a roster you are most comfortable with for your style of play.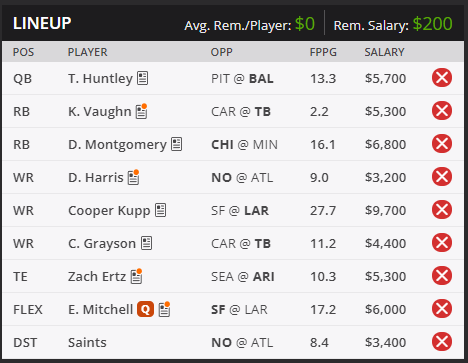 STAY IN TOUCH
Sign up for FantasyData's newsletter and get awesome content sent to your inbox.
We'll never share your email address and you can opt out at any time, we promise.
---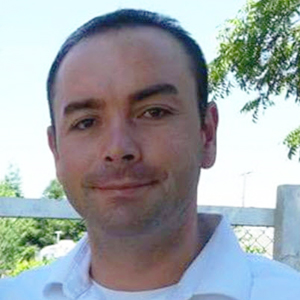 NorCal native Jesse Jones has been obsessed with fantasy football since first joining and winning a league in 1994. Always looking for an edge, Jess has been ahead of the curve mining data and building customized spreadsheet rankings and projections while others showed up to draft day asking for a pencil and a cheat sheet. Avid DFS, Best Ball and Re-Draft player that dabbles lightly in Dynasty. When not geeking out on Fantasy Football, Jess can be found hiking, kayaking, swimming, playing tabletop games, cooking, trading equities, listening to good tunes and/or enjoying a craft brew or two.