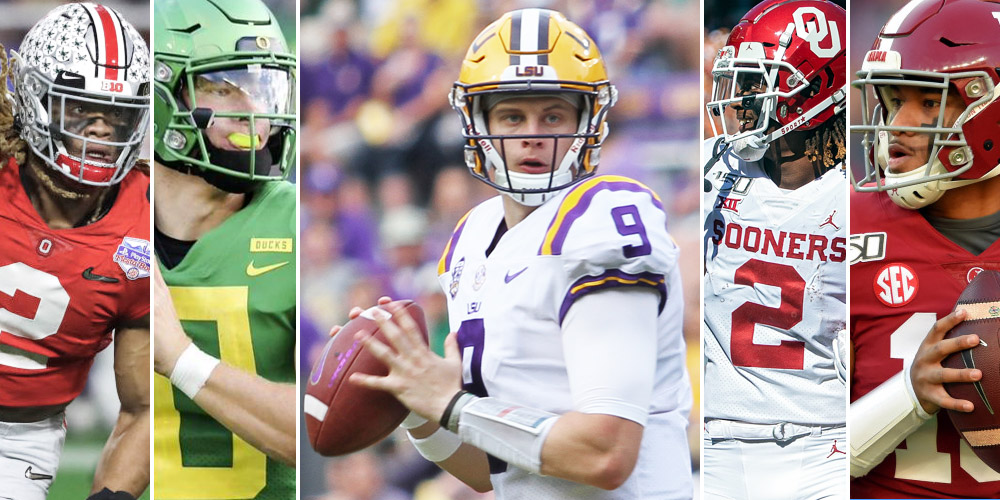 2020 NFL Mock Draft 1.0
---
NFL Mock Draft (1.0)
We have reached that time of year that every fan of a non-playoff team loves. Draft Season. Over the next few months all of us diehard fans will pour over NFL Combine stats, free agency news, and the clinging hope our team doesn't blow the pick. The Combine is scheduled to start on February 23rd. Be sure to check back in for our Combine Results. Of course, nothing is set in stone but I think a few things are a guarantee.

1. Bengals - Joe Burrow - QB, LSU
I would say this pick is about as sure as it gets. The Bengals will more than likely have Andy Dalton for one more season but I think we will see Joe Burrow on the field in short order. Burrow added to Tyler Boyd, Joe Mixon, and hopefully, a healthy John Ross could make for a very bright future in Cincinnati.
2. Redskins - Chase Young - Edge, Ohio State
Chase Young is probably as guaranteed as Burrow. New head coach Ron Riveria and defensive coordinator Jack Del Rio will look for their defensive superstar and Young fits that bill in every way. I expect Young to shine. Keep in mind Del Rio was the defensive coordinator for Julius Peppers when he was drafted.
3.Lions - Jeffrey Odukah - CB, Ohio State
This pick isn't so sure to me. It has nothing to do with Okudahs talent or the desperate need in Detriot to stop getting thrown on. I think we could see a team trade up to this spot if they hoping to steal the other QB. If the Lions do take Okudah here he should really help a secondary that ranked last in yards given up through the air. Pairing him with Slay should give the Lions a potent 1-2 punch at least for one season.
4. Giants - Jedrick Wills - OT, Alabama
The Giants have drafted two future skill position pieces in the first round the last two seasons and this year it will be about protecting them. Wills is a tremendous run blocker with a mean streak. Playing only right tackle at Bama we will have to wait and see on if the new coaching staff moves him to the blindside.
5. Dolphins - Tua Tagovailoa - QB, Alabama
Tanking for Tua worked and the Dolphins didn't even tank correctly. Medical issues are the only thing that worries me about Tua. If healthy I believe we would be having a real debate over who the Bengals take at 1. Tua has the poise and toughness to be the face of the franchise and be the first true franchise QB since Marino.
6. Chargers - Justin Hebert - QB, Oregon
The Chargers have decided to move on from Phillip Rivers this offseason. Making Herbert your new face of the franchise just feels like the right choice here. Herbert will be coming into a system that gives him plenty of weapons and a running game that can help take the load off of him as he learns.
7. Panthers - Isaiah Simmons - LB, Clemson
Carolina has a lot of holes to fill, they lost the soul of their defense this offseason with Luke Kuechly retiring. Simmons is the best athlete available at this point in my opinion and makes the most sense. At Clemson Simmons played just about all three LB spots and SS. New Head Coach Matt Rhule could use a playmaker on the defensive side of the ball as he tries to figure out the QB situation.
8. Cardinals - Ceedee Lamb - WR, Oklahoma
This feels like a pretty simple pick here. Coach Kingsbury likes to run 4 WR sets and both of his outside WRs last season were not good. Lamb is familiar with the offense and very familiar with Kyler Murray. If this is Larry Fitzgeralds' last season, Lamb could be the guy who takes over the number one spot for the foreseeable future.
9. Jaguars - Derrick Brown - IDL, Auburn
The Jags have to feel pretty lucky to have Brown fall to them, their defensive line was not very well last year and Brown is the best d-lineman in the draft not named Chase Young. Brown adds toughness and double-digit sack capability to the defense. The first of two first-round picks that should help rebuild this defense.
10. Browns - Tristan Wirfs - OT, Iowa
As I said with the Giants pick this is about protecting your franchise QB. We can knock Baker for the smug attitude all you want but the truth is the offensive line in Cleveland was a revolving door leading to Baker getting sacked 40 times. Wilfs gives Baker that protection and also new head coach Kevin Stefanski some help in his zone running and play-action game.
11. Jets - Jerry Jeudy - WR, Alabama
I would not blame the Jets here if they went offensive line but look Sam Darnold needs playmakers. Robby Anderson probably won't be back leaving only Jamison Crowder and an aged Demaryius Thomas. Jeudy is a flat out burner who could take it to the house at any time. Jeudy can play outside or in the slot and can run a full route tree.
12. Raiders - Henry Ruggs III - WR, Alabama
With both Simmons and Jeudy off the board, the Raiders go with Ruggs continuing the growth of the young core of talent. Ruggs is a game-changer and a great route runner. Ruggs can open up a game at any point and from any spot on the field. This may be a tad early for Ruggs but I believe Jon Gruden wants a playmaker and he will get one in this young man.
13. Colts - Javon Kinlaw - IDL, South Carolina
Kinlaw is a disruptive force in the middle of a d-line. Pairing Kinlaw with Justin Houston on this defensive line is going to be a nightmare for opposing teams. Javon is an immediate upgrade in the middle of a young hard-nosed defense. He consistently wins with his speed and can be an impact interior lineman with pro-bowl upside.
14. Buccaneers - Andrew Thomas - OT, Georgia
The Bucs have a lot of questions going into this offseason. As of now, we are not sure what Bruce Arians' plans are for Jameis Winston so this pick could be a QB. Thomas will be a great addition here though. He was a 3-year starter at Georgia and is amazing in pass blocking and run blocking. Whoever the QB is next season in Tampa will feel just a bit safer on their blind side.
15. Broncos - Mehki Benton - OT, Louisville
Having found their possible franchise QB in Drew Lock and adding Pat Shurmur to run the offense this pick makes perfect sense. Shurmur will focus on running the football and play-action passes forcing the ball down the field. Benton is a draft and play left tackle who should help in every aspect of the offense.
16. Falcons - K'Lavon Chaisson - Edge, LSU
Letting Vic Beasley go this offseason means the Falcons will need to add a pass rusher and Chaisson is a great choice at this spot. Dan Quinn is on the hot seat this season and needs to massively upgrade a defense that had major issues getting any sort of pass rush. Chaisson is an elite edge/hybrid who thrives at stopping the run. If Quinn can help develop his pass rush Chaisson will be a cornerstone for them.
17. Cowboys - Kristian Fulton - CB, LSU
Kristian Fulton is the perfect fit for the Cowboys. Fulton is a lockdown corner on the outside with good speed and excellent coverage skills. He is not much of a ball hawk but that is okay as he makes up for it with the ability to stay with opposing WRs.
18. Dolphins - AJ Epenesa - Edge, Boise State
The Dolphins have a ton of needs and after getting their future franchise QB with the 5th pick they grab a potential defensive cornerstone in Epenesa. Brian Flores should be ecstatic about getting AJ here. His edge speed paired with his ability to bullrush makes getting to the QB extremely easy for him.
19. Raiders - Jordan Love - QB, Utah State
Jordan Love is a great fit to pair with QB guru Jon Gruden. Love will have a chance to sit behind Derek Carr and learn while working daily with Gruden. Jordan is equipped with a cannon and has good accuracy. His footwork and decision making might frustrate to a point but those are things that can be worked on while he is developing.
20. Jaguars - C.J. Henderson - CB, Florida
Rebuilding this defense is in full force with the first two picks for the Jags, adding Brown earlier and now Henderson gets them back some identity. Replacing Jalen Ramsey isn't easy but Henderson is a solid dependable corner to pair with AJ Bouye.
21. Eagles - Jeff Gladney - CB, TCU
There may not be a team in need of secondary help as much as the Eagles are. Gladney definitely could be a game-changer for this defense. He is a true ball hawk and can bait you into thinking you have a window. Gladney will shine in man or zone coverage.
22. Bills - Laviska Shenault Jr - WR, Colorado
Shenault Jr will pair well with Josh Allen and the rest of this offense. Buffalo is in need of playmakers on offense and we saw that in the Wildcard loss to Houston. Shenault Jr did a little bit of everything on offense when he was at Colorado, playing the slot, outside WR, and even lining up at H-back.
23. Patriots - Josh Jones - OT, Houston
Jones was a 4-year starter at Houston and is equipped with all the physical tools to be a bookend tackle for a long time. He is a bit raw but what coach is better at getting the most out of his guys than Belichick. Joe Thuney probably won't be returning next season so this pick allows Isaiah Wynn to slide into the guard role he is more comfortable with and lets Jones be in line to start right away.
24. Saints - Tee Higgins - WR, Clemson
While we aren't sure who will be under center next season for the Saints the one thing we do know is they need a playmaker across from Michael Thomas. Higgins has good deep ball skills and is a true athletic freak who can make any catch look easy. He will be a perfect number 2 WR in this offense.
25. Vikings - Trevon Diggs - CB, Alabama
This is a two-fold pick for me. The Vikings desperately need to revamp their defensive backfield. Xavier Rhodes did not look like the pro bowl player from the season before. Tray Waynes is heading for the free-agent market also. The second piece of this is pure joy in getting to watch the Diggs brothers going at it every day in practice.
26. Dolphins - D'Andre Swift - RB, Georgia
I know I will get hate from all the Patrick Laird loving fans but the Dolphins need a do it all back to go with Tua. Swift will be able to be a three-down running back from the start as long as he gets better at pass blocking. He is capable of taking any play to the house with his speed and athletism.
27. Seahawks - Yetur Gross-Matos - Edge, Boise St.
Selecting Gross-Matos here is signaling that Clowney will not be back next season. He was a nice rental but I always worry about his health. Yetur is good as a run-stuffer with the ability to rush the passer which is something the Seahawks did not do well this last season. His long frame and ability will allow Pete Carroll to move him around the line to make plays.
28. Ravens - Justin Jefferson - WR, LSU
Like I said earlier with Buffalo this is about giving your star QB more weapons. Jefferson is a more than capable route runner and a physical WR who tracks the ball and can make the tough catch. The other plus with Jefferson is his willingness to block on running plays. We all know Baltimore is going to run the ball and adding a playmaker who will be willing to block for those designed QB runs is paramount.
29. Titans - Terrell Lewis - Edge, Alabama
Lewis fits well as the edge in a 3-4 defense and is great at working in space getting around tackles to get to the QB. He is a bit of a project as he has missed time with injuries in the past. Coach Vrabel will be able to work him in and get him some work early.
30. Packers - Patrick Queen - LB, LSU
Green Bays defense was much improved last season. With the possibility of Blake Martinez leaving in free agency Queen feels like a perfect fit to replace him. Queen plays violently with the ability to cover in the passing game also. He is a bit undersized but that should not be too much of an issue.
31. 49ers - Grant Delpit - S, LSU
Delpit is a ball-hawking safety who is great at masking blitzes. Jimmy Ward is probably on his way out the door so drafting Delpit and his playmaking ability makes the 49ers defense not miss a beat. He will benefit from the pass rush and will be an instant star for them.
32. Chiefs - Cesar Ruiz - IOL, Michigan
The main priority should be protecting Patrick Mahomes. Ruiz is projected as a solid interior lineman. He is a big strong blocker who does well when pulling and is good at reading blitzes.
Second Round
33. Bengals - Jalen Reagor - WR, TCU
Reagor is a playmaker for Burrow as AJ Green is probably gone and John Ross just can't stay healthy.
34. Colts - Jacob Eason - QB, Washington
I think it won't be long before Frank Reich looks for the replacement for Jacoby Brissett.
35. Lions - Kenneth Murray - LB, Oklahoma
Murray falling to Detriot here is a blessing for Matt Patricia as he tries to retool this defense.
36. Giants - Xavier McKinney - S, Alabama
Pairing Mckinney with Peppers at safety will put the Giants in a good spot on the back end.
37. Chargers - Austin Jackson - OT, USC
Taking a QB in the first round now you get him some protection for the future here. Jackson thrives in run blocking schemes also. If the Chargers continue to use Ekeler in the running game it will help both Herbert and Jackson progress nicely.
38. Panthers - Jake Fromm - QB, Georgia
The Panthers are more than likely moving on from Cam Newton and will need a franchise QB for the future.
39. Dolphins - Damon Arnette - CB, Ohio St.
The Dolphins need secondary help for Xavien Howard. Arnette can play opposite Howard on day 1.
40. Cardinals - Lucas Niang - OT, TCU
Niang fits well with the style of offense Kingsbury wants to run and is great in pass blocking. Should slot in at RT almost immediately.
41. Browns - Antoine Winfield Jr - S, Minnesota
Keeping with the theme of the last two years the Browns add another secondary piece to run with Greedy Williams and Denzel Ward.
42. Jaguars - Ashtyn Davis - S, California
The retooling of this defense continues. Davis looks like a prototypical FS who is not afraid to tackle and be in the box.
43. Bears - Bryce Hopkins - TE, Purdue
Hopkins looks to be a top-quality pass catcher with an NFL pedigree. Giving Mitchell Tribusky a security blanket he needs and has lacked in the last few seasons.
44. Colts - KJ Hamler - WR, Penn St.
A receiver opposite TY Hilton is something this Colts team has lacked for a while. Hamler projects as a great number 2 receiver and has the ability to demand targets with his above-average route running.
45. Buccaneers - Neville Gallimore - IDL, Oklahoma
Gallimore has big shoes to fill with this pick as he will be taking over for Suh who only signed a 1-year contract in Tampa.
46. Broncos - Brandon Aiyuk - WR, Arizona St.
Getting Lock a speedy WR here seems like the best option to pair with Courtland Sutton.
47. Falcons - JK Dobbins - RB, Ohio St.
True feature back, falling into the laps of the Falcons here. If the Falcons part ways with Devonte Freeman, Dobbins will be the day 1 starter in Atlanta.
48. Jets - Zack Baun - Edge, Wisconsin
Baun will work quite well in Gregg William's defense as a speed rusher.
49. Steelers - Prince Tega Wanogho - OT, Auburn
Prince is a bit of a project but once he figures it out the Steelers will have a true hog molly.
50. Bears - Lloyd Cushenberry III - IOL, LSU
His raw athleticism and skill will allow him to play Guard or Center.
51. Cowboys - Ross Blacklock - IDL, TCU
A high motor guy who can play anywhere on the Dline.
52. Rams - Julian Okwara - Edge, Notre Dame
Speed rush LB who can play standing up or with his hand in the dirt.
53. Eagles - Donovan Peoples-Jones - WR, Michigan
Great pass catcher who has the ability to get separation and work himself open.
54. Bills - Curtis Weaver - Edge, Boise St.
Mountain West defensive player of the year with a high football IQ added to an already top tier defense.
55. Falcons - Noah Igbinoghene - CB, Auburn
Will add help in the secondary and a very good special teams player.
56. Dolphins - Matt Hennessy - IOL, Temple
Interior lineman who can get nasty. Good footwork and a high motor.
57. Texans - Jonathan Taylor - RB, Wisconsin
Could be an immediate starter in a high powered offense.
58. Vikings - Raekwon Davis - IDL, Alabama
Another piece for Mike Zimmers defense.
59. Seahawks - Justin Madubuike - IDL, Texas A&M
Needs some polishing but projects as an above-average starter on the Dline.
60. Ravens - AJ Terrell - CB, Clemson
Solid man coverage corner with great hands.
61. Titans - Jalen Hurts - QB, Oklahoma
Let us not forget he was a Nick Saban recruit and worked with Lincoln Riley at OU. Hurts can ball.
62. Packers - Hunter Bryant - TE, Washington
Bryant can work out of the slot and backfield also. Maybe better at that then inline.
63. Chiefs - Cam Akers - RB, Florida St.
Impressive pass-catcher who fits well with Mahomes and the Andy Reid offense.
64. Seahawks - Thaddeus Moss - TE, LSU
A good inline blocker in the running game and can work the short to intermediate routes.
STAY IN TOUCH
Sign up for FantasyData's newsletter and get awesome content sent to your inbox.
We'll never share your email address and you can opt out at any time, we promise.
---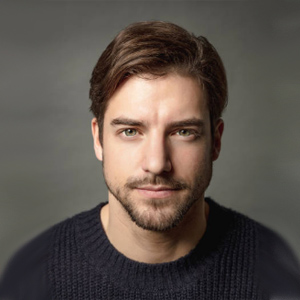 Matthew is a long time fantasy football and dynasty football fan. He lives in Las Vegas and grew up rooting for the Raiders. The team moving to his hometown was very exciting news. Matthews is married and has two young boys.