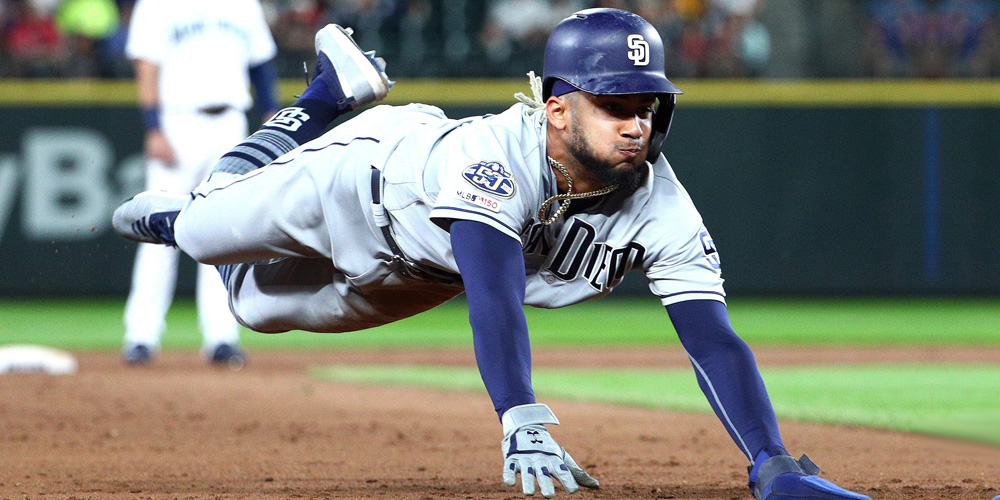 Is Fernando Tatis Jr. Overvalued in Fantasy 2020?
---
Fernando Tatis Jr. Fantasy 2020
Highly-touted prospect Fernando Tatis Jr. flashed brilliance in 2019 and a lot of fantasy baseball GMs are chomping at the bit to draft him high in 2020. But could he be overhyped? Could the talented 21-year-old be in for a sophomore slump?
Currently, I'm seeing Tatis getting drafted as early as the late first round in fantasy drafts and as late as the middle of the fourth round. Last season, in 334 at-bats Tatis batted .317, with 22 home runs, 61 runs, 53 rbi, and stole 16 bases. There is a time and a place to draft almost anyone, especially a player like Tatis that will virtually have an ownership of 100%. However, this is a situation that you should proceed with some caution.
The pros:
He's clearly a young and talented shortstop dripping with upside. He's done enough at the major league level to show he belongs, and nearly 80% of his 2019 plate appearances came out of the leadoff spot which will translate to more at bats and more opportunity to build on last year's numbers assuming he stays healthy. After all, he finished third in NL Rookie of the Year voting despite not playing a full season. If you do some math and translate Tatis's 2019 numbers over a full 162 game slate you will get 42 home runs, 100 rbi, 117 runs, and 31 stolen bases. Yes, if he does that, I'm ok with it if you draft him in the first round.
However, if you look at our 2020 projections we are not expecting a big jump for Tatis.
The cons:
First, the sample-set is too small. I get it, everybody wants the breakout player…except when they don't break out. People overpay for hype all the time. They want to get the guy before he breaks out so much that they end up paying a post-breakout type cost to get him and then he's not a value. And if he doesn't break out, you overpaid for nothing. It's ok to reach for a guy you like, but it's usually best saved for a little later in drafts. Take the example of Carlos Correa, during his rookie season his numbers were very similar to Tatis's rookie year: 387 at-bats, 22hrs, 68rbi, 52runs, and 14sbs. The highly ranked prospect came to the majors, produced, and it made him a first-round fantasy pick the following year in many drafts. What happened? 577 at-bats, 20hrs, 96rbi, 76runs, 13sbs. So despite getting almost 200 more at-bats, Correa's home runs went down, stolen bases went down, only produced 28 more rbi and 24 more runs. Good, but not nearly what people were expecting when they spent a first-round pick on him. He was unproven, owners paid for hype.

Also, Tatis's K: BB ratio was not good last year, which almost ensures his batting average will drop if he can't get more selective at the plate. 110K to just 30 walks equates to a 3.67 K: BB ratio. The .317 batting average he had in 2019 is completely unsustainable with that type of K:BB ratio. Only 6 players had higher batting averages in 2019. They were:
Tim Anderson - .335
Christian Yelich - .329
Ketel Marte - .329
D.J. LeMahieu - .327
Anthony Rendon - .319
Jeff McNeil - .318
Here are their respective K: BB Ratios:
Tim Anderson - 7.27
Christian Yelich - 1.48
Ketel Marte - 1.53
D.J. LeMahieu - 1.95
Anthony Rendon - 1.08
Jeff McNeil - 2.14
Yes, I know what you are thinking. Why can't he have a high average with a high K: BB ratio, Tim Anderson did? That is what we call an outlier. Before last year, Tim Anderson played 3 seasons in the majors, tallied 1,564 at-bats and hit .259. So what changed? Well, in his case probably plain old luck. Anderson had a BABIP of .399 in 2019, second-best in the Majors, another number that is not likely to happen again. Tatis needs to improve that strikeout percentage or he's much more likely to be a .275 hitter than he is a .310 hitter. It's a fact, consistently good hitters are selective and don't strike out a ton.
Now let's look at the Shortstop position as a whole. Shortstop is way too deep a position in 2020 to pay up for someone who has only 340 career at-bats. Look at this list of shortstops in random order (age in parentheses):
Francisco Lindor (27)
Trevor Story (27)
Trea Turner (26)
Alex Bregman (25)
Xander Bogaerts (27)
Javier Baez (27)
Gleyber Torres (23)
Adalberto Mondesi (24)
Manny Machado (27)
Carlos Correa (25)
Ketel Marte (26)
Corey Seager (25)
That's a list of 12 guys who are either proven MLB commodities, guys that may be coming off a down year and could bounce back big, or, like Tatis, could be on the verge of taking the next step to stardom. Either way, there's a lot to choose from. Oh yeah, and none of them are over the age of 27, which is considered by most to be the heart of a baseball player's career.
Tatis also has a bit of an injury history. Part of the reason Tatis was limited to fewer than 400 plate appearances in 2019 was the fact that he missed time with a hamstring injury and then his season got cut short in August because of a back injury.
Finally, it's not his fault but his supporting cast leaves much to be desired. San Diego was one of the worst teams in baseball last year, scored the fourth-fewest runs in the majors, and had the third-worst batting average. That only makes it harder for Tatis to rack up runs and rbi when nobody else around him is hitting.
The bottom line is I'm a value investor and tend to be risk-averse in the first few rounds of a draft. I take solid players that I'm confident I can predict their numbers, build around those guys, and take my upside in the middle and late rounds. Everyone has his price on draft day, the question is will they exceed that value or underachieve through the course of the season? Every time I welcome a new member to my team I ask myself one question: How likely is it that this player will be drafted higher next year? When it comes to Tatis, he could be great but I don't see myself spending a 2nd, 3rd, or even 4th round pick on him when I simply don't know what I am signing up for. It's hard to justify drafting a player early when he's only produced for half a season, is on a horrible team, maybe injury-prone, strikes out too much, and the shortstop position is as deep as it is. I can't. Tatis's ADP is 21st overall, why take him there when you can get Bogaerts or Baez a round or two later, or Machado in the 6th, or Corey Seager in the 10th? I don't anticipate owning a lot of shares in Tatis this year because I think other owners will buy the hype before what I'm willing to pay. If shortstops are flying off the board early, I would consider him in the 6th or 7th round, but nothing sooner. Good luck in your drafts.
STAY IN TOUCH
Sign up for FantasyData's newsletter and get awesome content sent to your inbox.
We'll never share your email address and you can opt out at any time, we promise.
---
A native of Boston, Dave has been playing fantasy sports year-round since 1998 and focuses mainly on re-draft leagues. A trained analyst in finance and business, he's dedicated himself to applying those skills to the world of fantasy sports and translate those concepts and themes to fantasy success. When not pouring over box scores or trying to pull off a blockbuster trade, he enjoys spending time with his wonderful wife and three kids, playing cards, shuffleboard, shooting pool and seeing live music.