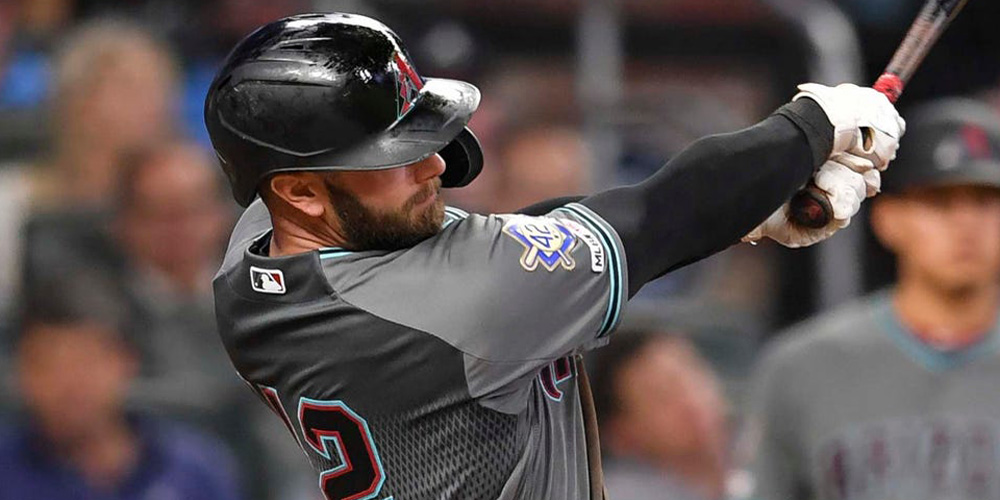 9 First Base Fantasy Sleepers To Target in 2020
---
First Base Sleepers
First base is often a position that carries a lot of power and appeal when it comes to season-long fantasy drafts. Anchoring your team with a solid, everyday first baseman can be vital to winning your league, but you don't always have to use an incredibly valuable pick to make this happen. Exploiting players that are currently ranked lower where they should be according to ADP is a huge advantage in fantasy drafts, and the first base position is no different.
The term "sleeper" is often one that is thrown around loosely in the fantasy industry, so I find it important to clarify what I classify as a "sleeper". When I look for a sleeper, I am looking for a player that's ADP is far too low for the production ceiling that he represents. Getting them at their current ADP would be considered a steal based on projected production, and taking them a round or two earlier could be a viable option.
Using Fantasy Data's ADP data, there are 9 first basemen that stand out as extreme values at their positions and if everything goes accordingly, they should return value at by season's end. So, what first base sleepers should you target at their current ADPs?
1. Josh Bell | PIT
ADP: 79 (1B8)
Typically sleepers are thought of as late-round picks, but when you take into account his ADP, it's hard to overlook the value of Bell (right) this season. He broke out in 2020, posting a 0.277 batting averaged with 37 home runs and 116 RBIs, while maintaining an elite 0.378 wOBA and 135 wRC+. His wRC+ ranked him top-25 in the entire MLB, while both his RBI total and ISO (0.292) netted him inside the top-10. He's an elite offensive asset that should crack the top-5 at the position, but you're getting him at a discount.
2. Rhys Hoskins | PHI
ADP: 109 (1B9)
After a stellar rookie season, Hoskins stumbled in 2019, batting .226 (0.20 drop from 2018) and saw a drop in just about every statistical category. His stock has taken a hit thanks to this, but the underlying metrics show that he could be in line for some progression in 2020. His 0.346 wOBA is 120 points higher than his average, while he was still able to maintain a respectable walk rate (16.5%) and still hit for power (0.228 ISO). Given the fact that he was still able to club 29 home runs and drive in 88 RBIs in a "down" season, we should feel confident about his potential ceiling at his price tag given his advanced metrics.
3. Edwin Encarnacion | CHW
ADP: 137 (DH5, but 1B eligible on ESPN)
While most will deploy Encarnacion in the DH spot, he still maintains 1B eligibility on most fantasy platforms. He's clubbed at least 32 home runs in 8 straight seasons and last season was the first year since 2014 in which he logged less than 100 RBIs. While his 0.244 average leaves a lot to be desired, his 0.236 BABIP indicates that he was the victim of a heap of bad luck. He set a career-high in ISO last season (0.287) and clearly has a lot left in the tank entering his age-37 season. You won't find this much power often in the 12-13th rounds of drafts, so take advantage while you can.
4. Christian Walker | ARI
ADP: 210 (1B13)
Walker came out of nowhere in 2019, his first full season, posting a 0.259 average with 29 home runs and 86 RBIs in the heart of the Diamondbacks order. These stats alone make him a viable fantasy asset, but his advanced metrics show that he may be in line for an even better season in 2020. His 0.346 wOBA was 90 points higher than his batting average, while he posted a down-right absurd hard-contact rate of 46.1% with an ISO of 0.217. If he keeps crushing the ball at the rate he did last season, he should see a massive spike in numbers across the board, making him an elite target in the mid-to-late rounds of your draft.
5. Yandy Diaz | TB
ADP: 249 (3B20, but 1B eligible on ESPN)
Well on his way to a breakdown campaign, Yandy Diaz saw his season cut short when he suffered a fracture in his foot after 79 games. In those 79 games, however, he was posting a 0.267 batting average with 14 home runs and 53 RBIs. He did this on the back of a 0.341 wOBA (second year in a row over 0.340) and a 0.208 ISO, setting a career-high. He was able to keep his strikeouts intact, posting a strikeout rate under 20% while walking at a respectable 10.1% clip. If he can maintain these rates over a full season, while adding in his 17.5% HR/FB ratio, he should be able to shatter his current ADP of 249.
6. Renato Nunez | BAL
ADP: 280 (1B19)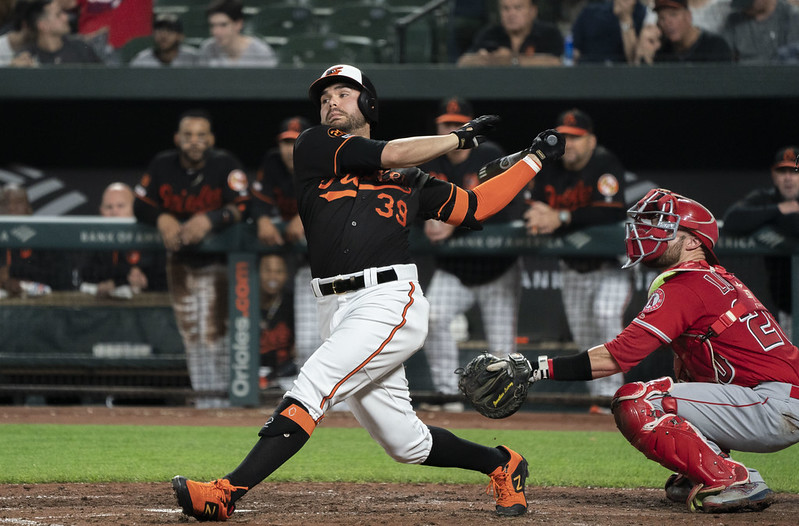 If I told you that Nunez (right) topped 30 home runs and 90 RBIs in 2019, I bet you would call me crazy. That, in large part, is due to the fact that nobody pays attention to the Orioles. Nunez absolutely demolished left-handed pitching last season, posting a 0.345 wOBA, 0.240 ISO and a 38.4% hard-contact rate. If you add in the fact that he plays half of his games in Camden Yards (#4 overall ballpark in HR Park Factor), you're getting a massive production ceiling at an extremely discounted price.
7. Justin Smoak | MIL
ADP: 339 (1B23)
While Justin Smoak's 0.208 batting average was the lowest of his career in 2019, his change of scenery to Milwaukee as well as his advanced metrics indicate he could be in line for a bounce-back year in 2020. His 0.223 BABIP indicates that he was the victim of a ton of bad luck and was also his lowest BABIP of his professional career. He also posted a 42.7% hard-contact rate (career-high) and a 42.7% fly-ball rate. Given the fact that he hit 19 of his 22 home runs against righties, he should be able to take full advantage of the short porch in right field in Miller Park.
8. Brandon Belt | SFG
ADP: 365 (1B25)
Much like Nunez, Belt's production seems to get overlooked because of the team he's on. The first baseman has been serviceable at the least for the past 5-6 seasons and his ADP is far too low for his production. While his 0.234 average last season was his lowest output since 2011, he posted his highest home run total since 2017 (17), his highest RBI total since 2016 (76) and his highest run total since 2016 (57). This was all while posting his lowest BABIP (0.275) since his rookie season in 2011. Should some of his luck on batted balls return, we could see him return to his normal 0.300+ batting average in 2020 with similar production at the plate.
9. Eric Thames | WAS
ADP: 424 (1B29)
With an everyday role on the horizon, Thames will look to take his production from a platoon role and convert that into full-time production in his first season with the Nationals. His average returned to normal (0.247) after a down 2018 season as he clubbed 25 home runs and produced 61 RBIs while lowering his strikeout rate by 4% and increasing his walk rate by a shade under a percent. He posted a career-best 0.354 wOBA and posted an ISO over 0.250 for the third consecutive season, showing a heaping amount of value towards the tail-end of drafts. While he's prone to strikeouts, he also has an immense power ceiling that won't come around often at his current ADP.
STAY IN TOUCH
Sign up for FantasyData's newsletter and get awesome content sent to your inbox.
We'll never share your email address and you can opt out at any time, we promise.
---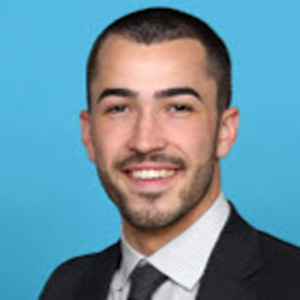 Joe Metz is a fantasy sports fanatic who has been playing in fantasy football and baseball leagues for the last 9 years. He gravitated towards the Daily Fantasy side of the industry when he was in college and has spent the better part of the last 5 years writing for various DFS sites. The same analytical approach that he uses for his DFS research has propelled him to year-over-year success on the season-long side as well. He works for the Milwaukee Bucks sales team by day, aligning his fandom not only with the Bucks, but the Brewers and Packers as well.