40 Statistical Observations From NFL Sunday
---
How has your fantasy football team fared in Week 3? This article will share 40 statistical observations from Sunday's slate of games.
New Orleans Saints 33, Seattle Seahawks 27
The Saints moved to 2-1 without future Hall of Fame quarterback Drew Brees who is out following surgery to repair a ligament near his right thumb. New Orleans excelled offensively, defensively, and on special teams to upset the Seahawks on their home field. Seattle was trailing 27-7 entering the fourth quarter and nearly pulled off the comeback. Were you aware that this was the Seahawks first home loss in the month of September under Pete Carroll according to Pro Football Reference?
Teddy Bridgewater isn't Brees, but he can effectively manage a game without turning the football. The 26-year old QB completed 19 of 27 passes for 177 yards with two touchdowns. Bridgewater also rushed for 12 yards on three carries. Saints head coach Sean Payton's playcalling allowed him to take what the Seahawks defense gave him. Bridgewater connected often with his playmakers. He can be viewed as a low-end QB2. Alvin Kamara showed why he can still be considered an elite RB1. He turned 16 rushing attempts into 69 rushing yards and a touchdown. Kamara continued to eviscerate the Seahawks with nine receptions for 92 yards and a touchdown on 10 targets. This game provided fantasy players proof that his skill set and athletic ability can transcend QB play. Michael Thomas was targeted seven times and caught five of them for 54 receiving yards and a touchdown. He's still a WR1. Jared Cook was a disappointment with only two targets and one reception.
The Seahawks were trailing 27-7 entering the fourth quarter and nearly pulled off the comeback. Russell Wilson completed 32 of 50 passes for 406 yards and two touchdowns. He also had seven rushing attempts for 51 yards and two touchdowns. Wilson's mobility allows him to attack defenses as a runner and he has the receiving weapons to sting them as a passer. Tyler Lockett continues to thrive after a disappointing Week 1. He finished the game against the Saints with 14 targets, 11 receptions, 154 receiving yards, and a touchdown. Lockett has been targeted 26 times over the last two games. He's developing into a low-end WR1 before our eyes. D.K. Metcalf caught two of six passes for 67 yards. He's only caught nine of 16 targets so far this season and is a WR3. Will Dissly was targeted seven times. He caught six of them for 62 receiving yards and a touchdown. Dissly is on the TE1 radar in a plus matchup against the Cardinals in Week 4. Chris Carson disappointed on an afternoon he had the entire Seahawks backfield to himself. He finished with 15 rushing attempts, 53 rushing yards, and Carson's one reception was a two-yard loss. He also lost his third fumble on the season. The Seahawks backfield is trending more toward a committee once Rashaad Penny returns. Both Seattle running backs can be viewed as RB3s.
Statistical Observations
Kamara finished the game with -17 air yards and 104 yards after the catch.
Thomas led the Saints with 51 air yards.
Dissly has caught

three of Wilson's seven touchdown passes this season.

Lockett led the Seahawks with 165 air yards and 41 yards after the catch.
San Francisco 49ers 24, Pittsburgh Steelers 20
The 49ers overcame five turnovers to defeat the Steelers. Did you know is San Francisco's first 3-0 start in 21 years? This game was only 6-3 at half time, but the offense of both teams came alive in the second half.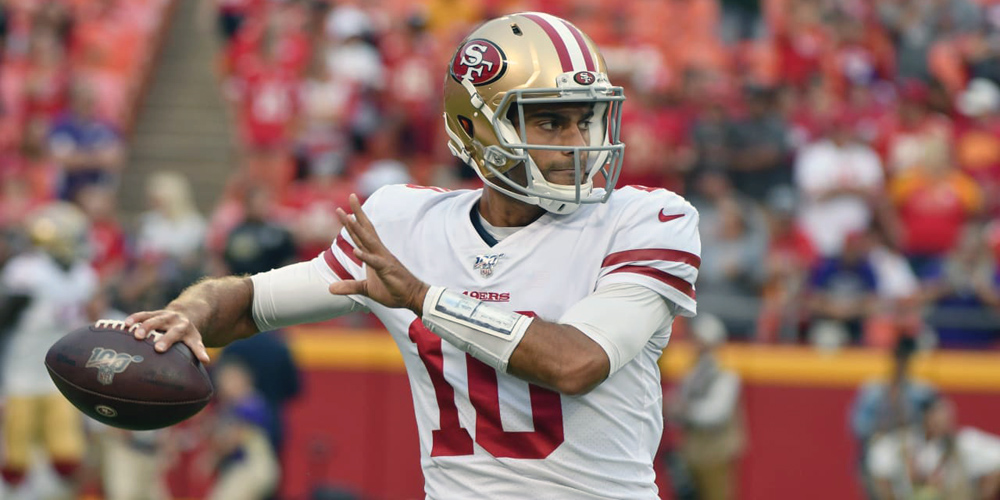 Jimmy Garoppolo completed 23 of 32 passes for 277 yards, one touchdown, and two interceptions. He is shaping up to be a QB2 this season and streamable in the right matchup. Marquise Goodwin was targeted just two times and caught all of them for 41 yards. Deebo Samuel only caught three of four targets for 44 receiving yards. Dante Pettis finally emerged from the shadows and was targeted five times. He did catch 80 percent of them for 20 receiving yards and a touchdown. All of the 49ers receivers are no higher than WR3s with Samuel being the preferred option because he's leading the group with 14 targets. Kittle can continue to be viewed as a TE1. The 49ers three man committee continues to be one to avoid outside of deeper formats. Raheem Mostert was the most productive with 12 rushing attempts for 79 rushing yards. Matt Breida finished 16 touches for 88 total yards. Jeff Wilson continues to be the 49ers goal-line back. He scored two touchdowns.
Mason Rudolph completed 14 of 27 passes for 174 yards, two touchdowns, and one interception. Juju Smith-Schuster caught three of seven targets for 81 receiving yards and one touchdown. No other Steelers receiving option was productive. Diontae Johnson caught three of six targets for 52 receiving yards and one touchdown. James Washington caught two of four targets for 14 yards. Vance McDonald's injured his shoulder and only caught one pass for 10 yards. The Steelers running game was also ineffective. James Conner had 13 rushing attempts for 43 yards and caught four of five targets for 14 receiving yards. His ineffective play continues. Samuels can be viewed as more of a low-end RB2 in Week 4 against the Bengals. Smith-Schuster continues to be a low-end WR1. The other Steelers receivers are difficult to trust with the quality of Rudolph's play.
Statistical Observations
Samuel led the 49ers with 87 air yards.
Kittle is leading the team through three games in targets (21), receptions (17), receiving yards (165), and air yards (153). He hasn't scored a touchdown this season, but Kittle will go boom sooner rather than later.
73 of Smith-Schuster's 81 receiving yards were after the catch.
Houston Texans 27, Los Angeles 20
The Texans advanced to 2-1 while the Chargers fell to 1-2. Houston overcame a 10-point deficit at halftime with 20 consecutive points to defeat the Chargers. This is Los Angeles' fifth consecutive season having a losing record after three games. The Chargers also started 1-2 in 2018 before winning 11 of the next 13 games.
Deshaun Watson completed 25 of 34 passes for 351 yards and three touchdowns. He continues to find ways to overcome any obstacles to win games. Watson is a high-end QB1. The passing yards were evenly distributed. DeAndre Hopkins finished with seven targets, six receptions, and 67 receiving yards. The Chargers secondary contained him. Hopkins is a weekly WR1. Will Fuller has yet to score a touchdown this season. He caught five of seven targets for 51 receiving yards. Fuller is a high-end WR3 with WR1 upside on any given week. Kenny Stills caught four of six targets for 89 receiving yards. He's more of a WR4. The Texans running game was abysmal. Carlos Hyde continues to lead the backfield in touches through three games. He had 10 rushing attempts for 19 rushing yards and a touchdown against the Chargers. Duke Johnson only had two rushing attempts for two yards finishing with two receptions for 22 receiving yards. Neither are RBs you should have in your lineup outside of deeper formats. The Texans face the Colts in Week 4 which is a plus matchup. Houston's offense will continue to be driven by Watson and his receivers.
Philip Rivers completed 31 of 46 passes for 318 yards and two touchdowns. Keenan Allen had a second consecutive week embarrassing cornerbacks with a route running clinic. The victim this week with Chargers cornerback Johnathan Joseph. Allen caught 13 of 17 targets for 183 receiving yards and two touchdowns. He's an elite WR1. Mike Williams is settling out as a WR3. He caught three of seven targets for 45 receiving yards. Negative game flow forced the Chargers running game to take a back seat. Austin Ekeler finished with nine rushing attempts for 36 rushing yards. He also caught seven receptions for 45 receiving yards. Ekeler should still be viewed as an RB1. Justin Jackson rushed five times for 26 yards. He also had four receptions. This was also the second consecutive game Jackson has had a touchdown called back.
Statistical Observations
Watson is the fourth-fasted player to reach 50 passing TDs in the Super Bowl era according to Pro Football Reference
Allen set a new career-high with 183 receiving yards. He led the Chargers with 166 air yards and 74 yards after the catch.
Stills led the Texans with 104 air yards.
New York Giants 32, Tampa Bay Buccaneers 31
The Giants turned the page on Eli Manning's tenure as the team's starting QB and it paid huge dividends. Daniel Jones, the sixth overall pick in the 2019 NFL Draft, had an epic debut winning a shoot out against the Buccaneers. The Giants rallied from an 18-point deficit at halftime to defeat the Buccaneers on the road. Both teams find themselves with a 2-0 record.
Jones completed 23 of 36 passes for 336 yards and two touchdowns. The rookie also showed his mobility with four rushing attempts for 28 rushing yards and two touchdowns. Jones can be viewed as a low-end QB1 for the rest of the season. Sterling Shepard and Evan Engram were the two key beneficiaries. Shepard caught seven of nine targets for 100 receiving yards and one touchdown. He's a weekly WR2. Engram caught six of eight targets for 113 receiving yards and one touchdown. He's firmly on the TE1 radar. The running game took a back seat due to Saquon Barkley exiting the game with what's being reported as a high ankle sprain. He was spotted on the sidelines wearing a walking boot and using crutches. Backup RB Wayne Gallman will be a highly coveted target on waiver wires this week.
Buccaneers head coach Bruce Arians was finally able to whisper to Jameis Winston leading up to this game. He completed 23 of 37 passes for 380 yards, three touchdowns, and one interception. Winston is back on the QB1 radar. O.J. Howard caught three of four targets for 66 yards. He should still be considered a low-end TE1 in the Buccaneers offense. Chris Godwin caught three of four targets for 40 receiving yards. This was a disappointment after last week's performance, but still, deploy Godwin into lineups as a WR2. Mike Evans accounted for 50 percent of Winston's passing yards. He caught eight of 15 targets for 190 receiving yards and three touchdowns. This was the definitive WR1 performance we've been waiting to see from Evans this season. Ronald Jones was the more productive RB. He turned 14 rushing attempts into 80 rushing yards. The second-year back also had one reception for 41 receiving yards. Jones can be viewed as an RB3.
Statistical Observations
Evans led the Buccaneers with 244 air yards. He has 478 on the season.
The deficit the Giants overcame tied for the second-largest comeback victory for a QB in his first career start since the 1970 merger according to Elias Sports.
Shepard led the Giants with 110 air yards
Carolina Panthers 38, Arizona Cardinals 20
The biggest surprise this game was that QB Kyle Allen outplayed rookie Kyler Murray in his second career start. Allen's poise and decision making led the Panthers to a victory on the road. Cam Newton was ruled out by the Panthers earlier the week as he recovers from a foot sprain. I would argue that the Carolina offense ran smoother with Allen under center. He was able to execute offensive coordinator Norv Turner's vision for the Panthers offense.
Allen threw 26 passes and completed 19 of them for 261 yards and four touchdowns. All of the Panthers receivers were involved. Curtis Samuel caught five of seven targets for 53 receiving yard and one touchdown. He continues to be a high-end WR1. D.J. Moore had one reception for a 52-yard touchdown. He was targeted two times and continues to be a weekly WR2. Greg Olsen was targeted seven times and caught six of them for 75 yards and two touchdowns. He is surprisingly back on the TE1 radar. Christian McCaffrey bounced back nicely to the tune of 153 rushing yards and one touchdown on 24 rushing attempts. He also added on three receptions for 35 yards on four targets.
The Cardinals poor offensive line negatively affected the entire offense. Kyler Murray completed 30 of 43 passes for 173 yards, two touchdowns, and two interceptions. One bright spot was his eight rushing attempts for 69 yards. Murray is more of a high-end QB2 with QB1 upside in the right matchup. The protection issues of the OL will have to improve in order for him to reach his potential. Christian Kirk led the Cardinals with 12 targets. He caught 10 of them for 59 receiving yards. Larry Fitzgerald caught five of seven targets for 36 receiving and saved his fantasy day with a touchdown reception. Both Kirk and Fitzgerald are on the WR2 radar each week. David Johnson was only given 11 rushing attempts finishing with 37 rushing yards. He was targeted nine times as a receiver out of the backfield catching six of them for 28 yards. Johnson has not been provided enough opportunities through three games or used properly to meet his potential. Despite these setbacks, he can still be viewed as a low-end RB1.
Statistical Observations
Murray was sacked eight times.
Fitzgerald's 118 career touchdowns rank 6th all-time and he's currently is ranked first among active player according to Pro Football Reference. He is leading the Cardinals in air yards this season with 324. Fitzgerald has 1,316 career receptions, which is 783 more than the combined career totals of the six receivers on the Panthers active roster (533). This stat was tweeted by Bob McManaman.
Christian Kirk is leading the team with 118 yards after the catch.
Detroit Lions 27, Philadelphia Eagles 24
The Lions are surprisingly 2-0-1 while the Eagles are now 1-2. Philadelphia has lost two consecutive games. This loss may come back to haunt the Eagles at the end of the season as they fight to be one of six playoffs team in the NFC. Philadelphia got off to a fast start scoring 10 points in the first quarter. Were you aware the Eagles have only scored 20 points in the previous 12 first quarters according to Pro Football Reference? The game wasn't decided until the very end. The Eagles had a chance to win after Malcolm Jenkins blocked a 46-yard field goal try from Matt Prater. Darren Sproles caught a pass that would have been a first down, but the Eagles third offensive pass interference negated the play. Carson Wentz threw a catchable to rookie J.J. Arcega-Whiteside which was incomplete.
The best way to describe Matthew Stafford's play was inconsistent. He only completed 18 of 32 passes for 201 yards and one touchdown. A high percentage of Stafford's passing yards were to Marvin Jones. He caught six of nine targets for 101 receiving touchdowns and a touchdown. Jones led the team in targets. Stafford can provide QB1 value in the right matchup. He'll be on the streaming radar next week at home against the Chiefs. Jones is more of a weekly WR3, but next week he can be considered a WR2. The biggest surprise was Kenny Golladay only catching two of eight targets for 17 receiving yards. He'll look to bounce back against the Chief. Golladay is still a WR2. T.J. Hockenson was only targeted four times. He finished with one reception and one yard. The good news is that Kerryon Johnson set a career-high with 20 rushing attempts. The bad news is that he finished with only 36 rushing yards. Johnson's will be on the RB1 radar if this opportunity share continues.
Carson Wentz completed 19 of 36 passes for 259 yards and two touchdowns. Zach Ertz disappointed with only 64 receiving yards and seven targets. He's been very inefficient this season. Ertz is still a TE1, but the mid-range players at the position have outperformed the big three (Travis Kelce, George Kittle, and Zach Ertz). It was frustrating to see Miles Sanders have a rushing touchdown swiped by Jordan Howard. He turned 13 attempts into 53 rushing yards. The rookie also finished with two receptions for 73 receiving yards. Sanders also had two fumbles. He's now on the RB2 radar with how Eagles head coach Doug Pederson is using him. Nelson Agholor was productive with Alshon Jeffery and DeSean Jackson out of the lineup. He caught eight of 12 targets for 50 receiving yards and two touchdowns. Agholor also dropped a pass and lost a fumble. He will be droppable once Jeffery and Jackson return.
Statistical Observations
Mack Hollin led the Eagles with 97 air yards.
Sanders had 56 yards after the catch.
Jones led the Lions with 130 air yards.
New England Patriots 30, New York Jets 14
The Patriots pounce on the Jets earlier to advance to 3-0. The Jets, on the other hand, are now 0-3 for the first time since 2003. The Patriots defense smothered the Jets offense. The 14 points that were scored took place when the game was already decided. One was from an interception return for a touchdown and the other from a muffed Patriots punt. The Patriots are the first team in the Super Bowl era that hasn't allowed a rushing or passing touchdown in their first three games according to Pro Football Reference.
Tom Brady completed 28 of 42 passing yards for 306 yards and two touchdowns. All of the Patriots offensive players contributed. Phillip Dorsett was targeted seven times and finished with six receptions for 53 yards and a touchdown. Josh Gordon caught six of 11 targets for 83 receiving yards. Julian Edelman left the game early with a chest injury. He was targeted 10 times before his departure with seven receptions for 62 receiving yards and a touchdown. If Edelman misses time then this would open up additional targets for Gordon and Dorsett. Gordon can expect shadow coverage from Tre'Davious White as New England travels to Buffalo in Week 4. The Patriots running game is always difficult to predict. Rex Burkhead finished with 11 rushing attempts, 47 rushing yards, a rushing touchdown, seven targets, six receptions, and 22 receiving yards. Sony Michel disappointed with only 11 rushing yards and a rushing touchdown.
The bye week came at a perfect time for the Jets. Luke Falk completed 12 of 22 passes for 98 yards and an interception. Le'Veon Bell, Jamison Crowder, and Robby Anderson are anxiously awaiting the return of Sam Darnold. All three are excellent players to target in trades. Better days are ahead for Darnold, Bell, Crowder, and Anderson.
Statistical Observations
Gordon led the Patriots with 112 air yards
Brady's passing touchdown to Phillip Dorsett was the 523rd of his career according to Elias Sports Bureau. This breaks a tie with Drew Brees for 2nd all-time. Did you know that Brady now only trails Peyton Manning's 539 career passing touchdowns for the most in NFL history?
Jakobi Myers had an average depth of target or aDOT of 11.3 which led the Patriots. He's someone to keep on your radar in deeper formats if Edelman misses time.
Minnesota Vikings 34, Oakland Raiders 14
The Vikings continue to be defined offensively by the running game. Minnesota is averaged 34.3 rushing attempts per game which rank third in the NFL behind the Ravens and 49ers. The Vikings got off to an early lead and cruised to victory behind a robust running game fueled Dalvin Cook. Minnesota bounced back from a difficult loss to the Packers last week and now sits 2-1 while Oakland's record sits at 1-2.
Kirk Cousins wasn't asked to do much. He completed 15 of 21 passes for 174 yards and one touchdown. He didn't turn the football over and kept the vulture at bay for now. The Vikings average the fewest pass attempts (21) per game this season. This has impacted the fantasy production of Stefon Diggs, Adam Thielen, and Kyle Rudolph. Cook transformed 16 rushing attempts into 110 yards and a touchdown. He was also used as a receiver out of the backfield adding on four receptions for 33 receiving yards. Cook is singlehandedly winning weeks for players.
Derek Carr finished the game with only 242 passing yards, two touchdowns, and an interception. None of his receivers accumulated 100 or more air yards which suggest Carr is not attacking defenses vertically. He'll continue to be a low-end QB2. Darren Waller was the biggest fantasy winner in this game for the Raiders. He caught 13 of 14 targets for 134 receiving yards. He continues to be a matchup-proof TE1 with how the Raiders are using him on the field. Waller has a plus matchup with the Colts on the schedule for Week 4.
Statistical Observations
Cook is the first Vikings player with 100 rushing yards in three consecutive games since Adrian Peterson in 2015 according to Pro Football Reference.
Waller is leading the Raiders with 150 yards after the catch.
Diggs only 101 receiving yards this season and 14 yards after the catch. Cook has 79 receiving yards and 89 yards after the catch.
Kansas City Chiefs 33, Baltimore Ravens 28
This matchup was one of the most anticipated of Week 3 and it didn't disappoint. The Ravens traveled to Arrowhead Stadium to face the Chiefs. Both offenses ranked No. 1 and No. 2 in total yards per game. Patrick Mahomes put together an impressive performance considering he was without his top wide receiver Tyreek Hill. The Chiefs defense contained Lamar Jackson for most of the game which allowed Kansas City to get the win. The box score is misleading because 22 of Baltimore's points came in the second half. The Chiefs improve to 3-0 and Ravens now find themselves 2-1.
Mahomes completed 27 of 37 passes for 374 yards and three touchdowns against the Ravens highly-touted defense. Travis Kelce, Mecole Hardman, Demarcus Robinson, Sammy Watkins, and LeSean McCoy all contributed to the victory. Kelce and Watkins led the Chiefs receivers with each seeing eight targets.
Jackson only completed 22 of 43 passes for 267 yards. He had eight rushing attempts for 46 yards and a touchdown. Marquise Brown and Mark Andrews were ineffective. The duo combined for 16 targets, five receptions, and 64 receiving yards. Mark Ingram essentially carried the offense. He had 16 rushing attempts for 103 yards and three touchdowns. Ingram also contributed as a receiver with four receptions and 32 yards.
Statistical Observations
Kelce led the Chiefs with 111 air yards. He's caught seven or more passes and has had 88 or more receiving yards in all three games this season.
This was Mahomes' 13th career game with 300 or more passing yards according to Pro Football Reference.
Brown led the Ravens in air yards with 217.
Indianapolis Colts 27, Atlanta Falcons 24
This was Jacoby Brissett's best game as a starter. He was in command of the offense, accurate, and didn't turn over the football. Brissett completed his first 16 passes and led the Colts to scores on their first four drives. The Falcons fought back and whittled away at Indianapolis' lead in the second half after being down 20-3. The Colts completed three first downs on the final drive to win the game. Indianapolis is now 2-1 while Atlanta is 1-2.
Brissett continues to be a viable QB2 in two QB and Superflex formats. Marlon Mack is still an RB1 after rushing 16 times for 74 yards and a touchdown. T.Y. Hilton left the game with a quad injury and didn't return. He was targeted 10 times in the first half. Hilton finished the game with eight receptions, 65 receiving yards, and one touchdown. If he misses time then Parris Campbell will be looked at to make an impact as the Colts new No. 1 receiver. Another name to keep on your radar is Zach Pascal.
The biggest surprise with the Falcons was the disappearance of Calvin Ridley. He was only targeted one time. Julio Jones caught eight of nine targets for 128 receiving yards and one touchdown. Austin Hooper had a career game with six receptions, 66 receiving yards, and two touchdowns. Devonta Freeman was leaned on even more with Ito Smith exiting the game from a concussion. Whether or not Smith is cleared for Week 4 is irrelevant. This backfield will always operate as a committee.
Statistical Observations
Jones led all Falcons receivers with 135 air yards.
This was Hooper first career multi-touchdown game.
None of the Colts receivers accumulated 100 or more air yards.
Rapid Fire
Green Bay Packers 27, Denver Broncos 16
Statistical Observations
Marquez Valdes-Scantling led the Packers in targets (10), receptions (6), receiving (99) and air yards (110). Rogers clearly tested Broncos cornerback

Isaac Yiadom and we saw the results.

Courtland Sutton is leading the Broncos with an aDOT of 11.5 yards. He's a perfect fit for Joe Flacco. The issue up to this point has been the Broncos schedule. Sutton is an intriguing receiver to buy low on right.
Buffalo Bills 21, Cincinnati Bengals 17
Statistical Observations
Josh Allen completed 23 passes against the Bengals. This nearly tied his career-high of 24 that was set in Week 1. Allen continues to develop before our eyes. He's on the QB1 radar.
Tyler Boyd has 33 targets, 24 receptions, and is averaging 60 or more receiving yards per game this season. He's yet to find the end zone.
Dallas Cowboys 31, Miami Dolphins 6
Statistical Observations
Dak Prescott leads the NFL with a quarterback rating of 94 after three games. The Cowboys first three games were against the Giants, Redskins, and Dolphins, but it's still an impressive start to the season.
Prescott's 19 rushing touchdowns are the most by a QB since 2016. His eight games of two or more passing touchdowns and one rushing touchdown are three more than any other quarterback in that span according to NFL Research.
Los Angeles Rams 20, Cleveland Browns 13
Statistical Observations
Cooper Kupp and Brandin Cooks exceed 100 receiving yards. The Rams now have multiple WRs do this in a game three times in the Sean McVay era. They are one of five teams with three such games since 2016 along with the Texans, Vikings, Steelers, and Buccaneers according to NFL Research.
The Browns offense has not met expectations up to this point of the NFL season. Cleveland's offense is only averaging 16.3 points per game. That's much lower than last year's average of 22.4.
Conclusion
The Bears and the Redskins will face off against each other on Monday Night Football. Be on the lookout for the Week 4 edition of Start 'Em Sit 'Em, my Week 4 rankings, and an analysis of some of our Advanced Metrics. If you have questions don't hesitate to reach out to me on Twitter (@EricNMoody). Thanks for reading and please sign up for FantasyData Premium.
STAY IN TOUCH
Sign up for FantasyData's newsletter and get awesome content sent to your inbox.
We'll never share your email address and you can opt out at any time, we promise.
---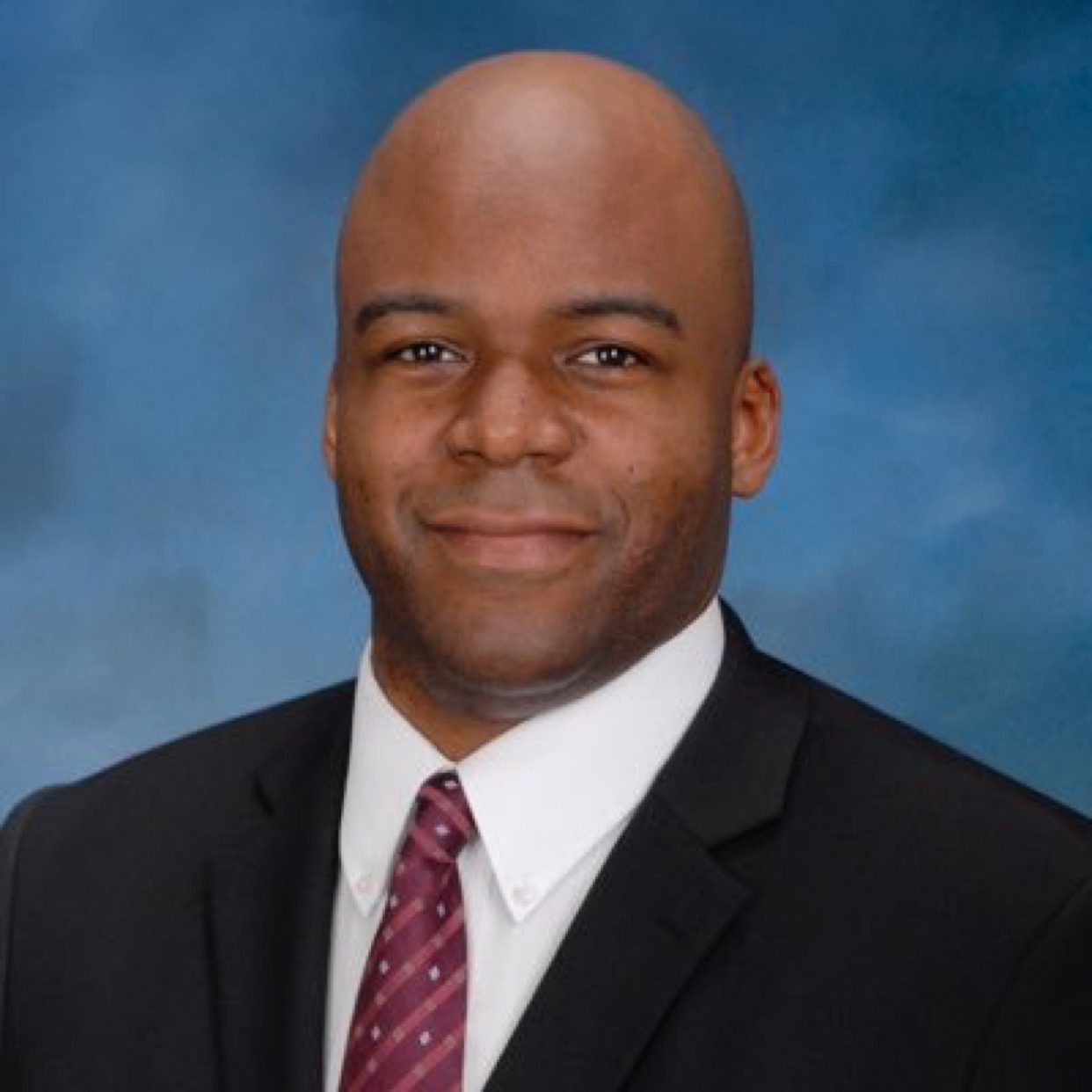 Eric Moody is a member of the FSWA (Fantasy Sports Writers Association). His writing has been featured at FantasyPros, Gridiron Experts, RotoViz, and TwoQBs. He has a lifelong passion for the game and even played at the collegiate level as an offensive lineman. Eric also participated in Dan Hatman's Scouting Academy in order to learn the process of player evaluation at an NFL level. When Eric provides advice, he uses game film, analytics, and statistics to help you understand his perspective. He enjoys time with his family, Netflix, music, bass guitar, and coffee