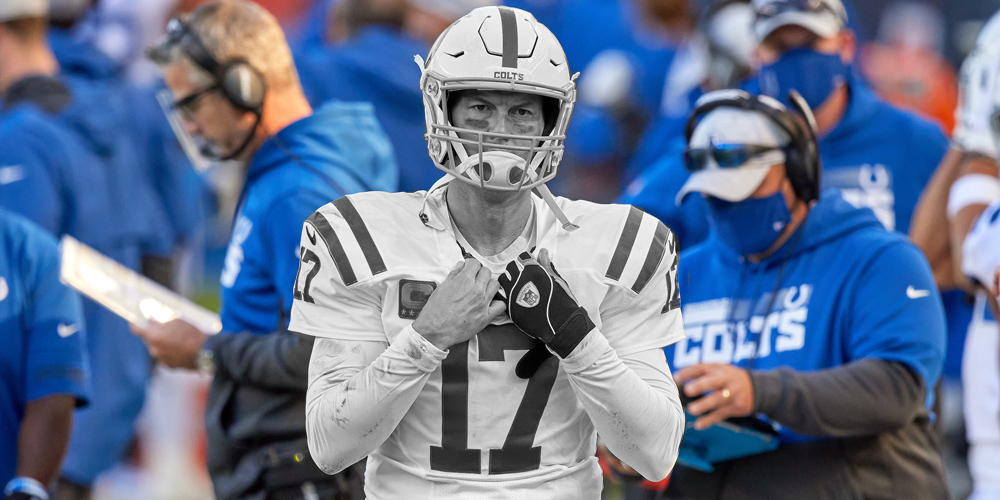 5 Possible Replacements For Philip Rivers In Indianapolis
---
Who Will Be the Colts New QB?
After losing to the Bills, Colts quarterback Phillip Rivers decided to hang up his cleats. He led the Colts to an 11-5 record, which earned them a birth into Wild Card weekend; only their second over the past six years. Rivers played 17 seasons in the NFL for the San Diego/Los Angeles Chargers and the Indianapolis Colts before retiring on 1/20/2021. This leaves a void under center for the Colts, while begging the question: Who becomes the starting quarterback for the Colts moving forward? Let's break down five different options that the Colts could kick the tires on this offseason.
Dak Prescott
Prescott is coming off a season-ending injury to his ankle that he suffered in Week 5 against the New York Giants, but all recent reports show he is making progress in rehab. In those five games played, he had 1856 yards and nine touchdowns in the air while adding three on the ground. Prescott has significant talent and something to prove after his injury. For a team on the brink of greatness, Prescott could be a massive upgrade for the offense.
Is Dak Prescott a better Quarterback than Philip Rivers?
Yes, without a doubt, Dak Prescott would be an upgrade for the Indianapolis Colts. Before his injury, Prescott was on a torrid pace of 422.5 passing yards per game, and over his last 16 games, his average was 340 passing yards per game. In 2019, Prescott reached 30 touchdowns for the first time in his career. This year, before the injury, he threw for nine touchdowns in four games. Prescott would bring elite talent to an influential position on the field, allowing the Colts to continue contending in the AFC playoff picture.
Is This a Likely Scenario for the Indianapolis Colts?
Prescott could hold a grudge against the Dallas Cowboys for how they have handled his contract negotiations in the past and he could look to prove himself elsewhere. The Colts have money to spare as the team has $65 million in cap space this off-season and could give Prescott the long-term contract he desires.
Jared Goff
At one point, Jared Goff was the future golden arm of the Los Angeles Rams franchise. Fast forward to start to the 2021 offseason, and reports are trickling out that Goff and head coach Sean Mcvay need "marriage counseling." Are these two destined to break up, or can they fix their partnership in time for the 2021 season? A team that could be willing to pick up the phone and discuss a trade would be the Indianapolis Colts. Goff does boast the 12th best completion percentage in the NFL, which is higher than Patrick Mahomes, Justin Herbert, and Tom Brady. Goff does come with some baggage, his contract. Goff signed a 4-year/134M contract.
Is Jared Goff a Better Quarterback than Philip Rivers?
Rivers bested Goff in completion percentage (Rivers: 68>67), in yards passing (4,169 > 3,952), and in total touchdowns (24>20). The Colts would be making, at best, a lateral move trading for Goff.
Is This a Likely Scenario for the Indianapolis Colts?
This scenario involving Goff and the Colts is a less than likely situation. The Rams have invested an immense capital into Goff, and without a return of a high draft pick/ reliable quarterback, the deal seems unlikely to happen.
Carson Wentz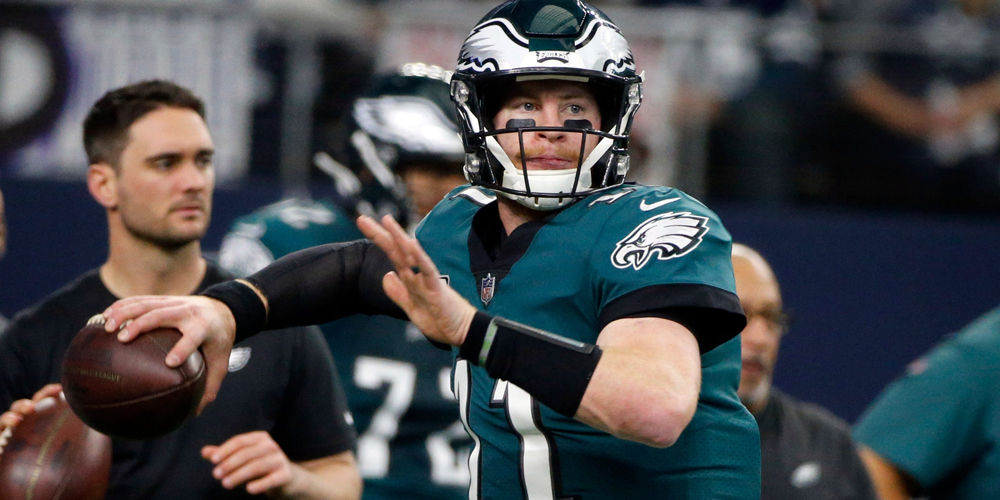 One of the most popular rumors in the NFL, even before Rivers' retirement, was Eagles quarterback Carson Wentz reuniting with his former offensive coordinator Reich. After a polarizing season by Wentz, he has asked for a trade out of the Philadelphia Eagles organization. If the Eagles owner Jeffrey Lurie can't mend the break between the quarterback and the organization, Wentz could be on the move. His baggage, like Goff, is his contract of 4-year/128M. Wentz with the Colts could be a high risk/high reward move in the offseason that could lead the Colts to the Super Bowl (if Wentz returns to form) or lead to Reich being fired as head coach.
Is Carson Wentz A Better Quarterback Than Philip Rivers?
During his 2017 MVP-worthy campaign, Wentz showed us that he possesses all the tools to be a Super Bowl-winning quarterback. Wentz just has to be provided with the optimal play calling and coaching staff, don't forget Frank Reich was the offensive coordinator in Philadelphia during Carson's stellar performance in 2017.
Is This A Likely Scenario For The Indianapolis Colts?
Wentz to the Colts is one of the most popular rumors swirling around the Twitterverse. Wentz's prior connection to Frank Reich and Reich's ability to build quarterbacks helps to push this narrative. The Colts general manager Chris Ballard will explore this possibility. The only issue with this scenario is the size of Carson Wentz's contract.
Jameis Winston
No player comes with a higher "risk/reward" ratio than Saints quarterback Jameis Winston. In his last full season as a starter, he threw 33 touchdowns and 30 interceptions. Winston had the talent, but can a coaching staff reign in the mistake riddle performances he provided in the past. Reich may want to prove his ability to mold a quarterback;, and no option would show off his skills better than Winston.
Is Jameis Winston A Better Quarterback Than Philip Rivers?
Winston brings a high powered aspect to the Colts offense. Rivers' arm was fading due to being at the tail end of his career. Winston will revitalize this Colts offense and allow Reich's playbook to open up for the 2021 season.
Is This A Likely Scenario For The Indianapolis Colts?
Winston should come with a cheaper price tag than the original estimated price due to the Saints turning to Taysom Hill over Winston during Drew Brees's injury. Winston's experience in the league, his potential as a quarterback, and his cheaper price tag make him a suitable replacement for Philip Rivers.
Matthew Stafford
At 32 years old, Matthew Stafford's window to win in the NFL is closing. Looking at the Detroit Lions' future, could he possibly be on the move as they rebuild? Stafford would be a popular option amongst teams that feel they are just a quarterback away; teams who could be interested are the New England Patriots, the New Orleans Saints (if Drew Brees retires), and the Indianapolis Colts. The Colts become an instant threat in the AFC if Stafford is under center in Indianapolis Week 1 of the 2021 season.
Is Matthew Stafford A Better Quarterback Than Philip Rivers?
Matthew Stafford brings a stronger arm to the Colts offense than what Philip Rivers offered last year. Stafford is also an aging quarterback, making him a one- to- two-year rental for the Colts. However, Stafford's stronger arm tied in with his veteran presence can allow the Colts to continue to contend in the AFC.
Is This A Likely Scenario For The Indianapolis Colts?
Stafford deserves to go to a winning franchise, and hopefully, the Detroit Lions grant this to their quarterback. After Rivers, the Colts could try for another home-run swing on this aging quarterback for a few years as they let the potential of Eason blossom in the background. This scenario hinges on the Detroit Lions front office, which means it probably won't happen.
Who do you believe should be the Indianapolis Colts quarterback in 2021? Let us know on Twitter @FantasyDataNFL
STAY IN TOUCH
Sign up for FantasyData's newsletter and get awesome content sent to your inbox.
We'll never share your email address and you can opt out at any time, we promise.
---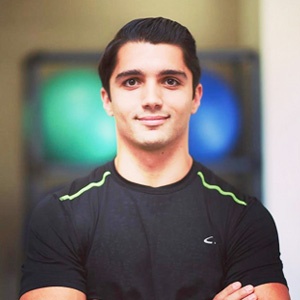 Former minor league soccer player/winner of TKO. Avid Philadelphia Eagles fan, Philadelphia born and raised, who also named their mascot (Swoop) for the team. Huge fantasy football fanatic who is all about the stats and ready to debate any topic. I have written for major publications within the sports and fitness world. Things I will debate until my last breath: Superman is the best superhero, Tim Tebow would have been a sustainable QB if he went to the Jacksonville Jaguars, and pineapples dont belong on pizza.