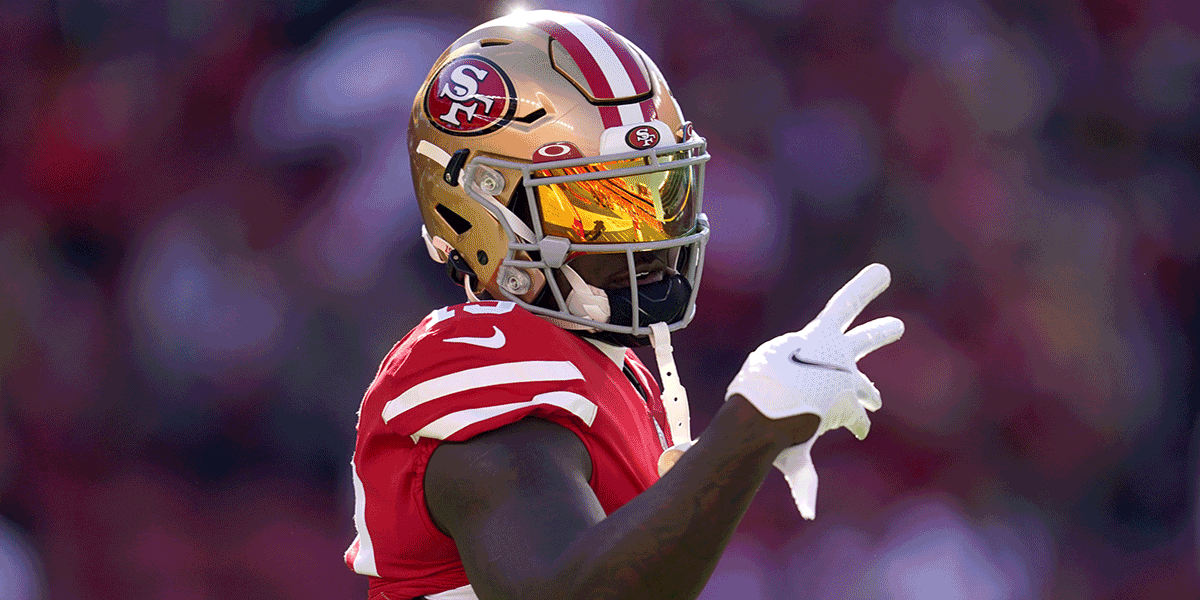 5 Potential Landing Spots for Deebo Samuel
---
Latest News: Deebo Samuel Not Attending 49ers OTAs
As the 49ers begin their OTAs this week, one of their most important offensive players won't be there. As Per Ian Rapoport, WR Deebo Samuel will not attend the voluntary practices.
The drama surrounding the San Francisco 49ers wide receiver is starting to take a turn for the worst. What started out as an attempt to get a new contract extension done has seemingly spiraled into a request to leave San Fran altogether. According to a report from Sports Illustrated Daniel Chavkin, Deebo Samuel is "unhappy with his current situation with how often he plays running back." Samuel is also looking to cash in on the new wide receiver market after market-changing paydays were passed out to Davante Adams, Tyreek Hill, and… *checks notes* Christian Kirk. Yes, the guy who hasn't cracked a 1k receiving season got paid.
The latest news out of this situation is that Deebo Samuel unfollowed the San Francisco 49ers' social media on Instagram which normally signals issues between a player and their team. More recently, Deebo Samuel returned to following the team on Instagram. Could that be a sign that things are turning back in the right direction? It could be. However, Samuel still remains without a new contract extension with the kind of money he's been seeking. And not too long ago, reports were still circulating that Samuel still wanted to be traded from the 49ers.
But let's play this out. There are still a few places that can benefit from Deebo's unique skill set…
Green Bay Packers
The first team on the list has to be the Green Bay Packers. With the recent trade of Davante Adams to the Las Vegas Raiders, the team could use a viable and dominant lead pass catcher at the wide receiver position. The Packers have tried to make some moves this offseason by signing Juju Smith-Schuster and Sammy Watkins as well as drafting wide receiver Christian Watson in the 2nd round of the 2022 NFL Draft. Also, let's not forget that the Packers still have Allen Lazard and Amari Rodgers on the team too.
However, none of those guys bring the punch and potential a guy like Deebo Samuel could bring to an offense with Aaron Rodgers at the helm. With Adams gone, his 29.7% target share (and over 169 targets last season) goes with him, allowing a receiver like Deebo Samuel to slide in as the undisputed top dog in the Packers wide receiver room. I mean really, would it be anyone else?
The Jets, Lions and Packers have all shown interest in trading for Deebo Samuel, per @RapSheet pic.twitter.com/lwoCnXzRtn

— B/R Gridiron (@brgridiron) April 22, 2022
Sammy Watkins has underperformed for most of his career outside of a year with Buffalo and another season with the Rams. Juju Smith-Schuster is looking to bounce back himself after flopping the last couple of seasons due to poor production, declining quarterback play, and dealing with injuries.
During the 2021 season, Deebo Samuel commanded a team-high 24.4% target share with the San Francisco 49ers. That comes to about 7.6 targets a game. So at least Samuel would see a slight uptick in work but overall it wouldn't be foreign to him. Samuel also wouldn't have to be a dual-threat in Green Bay as the Packers already have Aaron Jones and AJ Dillon there to pick up the slack in the backfield.
Under Rodgers, Davante Adams was able to finish as a top 5 fantasy wide receiver over the past two seasons so it's easy to see why this would probably be the ideal landing spot on this list for Deebo Samuel. Samuel under the watchful eye of one of the best quarterbacks in the league, if not NFL history, would catapult Samuel to the front of the list of top wide receivers.
In terms of contract coin, the Packers did offer Davante Adams an offer that would have made him the highest-paid wide receiver at the time. According to the New York Post, the Packers made an offer to Adams in the ballpark of a five-year, $141.25 million deal to stay. I think it's safe to assume that most of that money is still there and should they decide that they need to add Samuels' talents to the team, they have a way to make it happen on the contract front.
Baltimore Ravens
The Ravens are probably the team in major need of a wide receiver. The Ravens traded away their number one wide receiver Marquise Brown and a third-round pick for the Cardinals' 23rd overall pick in the first round. That leaves the Baltimore Ravens with second-year wideout Rashod Bateman and Devin Duvernay as Lamar Jackson's top two options at wide receiver.
Realistically I know this probably wouldn't happen, but Deebo Samuel looks too tough in a Ravens uniform 👀 pic.twitter.com/EaSYw9dmMU

— The Ravens Realm (@RealmRavens) April 19, 2022
Marquise Brown was the leading receiver for the Ravens last season and was still able to produce even after Lamar Jackson went down. Brown commanded a 24.7% target share, averaging nearly 9.1 targets per game. That amounts to about 146 targets on the season which has him ranked 9th overall among wide receivers.
Marquise Brown's loss is rather substantial for the Ravens' offense that looks to go back to its "ground and pound" roots. The Ravens suffered major losses at the running back position during the 2021 season, losing Gus Edwards during the preseason and then J.K. Dobbins right before the start of the regular season. Brown's departure could open up some more targets for a backfield that totaled a nearly 10% target share in 2020.
Brown finished second on the team in targets in 2021, just seven targets behind team leader Mark Andrews (153), and finished the WR22 while averaging 14.1 FPPG. If Deebo were to land in Baltimore, his outlook would have to be tempered a bit as the offense is more run-heavy. If there's one bright side to the Ravens' passing game is that it could still potentially turn a corner. The Ravens actually totaled 611 pass attempts during the 2021 season. That's a solid increase over the 406 pass attempts from the 2020 season and the more pass attempts mean more opportunities for Deebo Samuel to do his thing.
While the Ravens are in need of a wide receiver, pulling off a deal to pay Deebo might be the one obstacle for the team. Currently sitting at just over $7 million in cap space, the Ravens' front office might have to make a few moves to free up some cap space. Recent reports have the Raven front office expressing interest in former Browns wide receiver Jarvis Landry, who according to ProFootballTalk's Mike Florio, wants a new contract at $20 million. Landry did end up signing a one-year deal with the New Orleans Saints but let's be honest, if you had a choice between Jarvis Landry and Deebo Samuel for nearly $20 million, who would you choose?
---
Win Your Fantasy League!
Become a member at FantasyData and get access to the industry's best fantasy football subscription available!
---
Indianapolis Colts
This would be one of my low-key favorite landing spots for Deebo Samuel if he were to get traded. The Colts dumped Carson Wentz after just one season and traded for Matt Ryan earlier this offseason. Now Ryan gets to link up with Michael Pittman, a stud wide receiver who had a breakout season last year, and newly drafted wide receiver Alec Pierce is now in the mix to start for the Colts as they continue to revamp their wide receiver group after losing Zach Pascal to the Philadelphia Eagles and long-standing wide receiver T.Y. Hilton floating in free agency limbo.
Per source, the #Colts are expected to be among teams pursuing trade for #49ers star wide receiver Deebo Samuel.

— Evan Massey (@massey_evan) April 20, 2022
Both of those receivers leave behind a 106-target vacuum. While some will point to Alec Pierce being able to take a chunk of that for himself as the potential "defacto" number two behind Michael Pittman, one could expect the passing attack to be featured a bit more this coming season as Colts front office views Matt Ryan as an upgrade over the former Carson Wentz.
In 2021, Ryan finished with more passing attempts (560), 3,968 passing yards, and a 67% completion percentage compared to Wentz's 516/3,563/62.4% stat-line in those same categories.
Ryan's 560 targets put him at 11th in passing attempts among quarterbacks for the 2021 season and as previously mentioned, it's plausible to see the Colts' passing attack featured more under Matt Ryan. Adding a Deebo Samuel to the mix would allow Samuel to be used on the outside as well as the slot while the Colts could keep Pittman and Pierce on the outside or mix and match based on the defense.
While in ATL, Ryan had to throw passes to Russell Gage and stud TE Kyle Pitts who combined for a 36.7% target share. With an uptick in pass attempts in Indianapolis, Deebo and Pittman would be the Colts' new one-two punch at receiver. The Colts rank 13th in cap space with $13.6 million in salary-cap space. A move here or there could free up the space needed to bring in Deebo Samuel and add another dangerous weapon to Matt Ryan and that Colts passing attack.
Atlanta Falcons
Remember when I said that the Ravens were the team was in major need of a dominant wide receiver, well look no further than the Atlanta Falcons. When you look at the Atlanta Falcons wide receiver corp… It's looking empty. Yes, the Falcons did go out and draft a highly touted wide receiver prospect in Drake London but that seems to be it. Calvin Ridley is still on the roster but was smacked with a year-long suspension after he was caught gambling on NFL games (DUMB!). Russell Gage left in free agency for the Tampa Bay Buccaneers and Corrdarrelle Patterson is at the top of the running back position but plays wide receiver as well.
Falcons WR Cordarrelle Patterson is recruiting #49ers WR Deebo Samuel 👀😅

H/T @49ersfocus pic.twitter.com/UxyvDxDZJ7

— OurSF49ers (@OurSf49ers_) April 9, 2022
While the latter may change as we get deeper into the offseason (and the fact that the Falcons drafted Tyler Allgeier in the 5th round), the fact remains that there's still not enough back there to front a formidable wide receiver corp.
Deebo Samuel would easily slide in as the number one option for Marcus Mariota. While that may hurt the upside of Drake London, Deebo would be able to soak up those targets from Mario though the pass attempts may be on the lower side. The question then becomes if Mariota can support Deebo Samuel and keep his fantasy status in a similar fashion to what Deebo Samuel was able to do in 2021. The answer, however, might not be what fantasy managers would like to hear.
Mariota in his career has never thrown over 460 attempts and while he was a starter with the Tennessee Titans his wide receiver one held a steady 18%+ target share, seeing 80 targets or greater between 2016-19 when Mariota plays at least 10 games on the season. Mariota has also never maintained a top-end wide receiver to the top 20 in fantasy football either. Now to be fair, he was throwing to Rishard Matthews, Eric Decker who was on his way out, and then, Corey Davis. None of those names was anything to write home about and none of those names were able to get inside the top 20 with Marcus Mariota throwing the ball.
The Falcons have nearly $15 million in salary-cap space which puts them currently at 9th overall. A little more wiggle room might be needed to make a deal with Deebo that would bring him to the dirty south but a team with the major needs at the wide receiver position should heavily consider making a play for the San Franciso star.
Wherever Deebo Samuel ends up if moved will surely impact both the team and Samuel's fantasy value ahead of the 2022 season. It will be interesting to see if the 49ers actually pull the trigger to either pay Samuel or try to actively get something if a new contract is no longer on the table. It wouldn't be smart to just let him walk after this season when he would become an unrestricted free agent. Better to get something for him while you can instead of simply letting talent walk right out the door.
Houston Texans
The Texans' offense is currently in flux after a "transition" year and looks to re-establish itself in the 2022 season. The Texans' offense finished in the bottom half of the league in total offense last season ranking 30th in total yards. Houston's front office has tried to right the ship by making some changes through the draft by adding wide receiver John Metchie II in the second round of the 2022 NFL Draft. They also have Nico Gathers and Brandin Cooks on the roster too.
Which teams could be interested in Deebo Samuel?

The Houston Texans and the New York Jets.

Both teams have been brought up in Deebo chatter and most of the focus has been on Houston, according to @timkawakami. pic.twitter.com/xyGxfYdS7V

— The Athletic (@TheAthletic) April 20, 2022
Adding the kind of wide receiver in Deebo Samuel to that group could give them the push that they need to take the Texans passing attack to the next level under second-year QB David Mills. During the 2021 season, the Texans targeted the wide receiver position 61%, placing them inside the top 15 (12th overall) in the NFL. Despite this, the Texans still finished with the 5th lowest passing yards among all NFL teams.
David Mills gets another chance at being the starter this coming season and gets to further gel with Gathers and Cooks as his wide receivers but adding Deebo Samuel to a wide receiver room could be a huge boost. Adding Samuel for example could bolster the passing offense. Last season, the Texans averaged 6.1 yards per attempt with the receivers they had on the roster. Conversely, Deebo Samuels with the 49ers and their pass-catching group averaged 8.2 yards per attempt. Samuels' presence could also help free up Nico Gathers and Brandin Cooks, making it more difficult to defend those receivers and potentially open up a Texans run game that was all but non-existent last season. The Texans finished with just 1,422 rushing yards, last in the NFL.
Houston is sitting on a bit of a nest egg as they have nearly $21 million in cap space, placing them at the sixth most cap space in the NFL, according to Spotrac.com. So if the Texans' front office is feeling a bit spicy, they have the space to offer a competitive offer for Samuels' services.
STAY IN TOUCH
Sign up for FantasyData's newsletter and get awesome content sent to your inbox.
We'll never share your email address and you can opt out at any time, we promise.
---

William has been playing fantasy football since 2012 and has loved every year of it. Plus, trash-talking with friends over football is great too. He's been writing over the past 3 years, contributing for RealDealFantasyHQ.com, Fantasysphinest.com, and LeagueWinners.com just last season. He also started up his own fantasy football podcast "The Fantasy's Phinest Podcast". William enjoys helping provide advice through research and when he's not doing that, he's taking care of his family and cooking in the kitchen.