5 Sleeper Starting Pitchers That Need More Love
---
Sleeper Pitchers
Last time, we analyzed a handful of sleeper hitters that need more love in fantasy baseball leagues. This week, we're looking at five sleeper pitchers that need more love. All these pitchers have an NFBC ADP past pick 200 and a few go after pick 300. I love digging into the player pool and finding players with intriguing profiles. With some teams mentioning six-man rotations, these sleeper pitchers will have a positive impact on fantasy baseball lineups even with 140-150 innings. This group of starters involves a mix of command and control guys with some high strikeout upside. We mention this because ADP goes out the window when drafting and consider your roster construction, team needs, and market values.
Caleb Smith, SP, Arizona Diamondbacks
NFBC ADP: 333
There's no skirting around the fact that Caleb Smith pitched awful in 2020. Granted it's a small sample, but Smith also struggled after dealing with COVID-19. Then at the end of August 2020, the Marlins traded Smith to the Arizona Diamondbacks in a deal for Starling Marte. In 14 innings, Caleb Smith recorded a 2.57 ERA (6.51 xFIP), 1.29 WHIP, a 25% strikeout rate, and 20% walk rate. Although the ERA on the surface looks great, it's a small sample that we should probably toss out. He only made four starts in five appearances and pitched two to four innings each. That said, his NFBC ADP reflects his 2020 struggles with an ADP past pick 300.
Let's look at why Caleb Smith is a sleeper pitcher that needs more love. In 2019, he finished with a 4.52 ERA (5.05 xFIP), 1.23 WHIP, a 26% strikeout rate, and a 9.3% walk rate. Yes, he struggled with walks that ranged from 9.3% to 11.6% from 2017-2019. However, Smith recorded a career-high with 153.1 innings, so I imagine his walk rates fall around 9-10%. If Smith displays a higher strikeout rate, then he can work with a slightly higher walk rate. Given the small 2020 sample, let's briefly analyze his pitch mix and results.
Caleb Smith primarily uses a three-pitch mix (four-seam, slider, and changeup) that resulted in exciting swinging-strike rates. In 2019, he used his four-seamer 53.8%, his slider 31.6%, and changeup 14.7% of the time. All three pitches elicited double-digit swinging-strike rates in 2019. In the table below, we see the pitch results. At first glance, we like the usage of the slider and changeup. However, Smith's four-seamer struggled a bit and could benefit from less usage.

2021 Outlook
With three pitches that resulted in double-digit swinging-strike rates, I'm digging Caleb Smith as a bounceback candidate. He may hurt the ratios and the projection systems reflect that. However, if you're chasing strikeouts, target Smith in fantasy baseball drafts. The BAT projects Smith for a 4.94 ERA, 1.36 WHIP, a 9.33 K/9, and 3.82 BB/9 in 141 innings. I believe Smith has the potential to have an ERA closer to 4.50, but overall, it's a fair projection. He's a streamer that I like heading into 2021.
Jose Urquidy, SP, Houston Astros
NFBC ADP: 227
From the high strikeout upside of Caleb Smith to a low strikeout starting pitcher in Jose Urquidy. Even though Urquidy doesn't miss a ton of bats, he limits the walks, which potentially helps the ratios. On the surface, it appears Urquidy slightly overperformed based on the ERA estimators. In 2020, Urquidy recorded a 2.73 ERA (5.36 xFIP), 1.01 WHIP, 14.7% strikeout, and 6.9% walk rate in 29.2 innings. When we compare that to his 2019 season where he logged a 3.95 ERA (4.30 xFIP), 1.10 WHIP, 24% strikeout rate, and 4.2% walk rate in 41 innings.
Given the sample in both 2019 and 2020, let's combine both seasons. Jose Urquidy totaled 70.2 innings with a 3.44 ERA, 4.11 FIP, and 4.74 xFIP with a 20.1% strikeout rate and 5.3% walk rate. This came with a low .250 BABIP and a relatively high 79% LOB%. It's still a bit of a small sample for Urquidy, but I love that he limits the walks. Urquidy pounds the zone with his four-seam fastball, and mixes in a changeup, slider, and curveball. Below the table shows the pitch mix and results for Urquidy from the past two seasons.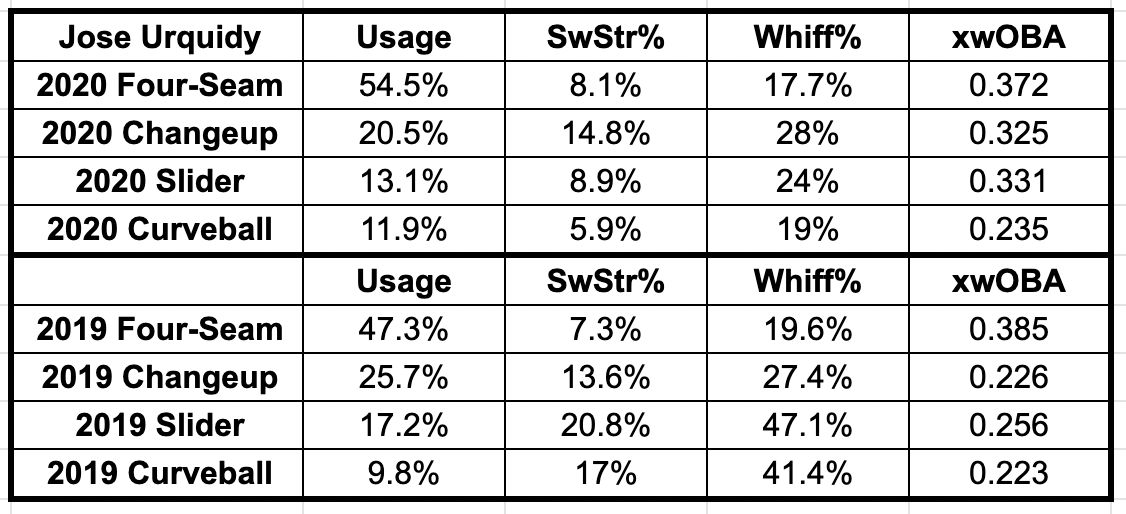 2021 Outlook
Jose Urquidy should receive a chance to start regularly given the lack of depth in their rotation. The BAT projects Uquidy for a 4.54 ERA, 1.27 WHIP, a 7.70 K/9, and 2.45 BB/9 in 149 innings pitched. In 2019 and 2020, Urquidy totaled three starts of seven innings with two or fewer earned runs and four starts of six innings with two or fewer runs. So in seven out of his 12 career starts, he recorded quality starts. I love that Urquidy uses a four-pitch mix with a plus changeup paired with plus command and control. He's a prototypical young pitcher that I gravitate towards. Also, when the GOAT Eno Sarris talks him up, then that's a good sign.
I've already started to lose him in drafts, so I might as well lean in and give you my favorite SP sleeper this year: José Urquidy. No other pitcher was 110+ on both stuff and command. Every pitch does what it's supposed to do, and he has four of them. pic.twitter.com/ivgdmgOxAg

— Eno Sarris (@enosarris) February 12, 2021
Zach Davies, SP, Chicago Cubs
NFBC ADP: 248
A similar pitcher to Jose Urquidy, we have former Padres pitcher Zach Davies now with the Chicago Cubs. Davies is a starter with a low strikeout and walk rate that lends itself to decent ratios, especially over the past two seasons. In 2020, he finished with a 2.73 ERA, 1.07 WHIP, a 22.8% strikeout rate, and a 6.9% walk rate in 69.1 innings. That came after a solid 2019 campaign with a 3.55 ERA and 1.29 WHIP with a 15.2% strikeout rate and a 7.6% walk rate in 159.2 innings. That's not a bad season for Davies in 2019. We want to point out the discrepancy in strikeout and walk rates over the past two seasons. Davies likely falls closer to his career 17.3% strikeout rate and 6.9% walk rate. However, he adjusted his pitch mix in 2020 that probably contributed to the higher strikeout rate in 2020.
One of the potential reasons for the spike in strikeout rate in 2020 - the increase in changeup usage, which is his best swing and miss pitch. Davies increased his changeup usage from 31.3% in 2019 to 41.3% in 2020. Meanwhile, he dropped his sinker usage from 52.6% to 42.2%. Davies peppers the bottom of the zone with his sinker and changeup. Fortunately, his changeup resulted in a 15.9% swinging-strike rate in 2019 and then 20.4% in 2020. It's positive to see that he upped the usage on his best pitch while also missing a ton of bats.

2021 Outlook
Zach Davies and Jose Urquidy have similar profiles, and also have a similar NFBC ADP. Davies goes about ten or so picks later, so take your pick between Urquidy or Davies if you're looking for a command first starter that limits the walks. I would like Davies to mix in his cutter higher in the zone to change the eye level for hitters instead of almost always peppering the bottom of the zone. The BAT projects Davies for a 4.78 ERA, 1.41 WHIP, a 6.72 K/9, and 3.20 BB/9 in 169 innings. It seems that projection systems don't have favorable numbers for these low strikeout pitchers with command and control. Similar to my outlook for Urquidy, I think Davies outperforms his projections with better ratios and should eat up relatively quality innings depending on the matchup.
Elieser Hernandez, SP, Miami Marlins
NFBC ADP: 257
Many in the fantasy baseball community know about Elieser Hernandez's filthy slider. In the 2020 small sample, Hernandez increased his strikeout rate and dropped his walk rate to his career bests. Hernandez finished 2020 with a 3.16 ERA (3.54 xFIP) and a 1.01 WHIP with a 32.1% strikeout rate and a 4.7% walk rate in 25.2 innings. If we lower the innings pitched threshold to 20 IP, Hernandez would've ranked 8th with a 27.4% K-BB% behind Drew Smyly and Dinelson Lamet. Given the Marlins funky 2020 season with COVID-19 issues, Hernandez didn't pitch deep into games, so take his 2020 stats with a grain of salt. Also, Hernandez suffered a lat injury in September 2020 that ended his season. Lat injuries are worrisome, especially for pitchers.
Let's move onto what you came here for - Elieser Hernandez and his slider. He used his slider 35.1% of the time with a 20.9% swinging-strike rate, a 39.3% whiff rate, and a .217 xwOBA. The swinging-strike rate jumped from 17.7% in 2019 partly due to the higher 32.3% O-Swing% compared to a 26.9% O-Swing% in 2019. Again, small sample, so that likely evens out closer to his 2019 numbers. Hernandez consistently throws the slider down and away to right-handed hitters while also elevating the four-seamer inside to righties.
2021 Outlook
I worry a bit that he relies heavily on the four-seamer (58.9%) and slider usage that accounts for 94% of his pitch arsenal. However, the four-seamer performs decently with a 9.4% swinging-strike rate, 23.1% whiff rate, and .290 xwOBA. It appears the xwOBA is a bit low given his .341 xwOBA on the pitch in 2020, but the whiff rate and swinging-strike rates look about the same in 2019. With that said, the main concern to monitor as we head into Spring Training involves his recovery from the lat injury. If there's a setback, then cross him off this list. However, he's worth mentioning given some intriguing peripherals.
Spencer Turnbull, SP, Detroit Tigers
NFBC ADP: 339
After a middling 2019 season, Spencer Turnbull followed that up with a surprisingly decent 2020 season. Last year, Turnbull tossed 56.2 innings with a 3.97 ERA, 1.34 WHIP, 21.1% strikeout rate, and 12% walk rate. That walk rate scares us, but it typically hovered at 9% or below in 2018 and 2019. In four of his 11 starts, Turnbull pitched six-plus innings with two or fewer runs. Given the weaker central divisions in 2020, maybe we should discount the shortened season.
Similar to Elieser Hernandez, Turnbull makes his money with the slider and pairs it with a respectable four-seamer. Turnbull's slider finished with a higher 19.5% swinging-strike rate compared to 15.3% in 2019 likely due to a chase rate almost 6% higher. It also resulted in a whopping 43.6% whiff rate and .242 xwOBA. However, in 2019, his slider ended with a 32.3% whiff rate and .293 xwOBA. That said, I imagine the results on the slider even out over a full season. Turnbull throws his slider a bunch to right-handed hitters and often down and away. I would like him to throw his four-seamer a bit higher in the zone, and hopefully, he sequences his pitches well enough, so hitters can't predict what's coming.

2021 Outlook
Given his late ADP past pick 300, Spencer Turnbull is easier to stomach as a streamer. The BAT projects Turnbull for a 4.57 ERA, 1.39 WHIP, 7.90 K/9, and 3.67 BB/9 in 158 innings. Notice a trend with these ratio projections? All appear streamer-worthy with fair expectations. However, I like these pitchers slightly better than their projections. He's a bit more similar to Caleb Smith in that he struggles with command, but displays the strikeout upside given the arsenal.
Starting Pitcher to Monitor:
Trevor Rogers, SP, Miami Marlins
NFBC ADP: 417
On the surface, the numbers for Trevor Rogers don't look great. In 2020, Rogers made seven starts with a 6.11 ERA, 1.61 WHIP, 30% strikeout rate, and 10% walk rate in 28 innings. However, his 4.33 FIP, 3.67 xFIP, and 3.49 xERA tell us he was a bit unlucky. Rogers allowed a .380 BABIP with a 67.5% LOB%, and a small sample overall. Keep in mind that he hardly ever pitched deep into games with only one six-inning start, where he struck out ten batters.
Per FanGraphs, Trevor Rogers relies on a three-pitch mix (four-seam, slider, and changeup). On Baseball Savant, it shows that Rogers threw a sinker 5.8% of the time. Rogers uses his four-seamer 54.2% of the time with a decent 9.7% swinging-strike rate and 29.7% whiff rate. Unfortunately, he allowed a .434 wOBA, but the .304 xwOBA indicates maybe that improves over a full season. Rogers makes his money with his slider and changeup, which he used just under 40% of the time combined. His slider recorded a 13.2% swinging-strike rate with a 36.9% O-Swing%. Meanwhile, the changeup resulted in a 23.6% swinging-strike rate and a massive 56.1% O-Swing%. Both the slider and change have whiff rates above 30% and limited the quality of contact.
Changeup: (18.1%), .194 xBA, .250 xSLG, .203 xwOBA
Slider: (21.8%), .247 xBA, .409 xSLG, .286 xwOBA
We notice the changeup is filthy given the results and vertical movement. I like seeing a lefty throw a changeup as a weapon against righties that dives down and away. Roster Resource projects Trevor Rogers as their SP5, so he should start the year in the rotation. However, keep in mind that the Marlins have a couple of exciting pitching prospects that could make their way up soon in Braxton Garrett and Edward Cabrera.
2021 Outlook
Given his projections and his ADP past pick 400, Rogers falls more into the risky streaming pitcher category. ATC projects Trevor Rogers for a 4.46 ERA, 1.36 WHIP, a 9.46 K/9, and 3.54 BB/9 in 103 innings. Not great projections, but Rogers flashed average or above-average command and control. In the minors, his walk rates ranged from 5.3% - 8.3%, so his 10% walk rate in 2020 likely evens out. If you miss out on Anthony DeSclafani and Luke Weaver, consider Trevor Rogers due to his strikeout potential with two sneaky pitches that result in whiffs.
STAY IN TOUCH
Sign up for FantasyData's newsletter and get awesome content sent to your inbox.
We'll never share your email address and you can opt out at any time, we promise.
---

Corbin is passionate about fantasy baseball and football. He loves diving into and learning about advanced metrics. Corbin is a Mariners and Seahawks fan living in the Pacific Northwest. Corbin's other hobbies are lifting weights, cooking, and listening to fantasy sports podcasts.