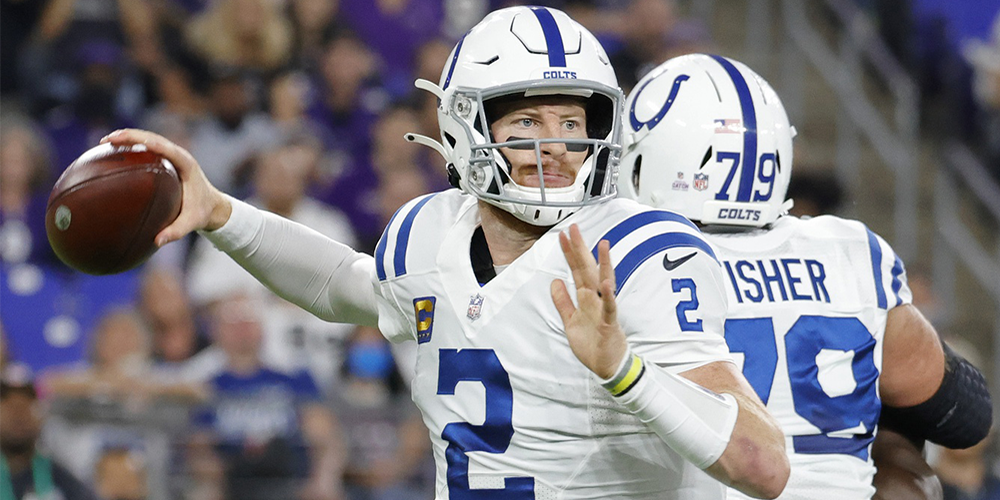 QB Conundrum: Should Colts Really Move On From Carson Wentz?
---
Carson Wentz Conundrum 2022
The last thing General Manager Chris Ballard wanted to do this offseason was to have to answer questions about the quarterback position, but here we are. Last offseason, the Indianapolis Colts made a big move, with the full support of Owner Jim Irsay and Head Coach Frank Reich, to trade for Philadelphia Eagles quarterback and former MVP candidate Carson Wentz.
Ballard was betting that the deep connection Reich formed with Wentz in Philadelphia would carry over to Indianapolis. Instead, the Colts ended their 2021 season with a loss at home to the Las Vegas Raiders along with an embarrassing Week 18 defeat at the hands of the last-place Jacksonville Jaguars.
While not all of that was on the quarterback, Wentz didn't have enough in him to put the Colts on his back and carry them to the playoffs. The killer instinct and ability to close out opponents that elite quarterbacks have, clearly wasn't there for him this year.
Now, Ballard is again left sorting through his options at the most important position in all of sports. What are those options? Let's look at what can happen.
Report: Colts likely to trade or release Carson Wentz. https://t.co/LHKRP0oeUl

— ProFootballTalk (@ProFootballTalk) February 13, 2022
What's the Problem?
Carson Wentz's contract calls for his full $22 million base salary to be guaranteed on March 18th, and for him to receive a $6.29 million roster bonus, if he's still on the roster on March 18. If Wentz is released before then, the Colts are still on the hook for $15 million of his base salary, but they'd be off the hook for the other $13.29 million.
It's a loophole in Wentz's contract that the Colts are seriously considering.
Sign a Veteran Free Agent
While the quarterback trade market is expected to be robust, the free-agent market won't be as exciting. Players such as Teddy Bridgewater, Marcus Mariota, and Mitchell Trubisky will be looking for new teams to try and earn back or compete for starting roles.
Bringing in a veteran player trying to reclaim their career isn't necessarily the most exciting thing to sell to your fan base. Especially since they're currently in the process of working on their own reclamation project. Other than adding another arm for competition during training camp, Ballard shouldn't see any of these quarterbacks as an upgrade over what he has in Wentz, or even in Sam Ehlinger.
Draft a Prospect
Next to signing a free agent, this is the second least likely option for the Colts. In trading for Wentz last year, the Colts sent their 2022 first-round pick back to the Eagles. This leaves the Colts hamstrung in terms of being able to draft their future signal-caller. This isn't a deep quarterback class, to begin with and not having an early pick makes this option even less attractive.
However, if this is the avenue they choose, one prospect to keep an eye on as the draft approaches is Carson Strong out of the University of Nevada. Strong is projected to come off the board in the second round and the Colts could be in range to take him with the 47th overall pick.
Strong isn't a day one starter and would likely be brought in as the primary backup to compete with Ehlinger. For the Colts, the hope would be that Strong can push Wentz in training camp or have the potential to take his job during the season or in preparation for 2023.
Trade for a Proven Option
Many quarterbacks are once again expected to switch teams this offseason. Whether it be a change of scenery trade or a veteran getting a second chance in a new market, there will be plenty of old faces in new places.
If the Colts swing big, the obvious candidates are Aaron Rodgers or Russell Wilson. They would be able to take on the cap hit for either player, especially by trading or cutting Wentz by March 18. Any later than that date, the Colts will be on the hook for an additional $13 million in guaranteed money.
The question becomes, do they have enough trade ammunition to strike a deal? Without this years' first-round pick, it presumably puts them behind teams like the Denver Broncos and Carolina Panthers, who are expected to also be in the market for a significant quarterback upgrade.
If not Rodgers or Wilson, the most realistic option could be a trade for Derek Carr. Carr has proved he can be an exceptional leader, above-average starter, and would be considered an overall upgrade over Wentz at this stage of their careers. Where it gets complicated is that Carr is looking for a new deal. By cutting or trading Wentz, the Colts would be able to afford what he wants, but could they stomach giving the current Raiders' quarterback $40 million per year?
Keep Carson Wentz for 2022
The most likely option for the Colts, as much as it may be frustrating to hear for some, is to keep Carson Wentz for one more season.
Wentz had a less than ideal 2021 season that included everything from injuries, COVID-related absences, and highlight-reel interceptions. Ultimately, the year was capped off with an inability to win when it mattered most.
In saying that, not all of the blame for the Colts' lack of success should be put on his shoulders. He hardly had a training camp due to an ankle sprain and outside of Jonathan Taylor and Michael Pittman, Ballard failed to surround Wentz with reliable, impact weapons at the receiver and tight end position. The Colts also failed to find a viable left tackle to replace Anthony Castonzo which contributed to their top-five offensive line taking a massive step back this season
With a full offseason, high-level skill position player or two and better offensive line play, the Colts could bank on another year of Wentz and Reich together. They might not have a choice given the available options.
Whatever Ballard and his team decide to do, they know they can't miss the playoffs again next season. While he and Reich are both armed with relatively new long-term contracts, don't mistake that for absolute job security. Nothing is more important to Irsay than winning for the City of Indianapolis. No more excuses, Ballard and Reich are officially on notice.
Carson Wentz is going NUCLEAR

5/12
1 INT
3 Sacks Taken
1 Fumble Lost
3 Points Scored
Trailing 16-3 as a 14 point favorite vs 2-14 Jaguars
pic.twitter.com/jJhC4vTcXo

— Barstool Sportsbook (@BSSportsbook) January 9, 2022
STAY IN TOUCH
Sign up for FantasyData's newsletter and get awesome content sent to your inbox.
We'll never share your email address and you can opt out at any time, we promise.
---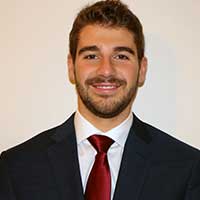 Nick has been an avid fantasy player for over a decade and is a life-long sports enthusiast. He brings two years of writing and some podcasting experience in both hockey and football to FantasyData. Based in Canada, Nick works in Human Resources when he's not stressing out about the Montreal Canadiens or Indianapolis Colts. He enjoys working out, most genres of music, and watching too much television and movies. You can follow him on Twitter @NickAGuido for content and conversation.