Denzel Mims Fantasy Forecast
---
Denzel Mims Fantasy 2020
With the 59th overall pick in the 2020 NFL Draft, the Jets drafted wide receiver from Baylor, Denzel Mims. Mims was projected to be a first-round pick in many mock drafts leading up to the draft, so the Jets were happy to get the player they wanted late in the second round. New York moved on from Robby Anderson this offseason and the only significant addition they made to the receiver position was signing Breshad Perriman to a one-year 6.5 million dollar contract. So how will Mims fit into the Jets' offense?
I fully expect Mims to immediately slide into the number three wide receiver role primarily playing on the outside. He could be used on occasion as a field stretcher, but Perriman seems like a better fit for that role. Mims' wins more on contested catches because he does not always create great route separation, so creating separation is something that he will need to work on to gain trust with quarterback Sam Darnold. In 2019, per FantasyData's advanced quarterback efficiency metrics Darnold showed a tendency to throw more to open receivers with his receivers averaging the seventh-highest target separation (1.72). That is not Mims' game; he is likely to be in a lot more contested-catch situations. Per PFF, Mims had 37 contested catches since 2017 which ranked first among all wide receivers. However, when we take a deeper look at Darnold's metrics in 2018 he was much more aggressive; his receivers ranked last in terms of target separation, meaning he was not afraid to sling it into tight windows. Darnold also ranked seventh in distance per attempt (9.3).
Now there are a lot of additional factors that could attribute Darnold's lack of aggressiveness in 2019. Those include mono, the Jets offensive line being an absolute mess, and the fact it was the first year in Adam Gase's offense. Entering 2020, Darnold is healthy (hopefully), the offensive line has been overhauled, and the Jets have added weapons like Mims and Perriman that bring more explosiveness. In 2019, the Jets ranked 24th in the league in explosive pass play percentage and 27th in total explosive plays per Sharpfootballstats.com.
😱 @BUFootball WR Denzel Mims catches EVERYTHING pic.twitter.com/C5Av6rFzSg

— FOX College Football (@CFBONFOX) November 23, 2019
Denzel Mims Fantasy Forecast
Jamison Crowder still projects to lead the Jets in targets, receptions and receiving yards. Gase has had an affinity for featuring slot receivers in his offenses and that is exactly what we saw last year from Crowder (78-833-6). In fantasy, where Mims could make a large impact would be the red-zone because of his very large frame and his ability to come down with contested catches. Last year, Crowder led the team in red-zone targets (16), followed by Le'Veon Bell (ten), Demaryius Thomas (seven), and Ryan Griffin (five). This area of the field could easily be dominated by Mims. When it comes to target share behind Crowder, Bell is going to get targets, but after that, it is really between Perriman and Mims. Ultimately the upside lies with Mims to beat Perriman out for targets. Perriman has also never commanded targets in an offense unless somebody ahead of him got hurt. So the best bet is to expect Mims to rise up especially considering his astounding athletic profile.
Mims dominated the NFL combine with workout metrics via PlayerProfiler.com that showed his 4.38 (96th percentile) 40-yard dash, 96th percentile overall speed score, 90th percentile burst score, and 96th percentile catch radius. The one knock on Mims that he was consistently critiqued of is that he does not play as fast as his 4.38, 40-yard dash would indicate. These notes come from respected NFL minds in Greg Cosell and Gil Brandt. One of the other major concerns for Mims, that I noticed when studying him was his production profile coming out of Baylor. Per Playerprofiler.com, he checks off all the boxes from his college dominator rating (86th percentile) to breakout age (67th percentile). He broke out his sophomore year in 2017 with 1,087 receiving yards and eight touchdowns.
However, what I found most interesting was the fact that his production fell off in 2018 after he broke out the year prior. What changed in the Baylor offense? Well, transfer and future NFL third-round pick Jalen Hurd was dropped into the Baylor offense and immediately led the team in receiving yards. However, there were reports that surfaced that Mims apparently played all of 2018 with a broken hand. That would attribute to his drops in 2018 (11), but in 2017 and 2019 he still had 13 combined drops per Sports Info Solutions.
In conclusion, when it comes to commanding targets in this offense, I am not so confident Mims will walk in Day 1 for the Jets and immediately be quarterback Darnold's primary target. However, Mims looked like an alpha receiver at the most recent Senior Bowl and that absolutely matters when chasing upside as these guys enter the NFL. Not many rookie wide receivers make an impact in redraft leagues in year one, but Mims definitely has that opportunity given his landing spot and draft capital. If Darnold returns to his 2018 form where he was a more aggressive passer that will fit right into Mims' strengths.
And before you run away from Mims in dynasty leagues because he is attached to an Adam Gase led-team, this could be the last year for Gase if the Jets fail to win more games. The Jets could still decide to keep general manager Joe Douglas as the two were not brought in together so the investment would still be with Mims even with a new head coach. So even in dynasty formats, I would not necessarily fret at the idea that Mims will be tied to Gase long-term; rather be excited at the fact that Mims could potentially be Darnold's number one receiver for years to come. Everybody is talking about the long-term connection between Joe Burrow to Tee Higgins, but you should not be sleeping on the Darnold-Mims connection!
My final thoughts are that the Jets are a team that is destined for positive regression. They have ranked bottom five in yards per play the past two seasons, so adding an explosive player on the outside like Mims should help Darnold and the offense turn things around in 2020.
My initial projection for Mims in 2020: 40 receptions for 500 receiving yards and four touchdowns.

STAY IN TOUCH
Sign up for FantasyData's newsletter and get awesome content sent to your inbox.
We'll never share your email address and you can opt out at any time, we promise.
---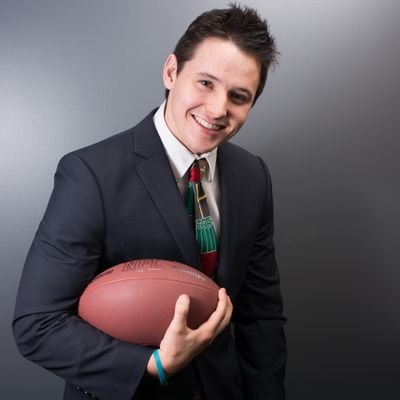 Andrew has come a long way as a fantasy football writer. After graduating from Roger Williams University where he received a degree in marketing he began to write his own fantasy blogs via WordPress.com. He used to call himself the Fantasy Football Master. Nowadays, he is slightly more humble. He has worked with Pro Football Focus as an base data analyst along with bringing head writing experience from Gridiron Experts. He is an absolute die hard Patriots fan (humble brag) and will never forget his first fantasy football team. In his first ever fantasy football league he drafted the Bears defense in the 1st round. He then proceeded to win the entire league. #DefenseWinsChampionships