DFS Cash Game Plays: NFL Week 10
---
DFS Cash Game Plays: NFL Week 10
The NFL Week 10 slate is ready for us to attack, but first, let's think about how to react to last week's DFS slate. With nine weeks of data under our belts, it's hard not to overreact to what we saw on the field, particularly as injuries and outlier performances pile up. Let other people chase the outcome stats, and we will instead focus on usage and opportunity.
We will go through each position at a variety of salary levels to see who are the best plays in cash games on DraftKings and FanDuel. For these purposes, a cash game is any contest that pays out more than one-third of the field. While these are also viable GPP options, we are primarily looking for a safe floor combined with high usage that can lead to ceiling games.
DFS Tools
Previous Week's Results
Results in select DraftKings contests:
NFL MASSIVE $25 Double Up [Single Entry] - 3197/5747
NFL GIANT $5 Double Up [Single Entry] - 6289/11494
NFL GIANT $5 Double Up [Single Entry] - 3695/6896
NFL GIANT $2 Double Up [Single Entry] - 24279/4825
NFL GIANT $10 Double Up [Single Entry] - 3141/5747
NFL Single Entry $2 Double Up - 1433/2873
NFL GIANT $10 Double Up [Single Entry] - 1809/3448
Winning percentage in Single Entry contests - 14%
Cash line in DraftKings contests - 124.20
This was my cash game lineup for all contests in Week 9: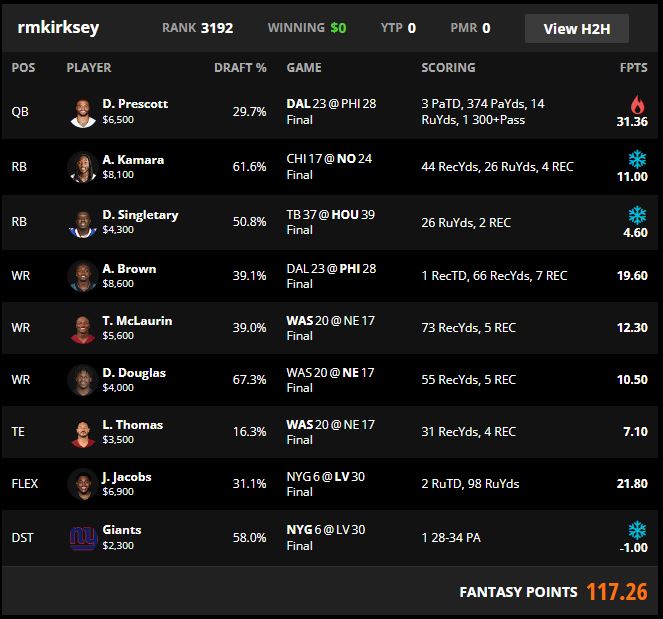 You guys better start sending me head to head contests, because this is officially a losing streak I'm on right now. I did not cash in 86% of my contests this week and once again fell just a few points below the cash line.
I'm not going to beat myself up too much over this lineup. I feel it was mostly the right plays (say what you will about Devin Singletary, but half the field was on him in every cash game), and a simple one-to-one swap that I considered would have brought this home. Instead of A.J. Brown and NYG DST I considered CeeDee Lamb and either Green Bay or New England. In the end I believed that my Dax play got me access to Lamb's numbers and I wanted to get some A.J. Brown in case he went nuclear in the best game environment of the slate. That ended up not working out, but I'm not going to beat myself up over it.
Be sure you're following me on X (@CableBoxScore) for any updates I make to my player pool as we get closer to lock. I will update that account every weekend with additional players as other news emerges.
Scoring Differences Between DraftKings and FanDuel
A quick primer on DraftKings versus FanDuel scoring for DFS if you are unfamiliar with their platforms.
On DraftKings, you are selecting nine spots with a total of $50,000 to spend. FanDuel has nine spots with $60,000 to spend, so salaries are slightly higher.
DraftKings is full PPR scoring, while FanDuel is half-PPR.
DraftKings deducts one point for a fumble lost and an interception. FanDuel is minus two points for a lost fumble and minus one for an interception.
DraftKings awards three-point bonuses for 300-yard passing games, 100-yard rushing games, and 100-yard receiving games. FanDuel does not award bonuses.
With those differences in mind, let's look at which players make good selections in Week 9.
Quarterback
Joe Burrow (DK: $6,800, FD: $8,200) has at least 25 fantasy points in three of the last four games and should be closer to $7,800 on DK instead of $6,800 especially considering the game environment he is walking into. Both the Bengals and the Texans are projected to score at least 21 points in this game that projects to be a fast-paced shootout. Houston is ninth in the league in seconds per play which should mean plenty of drives for Burrow and company. He is dealing with some uncertainly with his wide receivers this week (more on that below), but he got it done by throwing touchdowns to guys like Drew Sample and Irv Smith Jr. last week.
Geno Smith (DK: $5,800, FD: $6,900) has seen his salary drop the past couple of weeks due to his own 4:6 touchdown-to-inception ratio and Seattle's lackluster offensive performances the last three games. But against Washington, a team that throws at the highest rate in the league, Geno's number is going to be called early and often to keep Seattle in this game. Washington is 31st in the league, allowing 11.5 passing yards per completion, so some long shots to D.K. Metcalf and Tyler Lockett are on the menu this week.
Brock Purdy (DK: $5,700, FD: $7,400) may have "real life" struggled recently, but for fantasy purposes, he has been mostly fine. He has over 20 fantasy points in three of his last five games, 15 in another, and just one dud thrown in there (nine points). Against Jacksonville this week, Purdy gets a team allowing 10.0 yards per completion to quarterbacks and is 20th in the league in passing touchdowns per game allowed. I think I prefer Geno Smith in this range, but Purdy can't do much damage to your roster at this salary on DK. He is not really in consideration for me on FanDuel.
Running Back
Christian McCaffrey (DK: $9,200, FD: $10,500) sees his salary drop on DK for doing nothing except not playing in Week 9. We know that McCaffrey is a shoo-in to score a touchdown, but what else is possible against Jacksonville and can he pay off a high salary? Well, Jacksonville has allowed the most receptions (60) and fourth-most receiving yards (395) to the position, but have actually gotten lucky to not allow a receiving touchdown to running backs this year. Overall, they allow almost 21 fantasy points per game to running backs and McCaffrey should have a heavy workload against them on Sunday.
Tony Pollard (DK: $7,300, FD: $7,800) is going to have an incredible game one of these weeks. I'm like 32% sure of it. If it doesn't happen this week at this salary and in this matchup, we can be pretty confident this is not a player to roster in DFS. The Giants are 29th in the NFL with 4.6 yards per rush allowed and they also have allowed the third-most rushing touchdowns on the season (10). Dallas is a 17-point favorite in this game, which should mean plenty of positive game script for Pollard to pile up stats.
Rachaad White (DK: $5,800, FD: $7,000) has seen his fantasy production increase in four straight weeks, culminating in a 28-point, two-touchdown game against the Texans in Week 9. He has seen at least 16 opportunities in five of his last six games including three straight with at least four catches and 40 receiving yards. Tennessee is tough against running backs, but with White at this salary, you are counting on volume and a small load of receptions to carry the fantasy freight.
Najee Harris (DK: $4,900, FD: $6,500) intrigues me now that his salary has bottomed-out at its lowest number of the year on DK and is even lower than Jaylen Warren. Harris is cheaper than guys like Kareem Hunt, Jerome Ford, Brian Robinson Jr., and Harris despite scoring 15, 11, and 15 fantasy points in his last three games. In Week 9, the volume was back to elite levels with 16 rush attempts and four targets. Now he faces Green Bay who rank 23rd with 123 rushing yards allowed per game. I'm likely not getting to Harris in this spot, but there are very few value running backs worth anything this week.
Wide Receiver
CeeDee Lamb (DK: $8,500, $FD: $8,900) was about $1,000 less than this on DK just two weeks ago, but after 76 total fantasy points the last two games (including 350 yards and two scores), he is starting to be on level with the top range of receivers. He certainly deserves it and now gets a porous New York Giants defense that he should have no problem shredding. Lamb's 38.5% target share in the last three weeks is the best in the NFL.
Tank Dell (DK: $5,500, FD: $6,400) absolutely smashed against the Buccaneers last week and is probably the biggest beneficiary of Robert Woods missing time in this Texans offense. Dell's 224 air yards was second in the league in Week 9, being beaten only by Lamb's 240. For as good as Cincinnati has been over the last five weeks, they can still be beaten through the air. The Bengals are 27th in the league, allowing 7.1 yards per pass attempt to opponents, a number that has moved to 8.1 yards over the last three games.
Marquise Brown (DK: $5,200, FD: $6,600) sees his salary fall the last two games after subpar performances with Josh Dobbs' farewell and Clayton Tune starting at quarterback. Now, Kyler Murray returns to the lineup, which should at least provide more accurate throws, if not more targets than Hollywood Brown has seen lately. Still, Brown has not seen fewer than seven targets since Week 1 and gets Atlanta this week. They are 28th in the NFL, allowing 1.9 passing touchdowns per contest.
We have to talk about Ja'Marr Chase (DK: $8,600, FD: $9,300), Tee Higgins ($6,500, $7,000), and Tyler Boyd ($4,600, $6,200) as well. On Thursday, it was deemed that Tee Higgins is unlikely to play for a few weeks due to a hamstring injury. Ja'Marr Chase is also dealing with a back injury, and the latest reports on Thursday night stated that there is "a chance" he plays. If just Higgins is out, Chase is the smash play of the week at his salary. If both are out, Boyd is the smash play of the decade at just $4,600 on DK. It's more of a decision on FD, but he is great play there as well. This is one of the best game environments of the slate against Houston and whichever way the injuries fall, we should be ready to adjust.
Tight End
T.J. Hockenson (DK: $5,000, FD: $6,600) unexplainably sees his salary go down on DK by $200 despite four straight games with at least 11 fantasy points and a matchup against the Saints who have allowed the most tight end touchdowns in the league (five). Hockenson's 23.5% target share leads all tight ends this year (even Kelce and Andrews) and he is just criminally underpriced on DK. He is dealing with a rib injury here, so check his status ahead of lock.
Dalton Schultz (DK: $4,900, FD: $6,100) looks a lot more like Travis Kelce out there for the Texans these days, and Week 9 was a smash game for the Schultz. In the last three weeks, Schultz is fifth among wide receivers with a 25.8% target share and it's now just under 20% on the season. The Bengals allow the most DK fantasy points to tight ends this season, including the fourth-most receiving yards.
Trey McBride (DK: $3,500, FD: $5,100) is back on our DFS radars with Kyler Murray in the lineup. McBride has four straight games with at least five targets and his salary dropped after last week's 5.2 fantasy points. So far, the Cardinals are fourth in the NFL in 2023 with 88 targets to the tight end position.
Defense/Special Teams
Dallas DST (DK: $4,400, FD: $5,200) is not normally a defense I would come remotely close to playing because of the $4,400 salary tag, but the Giants have been so abysmal on offense, they at least need to be in the conversation. The Giants are projected to score a horrific 11.25 points on Sunday, the lowest I can recall in the five years I have been writing about fantasy sports. In standard scoring the Giants have allowed 22, 16, and 12 points to defenses the last three games and the Cowboys dropped 39 on them in Week 1.
Arizona DST (DK: $2,500, FD: $3,700) will likely be the cheap route I go if I don't pay up for defense this week. They face the Falcons and Taylor Heinicke and the Cardinals should be able to put enough offensive pressure on Atlanta that could force then to turn to drop-backs at some point during the game. Atlanta is 25th in quarterback sack percentage allowed, with more than 8% of their drop-backs resulting in the quarterback going down.
Cash Game Sample Lineup
Using the players listed above, you could construct a roster that looks something like this. However, remember that this is just a suggested build and could change drastically by the time the games kick off on Sunday. You should come to your own conclusions and build a cash game roster that suits the players you prefer and your style of build. These are both lineup options that presume Chase and Higgins are out for Cincinnati, so they feature Tyler Boyd. Obviously this changes if one of those two players does suit up. I don't love a third of my DK and FD lineup being from the Cardinals, so this is definitely something I will be looking to change over the weekend.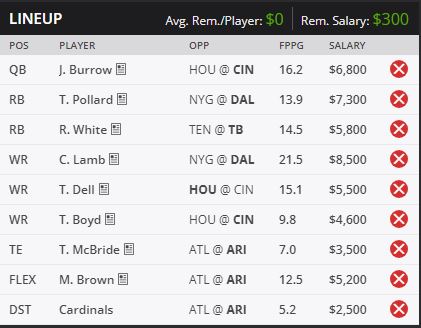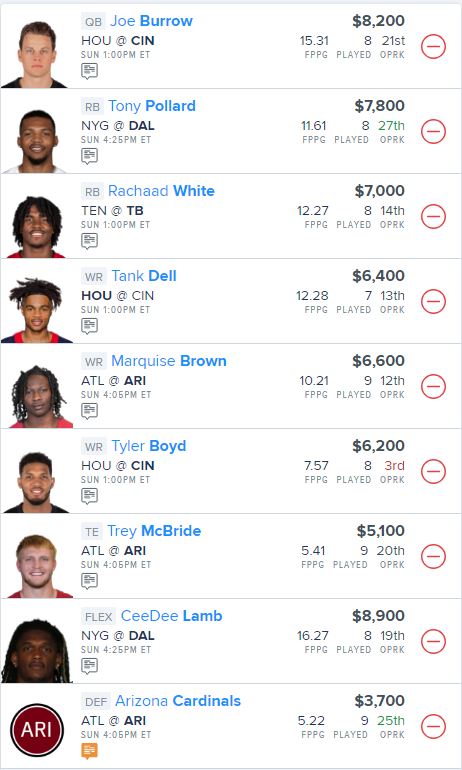 ---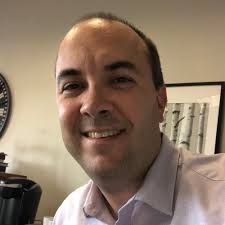 Ryan is a 20-year veteran of fantasy baseball, football, and basketball leagues. He has been writing about fantasy sports, sports betting, and DFS since 2018 and is a member of the FSWA and IBWAA. A native of Houston, he is a die-hard fan of the Astros, Rockets, and - reluctantly - the Texans. When he is not buried under sports analysis and TV show recaps, he works full-time in higher education and can be found pursuing his other passions: drinking coffee and writing about comic book investment and speculation.