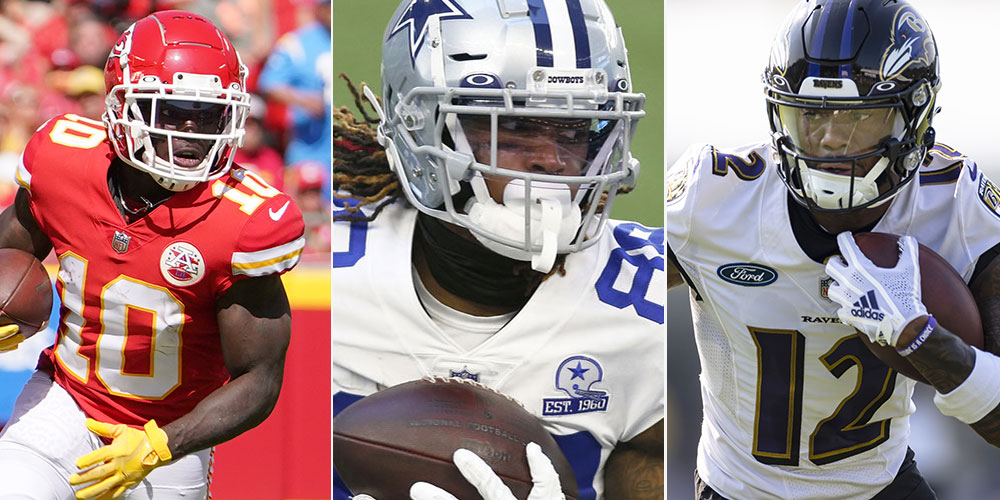 DraftKings Cash Game Core: Week 11
---
DFS Cash Game Tips
Week 11 brings us another quality slate of games led by the Cowboys at Chiefs in the late window. This game matches the Cardinals/Seahawks game for the latest start time of the week which makes it highly likely you're opponents will save some late swap roster spots for this game.
Quick Links
Quarterback
The Quarterback position has a lot of high-salary players this week and a case can be made for every one of them. The one I'd like to highlight in the $7000+ group would be Dak Prescott ($7200) as he is in the game with the highest Vegas total and his chances at 300+ yards and multiple TDs are among the top odds for the week. At least one of those TDs could come from rushing as his OL has the advantage against the Chiefs DL in both the rushing and passing game. Spagnuolo has called the sixth-highest blitz rate but has the lowest blitz-to-sack rate in the league. Dak should be able to stand tall and make good decisions with the ball, whether passing or taking off for a quick TD scamper. Josh Allen ($8100) also stands out based on his matchup with a defense that shuts down opposing run games and welcomes the pass and Buffalo is not much of a running team to begin with. Aside from the expensive QBs, there isn't much value on the slate. However, the value play that really jumps of the page is Cam Newton ($5100). His team wants to run the ball, which will lower his passing ceiling but raise his rushing floor. The Panthers were scheming up Green-Zone rushing plays for Sam Darnold early in the year and at one point he was the league leader in rushing TDs. What do we think Cam can do with those opportunities? The other guy that's interesting in the sub-$6k range is Derek Carr ($5900). Carr is a one-point home-dog in a game with a 50 point implied total. He is tied for second in deep throws this year, which takes a slight dent without Ruggs but the design of that offense is still going to take those shots with Bryan Edwards, Zay Jones, and now Desean Jackson.
Running Back
Christian McCaffrey ($8900) has worked his way back from his hamstring injury to the point he is back near a 60% snap rate and saw ten targets last week. He's being priced like he'll be back to his previous seasons' workload, which he might. His receiving ability is elite which keeps him in consideration for me every week, or at least until he's back to $10k. Joe Mixon ($7600) sets up well in his game against the Raiders who have allowed at least 133 yards rushing in 6 of their 9 games. The Bengals have the sixth-best Net Adjusted Line Yards score for the slate and Mixon is fresh off a bye week. A.J. Dillon ($6200) is stepping into a larger role with Aaron Jones on the shelf and he doesn't have anyone nearly as talented as he was behind Jones to compete with. James Conner ($6100) should remain heavily involved in any game script and with whoever lines up at QB for the Cardinals. Conner may not be as likely to score another 40 points in this game but his stat line should resemble that 49ers game more than last week's drubbing by the Panthers.
Myles Gaskin ($5700) is interesting this week. His snap rates over the past three weeks with TD vulture Malcolm Brown out are 58%, 72%, and 61%. Gaskin has been an every other week play, if we look at his weekly scoring, and he's more fantasy points on the road than at home. He's probably better for Single Entry or 3-Max contests but remains intriguing for Cash. Should the Chiefs keep CEH off the field for one more week (bye is next week) then I'll definitely have interest in Darrell Williams ($5400) in that Cowboys/Chiefs potential shootout. Williams showed his receiving chops last week and faces a similar "catch and run" defense where he could be an important piece in the passing game. Nyheim Hines ($4300) is a thin play for cash and may be thin for SE/3-Max but I want to mention him because of his game environment. The Bills secondary is terrific and has forced opponents into the fourth-shallowest aDOT and fewest Air Yards per game, and Buffalo is #1 in pressure rate. This sets a game where Jonathan Taylor and Hines will be relied on out of the backfield as receivers. Hines has a slight edge on Taylor for targets this year and could easily pay off his modest salary with just 4 catches for 40 yards and a TD. He'll help squeeze in some extra firepower elsewhere, especially if saving salary for the late swap.
Wide Receiver
Instead of looking at just individual plays at WR, I want to highlight a few game environments worth keeping in mind and seeing where salary lands while you're building rosters this week. That Cowboys/Chiefs game is the top environment on the slate and I am leaning toward Tyreek Hill ($8200) as a locked-in play. His big games come in these types of environments where both teams can put up points. CeeDee Lamb ($7600) is my preferred play on the Cowboys side but I am fine with Amari Cooper ($6200), too. The Packers/Vikings game offers three high-upside WRs to choose from. These teams combined for 77 then 50 points in their two games last year providing plenty of TD equity available should those totals continue. I also love the reduced prices of the Cardinals/Seahawks WRs and will be looking at that group when building rosters this week.
With or without playing Josh Allen I will have a high degree of interest in his pass-catchers. Stefon Diggs ($7900) is seeing a target on 25% of his routes for 9.3 targets per game and is starting to show some of the big-play ability we've been waiting for with him. He's a fine play but Emmanuel Sanders ($5300) is also a solid play that has just as much big-play ability and has been pretty quiet lately while Diggs is coming off his biggest game of the season. Depending on how we want to allocate salary, both will be in play for me. A.J. Brown ($7700) seems likely to bounce back after last week's dud. Houston is tied with Tennessee for third-most points allowed to Outside Wide Receivers (OWR) on the main slate. Rashod Bateman ($4500) is a great bargain play this week. He's been targeted 8 times in each of the last two games and has 50 yards in each of the last three. Albert Wilson ($3100) seems to be getting more involved in the Dolphins offense and gives us a near-minimum salary option to add flexibility elsewhere.
Tight End
Travis Kelce ($7100) is a near-lock for me this week as well as Tyreek. The Cowboys defense has allowed the fourth-highest Yards After Catch per game, an area Kelce can exploit. Staying with the same game, Dalton Schultz ($4600) is taking on a Chiefs defense that is doing a good job at limiting WRs and is forcing the third-most passes into the RB and TE positions. C.J. Uzomah ($3500) faces a Raiders defense that has allowed 17.9 PPR points (second-most) and 9.6 targets per game (also second-most) to TEs this year.
Defense/Special Teams
The Bills DST ($3200) is at a discount compared to the last two weeks as they face one of the better teams they'll see this year. The Colts just don't have enough firepower if the Bills can shut down Jonathan Taylor, which could lead to low points against and force Carson Wentz into some bad throws or sacks. The Browns DST ($3100) is also in a great spot to benefit from their defensive line's advantage over the Lions offensive line. The Panthers DST continues to be a solid choice for the salary. The Jaguars ($2300) might be my favorite from the cheap group. They have played the Bills and then the Colts pretty tough the past two weeks and the 49ers are coming off a big MNF win against a rival they put a lot of energy and heart into beating. The offense could be due for a letdown in this cross-country travel game.
Cash Game Core
Using the players listed above, you could construct something along these lines. However, keep in mind, I am not advising using this build. You should come to your own conclusions and build a roster you are most comfortable with for your style of play.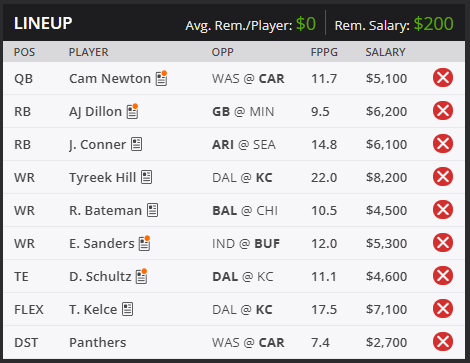 STAY IN TOUCH
Sign up for FantasyData's newsletter and get awesome content sent to your inbox.
We'll never share your email address and you can opt out at any time, we promise.
---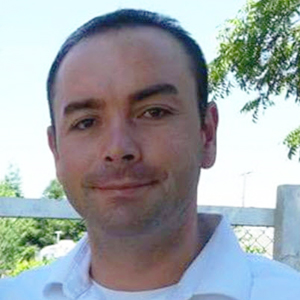 NorCal native Jesse Jones has been obsessed with fantasy football since first joining and winning a league in 1994. Always looking for an edge, Jess has been ahead of the curve mining data and building customized spreadsheet rankings and projections while others showed up to draft day asking for a pencil and a cheat sheet. Avid DFS, Best Ball and Re-Draft player that dabbles lightly in Dynasty. When not geeking out on Fantasy Football, Jess can be found hiking, kayaking, swimming, playing tabletop games, cooking, trading equities, listening to good tunes and/or enjoying a craft brew or two.