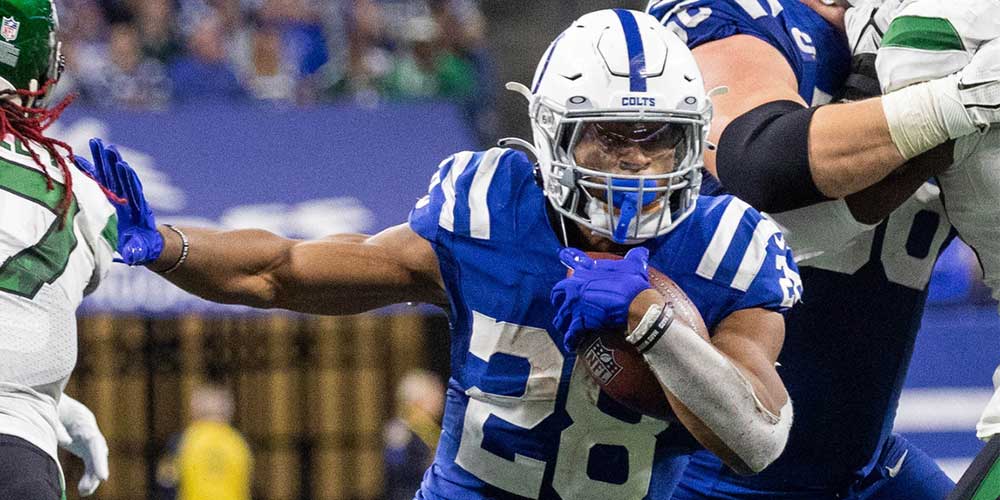 NFL DraftKings Picks Week 11
---
NFL DraftKings Picks
Week 11 is upon us already and we have just two teams on a bye. The Denver Broncos and Los Angeles Rams have some extra time off to right the ship this week. We will be missing the top-scoring receiver in Cooper Kupp as an option this week and potentially some other players due to COVID. There are also some injury situations to monitor as per usual and as always, be sure to check the inactive lists and follow the breaking injury news. It can often result in a "free square" for your lineup. Each week Fantasy Data will bring you 20 players that we like for the DraftKings Sunday main slate. Let us get right to it.
Studs to Splurge For
Here we will highlight two players at each position that are in the top-five of their respective position and are deemed worthy of "paying up" for in your lineup. Please note these players will likely be highly owned so if you are looking to differentiate, you will want to pull more players from the next two sections.
Quick Links
Quarterbacks
Lamar Jackson | $8000 | BAL @ CHI
It is always a good strategy to target studs coming off a bad performance. Lamar Jackson was surprisingly stymied by the Miami Dolphins on Thursday Night Football in Week 10. It was only the second time on the season that the start quarterback failed to reach 20 or more DK points. On deck is a Chicago Bears team that has been struggling on defense since Khalil Mack went down with an injury in Week 7. In fact, the Bears have allowed the third-most points to the position over the past four weeks (22.6). Look for the Ravens' offense to get back on track in this one.
Patrick Mahomes | $7600 | DAL @ KC
He's back! After a stretch of three straight sub-par games, Patrick Mahomes torched the Las Vegas Raiders for 406 yards and five touchdowns, good for 39.24 points. Mahomes is still averaging 24.6 points per game despite the bad stretch, good for third-best on the slate. The game against the Dallas Cowboys has a total of 55.5, which is insanely high. Look for lots of fireworks in this one and a good place to start is with the signal-caller for the Kansas City Chiefs.
Running Backs
Jonathan Taylor | $8300 | IND @ BUF
The matchup is not ideal for Jonathan Taylor, but how can we not roster him at this point? Taylor is the second most expensive back on the slate behind just Christian McCaffrey. How he is not the most expensive at this point is beyond us. The Buffalo Bills have allowed the least number of points to the position thus far, but keep in mind, outside of Derrick Henry and Najee Harris, they have not faced what we would call a good running back. Oh, and Derrick Henry put up 35.6 DK points against them in Week 6 so do not let the matchup steer you away from JT. The matchup should drive the ownership down and benefit those with the courage to pull the trigger on him in Week 11.
Nick Chubb | $7800 | DET @ CLE
Nick Chubb should be back from a brief absence from Covid. On tap is a Detroit Lions team that allows the third-most points to running backs, with 28.9 allowed per game. While D'Ernest Johnson has done well in his absence, it is Chubb's show in Cleveland. Kareem Hunt will not return this week either. Keep in mind that Baker Mayfield is banged up and head coach Kevin Stefanski will likely want to be conservative with his starting quarterback. The price is right as it is the fifth-highest of the bunch and the stud running back averages the fifth-most points. In his last performance before coming down with the virus, Chubb put up 33.3 DK points on the division rival Cincinnati Bengals.
Wide Receiver
Davante Adams | $8400 | GB @ MIN
Davante Adams has produced double-digit points in every game played this season. The veteran wideout is a model of consistency. However, Adams has not put up 20 or more points throughout the past four games. Covid hit both him and his quarterback over the past few weeks. Look for them to get back on track in Week 11 against a Minnesota Vikings team that allows 38.4 DK points per game to wide receivers. This is seventh-worst in the league. There is history here as well as they are division rivals. In the two games played versus Minnesota in 2020, all Adams did was put up 41.6 and 30.3 DK points. This is a prime bounce-back spot for the Green Bay offense.
Stefon Diggs | $7900 |IND @ BUF
After a slow start, Stefon Diggs has put together a string of solid performances and put up over 20 points in three of his last six. The Indianapolis Colts invade Bills Mafia country, and this game has a total of 49.5. The Colts rank 25th against the position and just had a tough time putting away the Jacksonville Jaguars in Week 10. Meanwhile, the Bills got back on track and put up 45 points against the New York Jets. It appears if Allen and Diggs have their 2020 mojo back. Take advantage of a good matchup and find a spot for Diggs in your lineup.
Tight End
Travis Kelce | $7100 | DAL @ KC
As Patrick Mahomes has struggled lately, so had his stud tight end Travis Kelce. As mentioned earlier, Mahomes is back, and he brought his favorite target with him. Kelce posted 22.9 DK points despite not finding the end zone. On the season, the veteran is averaging 1.5 points more (17.5) than the next highest tight end on the slate in Mark Andrews (16.0) and nearly four more points than the next in line, George Kittle (13.8). This is certainly a spot we want to consider paying up for the position differential. The total sits at 55.5 as noted earlier and the Dallas Cowboys are 23rd against the position. A Mahomes/Kelce stack is for under $15k is a nice start to a lineup in Week 11.
George Kittle | $6300 | SF @ JAX
Another tight end that has bounced back the past couple of weeks is George Kittle. Since missing Week 5 to Week 8 due to injury, Kittle has put up 24.1 and 16.0 points respectively. The Jacksonville Jaguars have played better the past two weeks, beating the Buffalo Bills in Week 9 and taking the Indianapolis Colts to the wire in Week 10. That being said, they rank 24th against the position, and Kittle will be heavily involved in this one. In the two games back, he has seen seven and eight targets. Look for that trend to continue in Week 11.
Sleepers to Separate From the Pack
Up next we give you some players to help differentiate your lineup from the masses and give you the edge you need to compete in some of the bigger tournaments. Just like the section above, we highlight two players at each position except now instead of studs, you get players that are expected to be less than 10% owned on the main slate.
Quarterbacks
Josh Allen | $8100 | IND @ BUF
We will not blame you if you want to pair Josh Allen with the earlier covered Stefon Diggs. The Bills have the second-highest implied point total on the board and are at home. The Indianapolis Colts give up the fifth most DK points to quarterbacks (20.5) and even gave up 25.5 points to Josh Johnson in Week 9. The versatile quarterback got back into the twenties in Week 10 and has a good chance to approach 30 points. His lone game against the Colts came in the 2020 Wild Card round and Allen put up 32.4 DK points.
Joe Burrow | $6600 | CIN @ LV
We made a note in the open that it is wise to play studs coming off bad performances. We have another situation just like that of Lamar Jackson here with Joe Burrow. The second-year quarterback had his worst outing of the season, and it was the first game that the LSU grad did not throw for at least two touchdowns. The Las Vegas Raiders just got shredded by Patrick Mahomes and the Chiefs at home in Week 10. The sledding does not get any easier here. Cincinnati is coming off a bye and had almost a full two weeks to prepare for this one and stew over their bad performance against the division-rival Browns. Look for them to come out hot and get back on track in Week 11.
Running Backs
James Robinson | $6400 | SF @ JAX
The recent injury and matchup are probably driving the ownership down on James Robinson this week. The UDFA came back in Week 10 and did not miss a beat, putting up 18.4 points which are a little less than two points more than his season average. Robinson has been steady all season long and had a three-game stretch of 20 plus points before the foot injury held him out of Week 9. The San Francisco 49ers are good, not great, against the run and surrendering 23.8 points per contest. In Week 9, James Connor lit them up for 40.3 points, so they are certainly not scary enough to make us fade Robinson.
Antonio Gibson | $5900 | WAS @ CAR
We have another tough matchup here for Antonio Gibson. That did not seem to matter in Week 10 against the Tampa Bay Buccaneers. Gibson managed to score twice en route to 21.8 DK points. Gibson may finally be fully healed from the shin injury that has plagued him most of the season. The Week 9 bye may have been just what the doctor ordered. The Carolina Panthers did just give up 15.4 points to James Connor in Week 10 and Rhamondre Stevenson scored 12.6 the week before that. They can be had and with Ron Rivera heading back to Carolina, look for his team to be extra motivated in Week 11.
Wide Receiver
Devonta Smith |$6400 | NO @ PHI
Rookie Devonta Smith and Jalen Hurts seem to be gelling as of late. Smith has put up consecutive 20 plus point games (25.6 and 22.6) and now faces a New Orleans Saints team that ranks 28th against the position. The rookie from Alabama has produced these solid numbers despite seeing just six targets in each of the past two contests. The speedster is averaging 6.8 targets per game for the season and has four touchdowns to his credit. The past two games could be the start of things to come and exactly what Eagles management had in mind when building this squad. Make sure you are along for the ride while there is still room.
Darnell Mooney | $5200 | BAL @ CHI
The growth and development of rookie Justin Fields have had a positive impact on Darnell Mooney. The second-year wideout has seen 28 targets over the past four games and is coming off a 20.6 point performance against the Pittsburgh Steelers in Week 9 before the Bears had their bye. Chicago has another matchup versus the AFC North as the Baltimore Ravens come to town. They bring with them a defense that just allowed 10 or more points to three receivers from the Miami Dolphins. Even Isaiah Ford, a career practice team player scored 12.4 against them. Look for Mooney to be a favorite target yet again and keep an eye on Allen Robinson. He missed practice on Wednesday and Thursday. If he is out, this becomes almost a must-play scenario.
Tight End
Dawson Knox | $4000 | IND @ BUF
Dawson Knox returned from injury in Week 10 to the tune of one catch for just 17 yards. In three of the four games before the injury, the bromance was in full blossom between the tight end and Josh Allen. Knox put up 20 or more points in Week 4 and Week 5 and even put up 7.5 points in Week 6 against the Tennessee Titans while breaking said hand. We have already mentioned how high the total is in this one and how much we like targeting players here. The Colts are 27th against the tight ends this season and if you want a cheap alternative to Stefon Diggs, then the Mississippi grad is your guy.
Mark Andrews | $6000 | BAL @ CHI
Mark Andrews has scored more DraftKings points than any other tight end not named Travis Kelce. If you want a $1,100 discount but a tougher matchup in Week 11, then pivoting to Andrews is an option. The veteran is coming off a solid 18.3 point performance against the Miami Dolphins in a game where all other skill position players struggled to get going. Andrews has also been hit double-digit points in eight of 10 games so there is a bit of a high floor here. Also, rookie Pat Freiermuth just had his way with this same Bears defense, putting up 21.3 against them in Week 9. If Khalil Mack misses another one here, it becomes an even more enticing play.
Fantasy Data Favorites
In this section, we will give you one play from each position for the week that we like the most. This will be a player that likely will give you a high upside at a lower cost than their counterparts and also come with a low ownership projection. Here you go!
Quarterback
Dak Prescott | $6900 | DAL @ KC
Welcome to the Dallas Cowboys-themed edition of Fantasy Data Favorites. It has been discussed repeatedly that this game has a total of 55.5 and you would be wise to roster several players here. Dak is a cheaper option than Patrick Mahomes and even though it has not shown in the stats yet, has more rushing upside here. The Chiefs rank 31st against the position and the only team worse is the Minnesota Vikings (play Aaron Rodgers also if you would like). Kanas City has been a little better the past few weeks but keep in mind that was against Jordan Love and Taylor Heinicke. Dak should have no issues hitting and exceeding value in this one.
Running Back
Ezekiel Elliott | $7700 | DAL @ KC
The second piece to this week's stack is Ezekiel Elliott. Zeke put up a solid 21.76 DK points in Week 10 against the Atlanta Falcons and should find similar success in Week 11 against KC. The veteran running back has hit double figures every game since Week 1 and the Chiefs are allowing 23.1 points per game to the position. Tony Pollard remains a factor between the '20s but last week spoke loud and clear about who the goal line back is in Big D. The Cowboys will have ample red zone opportunities in this one and look for Elliott to cash in on at least one of those.
Wide Receiver
CeeDee Lamb | $7600 | DAL @ KC
The final piece to the new "big three" is CeeDee Lamb. Michael Gallup is back and allowed Lamb to move back into the slot where he is impossible to contain. The second-year wideout broke out for 28.6 points in Week 10, catching six of seven targets for 94 yards and two touchdowns. The explosive receiver has been over 20 in three of his last four, including 39.1 against the New England Patriots in Week 6. Meanwhile, KC is allowing 33.3 points per game to the position, and players such as Emmanuel Sanders (20.4) and Jarvis Landry (19.4) have found success against them. The trio of "stars" cost you a hefty $22,200 but could pay off handsomely for you in a GPP.
Tight End
Mike Gesicki | $5200 | MIA @ NYJ
How many guesses would it have taken you to get to Mike Gesicki as the third-highest scoring tight end on DK? Perhaps even more impressive is the fact that the Penn State alum has done so scoring just two touchdowns on the season. Since seeing only three targets in Week 1 against the New England Patriots, Gesicki has had 67 over the next nine contests, good for an average of 7.44 per. Tua is back as well and the duo has established quite a chemistry. The Jets rank 22nd against the position and are a mess, again. This is a chance to grab a low-owned player that can do some damage in Week 11. Get on board.
Summing It All Up
As we all know, football is unpredictable, we make these picks using the data available to us at fantasydata.com and try to help our readers make educated, thoughtful decisions when creating their DK lineup. If you find this helpful or have any comments, be sure to notate them below. Thank you for reading.
STAY IN TOUCH
Sign up for FantasyData's newsletter and get awesome content sent to your inbox.
We'll never share your email address and you can opt out at any time, we promise.
---
Jeff Smith has been playing fantasy sports (football and baseball) for nearly 20 years. Jeff is a member of the FSWA and a Senior Writer at DLF. Despite growing up in Buffalo Bills country, he is an avid Chicago Bears fan. It was Walter Payton that did it. When not writing or researching fantasy sports or playing DFS, Jeff enjoys spending time with his wife and their Bichon Poo, Daisy. He also likes video games, craft beer, and recently became the owner of his own business.