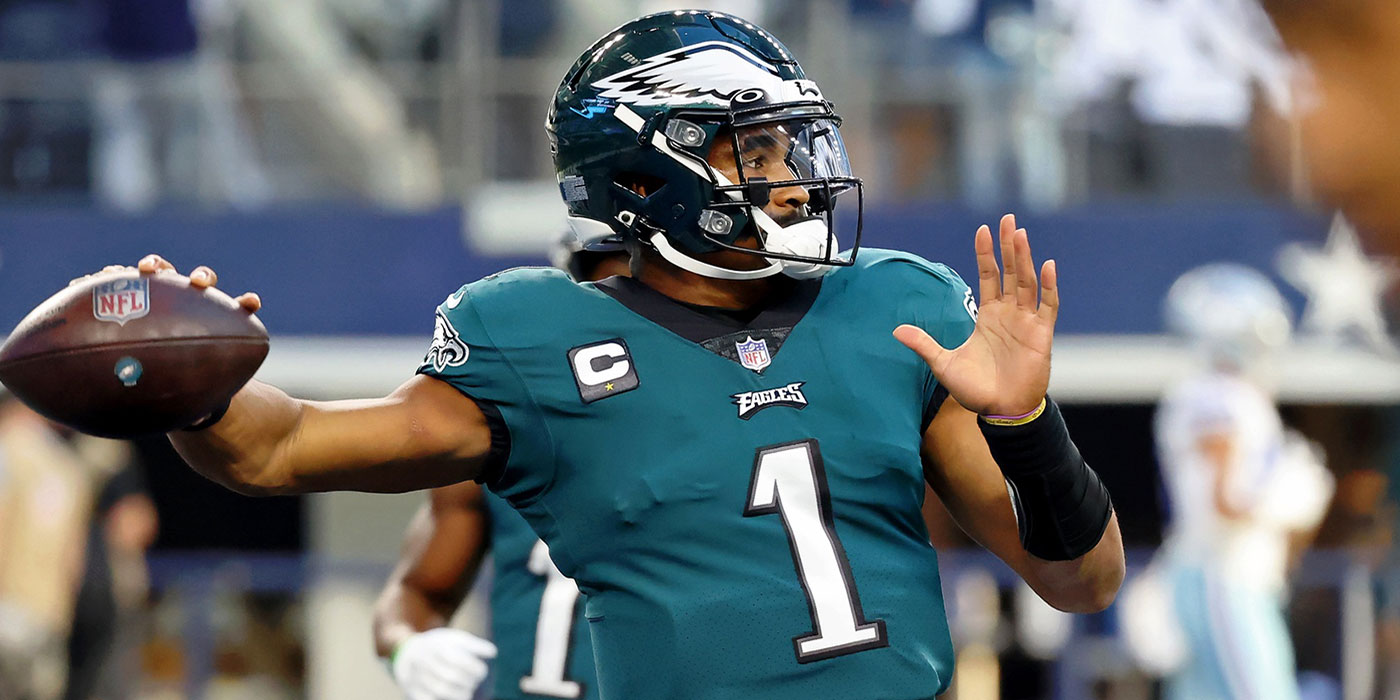 DraftKings Cash Game Core: Week 16
---
DraftKings Cash Game Core
It's hard to believe we're already in Week 16. This would be the week most season-long leagues would be playing their Super Bowl but now there are still 3 weeks left of NFL football, counting this week. The main slate looks better than it has for the past two weeks but Covid is still changing rosters daily. This article is written on Thursdays and I do my best to get back to it before Sunday's games if anything occurs that significantly changes what we should be doing for the week. That being said, let's have a look at what we can do with what we've got right now for DFS in Week 16.
Quick Links
Quarterback
Right off the bat, I see that DK wants to give us Jalen Hurts ($6400) for the lowest salary he has been since Week 1. He's a lock for me in Cash Games with his massive rushing TD equity. Hurts has run in 10 touchdowns over 13 games (most in the league for QBs) while piling up 733 rushing yards (second behind Jackson). The salary to floor/ceiling ratio on Hurts makes it hard to look for another play. However, we should have a couple of other players on speed dial just in case the ankle didn't get enough rest after playing a Tuesday night game, and because we can never be too sure who will or won't hit the Covid list. In this case, I'll take the leading rushing yardage QB in the league with Lamar Jackson ($6900). Jackson has had some monster games rushing against the Bengals over the years and several multi-TD games. This is one of my favorite game environments to target this week with so much on the line for both sides. Whoever wins this game controls their destiny for the AFC North crown. If Jackson is not ready to go, then I'm going right back to the well with Tyler Huntley ($6000). He did me (and many others) well last week and he's in another high-stakes game here. Here are the notes I wrote for myself for a podcast I'm on each week that explain how well Huntley is playing:
"Huntley is getting the ball out on schedule within the offense. He's trusting what he's seeing and letting it go. Most of his passes are shorter than what Jackson was doing but the Ravens drives are more successful. Last week's drives went: Downs, TD, TD, Punt, End of Half (no time), FG, Downs, TD, TD. The week before their drives that Huntley started and finished went: Punt, FG, Huntley Fumble, FG, Huntley Fumble, FG, TD, Punt, TD, Downs (final possession trying to win the game). That's a score on 10 of 18 drives with Huntley, and they're showing aggression to go for it on 4th downs and 2pt conversions."
In addition to this, Huntley has completed over 70% of his passes over the past three weeks of extended playing time. He's run for 40, 45, and 73 yards. He's the only QB I would consider going to if my decision comes down to Hurts or Huntley, and only because it can save the extra $400 if we need it. Now, if we're looking for a deeper discount at QB we can consider Zach Wilson ($5300) against the Jaguars awful secondary that just lost two starters this past week. Wilson has also been scrambling around and scoring rushing touchdowns, too. He's run in three scores over the past four weeks.
Running Back
The top RB play of the slate is currently on the Covid list so we'll have to wait and see if he can test out before Sunday. If he does, Austin Ekeler ($8100) will face a defense that has allowed 145 rushing yards per game with a spike to 179.3 yards over their last three games. This is the defense Rashad Penny emerged from his grave to run for 137-yards against and Jonathan Taylor hit 143-yards the week before that. If Ekeler cannot test out, then we get a free square with Justin Jackson ($4200), who should assume the lead-back role but will concede some work to Joshua Kelley and maybe even Larry Roundtree but should still be able to produce a fantastic price-considered score. I'm going to write up James Robinson ($5900) here because he is also in an incredibly favorable matchup. However, he was in the top matchup last week and was over 50% owned in some of the contests I played (I was below the field at 15% on him) and he didn't smash. I felt Robinson was a fragile play last week and it is my opinion that his injuries (along with poor OL play) have been what's hurting his production. That said, we get a new play-caller for the Jags this week and it's possible he's another week healthier so I am still going to consider him in my player pool this week because this matchup is so ripe. The Jets have allowed the most DK points to RBs this year and have allowed 141.9 rushing yards per game on the year and 190.3 yards over their last three. Only the Patriots have allowed more rushing yards in the last three games.
The Chargers and Jaguars have the best on-paper "good player in a great matchup" plays but we need to identify a few other plays to keep handy should we need them. David Montgomery ($5700) has one of the best price-considered floor/ceiling combos for the slate. Seattle has allowed the second-most DK Points to RBs this year and Montgomery has become a key piece in the Bears passing game of late seeing 6, 7, and 9 targets over his last three games. No defense has allowed more receiving points to RBs this year than the Seahawks, who are also allowing the third-most targets to the RB position. Najee Harris ($7400) is a bit pricey for what his role has been lately but he's worth a look this week (maybe more so in GPP play) because of the way the Chiefs defense plays. The Chiefs are great at taking away their opponent's WRs and forcing teams to dump off to the RB. This has led to 7.9 targets per game to the RB position and 13.1 PPR points scored through receiving for RBs.
From here we start our value-quest. A name that seems likely to get chalky this week is Ronald Jones ($5100). I'm not sure his floor is safe enough for cash but he's on my radar. My concern is that Jones does not have the same level of trust built with Brady that Fournette has and he will not be used as a safety valve in the passing game the way Brady went to Fournette. Without a solid target floor to rely on, we're now hoping for the 100-yard bonus and touchdowns. In my view, this is going to be an "Angry Tom" game after he was embarrassed by the Saints last week. If we see Tom throwing a lot in this game, it's taking away from RoJo's potential rush attempts. I could be off on this, but this is my interpretation of that game as of now. We'll see what Brady has to work with at WR when we get final news on Evans and Brown. Jamaal Williams ($5000) is one to keep in mind but news about which QB is starting and whether Swift will be back will affect this choice. Best case scenario is Swift misses this game and Goff starts so there is a semblance of a passing game to keep the Falcons defense from cheating up to stop the run. Swift being out will allow Williams to take on the passing game role while splitting some carries with Craig Reynolds. The passing game role could be thin though, so this is one to continue to think through as news pours in. On the other side of this game is Cordarrelle Patterson ($6700), who is now looking over-priced with his workload being scaled back lately. However, the Lions are one of the teams we should consider starting RBs against as they continue to welcome the run but not so many RB targets. That could mean Mike Davis ($4900) could be in line for a decent game if the Falcons choose to forgo the pass and pound the rock all game. In that scenario, both C-Patt and Davis could produce but only one of them may produce a decent price-considered score in that environment, which might mean Davis is the better value play. One value play that is floating around my peripherals is Ameer Abdullah ($4500). The Panthers offense is depleted of weapons, especially if D.J. Moore can't go, and the way to attack the Bucs defense has been through RBs as receivers and to the TEs. Well, the Panthers TE room is non-playable for fantasy football, which leaves the pass-catching RB - Abdullah. He's in consideration if you're trying to cramp in a bunch of the elite WRs and TEs that are available on this slate.
Wide Receiver
Compared to some of the slates we've had recently, this slate has a bunch of high-end WR options to work with, starting with Cooper Kupp ($9100). Kupp and Stafford have been an unstoppable force this year and the Vikings don't have the corners to change that this week. This game should force aggression from both sides and with Dalvin Cook now on the Covid list it could force more passes from the Vikings than they may have been planning for (that and they are likely to be playing from behind). Justin Jefferson ($8100) is likely to draw Jalen Ramsey as a shadow, or the Rams can use Ramsey to alternate between Jefferson and Adam Thielen (6900) depending on the alignment by the Vikings offense. Either way, Jefferson has the raw talent to beat anyone in coverage, it'll just be a matter of whether Cousins feels he can throw it. Both of these receivers are in play this week, as are Kupp's complementary pieces Odell Beckham ($5300) and Van Jefferson ($5500). This could be one of the top passing game environments of the slate.
The Chiefs have some important players on the Covid list as of writing and we'll want to make plans to take advantage of it, whichever way that scenario plays out. We'll want to consider Tyreek Hill ($8400) and Travis Kelce (sorry, a TE has already entered the chat) if they're available. But, what if they're not? Are there any Chiefs WRs we can trust in this spot? Maybe not but it's probably worth considering taking a flyer on one of these guys because of how cheap they are. This is the order I am "prioritizing" them if I'm going here: Byron Pringle ($3300), Josh Gordon ($3100), Demarcus Robinson ($3000), Mecole Hardman ($3500). It seems Mahomes has more chemistry with Pringle and Robinson than he does with Hardman and Josh Gordon is the most likely deep threat (higher-upside) option.
The Buccaneers are another team to keep an eye on this week. They lost Chris Godwin for the year last week and have Mike Evans ($7000) looking very questionable for this week with a hamstring injury. I have no interest in Evans if he plays but would like the Bucs offense as a whole better if he does. He might be enough of a threat to draw Stephon Gilmore away from the other WRs, mainly Antonio Brown ($4900). Brown may be spared from Gilmore's coverage even if Evans is out since they can have Brown play the slot with Tyler Johnson ($3900) and Breshad Perriman ($4200) on the outsides. However, we should note that Johnson seemed to be the one who moved into the slot to pick up Godwin's reps last week. The Bucs could also go with more double-TE sets, especially if Evans is out and Perriman can't test out of the Covid protocol. My thoughts on how to approach this situation would be to have "Brady's guys" (AB and Gronk) in our lineups for cash games and consider Johnson and Perriman for GPPs.
The Bengals WRs are going to be toward the top of my player pool this week due to their matchup. The Ravens have allowed the fewest rush yards and fewest Adjusted Line Yards (a Football Outsider's metric) per game. Cincinnati has a mediocre run game but will use it to keep the clock moving. The way I see it, the Bengals are more likely to throw 35-40 times than run it 25-30. Plus, the Ravens secondary has 2 CBs and 2 safeties on the C19 list and Tavon Young has a concussion. We've already seen Joe Burrow shred a healthier version of this secondary in Week 7 for 416 passing yards and three TDs. Now, two of those TDs went to TE C.J. Ozomah but the secondary issues may open it up more for Ja'Marr Chase ($7100) and/or Tee Higgins ($6200) to pop for a nice game.
The value plays at WR this week may come from the Texans, Jaguars, Bills, and Chiefs (as previously mentioned). The Texans need Brandin Cooks ($6300) to clear the Covid protocol. If he doesn't, look for Nico Collins ($3400) and Philip Dorsett ($3000) to play major roles. Laquon Treadwell ($3500) seems to be the Jaguars WR1 heading down the stretch. The Patriots are very tough against the pass so the Bills WRs may be better suited for GPPs but Gabriel Davis ($4700) as the WR2 with J.C. Jackson likely to limit Stefon Diggs' production (and assuming Sanders is still out) and Isaiah McKenzie ($3000) in the slot are very interesting at their salaries. Other WRs I am looking at are Russell Gage ($5900) and Amon-Ra St Brown ($5600) who are both underpriced for their current roles. St Brown could be affected by Swift if he plays, as Swift could steal some short-area targets.
Tight End
We have three monster TEs to choose from this week and I am most likely to pay up for one of them to lock in the point advantage they should provide over the rest of the TE pool. Travis Kelce ($7300) needs to clear protocol and if Hill does as well, he should be one of the top three TEs for the slate. Mark Andrews ($7000) has been Tyler Huntley's go-to guy in his two starts. However, my favorite TE of the slate is Rob Gronkowski ($6200) playing with an Angry Tom who is likely to heavily target "his guys". The Panthers are one of the toughest matchups for TEs by DK Points but I'm willing to play Gronk in this spot based on the projected volume he should see. In the bargain bin for the TE position, we can find guys like James O'Shaughnessy ($3200), C.J. Uzomah ($3000), Cameron Brate ($2500), Brevin Jordan ($2500), and Brock Wright ($2500).
Defense/Special Teams
Due to the lack of weaponry on the Panthers, I will look to get up to the Bucs DST ($4100) when I can. More than likely, I am going to be looking in the mid-to-low range for a defense this week based on what I want to do at the other positions. That leaves the Seahawks DST ($3000) or the Bears DST ($2500) as two of my favorite options in those price areas.
Cash Game Core
Using the players listed above, you could construct something along these lines. However, keep in mind, I am not advising using this build. You should come to your own conclusions and build a roster you are most comfortable with for your style of play.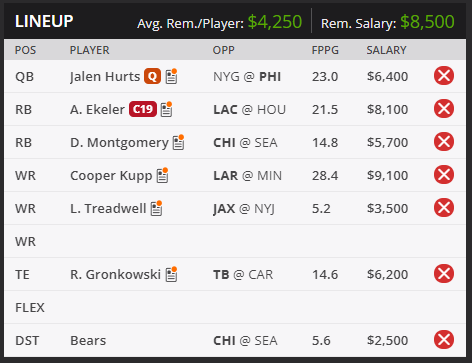 STAY IN TOUCH
Sign up for FantasyData's newsletter and get awesome content sent to your inbox.
We'll never share your email address and you can opt out at any time, we promise.
---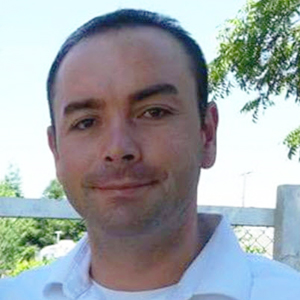 NorCal native Jesse Jones has been obsessed with fantasy football since first joining and winning a league in 1994. Always looking for an edge, Jess has been ahead of the curve mining data and building customized spreadsheet rankings and projections while others showed up to draft day asking for a pencil and a cheat sheet. Avid DFS, Best Ball and Re-Draft player that dabbles lightly in Dynasty. When not geeking out on Fantasy Football, Jess can be found hiking, kayaking, swimming, playing tabletop games, cooking, trading equities, listening to good tunes and/or enjoying a craft brew or two.