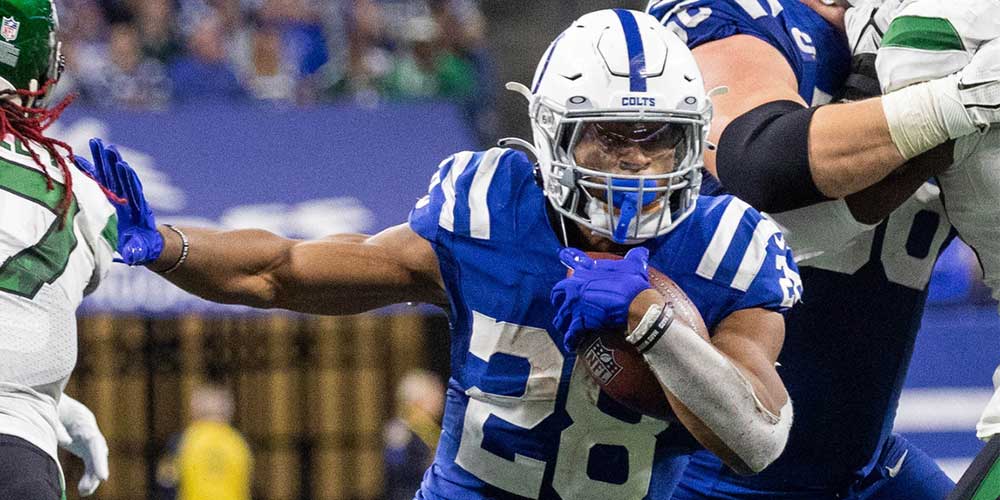 DraftKings Cash Game Core: Week 17
---
DraftKings Cash Game Core
Week 17 will be the biggest main slate we've had since early in the year (before the bye weeks) which will give us a lot more options to work with. Of course, this late in the year we need to consider team/player motivation and the Covid-19 list is still creating a fluid situation on rosters that we'll need to keep up to date on until the games start. That said, let's take a look at what we can do to create a solid pool of players to work with for Cash Games and Single Entry, 3-Max, and small field GPPs.
Quarterback
Jalen Hurts ($6600) was my top pick in this column last week but as value opened up on the slate I ended up trying to get to the more expensive RBs and WRs and paid down at QB in my two lines and didn't end up with any Hurts. Hurts is again in my early week player pool as there is motivation on both sides of this game to push him to put up the box score we need from him. Aside from his struggles with the Giants, Hurts continues to show tremendous floor and isn't priced correctly for his ceiling. Hurts has multiple rushing TD upside making him easy to play without a stacking partner or correlation from the other team. Patrick Mahomes ($7800) is out of his mid-season slump and takes on a defense that has allowed the third-most pass attempts in the league. The Chiefs have attempted the 2nd most passes which gives us the player with the most projected pass attempts for the slate. The Chiefs at Bengals game should be the highest-scoring game of the slate (Vegas think so, too) giving us the type of game environment we want to target.
If we're looking to pay down at QB this week, then we usually want to find the highest rushing upside at the lowest salary possible. That would point to Trey Lance ($4800) who's team is still fighting for their spot in the playoffs against a defense that has allowed the second-most rushing yards and second-most rushing TDs this season. In Lance's two starts, he's carried the ball 7 and 16 times and scored 20 and 15 points. If that's his median projected range of outcomes for this week, then he's a shoo-in for 3-4x his salary. Justin Fields ($5500) is the other lower-priced QB worth looking at. Both of the teams in this game have been eliminated from playoff contention but Fields has a head coach trying to save his job, or audition for a new one. As a player, Fields is a dynamic combo of rushing yardage floor and deep passing upside. Per this tweet by T.J. Hernandez, Fields has the third-highest deep passing rate since Week 9, and he should have all his receiving options healthy this week.
Running Back
Running Back is the position I am most likely to pay up for this week and I want to go all the way to the top of the board and lock in Jonathan Taylor ($9000) who may be running behind Sam Ehlinger at QB this week which would make me think the Colts are going to call a lot of run plays. Indianapolis projects for the third-most run plays this week and faces a defense that has allowed the third-most DK points to the RB position. Taylor should be on track for another 100-yard game and multiple TDs. Anything he can do through the air will be the icing on the cake. His salary is a bit restrictive so I am preparing myself to look for some combination of RBs from the $6-7k range so the rest of the roster has more sure bets in it. The workload David Montgomery ($6500) has been seeing lately has not been accounted for in his salary. He has become Justin Fields' safety valve as he's seen six or more targets in four straight games and has handled 17 or more carries in four out of his last five. Joe Mixon ($7500) sets up fairly well in a home game against a team the Bengals will try to chew up the clock against so they won't have to face Mahomes as much. Mixon's passing game involvement is volatile, which is tough to swallow at his salary. However, the Chiefs do a really good job at taking away their opponent's outside WRs and forcing passes to the short areas of the field [7.4 aDOT allowed (9th-lowest) and 5.0 Air Yards Per Completion (5th-lowest)] so Mixon has a shot at seeing a similar passing game role as last week.
There's a group of RBs in the low $6k range that are intriguing. Rashaad Penny ($6100) has run all over two soft run defenses in the past few weeks gaining 135+ yards against the Bears and Texans. The Lions defense sits right in between those two teams for rushing yards allowed and rushing TDs allowed for this season. The Seahawks are not letting Russ cook so it's a good bet that Penny can continue his late-season magic for another week. Penny is a yardage and TDs back without much receiving work to keep his floor raised, so we'll want to consider that with him. On the opposite side of this game is D'Andre Swift ($6000) who seems like he's ready to return to the field after a four-week absence. There is some uncertainty around using Swift this week, making him a better GPP play than cash play, however, there is a case to be made for him in cash, too. The Seahawks defense is set up to take away big plays on the outside as they have allowed the second-most Pass Attempts, Completions, and Passing Yards but it has come at the third-shallowest aDOT and Air Yards Per Completion. Further, Seattle has allowed the most RB Receiving points by nearly 2 points more per game than the next team (1.9) and they have allowed the third-most RB targets. The distribution of snaps and touches last week seemed to indicate Jamaal Williams is not going to be involved in the passing game. Williams played just one more snap than Craig Reynolds and had zero targets to Reynolds' four while running zero routes. Reynolds seems likely to still see his way through the rotation but head coach Dan Campbell stated Swift still has room to grow in this offense and that Swift wants to play these final two games. It seems to me that Detroit wants to win their final two games and wants to feature Swift in the process. Eli Mitchell ($6000) is the other guy in this value range that I like this week. The 49ers will be starting a rookie QB, they're a run-first team, and they're facing a defense that has allowed the second-most rushing yards and rushing TDs this year while allowing the fourth-most DK points to the position. His status is still in question so we'll want to see some full practices and some indication he's going to get his usual workload before inserting him into cash lineups. As we drift further down in salary it gets tougher to make a case for any of these guys in cash lineups, so allocate salary accordingly and take the certainty of the better players at this position. However, Chase Edmonds ($5700) is one to watch if Conner is out. Edmonds had 9 targets last week and with Hopkins still out he could be Murray's buddy again this week. Not sure he's suitable for cash but he's on the radar for GPPs in what could be a great game environment.
Wide Receiver
Let's start the WR talk by looking at two of the better game environments on the slate. We have Chiefs at Bengals and Cardinals at Cowboys projected by Vegas to be the only two games over 50 points and both are set at 51.0 at the moment. Starting with the KC/CIN game, we can certainly target Tyreek Hill ($8300) in what could be an explosive passing matchup. However, his recent volatility might make him a better GPP play. Those three floor games over his last four are not the snowflakes we want to see at this time of year. With Hill back in the lineup, I'm off any of the other Chiefs' WRs. For the Bengals, we have Ja'Marr Chase ($7600) and Tee Higgins ($6900). However, Chase has been too volatile to consider in cash games and the Chiefs are very good at limiting outside WR production which has me considering the outside guys more for GPP game stacks than for cash games. Tyler Boyd ($5400), on the other hand, is interesting in cash. Over his last four games, his scoring has ranged from 10.3 to 20.6 points. In cash, we want at least a 3x multiplier for salary, which is the mean of his range (15.4 is the average over his last four games). Over their last four games, the Chiefs defense has allowed 16.3 points to WRs lined up in the slot (Boyd's position). His price and projection make him a solid floor play but he's not likely to bring a high ceiling. In the ARI/DAL game, we have a Dallas offense that is good at spreading the ball around and only CeeDee Lamb ($7100) has a target share of 20% or greater over the last three games or for the full season. None of the Dallas WRs are sure bets for cash but are decent GPP targets if you're stacking this game. The Cardinals receivers are a tricky bunch and none are sure bets for cash lineups. However, if we wanted to bet on one of the WRs we could consider Christian Kirk ($5800) in GPP builds but we might be better off betting on the TE.
With the top two games of the slate not providing a clear WR option, we might want to focus our attention on the best fantasy asset in the NFL this year, Cooper Kupp ($9500). Kupp's 28.1 DK points are 3.2 points more than the next highest RB/WR/TE on the slate (Jonathan Taylor). The Ravens are getting guys back in the secondary after suffering through injuries and Covid list deactivations but they're still not good enough to stop Kupp and the Rams passing attack in a game that is meaningful for both sides. One of the lower-scoring games on the slate that has some potential for fantasy goodness is the MIA/TEN game. The target distribution for both teams is so narrow and the defenses on both sides are vulnerable to the positions these guys play. A.J. Brown ($7200), Jaylen Waddle (6700), and Devante Parker ($5200) can help us this week in cash and GPPs. A.J. Brown gets to be Ryan Tannehill's primary target in his revenge game versus the Dolphins while Jaylen Waddle is seeing similar myopic target rates as Brown has. Both of these guys are going to be targeted heavily in this matchup between two teams that are good at shutting down opposing rushing games and forcing their opponents to take to the air. The Dolphins and Titans have forced the 4th and 7th most pass attempts this year, respectively, and both have allowed the 1st (MIA) and 5th (TEN) most WR targets. The Titans have allowed the most points to WRs which gives us room to include Devante Parker in our GPP player pools to leverage off of Waddle if his ownership projections get too high.
In one of the uglier games on the slate (two teams playing bad and with nothing to play for), we have DET/SEA providing some fantasy opportunities in both the run and pass game. Tyler Lockett ($6400) and Amon-Ra St. Brown ($6000) are interesting options in this spot. Before last week's snow game, Lockett had posted double-digit scores in five out of his last six games, showing a nice floor and ceiling combination. Meanwhile, St. Brown has the rare 2x targets to salary conversion ratio for a guy with double-digit targets in four straight games. We already covered where Seattle's weaknesses are on defense and it sets up well for St. Brown to continue his run of 11-12 targets and 73-91 yards he's provided over the last month of games. He's also been good for at least one touchdown in 3 out of 4 of those games. Hunter Renfrow ($6500) has been an incredible floor play this year and has provided several great multiplier weeks per his salary. This week we have a chance to get him on the rebound after he had two disappointing outings in a row. The Colts are a terrific run-stuffing defense and great at taking away explosive plays. Renfrow is the right sort of player to find the holes in their zone coverage and pick up his usual 8-9 targets and 17-20 points. It's not a sexy play but he is a way to lock in some floor at WR for a reasonable salary.
Antonio Brown ($6100) is fundamentally underpriced again this week. Brown has the third-highest average score at the WR position for the slate and is coming off of a 15 target game because there are no other healthy WRs on the Bucs roster that has earned their way into Brady's circle of trust. Mike Evans could be back this week to eat away at some of those targets and the Jets are easy to pound in the run game so teams aren't forced to throw much against them, but $6100 for Brown this week? I'll take it while we still can. D.J. Moore ($5600) is also mispriced for his volume and he's provided a solid floor if we consider his past scores at this price. Things to consider with Moore this week is that he's getting back the QB that helped him score 21.9 against the Saints in Week 2 before he and Darnold worked together to get Moore to score 20+ for three straight games. Moore has been able to score double-digit points in 5 straight while piling up 10+ targets in 4 straight.
If we're bargain shopping for sub-$4k WRs, this is the list of players I'd consider: Braxton Berrios $3700 and that's it. Finding a gem down here is tough this late in the season.
Tight End
The TE position is loaded this week with all the top TEs available. Andrews, Kelce, Kittle, and Gronk are all great options this week if you're able to get them. Instead of restating the obvious on why all those guys are great plays, let's instead focus on what we can do if our salary allotment leaves us looking for cheaper TEs. Zach Ertz ($5200) is one of the plays I'd like to get into my builds to take a piece out of that ARI/DAL game. Take a look at the chart below that shows targets rates for key Cardinals pass-catchers and notice what Ertz has done in the last 4 games without Hopkins in the lineup. That's a 20-30% target share over a four-game span which includes 13 and 11 targets in his last two games. Dallas is a neutral TE matchup but one Ertz could have a big day against.

Dallas Goedert ($5100) has averaged 6 targets over his past 5 games with a range of three to nine and had his second-best game of the year against the Washington Football Teams just two games ago. Dalton Schultz just torched this same defense last week. With the lack of other reliable weapons on this offense, outside of Smith, Goedert is a reasonable bet for 15-18 points. I also like Hunter Henry ($4200) and his connection with Mac Jones in that offense and Foster Moreau ($3800) looks like a solid bet if Darren Waller can't play. Moreau faces a Colts defense that has allowed the most targets to TEs (9.1 per game) and the 3rd most DK points to TEs.
Defense/Special Teams
Cheap DSTs are getting harder and harder to come by. This week, the cheapest one to consider might be the Broncos DST ($2600), although I can see ways for the Lions DST ($2400) to have a good showing against a bad Seahawks offense this week, too. The defense I am trying to pencil in as the one at the lowest cost that I'm most comfortable with is the Colts DST ($2900) at home against a Raiders offense that seems to be falling apart, scoring 17 or less in 4 straight games while turning the ball over in their last 3 straight games. The Bills ($3500), Eagles ($3700), Patriots ($3900), and Bucs ($4300) are all great options if we can get to them.
Cash Game Core
Using the players listed above, you could construct something along these lines. However, keep in mind, I am not advising using this build. You should come to your own conclusions and build a roster you are most comfortable with for your style of play.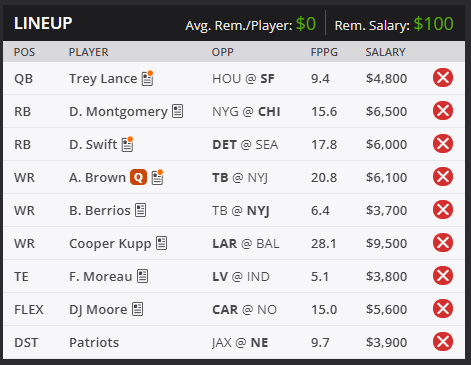 STAY IN TOUCH
Sign up for FantasyData's newsletter and get awesome content sent to your inbox.
We'll never share your email address and you can opt out at any time, we promise.
---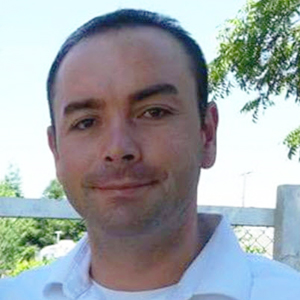 NorCal native Jesse Jones has been obsessed with fantasy football since first joining and winning a league in 1994. Always looking for an edge, Jess has been ahead of the curve mining data and building customized spreadsheet rankings and projections while others showed up to draft day asking for a pencil and a cheat sheet. Avid DFS, Best Ball and Re-Draft player that dabbles lightly in Dynasty. When not geeking out on Fantasy Football, Jess can be found hiking, kayaking, swimming, playing tabletop games, cooking, trading equities, listening to good tunes and/or enjoying a craft brew or two.