DraftKings Cash Game Core: Week 6
---
DraftKings Cash Game Tips
Week 6 is the beginning of the bye weeks and there is another London game leaving us 10 games to work with, three of these games provide great game environments and the other seven may be better served to pluck one-off plays from. Let's have a look.
Quick Links
Quarterback
The premier game on this slate and where most of the chalk will develop comes from the Chiefs at Washington game. Chalk is fine in cash games so we can work with this game just fine. For Single Entry and 3-Max games, we'll need to find differentiating pieces from other games if going here. This game environment features two teams with the #1 and #4 NET PASS DVOA matchups, respectively. NET DSR has these teams ranked #1 and #2. Both teams are in the top 3 for NET Adj Sack Rate (#2 and #3 respectively) which means both quarterbacks will have time to pick apart the other defense. TIME OF POSSESSION indicates ~3:30 in additional time/potential plays. Patrick Mahomes ($8300) is the priciest QB on the slate but is coming off a bad loss and I would expect Andy Reid and Mahomes to have a plan to crush their next opponent, and this next opponent is easily crushable. If you don't want to pay up for Mahomes here, then you could indirectly play for the points Mahomes and the Chiefs will put up by rostering Taylor Heinicke ($5800) using the theory that if Mahomes is smashing it will force Washington into aggression and Heinicke will be a big part of any points scored on the WFT side. The Chiefs play a lot of man defense where the defenders turn their backs to the QB and run with their man, this opens up room for Heinicke to take off and run and pick up yards in that capacity for some floor-boosting potential. Of course, there is nothing wrong with playing Kyler Murray ($7900), Lamar Jackson ($7400), or Justin Herbert ($7300) as all three are in matchups where they'll need to stay productive. If we're looking for other cheap QBs, besides Heinicke, then we can consider Mac Jones ($5200). Jones will face a defense that is putting pressure on QBs at the fifth-lowest rate and allowing the 3rd most 20+ yard passes (and 4th most 40+ yard passes). The Patriots running game is not in a good spot this week and Dallas is going to score plenty of points for the Patriots to chase.
Running Back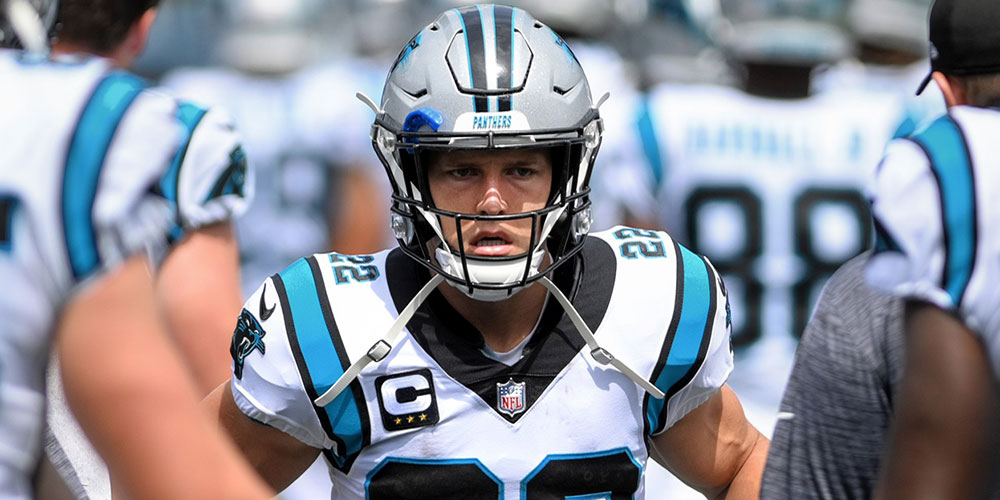 If Christian McCaffrey ($8800) plays we have to strongly consider him for our rosters. McCaffrey will be hard to pack into a Chiefs stack, as will some of the other high-priced running backs this week so we may need to make some choices in this regard. Austin Ekeler ($7900) is in a good spot this week against a defense allowing the second-most points to RBs for the slate. Ezekiel Elliott ($7100) is also in a good spot against a Patriots defense that allows opponents to run the ball effectively until they get into the red zone. The Cowboys offensive line is good enough to win down there, too, and Elliott is at a great price for his production this week. Perhaps my favorite two running backs on the slate are playing against each other but we need to keep an eye on injury news leading into Sunday on these guys. Joe Mixon ($6400) is nursing an injury that caused him to cede some work to Samaje Perine last week but now Perine is doubtful due to a positive test for Covid. The Bengals will want to rely on Mixon in this game based on how Detroit is getting beat. The Lions are allowing the seventh-most rushing attempts against them and the fifth-most fantasy points to RBs in the league. Teams don't even try to throw on them as noted by their league-low 27 pass attempts against. If Mixon is healthy, he's in a smash spot with all the work to himself. D'Andre Swift ($6300) will not have his backfield to himself but he will get the higher leverage opportunities. Swift has 5 or more targets in every game so far this year and he'll probably see an increase in this regard due to the Bengals defense allowing 10.0 targets per game to opposing running backs (only the Jets allow more at 10.2). The Bengals run defense ranks seventh-toughest in Football Outsider's Rush DVOA, fourth-toughest in Adjusted Line Yards allowed, and their pass defense forces throws underneath (fifth-lowest Defensive aDOT allowed and sixth-lowest Air Yards allowed). This aligns for a lot of dump-offs to Swift, especially if they are playing from behind early and/or often. Darrell Henderson ($6000) is another nice option in this range with his consistent scoring totals and reliable floor. The Giants allow the most Adjusted Line Yards on defense and a solid 27.6 fantasy points against to the position.
There are some reasonable options to pay down for at RB this week as well. Damien Williams ($5800) has produced at least 15 points in each of the past two weeks while only starting in one of those games. The Packers defense ranks fourth-worst in Rush DVOA and sixth-worst in Adjusted Line Yards allowed. Williams just doesn't see a high volume of targets to make him a ceiling play. Devontae Booker ($5400) could be stepping into a high-volume role this week with Barkley (and possibly Daniel Jones) set to miss the game against the Rams. The matchup doesn't jump off the page but the workload will be there. The top of the pack for pay-down RBs this week will be Darrel Williams ($4900) who has inherited the #1 RB role in Kansas City until CEH can reclaim it. Williams may lose some passing down work to Jet McKinnon but the beat writers seem to think he'll get the majority share of reps at the position for the Chiefs this week. His workload for the price is going to be interesting to a lot of people. J.D. McKissic ($4800) could be relied upon this week to make up for the loss of Logan Thomas in the short area passing game, where it is expected that the Washington Football Team will have to play from behind or be extra-aggressive to hold any kind of lead against the Chiefs. The Kansas City defense has been adept at taking away WRs over the past few years which could mean extra targets for McKissic this week.
Wide Receiver
I typically don't spend time writing about the top-tier WRs in this space because they are priced high for a reason - they are the top plays. The only one that provides me with hesitation in the $7k+ group is DeAndre Hopkins. He always seems over-priced for his role in that offense. Ja'Marr Chase ($6700) just got a massive price increase this week and while I like him, Tee Higgins coming back can put a dent into his target totals, which have all been below 10 until last week's breakout. He sets up well as far as Detroit allowing teams to chuck it over their heads and they seem to lose a starting defender every week, but he may not see the volume to produce under his new salary. The Cowboys WRs are solid plays this week but the way their game sets up could see one (or both) of them hit another floor game, and the floor games have not been pretty. In the $6k group, the best bet is likely going to be Courtland Sutton ($6200) against a Raider team that is dealing with the distraction of the Jon Gruden fallout.
Brandin Cooks ($5800) should be able to get back on track this week against a Colts defense that has struggled against deep passing teams and is allowing the third-most 40+ yard passes. Jakobi Meyers ($5500) is the volume receiver for the Patriots and should mostly avoid Trevon Diggs if they keep him in the slot. He could also finally score a TD in a game that we might expect the Patriots to have to throw to move the ball effectively. Either Kadarius Toney ($5600) or Sterling Shepard ($5000) seems interesting as Jalen Ramsey may not specifically travel with either allowing both of them to run routes against other defenders this week.
Below $5k the receivers of interest thin out as DK starts getting better at pricing. Mecole Hardman $4200 is interesting if Tyreek Hill seems likely to be out or limited in the game against Washington. Amon-Ra St. Brown ($4200) could end up seeing a lot of targets with Cephus on IR and Hockenson hobbled. Randall Cobb ($3900) faces the softest team on the slate versus slot WRs. DeAndre Carter ($3000) is at the minimum price still after seeing eight targets last week. He could be busy in comeback mode against the Chiefs.
Tight End
If we're trying to outright win at the tight end position, we roster Travis Kelce ($7000). Kelce may be the best bet for the Chiefs offense this week if Hill is hobbled. Mark Andrews ($5200) isn't a bad second option though. He's coming off of a monster game and DK wasn't able to raise his salary for this week because the game was on Monday night, after the salaries had been released. The Chargers defense has typically been a TE funnel defense before and after Brandon Staley's arrival. Only Houston and Baltimore have allowed more points to tight ends this year. If wanting to go cheap at tight end, Ricky Seals-Jones ($3000) was on the field for 99% of the snaps last week and had a 19.5% target share, which was tied with DeAndre Carter for the second-highest after Terry McLaurin.
Defense/Special Teams
Defense and Special Teams are rough this week. The top score is likely to come from either of the top two in salary, Rams DST ($4700) or Broncos DST ($3900). The Colts DST ($3500) is interesting, as are the Bengals DST ($3400). Anything below these in salary is a dart throw, of which I may be most inclined to go with the Texans DST ($2200) and hope for five points.
Cash Game Core
Using the players listed above, you could construct something along these lines. However, keep in mind, I am not advising using this build. You should come to your own conclusions and build a roster you are most comfortable with for your style of play.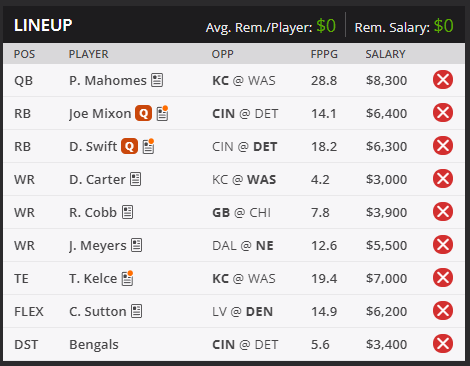 STAY IN TOUCH
Sign up for FantasyData's newsletter and get awesome content sent to your inbox.
We'll never share your email address and you can opt out at any time, we promise.
---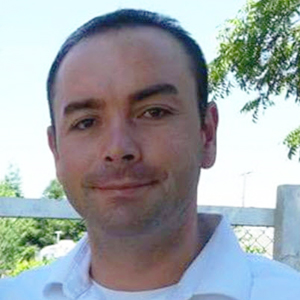 NorCal native Jesse Jones has been obsessed with fantasy football since first joining and winning a league in 1994. Always looking for an edge, Jess has been ahead of the curve mining data and building customized spreadsheet rankings and projections while others showed up to draft day asking for a pencil and a cheat sheet. Avid DFS, Best Ball and Re-Draft player that dabbles lightly in Dynasty. When not geeking out on Fantasy Football, Jess can be found hiking, kayaking, swimming, playing tabletop games, cooking, trading equities, listening to good tunes and/or enjoying a craft brew or two.