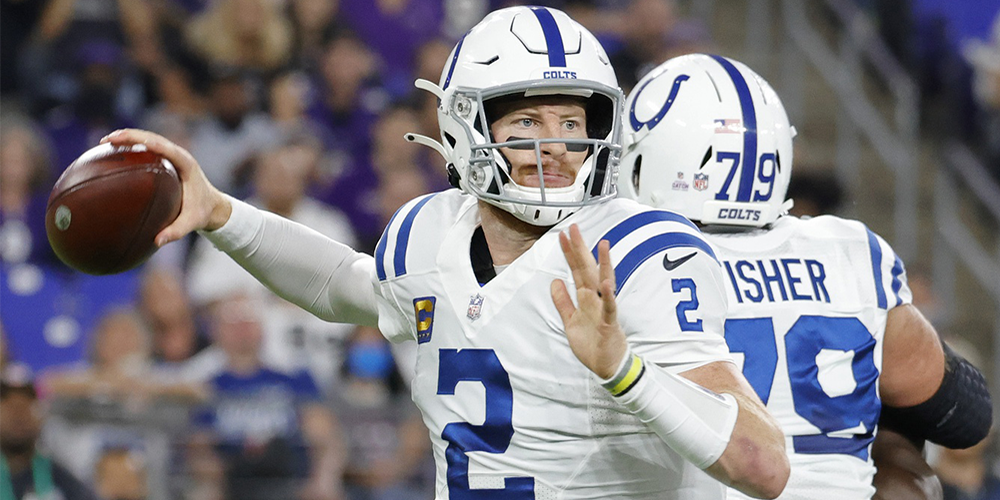 Fantasy Football Sleepers Week 6
---
Fantasy Football Sleepers
Injuries headlined Week 5 with a ton of high-scoring performances in fantasy football. Check out the Week 5 Winners, Losers, and Takeaways for the highlights, wonders, and disappointments. The Week 5 sleeper picks involved more risk, and thus, didn't reap the same rewards. Week 6 includes bye weeks for the Jets, Saints, 49ers, and Falcons, so adjust accordingly. When we add in the multitude of injuries, it could mean fantasy managers have to deal with difficult start or sit decisions. Let's review Week 5, then break down the six fantasy football sleepers in Week 6.
Quick Links
Week Five Sleepers Review
Admittedly, last week stunk after a great Week 4. In a friendly matchup, Zach Wilson went 19-for-32 with 192 passing yards with no touchdowns and one interception. The Jets had a low time of possession of over 24 minutes compared to just under 36 minutes for the Falcons, plus the 52 plays run contributed to the struggles again. At this point, it's difficult to rely on any Jets player outside of Corey Davis, who also produces inconsistently given the poor offense. Unfortunately, the same goes for Jared Goff, as he couldn't even rely on volume and the play-action game. Opposing defenses seem to key in on T.J. Hockenson as their only reliable pass-catcher outside of the running backs in D'Andre Swift and Jamaal Williams.
The Eagles' offense has issues right now. Jalen Hurts made up the awful passing day by rushing for two touchdowns. Unfortunately, the Eagles haven't been able to get their running game going, and only DeVonta Smith produced well amongst their pass-catchers. Kenneth Gainwell flopped with two carries for 16 rushing yards and caught one of three targets for eight receiving yards. Gainwell still boasts decent usage, especially in the passing game, so let's see how that shakes out after some early season struggles in the run game.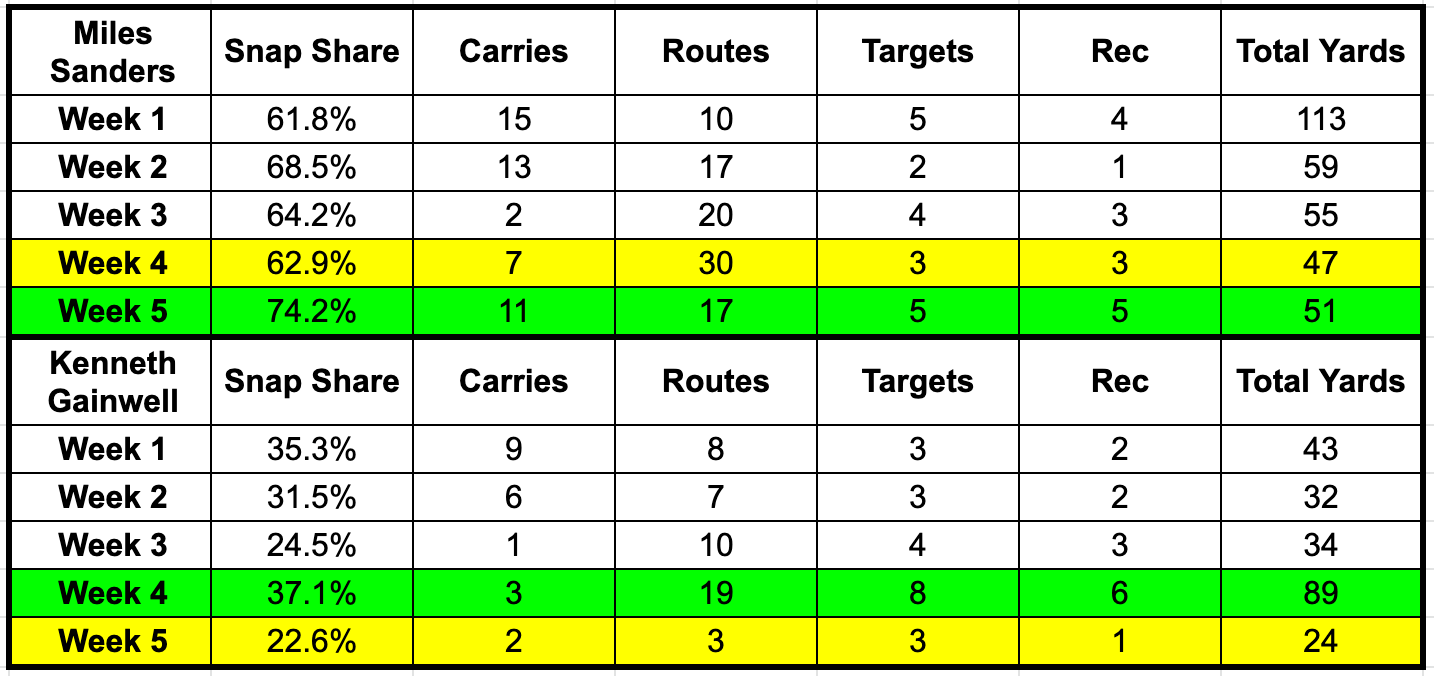 Surprisingly, Joe Mixon played on Sunday, which eliminated Chris Evans from the picture almost entirely. Joe Burrow set a season-high in attempts with 38 compared to 26.8 (No. 30) through four weeks. That said, Mixon and Samaje Perine dominated the running back opportunities, with Evans only catching both targets for 15 receiving yards.
Outside of Ricky Seal-Jones, the other pass-catchers didn't live up to expectations. Sure, it's risky with sleeper picks since most end up as deep-league considerations. However, the Bears offense doesn't seem to want to let Justin Fields air it out. The Bears' defense controlled the game against the Raiders that added to the lack of passing opportunities. Fields attempting 20 passes leaves little margin for error as Darnell Mooney and Allen Robinson tied for five targets each.
The same goes for Jamison Crowder after finishing second on the team behind Corey Davis in targets with six yet only four receptions for 24 receiving yards. Hopefully, the Jets will spend the Week 6 Bye Week ironing out some issues on offense because it's looking ugly with their skill players. Monitor the red zone targets for Crowder after five in Week 4, which could add value to the slot role on this offense.
Here's the tight end position in a nutshell. Tyler Conklin hauled in two of three targets for 25 receiving yards. Conklin earned 14 combined targets the past two weeks and four each in the first two weeks, then only three in Week 5. He still played on 74.6% of the snaps and ran 28 routes, yet that doesn't matter if he isn't receiving the opportunities.

Then we have Ricky Seals-Jones, who played on 100% of the snaps plus eight targets against the Saints. Seals-Jones hauled in five for 41 receiving yards and tied for second on the team in targets. He played on all snaps and ran more routes than Terry McLaurin. Make sure to scoop up Seals-Jones in deeper leagues for a tight end streamer next week.
With the variance in fantasy football, we can hit almost all sleeper picks in Week 4 but then put up a goose egg in Week 5. Admittedly, I probably dug too deep into the player pool, which adds risk. However, sometimes the sleeper picks include players to consider stashing based on the peripherals and advanced stats. Let's hope for a more productive Week 6 based on the advanced data.
Week 6 Fantasy Football Sleepers
Quarterback
Taylor Heinicke vs. KC
Taylor Heinicke sits as the top quarterback sleeper in Week 6 due to his consistent rushing ability. He ranks 7th with five carries per game and 8th with 127 rushing yards amongst qualified quarterbacks. Before Week 5, Heinicke averaged 8.8 yards per attempt and finished as QB9 and QB5 with five passing touchdowns and one rushing touchdown combined.
Assuming a negative game script against the Chiefs based on the -6.50 (No. 30) Game Script through five weeks, Heinicke should have to pass with a below-average 7.0 (No. 21) Adjusted Yards Per Attempt. The Chiefs rank 28th in passing yards allowed (296.4/game) and giving up two passing touchdowns per week. Heinicke provides a safe floor with the rushing ability plus the opportunity to rack up passing yards with 1-2 passing touchdowns. Interestingly, Heinecke also boasts the 4th highest efficiency with a +15.9 Production Premium.
Carson Wentz vs. HOU
The Colts starting quarterback in Carson Wentz ain't done yet. Against a typically stingy defense before 2021, Wentz surpassed the 400-yards passing mark against the Ravens with a season-high 11.5 yards per attempt. Wentz finished as QB10 with two passing touchdowns and 402 passing yards. The season-long advanced stats look average and underwhelming with 7.7 (No. 14) Adjusted Yards Per Attempt, a 70.6% (No. 19) True-Completion%, and a -4.5 (No. 32) Production Premium.
The Texans allow the 26th most rushing yards with the 18th most passing yards with an average of 257 passing yards and 1.4 passing touchdowns per game. Although the Texans have a weaker run defense, Wentz should still have the ability to take advantage of a weak Texans team with some efficiency in the air like in Week 5. Wentz should continue to feed Michael Pittman the ball as one of their best passing weapons on the outside.
Running Back
Devin Singletary at TEN
The Titans' defense looks underwhelming through five weeks. They rank 16th in rushing yards allowed with an average of 112.8 yards per game. That said, Zack Moss's kept expanding with growth in the snap share each week since Week 3, which means less usage for Devin Singletary.
Week 3 - 51.3%

Week 4 - 59.2%

Week 5 - 66.7%
Meanwhile, Devin Singletary's role decreased with inconsistent production. Singletary finished with 26 total yards in Week 3, 86 in Week 4, and 23 in Week 5. In Week 4, they faced a soft matchup against the Texans, and there's a chance Singletary performs similarly against the Titans, although it's a risky profile. Last week against Kansas City, they ended up with a lead in poor weather conditions.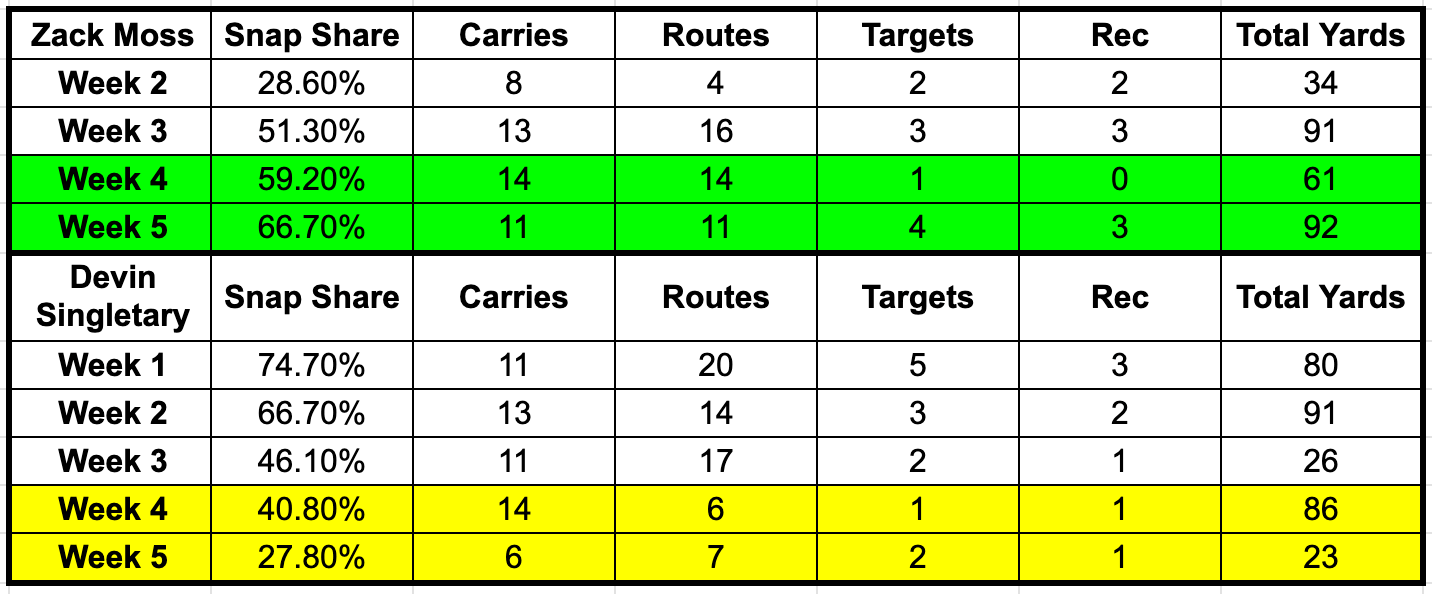 Singletary's 53.1% (No. 23) Opportunity Share and 7.4% (No. 38) target share amongst running backs doesn't look great. However, some of the efficiency numbers give us hope if the opportunities stay split. Singletary boasts a 4.8 (No. 12) True Yards Per Carry and a 36.5% (No. 12) Juke Rate with a 65.6 (No. 7) Run Blocking Efficiency. The quality Run Blocking Efficiency indicates Singletary uses his blockers effectively, and they're helping with the production.
Meanwhile, Zack Moss's 1.2 (No. 58) Run Blocking Efficiency shows that Moss keeps producing on the backs of the 11th highest Yards Created Per Touch at 3.78. If fantasy managers end up in a pinch needing to start Singletary in Week 6, don't cringe too much since he's a sleeper running back this week.
Latavius Murray vs. LAC
As we head into the bye weeks starting in Week 6, fantasy managers will need to make some tough start or sit decisions. It's not the most appealing backfield like we've seen in years past. However, Latavius Murray took over the "lead" role the past two weeks with a 62.9% snap share in Week 5 and 50% in Week 6.
The Ravens face a Chargers team that ranks last in rushing yards allowed with an average of 157.6 per game. We know Lamar Jackson typically eats into the team rushing yards, but Jackson keeps airing it out this season. Jackson tossed a career-high 442 passing yards in Week 5 with a 10.3 yards per attempt. With the 17th ranked Game Script at -0.94, it's likely a combination of the running game and defensive struggles that led to Jackson airing it out. Nothing in the peripherals screams Murray will have an RB2 type performance, but he warrants a mention as a sleeper against the league's worst run defense.
Wide Receiver
Michael Pittman Jr. vs. HOU
Carson Wentz and the Colts keep feeding Michael Pittman targets, with under ten targets per game (9.75) over the past four weeks. After some initial hesitation with the Colts passing game, the advanced stats for Pittman look exciting given the 25.1% (No. 16) target share and 36.7% (No. 14) Air Yards Share. Pittman only scored one touchdown with the 18th most receiving yards at 368, so expect the touchdowns to regress in Week 6.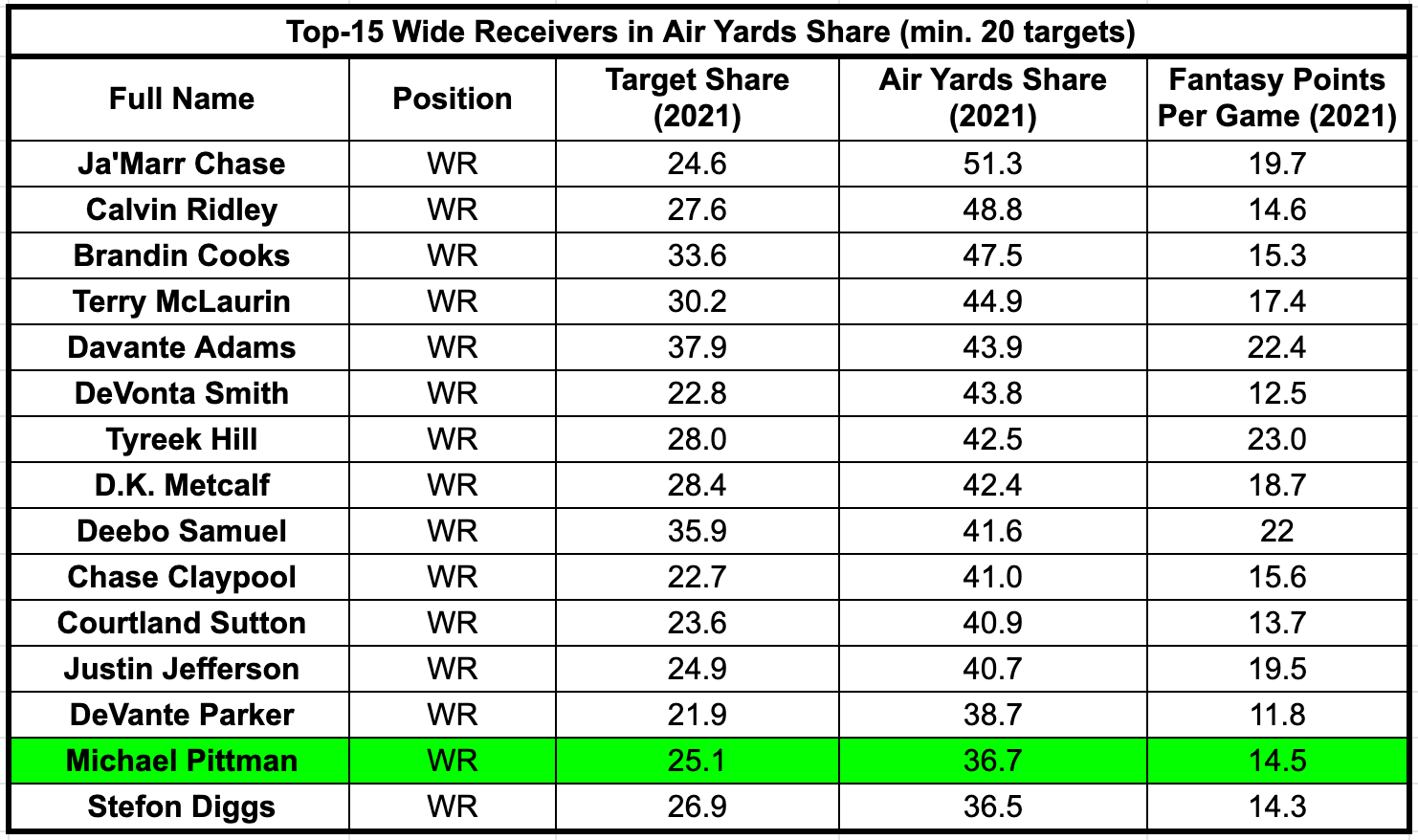 Jaylen Waddle at JAC
Through five weeks, Jaylen Waddle boasts an underwhelming 10.9 (No. 46) fantasy points per game. Waddle soaks up the reception with 27 (No. 18) yet a brutal 231 (No. 52) receiving yards. The opportunity metrics look rough for Waddle with a 20% (No. 43) target share plus a 12.1% (No. 84) Air Yards Share that aligns with a 4.1 (No. 98) Average Target Distance. As the Dolphins slot receiver, Waddle's role doesn't lend itself to much red-zone usage or touchdown opportunities.
Waddle showed the ability to create yards after the catch, with the 17th most at 134 accounting for 58% of his total yardage. Given Waddle's 4.37 (96th-percentile) 40-yard speed, he boasts the 6th highest target separation at 2.41. The Jaguars allow the 7th most receiving yards to opposing receivers with 203.2 per game. Especially if Devante Parker misses another game after not practicing on Wednesday, Waddle should soak up the targets as a PPR sleeper against a soft matchup.
Tight End
Dan Arnold vs. MIA
We waited five years for the potential Dan Arnold breakout to happen. The Panthers traded Arnold to the Jaguars, and he immediately received high usage in Week 5. In Week 5 against the Titans, Arnold played on 82.1% of the snaps and ran 28 routes. Arnold garnered eight targets and hauled in six receptions for 64 receiving yards or 28.6% targets per route run. If fantasy managers roster Kyle Pitts or lost George Kittle, roll out Arnold as a sleeper, assuming the usage for Arnold remains high.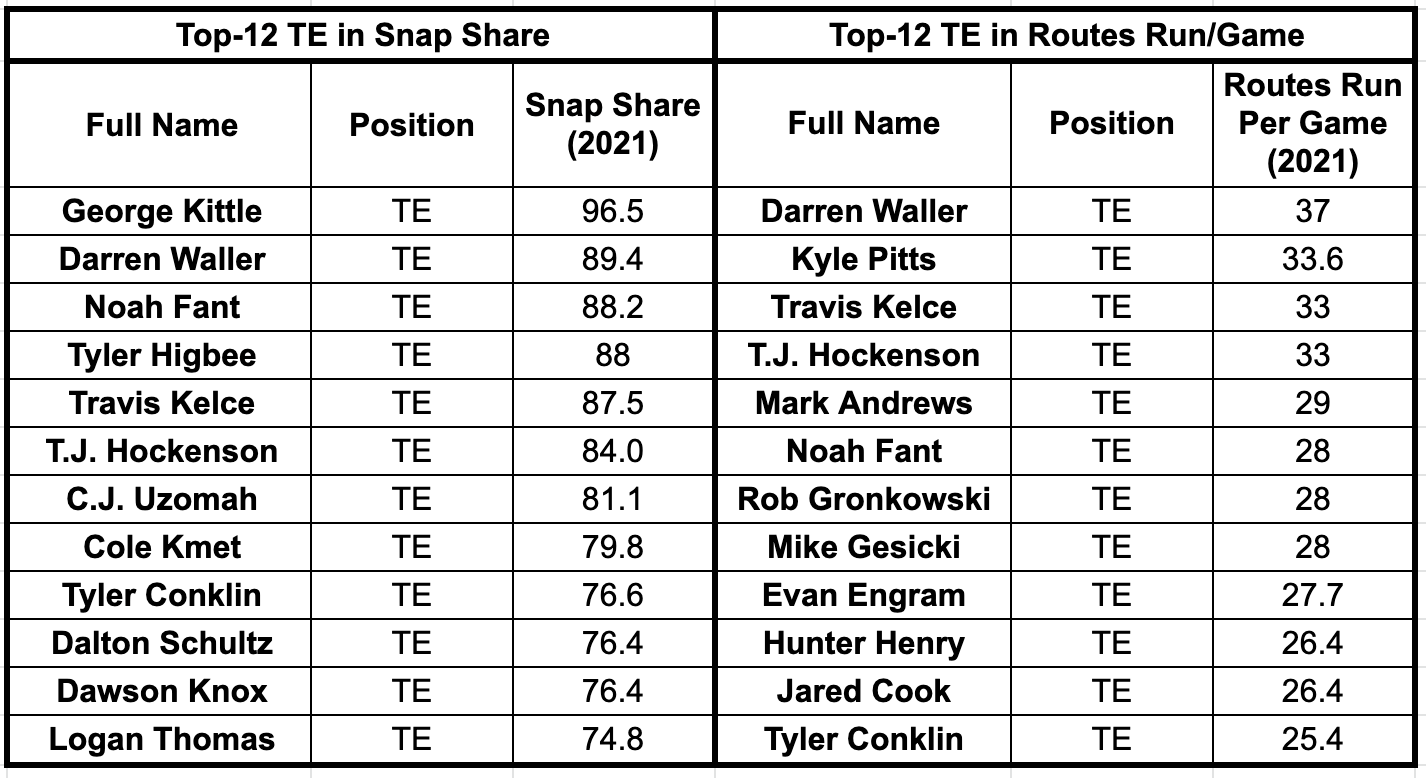 For reference, we'll include the top-12 at the tight end position in snap share and routes run per game to see where Arnold fits in. The same goes for targets per game since the top-12 tight ends in opportunity typically average about six targets per game. That said, Arnold qualifies as a tight end to stream and stash in deeper formats with some long-term appeal.
Ricky Seals-Jones vs. KC
What do we know - another 5th-year tight end in Ricky Seals-Jones. Like Dan Arnold, the snap share and routes led us to identify Seals-Jones in last week's sleepers article. In Week 5, Seals-Jones played on 100% of the snaps and ran a season-high 36 routes. He also hauled in five of eight targets for 41 receiving yards that included three red-zone looks. The Washington Football Team will likely play from behind, and we love the usage for Seals-Jones. Although the 20% targets per route run aren't elite, Seals-Jones sits right behind Dawson Knox and Dallas Goedert. Dan Arnold and Seals-Jones should have value for the next several weeks.
STAY IN TOUCH
Sign up for FantasyData's newsletter and get awesome content sent to your inbox.
We'll never share your email address and you can opt out at any time, we promise.
---

Corbin is passionate about fantasy baseball and football. He loves diving into and learning about advanced metrics. Corbin is a Mariners and Seahawks fan living in the Pacific Northwest. Corbin's other hobbies are lifting weights, cooking, and listening to fantasy sports podcasts.