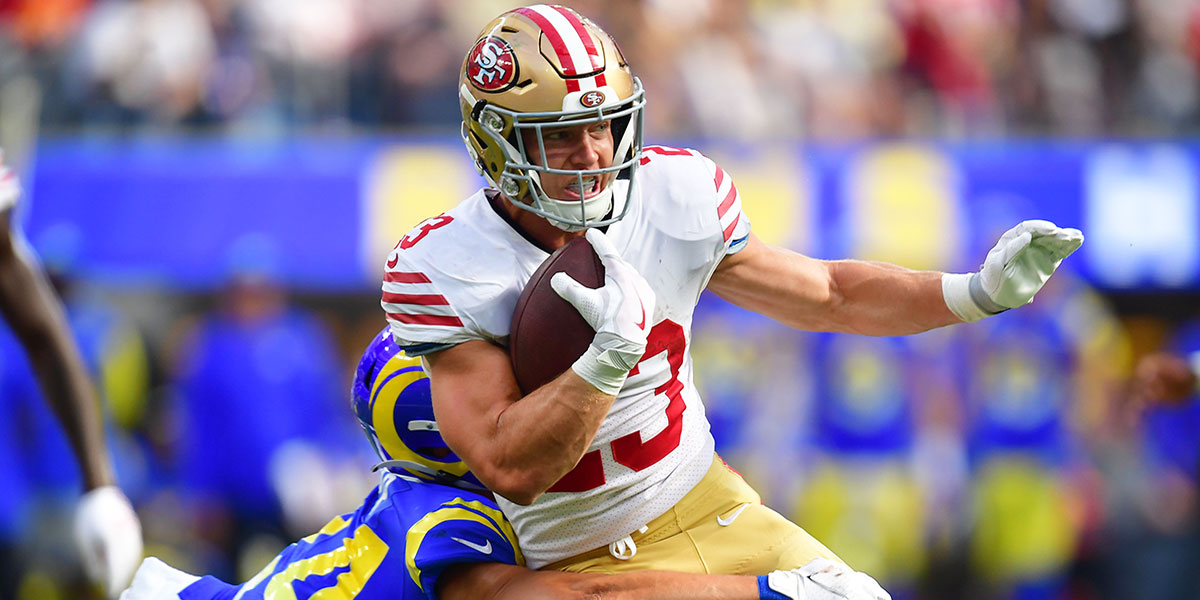 NFL DraftKings Cash Game Plays: Divisional Round Weekend
---
DraftKings Cash Game Plays: Divisional Round Weekend
The NFL Divisional Round Weekend slate is ready for us to attack, but first, let's think about how to react to this odd DFS slate. This is an unusual slate because the typical slate starts at 1 PM ET and is done around 7:30 PM ET. This one will start Saturday afternoon and won't be over until Sunday night. That leaves us plenty of room to swap or adjust after the first day if we fall behind early. We will focus this piece primarily on the situations that are the best plays as of Friday morning, and I will tweet out adjustments as necessary (@KirkseySports).
We will go through each position at various salary levels to see who are the best plays in cash games on DraftKings. For these purposes, a cash game is any contest that pays out at least one-third of the field. While these are also viable GPP options, we are primarily looking for a safe floor combined with high usage that can lead to ceiling games.
Wild Card Round Results
Below are my cash game results in the Wild Card Round for double-ups, 50/50s, and head-to-heads:
Results:
Single Entry $10 Double Up - 276/459
Single Entry $5 Double Up - 28/39
Single Entry $5 Double Up - 26/39
Single Entry $5 Double Up - 28/39
Single Entry $5 Double Up - 28/39
Single Entry $5 Double Up - 27/39
Single Entry $5 Double Up - 509/919
Single Entry $3 Double Up - 33/62
Single Entry $3 Double Up - 19/39
Single Entry $2 Double Up - 633/1149
Single Entry $1 Double Up - 43/62
Single Entry $1 Double Up - 38/62
Single Entry $1 Double Up - 40/62
Single Entry $1 Double Up - 40/62
Single Entry $1 Double Up - 43/62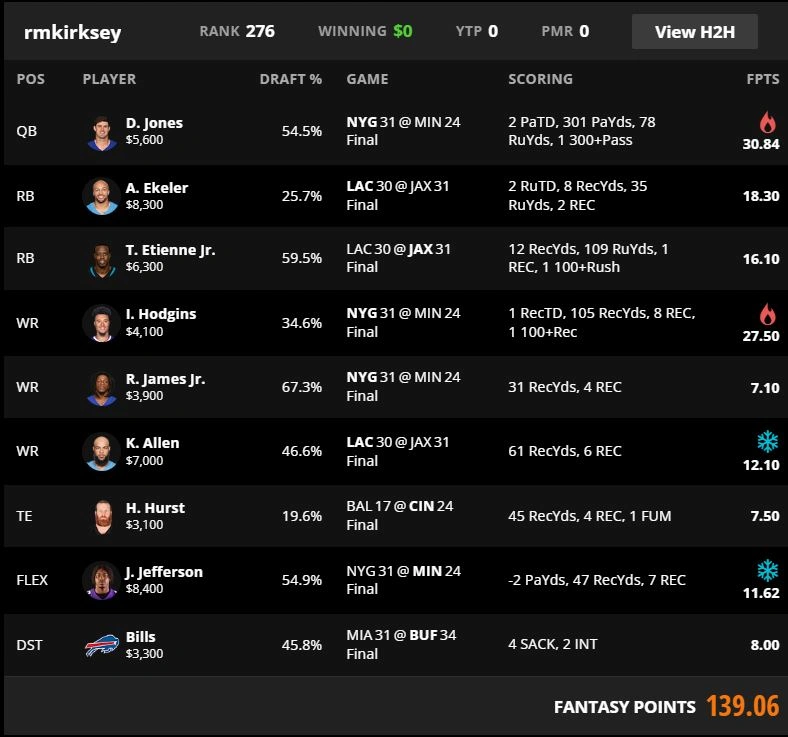 After much debate, I settled on a trio of Austin Ekeler, Justin Jefferson, and Hayden Hurst as my two-studs-and-a-punt at RB, Flex, and Tight End. It turns out, almost any other iteration of these spots (considering Christian McCaffrey, Saquon Barkley, Stefon Diggs, Ja'Marr Chase, and a variety of mid-range tight ends) would have made it above every cash line. With this lineup, I just missed in all of my contests. Until Saturday afternoon I had Barkley and a more expensive tight end in the lineup, and only got off when Mike Williams was confirmed out which I thought would open up more passing for Ekeler. He ended up with the touchdowns but not much else, and Jefferson was basically MIA in the second half of his game. I've got to learn to trust my gut more with these close decisions.
Quick Links
Divisional Round Weekend Cash Plays
Quarterback
Josh Allen ($7,800) and Patrick Mahomes ($8,000) are so close in salary and are both on offenses that have no interest in establishing the run until way after their passing offenses have staked them to a big lead. The Bills throw 59% of the time during the regular season and considering what he can add with his legs, Allen hasn't scored fewer than 21 fantasy points in any game since Week 13 against New England. Cincinnati allowed the fourth-most yards per completion to opponents this year (11.2 yards) so this could be a game where Allen looks deep to Stefon Diggs and Gabe Davis.
Brock Purdy ($5,400) absolutely rocked at his $5,300 salary last week (37.9 fantasy points) and was the low-rostered key to winning tournaments in the Wild Card Round. We know what he can do now, and we know Christian McCaffrey, Brandon Aiyuk, Deebo Samuel, and George Kittle are all involved in the passing game. But Purdy's salary only went up $100 in anticipation of a tough matchup against Dallas. But at this low price tag, 20-22 fantasy points would be just fine for cash games as it allows us to pocket $2,000 more than those who are rostering the Mahomes, Allens, Jalen Hurts of the world.
Running Back
Christian McCaffrey ($8,000) is the type of player that would be in every single DFS lineup you made if he was $8,000 in Week 11 or some other point in the regular season. But because we are getting tightened playoff pricing, this is simply too low for a running back who averages 22 fantasy points per game and just ran all over Seattle for 24.6 points on just 17 touches. McCaffrey now has a streak of seven straight games with a touchdown so he has evolved into one of the primary red-zone weapons since his trade from Carolina. Even with Elijah Mitchell back to spell C-Mac on a few series, we should be confident McCaffrey can easily pay off this salary.
Travis Etienne ($6,400) just looks like he is never going to be a part of the passing game plan for the Jaguars despite his prolific receiving with Trevor Lawrence in college. But even without it (no more than three targets since Week 7), he is still putting up strong fantasy numbers, especially for a mid-$6,000s salary. Last week against the Chargers (in a HUGE negative game script), Etienne scored 16.1 fantasy points because he hit the 100-yard rushing mark for the third time in his last five games. We are going to want some pieces of this game with the highest total on the slate, and the price is right for a player who will be heavily involved.
Jerick McKinnon ($6,000) is just a touchdown-scoring machine, in case you forgot during the Chiefs' bye week. Even in the Week 18 game against the Raiders when the starters weren't needed the entire game because it was a blowout, McKinnon still found the end zone, giving him nine total touchdowns in his last six games. Only Austin Ekeler saw more red zone targets this year than McKinnon, and his 70 red zone receiving yards led the league. We have enough data now to know that if the Chiefs are close to scoring, it is going to be Travis Kelce or McKinnon, where Mahomes looks first.
Miles Sanders ($5,700) is the one running back on this slate where we can look at their matchup and feel comfortable about the defensive matchup. The Giants allowed top-ten fantasy production to the running back position this year, while the remaining seven teams in the playoffs were all top-half of the league in rush defense. The Giants allowed the fourth-most rushing yards to running backs this season. Sanders already has a game against the Giants this season where he ran for 144 yards and two scores. If you play Jalen Hurts, this is not a player to stack with him in cash games. This salary certainly puts him in play if you are looking to pay up for other pass-catchers.
Wide Receiver
Stefon Diggs ($7,700) gets just a $100 salary bump after catching seven of nine targets for 114 yards against the Miami Dolphins last week and now gets a potential shootout with the Cincinnati Bengals. Diggs has seen 19 targets for 218 yards in his last two games, averaging 23.9 fantasy points. At home this season, Diggs also scores two more fantasy points per game than he does on the road. Locking in Josh Allen's top target at this salary is never a bad idea.
Tee Higgins ($5,800) has put up two middling games against the Baltimore Ravens the last two weeks, causing his salary to fall from $7,600 in Week 18 to $5,800 this week. That's too low for the game environment and usage Higgins sees every week. Higgins has one healthy game under six targets all year and is typically just the 1B to Ja'Marr Chase's 1A. In a game that is projected to shoot out (49.5 implied total), Higgins is a cheap way to get one of the best weapons on a team that will be throwing a ton (62% in the regular season, fourth among all teams).
Deebo Samuel ($5,900) was finally back to being involved in a major way last weekend against Seattle, and he dominated with 31.5 fantasy points including 165 total yards and a touchdown. At the height of his production early this year and last season, Samuel was routinely an $8,000 player so we are definitely getting the coming-back-from-injury discount this week. Dallas is formidable as a defensive unit, but the 49ers are so creative at getting Samuel the ball in space that he will find ways to manufacture fantasy points in this one.
Zay Jones ($4,700) has several things working in his favor this weekend. Number one, the massive game total of 52.5 Second, the Jaguars are 8.5-point underdogs so will likely be one or two scores down for much of this road game against Kansas City. Third, the Chiefs allow the seventh-most fantasy points and third-most receiving touchdowns to wide receivers this year, so their secondary can be beaten. Fourth, we saw how the target tree is going to work last week then the Jags are playing from behind. It will be Jones, Evan Engram, Christian Kirk, and that's it. Jones is $1,300 cheaper than Kirk, so this is a great spot to pay down.
Tight End
Dallas Goedert ($4,500) had at least six targets and at least 45 yards in both of his healthy games since returning from an injury he suffered in Week 10. Jalen Hurts also looks fully healthy this week, so that is a major benefit to Goedert who was averaging 14.3 fantasy points with Jalen Hurts in the five games they played together before Goedert went down. The Giants also allowed the eighth-most receptions to the tight end position during the regular season and much of the Giants' defensive attention will be paid to the big two receivers Philadelphia rolls out every game.
Dawson Knox ($3,800) provides us with a great opportunity to actually save some money somewhere on this tight slate and not feel terrible about it. Knox had a solid five targets last week which ended up getting him 20 yards and a touchdown. That's all you hope for at a salary under $4,000 and Knox also has four of his last five games with at least five targets. As a little bonus, the Bengals allowed the ninth-most receiving yards to tight ends this season.
Defense/Special Teams
Kansas City Chiefs ($3,100) wins the "Which Trevor Lawrence Are We Going to Get?" sweepstakes this week. They may have won the game in dramatic fashion, but don't forget how lost Trevor Lawrence looked in the first half against the Chargers, throwing four picks. That was with a friendly home crowd, and now he gets the gauntlet that is Arrowhead Stadium in January for a playoff game. This will be a new challenge for Lawrence and he is going to have to play a perfect game for the Jaguars to have a chance. Kansas City also had the fifth-highest sack rate in the league this season (8.2%), which jumped to 9.5% in their three most recent games.
Cash Game Sample Lineup
Using some of the players listed above, you could construct a roster that looks something like this. However, keep in mind, that this is just a suggested build and could change drastically by the time the games kick off on Sunday. You should come to your own conclusions and build a cash game roster that suits the players you prefer and your style of build. As we get deeper into the playoffs and rosters are tighter, we are forced much more into a balanced build as there are very few punt options left. This lineup incorporates some of my favorite plays from above plus Isaiah Hodgins who has apparently turned into Plaxico Burress mixed with Victor Cruz mixed with David Tyree.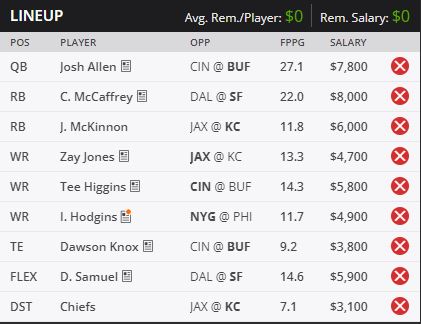 STAY IN TOUCH
Sign up for FantasyData's newsletter and get awesome content sent to your inbox.
We'll never share your email address and you can opt out at any time, we promise.
---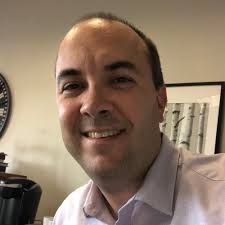 Ryan is a 20-year veteran of fantasy baseball, football, and basketball leagues. He has been writing about fantasy sports, sports betting, and DFS since 2018 and is a member of the FSWA and IBWAA. A native of Houston, he is a die-hard fan of the Astros, Rockets, and - reluctantly - the Texans. When he is not buried under sports analysis, he works full-time in higher education and can be found pursuing his other passions: drinking coffee and writing about comic book investment and speculation.