DraftKings NFL Picks Week 3: Chalk, Pivots, and Punts
---
DraftKings NFL Picks Week 3
INITIAL THOUGHTS
Week 3 is going to be interesting with all the injuries depleting certain positions (see: Running Backs) last week. What this is likely to do is put people into the same RB groupings this week. We're going to want to find more eclectic RB pairs and trios to build around and only allow ourselves 1 chalk RB per build. Also, after two games, we're starting to see some team identities and identity crises emerge. One surprising team so far has been the Jaguars. They are not on the main slate this week, but they look like they're going to be fun to mix in for the rest of the year. The Eagles look like a mess so far but I'm not ready to give up on their players...yet. This Week 3 Main Slate features some exciting games with everyone's primary focus finding the "Battle in Seattle" between Dak and Russ, and their respective teams. Some other games pique my interest as well, such as the Chargers RBs against the worst run defense in the league. At this point in the process, I've only completed the DK Workbook and am starting to dig in. Below are my thoughts on some favorite plays for the week and some ways we can pivot to make out line-ups separate from the chalk builds.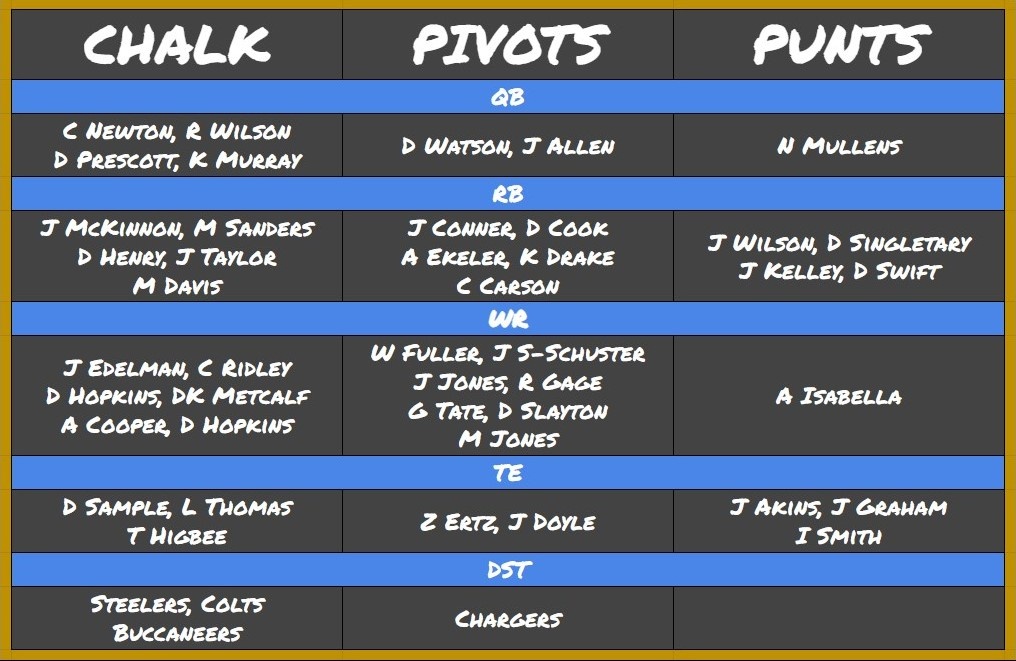 ***By the way, don't forget to check out the awesome tools that FantasyData added for this year, including Fantasy Projections, a DFS NFL Optimizer, and a DFS NFL Stacking Tool ***
QUARTERBACKS
BEST BETS: Cam Newton, Kyler Murray, Russell Wilson, Dak Prescott
PIVOTS: Deshaun Watson, Mitch Trubisky, Tom Brady
PUNTS: Nick Mullens
Cam Newton looks like an early favorite for comeback player of the year honors. Looking at this match-up on papers makes me think McDaniels spreads the field to get as many of the Raiders mediocre corners on the field as possible and take advantage of the passing match-ups to set up some nice runs by Cam later in the game. Of course, they will not wait until later in the game to send Cam on some designed runs, but the spread field runs could net huge gains if they set that up. Kyler Murray faces a defense that hasn't given up many passing yards but has allowed 5 passing TDs. Where the Lions are weakest is in run defense. Murray and Drake should find plenty of room to run against this defense that allows 6.5 YPC (nearly a full yard more than the second-highest team). Murray could spend this game chewing up points on the ground and flicking TD passes. The showdown between the Seahawks and Cowboys will likely be the heaviest stacked game of the slate with so many good plays on both sides. If you're playing multi-entry stuff, then you're playing Dak Prescott and Russell Wilson and the rest of the stars from this game. If you're playing single entry and you have good risk tolerance, then you're likely fading these guys.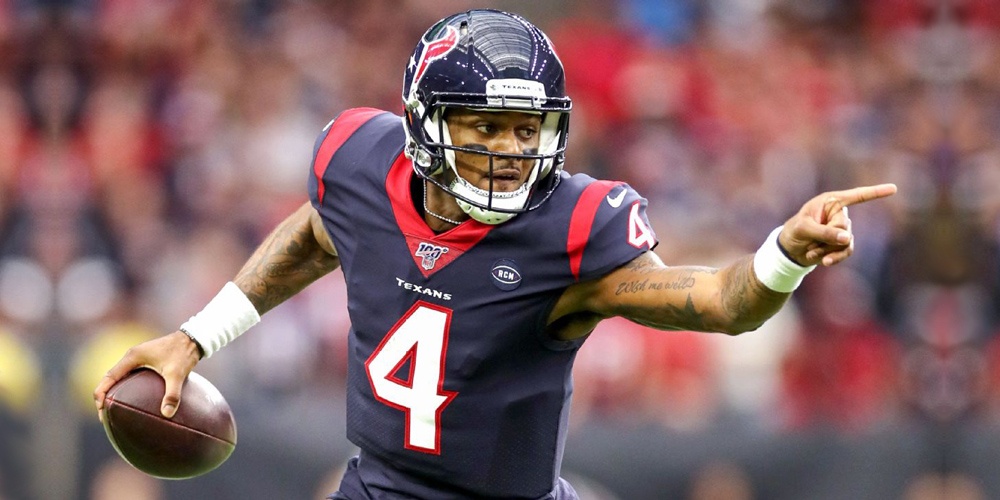 Deshaun Watson gives us a good chance to differentiate from the field that will fade the Texans offense against the stingy Steelers defense. The Steelers have strong defensive DVOA numbers each of the last two years, but there are some opportunities at QB and outside WR, specifically, picking on Joe Haden, who is having a down year to start. If Will Fuller is healthy, a stack of Watson/Fuller makes some sense here. The game environment will likely see Houston playing from behind and having to rely on Watson to keep them in the game with his arm and feet. The Falcons pass defense has been ravaged by two of the better QBs in the league and gets a step down facing Mitch Trubisky. However, Trubisky is putting up respectable numbers this year and will likely be forced into an aerial game environment against a defense that ranks 9th against the run after facing Zeke and Carson/Seattle to start the year. The Falcons are operating at the 5th-fastest pace in neutral situations which could force the Bears into a higher volume of passes than they intended. A bonus to this would be that the Falcons are allowing the 2nd-highest yards per pass attempt at 8.9, but they have faced two of the top deep passers in the league. Tom Brady has had 2 games to get a feel for his new offense now. The WRs are getting healthy and they're taking on a team nearly as depleted as the 49ers this week in Denver. The Broncos couldn't cover anyone when they were healthy, now we're looking at a prime get-right spot for Brady and the Bucs to fine-tune their offense. A full Brady/Evans/Godwin stack should add some differentiation to this week's builds.
Believe it or not, Nick Mullens is not the cheapest starting QB on the slate this week. That honor goes to Adam Gase's QB. Mullens looks like he could be in a good spot here against a defense that has surrendered an average of 2.5 TDs per game and allowed 2+ TDs in both games so far. Mullens has done well whenever the 49ers starting QBs have gone down in the past. With both teams having injuries on both sides of the ball, Shanahan will surely have some crafty plays drawn up early to get Mullen off to a good start.
RUNNING BACKS
BEST BETS: James Conner, Miles Sanders, Derrick Henry, Jonathan Taylor
PIVOTS: Dalvin Cook, Austin Ekeler, Kenyan Drake, Chris Carson
PUNTS: Rex Burkhead, Jeff Wilson, Devin Singletary, Joshua Kelley, D'Andre Swift
The Texans defense has allowed nearly 200 rushing yards (on average) at 5.6 yards per carry (2nd-highest) in their 2 games to start the year. James Conner got bell-cow snap share last week and is in a prime spot this week if that continues. Miles Sanders looks like a good play after shaking off the rust last week and performing well. The Bengals defense has allowed the 3rd-highest total rushing yards and 5 yards per attempt. With Jalen Reagor likely heading to IR, it adds more reason for Philly to try and rely on the run more. Their Run/Pass ratio is skewed to 68% pass. That needs to regress to a more balanced offense and this is the week for them to ride Miles and get their first win of the season. Based on PFF grades, the Titans OL and top two TEs severely out-grade the front-7 of the Vikings defense in run blocking versus run defense. Both teams will prefer to play a slow-paced game where they run the ball as much as they can. This bodes well for both backs, with Derrick Henry having a huge advantage on paper. Gary Kubiak is rumbling about not running the ball enough, mostly because they have been getting the doors blown off them early. If they can somehow keep this game close, which I believe they can, they will feed Dalvin Cook (and Mattison) all they can eat. Tennessee has surrendered at least 5 receptions per game so far this year, so if Kubiak wants to get Cook involved in that aspect of the game a little more, it will boost his floor. Jonathan Taylor was given a full workload in his first career start in the Colts backfield and rewarded fantasy owners with a 22 DK point game. Against a Jets team that shouldn't require anything fancy to beat, Taylor should be in line for another bell-cow game. The lack of targets is a bit concerning for me and with him now priced in the $7k range I might find it hard to go all-in with him this week.
The Chargers find themselves in a match-up against the league's worst run defense over the past year and 2 games. The trouble here is that there is a nearly equal split of touches going to Austin Ekeler and Joshua Kelley. I can't figure out what the coaches are seeing by continuing to split the carries 50/50 with these two. When Ekeler (5.1 YPC) gets the ball, he's making people miss and creating yards. When Kelley (3.5 YPC) gets the ball he's just running into the backs of his linemen and getting stuffed. But, coaches can remain irrational longer than we can remain solvent with our DFS fun money. I have to consider playing both of these guys but will lean much heavier toward Ekeler in the event the coaches are seeing the same thing or, perhaps, Ekeler finally breaks off a long TD run/catch to pile up a bunch of points on one touch. Across the ball will likely be a chalky Mike Davis play. The Chargers are great at stopping the run this year, so you don't have to eat that chalk if you prefer to have a unique build. Kenyan Drake should benefit from the Lions generous yards per carry ratio here, as he has double the carry percentage as his running-mate Edmonds. The Cardinals could easily get up big in this and feed Drake a bunch of carries to close out the game. Chris Carson is seeing nearly a 55% share of the snaps among Seattle RBs while only getting 33% of the carries. The Dallas defense got trucked against another NFC run-heavy team in week 1 and could see that happen here in a game-script where Sneaky Pete does not let Russ cook but instead controls the clock and keeps Dallas off the field. Carson has an added boost to offset his 1/3 share of the carries and that is his 13% target share and overall 47% utilization rate for the offense as a whole. Carson is our contrarian pivot in this match-up to pass the field that is jumping on the passing games.
Rex Burkhead played over 70% of the snaps for the Patriots last week with James White out. While he didn't receive a plethora of carries (6) he did get targeted 6 times. In a game where NE is missing their center facing a Raider defense with Jonathan Hankins causing trouble up the middle, quick passes to protect Cam make a lot of sense. Another 6+ targets could be in the cards for Rex here and at $4k on the dot, I'm in. Jerick McKinnon and Jeff Wilson are both priced in the $4k range and each offers a good bet for fantasy points. McKinnon will get the valuable targets while Wilson will get the valuable goal-line carries. Jet will be much higher owned than Wilson, and rightfully so, and with Wilson, you are hoping for another one of those 2 TD games. I'll keep Wilson on my radar if I'm scrounging for salary in a build. So far this season, the best way to attack the Rams has been through the RB position. The Rams have allowed each of Zeke and Sanders to pile up at least 95 yards on the ground and another 30 through the air. Zack Moss hasn't practiced as of Thursday which could push Devin Singletary into a nice opportunity share on offense this week. The Rams have a solid secondary which will force Buffalo to call more run plays, assuming they have success, which is also why I like Josh Allen a little bit this week. Singletary may pick up yards and catches but it might be Allen punching in a couple of rushing TDs. For Singletary to really pop, he'll need at least 1 TD. The Cardinals have held two of the weaker passing offenses down so far this year, and have forced them to utilize their RBs in the passing game. If they do the same this week against the Lions, then we might want to keep D'Andre Swift and his 5 targets per game in the back of our minds where we need to save some salary at RB.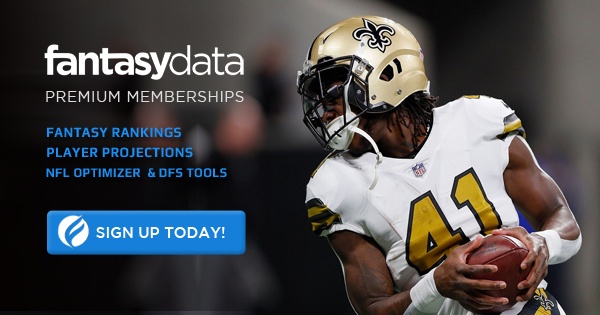 WIDE RECEIVERS
BEST BETS: Julian Edelman, Calvin Ridley, Deandre Hopkins
PIVOTS: JuJu Smith-Schuster, Allen Robinson, Julio Jones, Russell Gage, Golden Tate, Darius Slayton, Marvin Jones
PUNTS: Brandon Aiyuk, Andy Isabella
Julian Edelman is coming off the highest yardage total of his career and gets a juicy match-up against Raiders slot man LaMarcus Joyner. We could pick on any of the Raiders corners so punting with Harry or Byrd wouldn't be that bad of an idea if you need that salary-saver play. Calvin Ridley is off to a tremendous start for the year and will be challenged to score over 32.9 DK points for three games in a row. He may not see that high of a total, but he should still be among one of the leading receivers on the slate. At this point, it seems clear he has overtaken Julio Jones as Matt Ryan's go-to man in that offense. Ryan and Jones have been showing signs of not being in sync for the past two years. Jones will still get a fair amount of targets and yards and is actually a decent pivot from Ridley in this game if only he didn't cost more than Ridley to play. I may still fire a few Julio builds out there to take advantage of a contrarian, over-priced/under-performing (so far) fade of the field on him. Russell Gage isn't a bad idea to pivot away from Ridley in case Ridley fades for a game and someone else in the offense explodes. Buster Skrine is not that great as a slot corner, however, the Bears have not allowed a ton of points to WRs lined up in the slot yet. Christian Kirk has not practiced this week and the Lions do not cover well enough to prevent Deandre Hopkins from making the most of double-digit targets in this one. It also sets up for a punt opportunity with Andy Isabella. Isabella played some last week and saw 2 targets and appears to be ahead of the other back-up WRs for snaps and opportunities. Isabella has a jaw-dropping 23.3 aDOT this season, albeit a small sample size. However, that aDOT can be supported by Kirk's 22.5 and both of these guys are top 6 in aDOT for the league. If Murray looks deep, it was going to Kirk. With Kirk out, those will now go to Isabella, who makes for an intriguing boom or bust play in the Sub-$4k range.
Golden Tate and Darius Slayton are the two healthy starting WRs for the Giants that will face a 49ers secondary without Richard Sherman and absent the pass rush of Nick Bosa and Dee Ford. The 49ers got killed by Hogan and Berrios in the slot last week, which is where Tate will primarily play when the Giants go to 3 WR sets and Slayton will see Moseley and Witherspoon on the outsides. Moseley has played well in previous stints as a starter but Witherspoon has been benched for poor play in the past (replaced by Moseley). We'll see if Witherspoon has learned anything from the sidelines during his time there. I'd start either of the NY receivers over Engram this week, as Jaquiski Tartt has erased TEs from the box score for most of the past two seasons. When Pittsburgh decides to throw, their best bet is going to be throwing at the soft slot coverage which is where JuJu Smith-Schuster usually lines up. The Steelers have spread the ball around well this year but this could be a week for JuJu to pops with Roby likely manned-up on Johnson on the outside. Allen Robinson was unable to make the most of his match-up against the Giants last week. He has 9 targets in both games to start this year and could see a boost in that total. Golladay seems likely to play this week which will matter for Marvin Jones since it should take some coverage away from just having to defend Jones at WR. Depending on how healthy Golladay is, we may still see Jones take the lead in targets this week if Golladay plays at less than full speed. Jones' 6 Red Zone targets lead all WRs to this point in 2020. The 49ers 1st round pick Brandon Aiyuk got to cut his teeth a bit last week against the Jets but will be needed more for this match-up against a defense that has not allowed opposing TEs to contribute much so far this year. NY has been easier to pick with outside WRs and with Aiyuk priced at $4100 he might be the right punt play to get exposure to.
TIGHT ENDS
BEST BETS: Drew Sample, Logan Thomas
PIVOTS: Zach Ertz, Jack Doyle
PUNTS: Jordan Akins, Jimmy Graham, Irv Smith
Drew Sample is likely to be chalky this week but he has a good match-up against the Eagles defense that is leaking points to opposing TEs. Sample has 5 Red Zone targets already this year (6 is the most for any player) so we know Burrow at least trusts him in that area of the field. There are guys to pivot to that are in the same price range (Akins, Graham) if you need to pull him out of a build that is getting too chalky. The Eagles TEs may benefit some from Reagor being out. It is worth considering that the Bengals have seen Hunter Henry and the Browns TE duo and have not surrender many points to those TEs. Based on the way Philly plays, I'll keep both of their TEs in my pool, but they don't have the greatest of "on paper" match-ups this week. Zach Ertz seems like he could be in a squeaky wheel, get it to your best play type scenario, and he's as cheap as we've seen him in a long time. Buy the freakin' dip! . Logan Thomas was disappointing chalk last week giving us a chance to roster him at potentially lowered ownership (I'm seeing projections that he may be chalky, though). Thomas is tied with McLaurin with 17 of Haskins 64 throws being targeted his way. Only Darren Waller has a higher target share among TEs. Meanwhile, the Browns defense has allowed 18 completions to opposing TEs for 148 yards and 3 TDs. Tyler Higbee finds himself with another great match-up here if Matt Milano misses this game at LB for the Bills. Once he was hurt in week 1 the Jets started targeting his back-up. Last week, Miami unleased Gesicki on them. [**SUNDAY UPDATE** Both Milano and Edmunds are back in the Bills line-up at LB. This makes me like Higbee a lot less and the Bills DST a lot more.]
Jack Doyle appears to be on track to play this week and sees a defense that just gave up 2 TDs and 50 yards to Jordan Reed. Moe Allie-Cox had himself a nice game last week but he was only in on 28 snaps in the Week 1 game that Doyle played. Doyle almost had a TD in that game, if not for a better throw by Rivers. Doyle checks the box for "in a good spot, but likely to be over-looked", but he is not a safe play, per se.
Will Fuller's absence from the stat sheet last week paved the way for 7 targets to Jordan Akins. Akins caught all 7 targets for 55 yards and scored a TD in week 1. Watson is actively finding this guy on his routes. Jimmy Graham is priced the same as Jordan Akins and may carry a little more value this week. The Falcons are allowing the opponent to target their TEs on 33% of their throws. Only the Saints have a higher ratio after Monday night's Darren Waller game. The Cowboys targeted their TEs 13 times last week following a week where Seattle targeted theirs 7 times. This opens an opportunity for Graham to have a huge game if Nagy tries to exploit this apparent crack in the Falcons defense. If we're fishing below the $3k mark for a TE this week we might want to consider Irv Smith. Kubiak knows he needs to do something different on offense this week to stay on the field. Smith upped his target total from 1 in week 1 to 4 last week. That's not heavy volume but he is facing a team that has allowed 7 receptions for at least 75 yards and a 1 TD in each of their last two games.
DEFENSE/SPECIAL TEAMS
BEST BETS: Steelers, Colts, Buccaneers
PIVOTS: Chargers
PUNTS: Texans, Titans, Vikings
Deshaun Watson is prone to sacks and can throw a pick-6 from time to time. The Steelers defense with a Conner stack looks pretty cure this week. The Chargers will get a crack at the Panthers traveling across the country without their best player. The Panther won't have the defensive force to slow down the Chargers offense and will have to rely on Bridgewater here. I wouldn't expect a lot of turnovers from Teddy but some sacks and a low scoring output could make the Chargers DST worth a play here. The Colts get to take on Adam Gase's walking dead. The Jets are either injured or the ones that aren't are not good at football. The Colts run a scheme that will keep everything in front of them and likely keep the Jets off the scoreboard. The Buccaneers get a Broncos offense missing their QB and #1 WR. The offense wasn't that great with them, which makes it easy to want to pick on them with a DST this week. There's not much to like at the low end of the DST range this week, but there is a possibility that the Houston front-7 can get home and sack Big Ben a few times or force him into erratic throws. They may not be able to keep the score down, but 5-7 DK points could happen. Either side of the Tennessee/Minnesota game could have one of the defenses show up and shut-down the opposing team's limited offensive attack.
FINAL THOUGHTS
With further exploration into this slate, I have found a lot to like this week. There are plenty of ways to get around chalky builds, even if you want to include a chalk piece or two in your builds. If you want to follow me on Twitter for any more plays I like heading into the lock I'm @majesstik1. You can also follow along on my Weekly Workbook as I arrange and rearrange my player pool as I continue digging into the slate. Best of luck to you all this week and thanks for reading!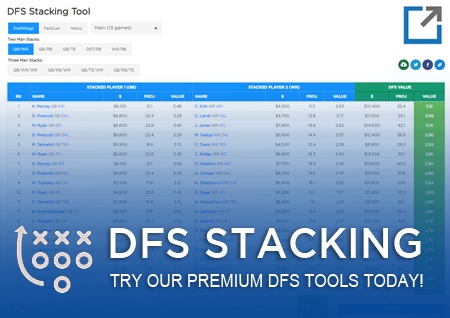 ---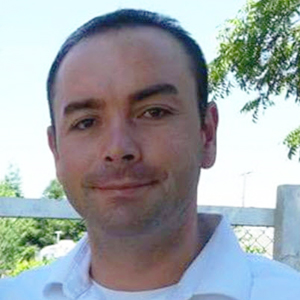 NorCal native Jesse Jones has been obsessed with fantasy football since first joining and winning a league in 1994. Always looking for an edge, Jess has been ahead of the curve mining data and building customized spreadsheet rankings and projections while others showed up to draft day asking for a pencil and a cheat sheet. Avid DFS, Best Ball and Re-Draft player that dabbles lightly in Dynasty. When not geeking out on Fantasy Football, Jess can be found hiking, kayaking, swimming, playing tabletop games, cooking, trading equities, listening to good tunes and/or enjoying a craft brew or two.