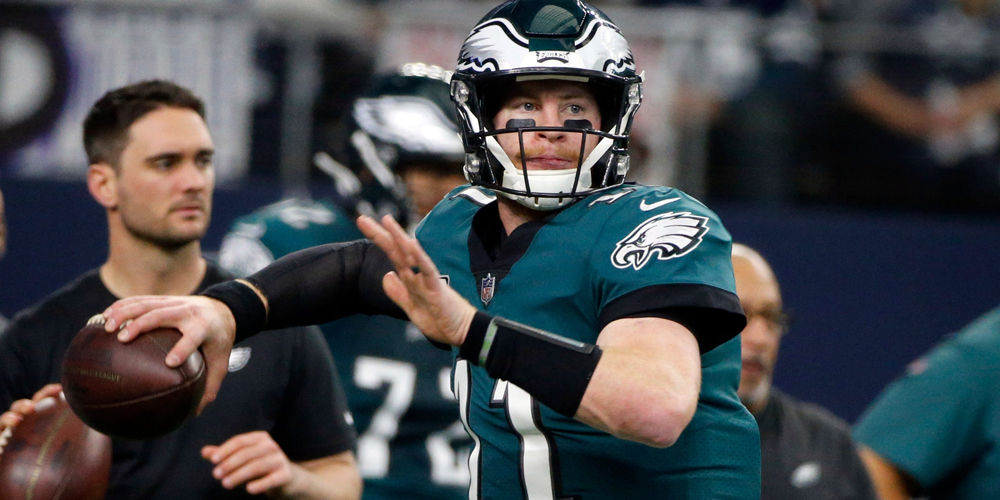 DraftKings NFL Picks: Chalk, Pivots, and Punts for Week 17
---
DraftKings NFL Picks Week 17
INITIAL THOUGHTS
With playoffs clinched for some teams and other teams trying to evaluate players for next season, week 17 always adds a twist to what we normally look for when building rosters. This week, I'll go position by position rather than game by game as we explore our options for this nontraditional slate. Some plays may still line up with the MATCH-UP CHART data, while some of our player pool will be guys taking over for resting starters or injured players. That link to the match-up chart will have other data added throughout the weekend as well as a "living" player pool that will be evolving all the way up until kickoffs.
MOTIVATION
The teams most likely to rest starters will be teams already locked into their playoff seed like Baltimore, Buffalo, Minnesota and possibly Houston. Teams eliminated from the playoffs are in evaluation mode may spread out snaps and touches. Other guys may be playing for NFL, team, or personal records, or contract incentives that trigger bonus money. Some players will be playing to audition for a job on another team next year. The ideal trifecta of what we are looking for will be based on the match-up, playoff aspirations, and pricing. However, there are still some non-playoff players we can consider this week. Let's get after it...
QUARTERBACKS
PLAYOFF CONTENDERS: Ryan Tannehill ($6800) gets a shot to clinch a playoff birth for his squad with a win and maybe facing a disinterested Texans team (if the Chiefs win earlier in the day locking the Texans into the #4 seed). The Texans pass defense is soft, allowing the third-most passing yards, and may not take this game seriously enough which could allow the league leader in YPA (by more than a yard on the next highest starting QB) to have one of the highest QB scores for the slate. On the other side of the ball from Tannehill will be Deshaun Watson ($6700), who has had great success against the Titans defense in his career. If the Chiefs lose and Houston is playing to improve their seed from #4 to #3, then he's a guy we'll want to consider. Dak Prescott ($6300) has a shot to lead his team into the playoffs with a win and a Philly loss. The Redskins were just roasted by Danny Dimes last week so as long as the shoulder holds up, Dak is in play. Standing in Dak and the Cowboys way to the playoffs will be Carson Wentz ($6100) fighting for his team's spot in the playoffs with a win against one of the worst pass defenses this season (NYG). Wentz stands out as a great play due to pricing, match-up, and motivation (the trifecta for this slate). Tom Brady ($6000) gets a home game against a team allowing an excessive amount of explosive pass plays on defense (13% rate - 3rd highest) but is also easy to attack on the ground. Brady is not putting up eye-popping numbers this year and has historically had some struggles with the Dolphins in year's past. He's someone to keep in mind but does not rise to the top of the pool for the slate. Buffalo cannot change their playoff position but McDermott says that Josh Allen ($6000) and most starters will play. He didn't say for how long, though, making this a tough group to trust unless something more definitive is released. Robert Griffin ($5100) may be one of the chalkier QB plays for this week because of his low salary and the design of the Ravens offense creating a record-breaking QB runner already this year. Griffin is also a runner, though not as physical as Jackson. He'll still run the same plays and get carries to boost his floor. The Steelers defense is not a push-over so temper expectations for him, as he may also be down a starter or two on the OL or at his skill positions.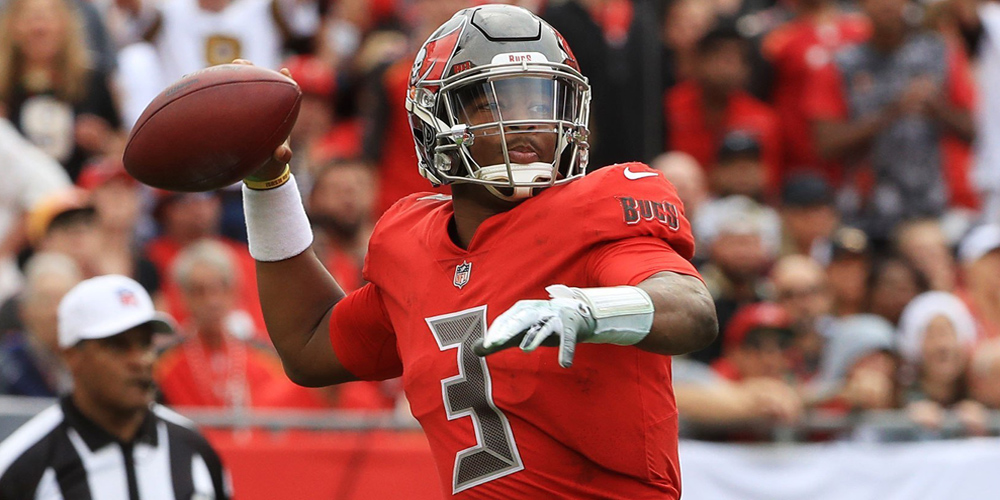 OTHER OPTIONS: Jameis Winston ($6600) is playing for a new contract and has a shot at a top 5 single-season passing yards record. Winston seems like an automatic 300-yard bonus every week, but he will be facing a team with coaching staff decisions to make once the season ends, making the Falcons (Winston's opponent) a motivated defense. Matt Ryan ($6500) was an auto-300 to start the year and will probably be passing often against the Bucs defense that has been great at shutting down the run game of their opponents. Both Ryan and Winston are in play as top options for the slate in this potential shoot-out. Jared Goff ($6200) pops on the radar due to the match-up chart but is also a solid option to consider as he and his offense have been criticized this year. Putting one on the Cards would be a good way for the Rams to end their season on a positive note. Drew Lock ($5800) is interesting due to his price and his opponent (OAK allows the highest rate of explosive pass plays in the league). However, Lock hasn't cleared 20 points yet, and Rivers was a dud in this spot last week.
BEST BETS: Ryan Tannehill, Carson Wentz, Dak Prescott, Jameis Winston, Matt Ryan, Deshaun Watson (if playing for a win)
PIVOTS: Jared Goff, Tom Brady, Baker Mayfield
PUNTS: Robert Griffin
RUNNING BACKS
PLAYOFF CONTENDERS: Aaron Jones ($8200) and the Packers are playing to clinch a #1 or #2 seed in the NFC. To get the #1 seed and force the rest of the NFC to travel to the frozen tundra for all their games, they must win this game. The Lions are not good against the run (5th worst DVOA against the run and 4th highest fantasy points allowed to RBs) giving Jones a good shot to be a slate-winner at a reasonable price, considering the match-up and motivation as well. Derrick Henry ($8100) faced Houston in week 15 dealing with a hamstring injury. He got last week off to rest up for this must-win game for the Titans and should be a focal point of the game-plan. The Texans run defense has softened up after losing Watt but they are still hard to get rushing TDs against, which is a huge factor for Henry's fantasy scoring. Ezekiel Elliott ($8000) gets to take on the defense that just allowed 46.9 DK points to Saquon last week. He's an elite option for the slate and could be relied on heavily if Dallas's game-plan is to protect a lead (and Dak's shoulder) by grinding this game out on the ground. Alvin Kamara ($7800) is the likely top play at RB this week in his match-up against the worst run defense in the league (CAR allows the most rushing TDs per game, the highest percentage of multi-TD games on the ground, and the second-highest fantasy points allowed to RBs). Kamara is also the league leader in targets per game from the RB position (the most valuable opportunity stat for RBs). Miles Sanders ($6800) has a tougher match-up than some of the other playoff-contending teams which could lower his ownership and provide a nice pivot option in this spot. Sanders has taken on a bell-cow role for the Eagles of late (snap count trending up from 55% to 71% to 82% each of the last three weeks) and is one of the only high-end weapons left on this offense. The Patriots take on a team that can be worn down through the running game but the way they distribute their RB touches makes it tough to rely on any one guy in this spot. The best option (most weeks) is James White ($5900) due to his target volume compared to the others but you could punt with Rex Burkhead ($4500) in MME stuff for an edge. Carlos Hyde ($5000) ran for 100-yards and a touchdown last time the Texans played Tennessee and could be given a similar workload if the Texans have nothing to play for but still allow Hyde to play a major role on offense.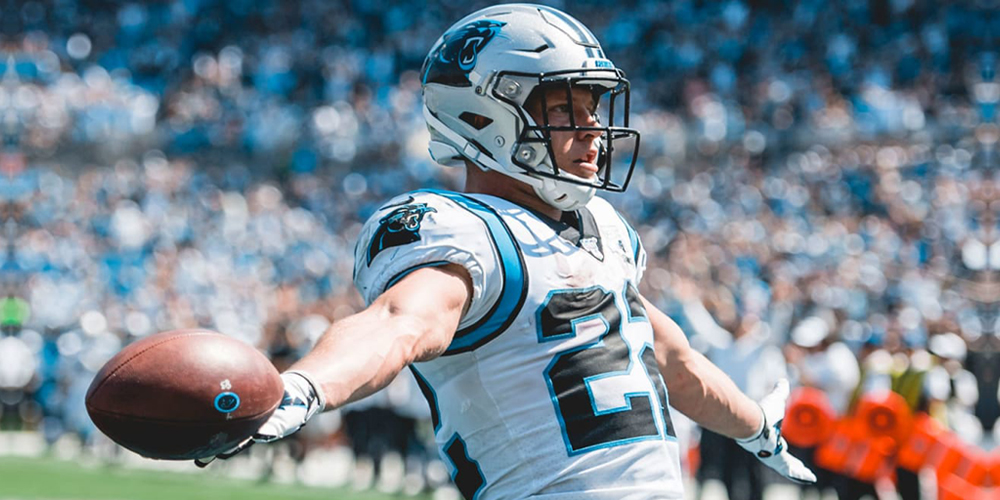 OTHER OPTIONS: Christian McCaffrey ($10,000) needs 67 receiving yards to join Roger Craig and Marshall Faulk as the third member of the 1000/1000 Club. It sounds as if the Panthers plan to play him for (at least) as long as it takes to hit that milestone. He's worth the play in most contests, as he should still be considered a potential 30-point play. Nick Chubb ($7500) faces the 5th-friendliest run defense in the NFL this week but has seen his workload considerably reduced over the last 4 weeks. We'd be betting on a 100-yard rushing effort and at least 1 TD to make value. On the other side of Chubb will be Joe Mixon ($7200), who is 25 yards short of a 1,000-yard rushing season. This would be beneficial to him as he heads into the final year of his rookie deal and Cincy may want to extend him. He should get full run in this game. The Jaguars run defense is 2nd worst in DVOA, allows the most fantasy points to RBs, and the second-most rushing TDs in the league. Marlon Mack ($6900) just faced the worst run defense last week and came up 5-yards short of the 3 point bonus on DK while also punching in a touchdown. Mack hit the 100-yard bonus last time he played the Jags (and scored a TD). He's a solid, but not a must-have play here.
Austin Ekeler ($6200) is likely to see some target volume in this game as the Chiefs force you into the middle of the field for passing and allow 22% of their defensive targets to flow toward the RB. Ekeler is 50-yards short of a 1,000-yard receiving season and had 8 catches for over 100-yards last game against the Chiefs. Ekeler is second in our efficiency metrics for fantasy points per opportunity. Adrian Peterson ($4900) is a sentimental punt option who could be taking his curtain call in his hometown against his childhood favorite Cowboys. AP will move into 8th all-time in rushing attempts with 5 this week, after passing Walter Payton for 4th on the all-time rushing TD list last week. Gus Edwards ($4800) and Justice Hill ($4600) will take over the Ravens backfield with Mark Ingram sidelined. Justice Hill had a modest, but encouraging game last week and may see a similar amount of opportunities (considering targets as well as carries) as Edwards, who tends to be used mostly as a bludgeon than an all-around weapon. Either guy is punt worthy in most formats if you're playing a handful of lines (or MME). DraftKings is practically giving away Damien Williams ($4700) this week and with Spencer Ware the latest back to head to IR for Kansas City, the opportunity is there for him to have a strong game in a spot where the passing game has the greater challenge. Seth Keysor wrote a fantastic article about Williams this week and how KC could look to rely on him more moving forward.
BEST BETS: Ezekiel Elliott, Alvin Kamara, Aaron Jones, Miles Sanders, Austin Ekeler
PIVOTS: Christian McCaffrey, Derrick Henry, Nick Chubb, Joe Mixon
PUNTS: Damien Williams, Carlos Hyde, Adrian Peterson, Gus Edwards, Justice Hill
WIDE RECEIVERS
PLAYOFF CONTENDERS: Michael Thomas ($9900) is playing at a different level than any other receiver this year and has been priced accordingly. If you build around him, then you're already considering the price implications and finding those punts and low priced pivots to get him into your build. The nice thing is we don't have to stack him this week, he can be a one-off. Davante Adams ($8000) has high-floor and upside as the only guy Rodgers seems willing to throw to (target counts of 13 and 16 over the last two weeks). He didn't play Detroit this year and only played them once last year, snagging 9 of 12 targets for 140-yards and a touchdown. If the Texans are playing for the win this week they could be without Will Fuller again, which has historically increased DeAndre Hopkins' ($7800) targets by 3 per game. Tyreek Hill ($7700) has slate-breaking potential every week and he comes at a price and match-up where he'll likely go a bit under-owned making him a solid pivot for larger-field tourneys. A.J. Brown ($7000) needs 73 yards to reach 1,000 for his rookie season. He saw his highest volume of the year in his last outing against Houston with 13 targets, catching 8 for 114-yards and a touchdown. Greg Ward ($4700) gets another chance at the Giants defense that is just terrible in coverage (only MIA is worse in DVOA, and MIA and TB the only two worse in FPA to #1 WRs) and allowed fellow slot receiver Steven Sims to go for 25 points last week. The Patriots receivers have given us nothing for the past couple of weeks. Edelman has been banged up and was limited as of Thursday's practice. This could be an opportunity for New England to try and get the other receivers on the same page as Tom and treat this game as a tune-up for those guys before heading into a probable bye week for the first round of the playoffs. Either Mohamed Sanu ($4100), N'Keal Harry ($4200), or Jakobi Meyers ($3300) could show up out of nowhere with a big score this week. It's a guessing game to pick which one. All three come at punt pricing so if you're an MME player it might be a good idea to sprinkle these guys into your line-ups as one-offs at modest exposure.
OTHER OPTIONS: Julio Jones ($8500) has seen 35 targets over the last two weeks (since Ridley went on IR) and with a 100-yard game here could move from 27th to 24th in career receiving yards. The volume should be there for Julio against Tampa's pass funnel defense. Allen Robinson ($7200) should continue to see double-digit targets and doesn't set us back much. The Vikings haven't said anything about resting starters but their corners have been inconsistent all year making this a viable play with or without looking at who starts on defense. Anthony Miller ($5800) is on a target roller coaster seeing double-digit targets in the odd weeks over the last 6. This is an odd week and Minnesota is a defense that is designed to stop the run (unless it's Aaron Jones) making Miller a viable punt option at the price.
Robert Woods ($7000) had a monster game when he faced the Cardinals a month ago, catching 13 of 18 for 172-yards. It'd make sense for the Cardinals to cover him this week but that's not a given with the other weapons the Rams make you account for in that offense. A repeated box score is unlikely but Woods is still a strong play for this slate. Fresh off his first two 100-yard games of his career (one including his first-ever multi-Td game), suddenly Breshard Perriman ($6700) is someone we have to pay attention to because of the offense he is in and the opportunity he has within it. Courtland Sutton ($6400) broke through the single-digit target ceiling he was held under all year until two weeks ago and repeated that with another 10-target game last week. With the Raiders still fighting for their playoff lives, he could be called upon for a three-peat here. Oakland allows the second-highest rate of explosive pass plays to WRs in the NFL and Sutton would be the most likely to receive those types of plays. Steven Sims ($4700) has back to back weeks of 10+ targets and scored 2 TDs last week. He's one of the cheaper options with strong upside this week. Odell Beckham ($5700) is 46 yards short of a 1,000-yard season and his QB wants to help him get there. The defense has likely read these comments as well but they are allowing the highest rate of explosive plays to opposing WRs in the NFL so it's likely not going to matter much. OBJ is in play this week.
BEST BETS: Michael Thomas, Julio Jones, Davante Adams, A.J. Brown, Breshard Perriman, DeAndre Hopkins (if Houston is playing for a win)
PIVOTS: Tyreek Hill, Allen Robinson, Robert Woods, Courtland Sutton, Odell Beckham
PUNTS: Anthony Miller, Greg Ward, Steven Sims, Mo Sanu, N'Keal Harry, Jakobi Meyer
TIGHT ENDS
PLAYOFF CONTENDERS: Travis Kelce ($7000) has seen more targets from Pat Mahomes in Mahomes' 3 career games against the Chargers than any other Chief. Tyreek Hill was the first one to out-target Kelce in a game versus LAC, which was the game this year. Kelce still stands to see either the most or second-most targets for KC but comes at a price that is hard to get to. Like Michael Thomas, you have to have a plan for what you're doing with your roster construction when going up for Kelce making him more of a pivot type play than a chalk or core piece. Zach Ertz ($6000) is a full $1000 cheaper than Kelce and likely to return similar total points. Ertz is dealing with a rib injury that slowed him down last week so we'll have to watch the Friday practice report and beat blurbs throughout the weekend. If Ertz looks limited for Sunday then we need to move Dallas Goedert ($4900) up the ranks in our player pool. Goedert put up 24 points last week with Ertz in and out of the line-up. If he's the main man, and there aren't many others on that Philly roster to compete with, then he's in a smash spot. Jared Cook ($5200) is the only TE that has had a great game against the Panthers defense (Kittle had a good game, and no one else has done anything of note). His role, particularly near the end-zone, keeps him in the conversation but the match-up is not ideal. Baltimore may decide to allow their injured playmaking TE Mark Andrews to sit out this week which would allow Hayden Hurst ($3200) to fill the role of pass-catching TE in the offense this week. He makes for a decent punt option if you're scraping around the bottom of the TE pricing barrel.
OTHER OPTIONS: At one point this season, the Buccaneers were almost as bad as the Cardinals covering the tight end position. That has changed quite a bit coming down the stretch of the season as they have shut down guys like Doyle and a bunch of scrubs. The only TE to reach a double-digit point total against Tampa since week 10 was Jared Cook who scored 11.3 points. However, Atlanta is going to have a hard time running the ball and outside of Julio, they don't have anyone else as talented as Austin Hooper to throw to. The match-up and price will keep him low owned and in the pivot group for TEs. Tyler Higbee ($5600) has abused the TE Flow Chart defense once already this year, which started a 4 game run of 100-yard receiving games for him. He's the hottest TE in the league right now and will look to finish the year with a 5th 100-yard game and 20+ fantasy point total. Darren Waller ($5400) is at his cheapest price since week 7 and faces a defense that filters targets to the TE at a 24% rate. Derrick Carr has targeted his TEs at a 33% rate, with 24% going to Waller. Waller may go a bit over-looked with the other TEs in his price range having good match-ups or opportunity as well. Hunter Henry ($4500) faces the #1 TE funnel defense in the league (26% target rate) but has been underwhelming of late. He's worth a shot here, but there seem to be several TEs worth a shot this week making him just one in a bunch. O.J. Howard has seen a steady diet of 5 to 7 targets over the last 4 weeks and Atlanta has been allowing TEs to clear double-digit points more often than not over the past few weeks (when they play a team with a competent TE). Like Henry, he's an option, though not an exciting one. He'd be more fun to punt with if he were priced down in the low-$3k range still. Adding to this group of TEs that are viable options at the $4k range are Jonnu Smith ($4200), Jack Doyle ($4100), and Jason Witten ($3900) who has the best match-up of the group and playoff motivation.
BEST BETS: Zach Ertz, Tyler Higbee
PIVOTS: Travis Kelce, Austin Hooper, Darren Waller, Jared Cook, Dallas Goedert, Hunter Henry, O.J. Howard, Jason Witten
PUNTS: Noah Fant, Hayden Hurst
FINAL THOUGHTS
There are still some situations to monitor for injury concerns and how long or if certain players will play. I've started work on my player pool, which will be fluid until Sunday morning kickoffs if you want to follow there. You can also follow the beat writers for each team here. Good luck, and enjoy the last week of large slate fantasy football of the decade. Thanks for reading!
STAY IN TOUCH
Sign up for FantasyData's newsletter and get awesome content sent to your inbox.
We'll never share your email address and you can opt out at any time, we promise.
---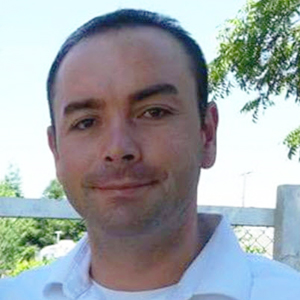 NorCal native Jesse Jones has been obsessed with fantasy football since first joining and winning a league in 1994. Always looking for an edge, Jess has been ahead of the curve mining data and building customized spreadsheet rankings and projections while others showed up to draft day asking for a pencil and a cheat sheet. As an avid NFL DFS, Bestball, and re-draft player Jess will work hard to find the edge you need to win in all formats. Jess is married to the wonderful wife of their 2 kids and enjoys traveling, playing tabletop games, and trying new craft brews. Let's make some money at this hobby of ours!