DraftKings NFL Picks: Chalk, Pivots, and Punts for Week 18 (Playoffs)
---
DraftKings NFL Picks Week 18 (Playoffs)
Initial Thoughts
With only 4 games to work with this week, we're looking at making narrow choices with our builds. These teams are in the playoffs for a reason, so there won't be any Panthers run defenses or Dolphins pass defenses to pick on. Although, there are a few teams that have data in a few spots to pick on. These will be the plays the field will be on as well so we're going to need to get creative this week. Most likely, the field is going to flock to the Saints for their implied total, as well as the Bills for having the best "on paper" match-up. Contest selection will play a significant role in what you need to do to win. The larger the tourney, the more you'll need to separate your lines from the field. Let's see what we can find...
Buffalo Bills (20.25/+2.5) at Houston Texans (22.75/-2.5) [43]
With the Texans installed as the home-favorite and the implied total for the game being the lowest, some may overlook the Bills offense but I'm not going to count on that. The Texans have the softest defense of the slate so expect your opponents to have plenty of these guys on their rosters, starting with Josh Allen ($6500) and John Brown ($6000). Allen and Brown make up one of the more explosive pass combos for the slate. Allen's splits show better numbers when he's on the road and he just got through a meat grinder of pass defenses over the past 5 weeks (not counting week 17). Even with JJ Watt back, Allen should be able to make plenty of plays against the Texans secondary that just lost safety Tashaun Gipson to IR and has veteran corner Jonathan Joseph nursing a hamstring injury. The Texans show the most opponent friendly pass data on the MATCH-UP CHART with the highest pass DVOA allowed and the highest FPA, Adj FPA, Average Passing TDs, and rate of multi-passing touchdown games all being at the top. The Texans also have the second-highest Explosive Pass Rate to WRs on the slate, per Sharp Football Stats. John Brown demonstrated a stable floor of 50 yards or a touchdown catch in 13 out of 15 games this year. He'll be the biggest worry for the Texans defense which could open some opportunity for Cole Beasley ($5600) to break free against Vernon Hargreaves in the slot. Hargreaves has allowed 24 catches for 274 yards and 3 touchdowns in his coverage since arriving in Houston, the most by any Texans corner for all three categories. Beasley could be one of the lower owned plays on this concentrated slate and makes a great pivot option if you want to come off Brown for the extra $400 to spend elsewhere.
Devin Singletary ($6000) has averages 79% of the Bills snaps over the 5 weeks they've been facing playoff-caliber defenses from weeks 12 through 16. That 79% represents a significant amount of time on the field, as does his 34.7% share of the total offensive workload during those 5 weeks. Deshaun Watson has been sacked 3 or more times in 10 out of 15 games and has thrown an interception in 5 of his last 6 games, this could help the Bills DST ($3100) pay off their second-highest price for DST this week. They are more than likely going to be one of the more under-owned defenses due to this price and Houston being the favorite in Vegas's eye.
The Texans will likely have us keeping an eye on beat reports up until game-day for the statuses of Will Fuller ($4900) and Kenny Stills ($4600). DeAndre Hopkins ($7700) will be ready to go but will face Tre White in shadow coverage. White has not allowed a TD reception in his coverage since week 14 of last year. This presents a significant challenge for Hopkins to overcome but he does have 2 games this year of which he scored over 20 DK points without a TD and the match-up could lead to him going under-owned in case he breaks Whites streak. Hopkins has another challenge if Fuller plays, as he has seen 3 fewer targets per game this year when he and Fuller share the field. Fuller is Deshaun Watson's ($6400) favorite deep target as he saw a team-leading 2.1 deep passes (passes that travel over 20 yards in the air) per game catching 9 of the 23 total targets for 247 yards and 2 touchdowns. Fuller's 32.9% deep target rate tied Mike Williams for 6th in the NFL among receivers that saw at least 30 targets on the year. Fuller is the type of play that will take you to the top of leader-boards if he's healthy and Watson and he connect for a couple of long touchdowns. If Fuller misses, then you could punt with Kenny Stills ($4600) who has caught 4 of his 12 deep targets for TDs this year but has not crossed an 18.5 DK point threshold yet this year. Keke Coutee ($3300) becomes a bit of a "free square" if both Fuller and Stills miss. Coutee isn't as reliable as some of the other receivers in the player pool and only has one really good game in his career, which was his first career game.
The Bills run defense away from home has been middle of the road and the Texans Showed us what they thought of Carlos Hyde ($5100) last week only giving him 5 snaps while forcing Duke Johnson ($4400) to play 21 snaps in a game they were resting their starters. Bill O'Brien might be looking for ways to avoid the Bills talented secondary by calling run plays for Hyde. The Bills have allowed the highest percentage of targets to the RB position so Duke may be plenty involved here as well. Both are low upside plays as Hyde is a "yards and TD back" that will need 100-yards and a TD to matter and Duke won't see high enough volume (even if he scores once) to matter much. However, this is only a 4-game slate so we will need to get exposure to these two in MME stuff. This theory applies to the TEs as well. I would rather not roster either but if you're in a 150-entry contest, then you'll need to cover every angle.
Tennessee Titans (19.5/+5) at New England Patriots (24.5/-5) [44]
The Titans face the toughest draw of the slate going into Foxborough to face the #1 defense in scoring and yards allowed. The Titans offense is highly reliant on Derrick Henry ($8200) carrying the load and Ryan Tannehill ($6300) hitting big plays to A.J. Brown ($7400). The Patriots should be able to handle this type of a concentrated offense and force them to put the ball in someone else's hands. Henry should see close to his regular 20 carries per game volume and might be able to catch the Pats by surprise if Tennessee decided to get him more involved in the passing game. Henry has to reach 100-yards and at least 1 touchdown to pay off his top of the position salary and he'll be a likely fade for most of the field in smaller entry limit tourneys, making him an interesting pivot in case he somehow hits for 3 TDs again. Henry has the second-most 20+ yard runs as well as the second-most 40+ yard runs this season making him a threat to take the ball to the house on any play. A.J. Brown is tied for the league-lead with 8 plays of 40+ yards but he's going to have to do it this week in Stephon Gilmore's coverage. Gilmore allowed 49% of his coverage targets to be completed (8th fewest for CBs with at least 20 coverage targets) but is only middle of the pack for Yards After Catch allowed which is where Brown makes his hay. Brown has the ability to break at least one big play to pay off his salary as the third-highest WR for the slate but the odds are not in his favor. His ownership is hard to determine due to his high salary and tough match-up. For MME he'll probably be higher owned than smaller entry limit tourneys. Single-entry and 3-Max he's likely to be passed over a bit more, making these the contests that he would be more important to have on your roster if he does break-out.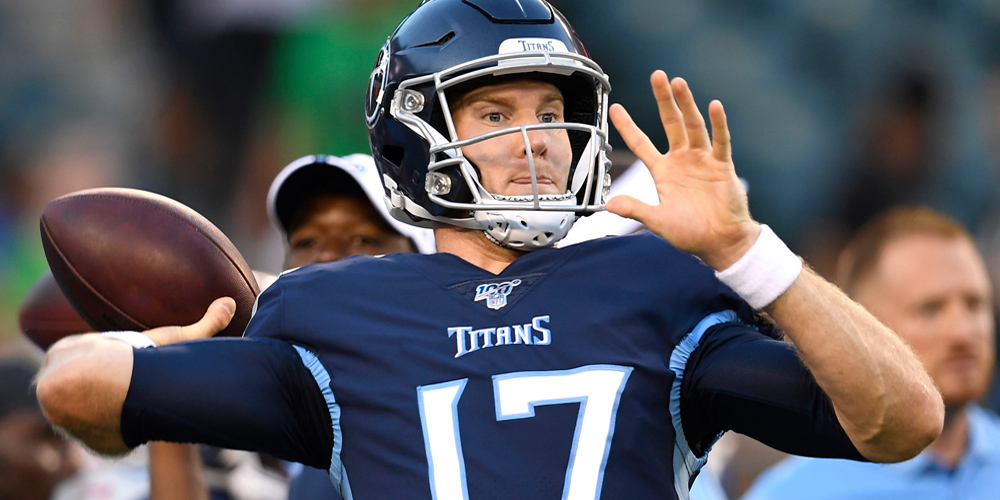 Ryan Tannehill ($6300) has had one helluva breakout season and when looking for comparable defenses he's faced this year there's not much to go on. He played nearly half the game in Denver during the Week 6 game he took over for Mariota and held the job since. In that game, he was pretty good completing 13 of 16 for 144 yards but no TDs and 1 interception. He faced the Chargers secondary the following week and completed 23 of 29 for 312 and 2 TDs to one INT. Tanny was a Dolphin prior to this year and has some pretty solid box scores against the Patriots defense. He'll probably be in the bottom 3 or 4 for QB ownership, offering some leverage there. His ceiling doesn't look like he'll go too much higher than 22 or 23 though. If you're rolling out 150 lines then you're probably going to get some exposure to Corey Davis ($3800) or Jonnu Smith ($3800), maybe even getting to Tajae Sharpe ($3800) once or twice. In smaller entry stuff you shouldn't need to go there but they will separate your line if one of them hits a solid score and allows your roster construction to include some other spend-ups.
Tom Brady ($5800) stood out to me when I did my first look at the salaries. He's the lowest priced QB and in one of the better passing match-ups for the slate. This should push him into high ownership but his stat lines have been miserable in all but one game over the past 10 weeks so maybe I'll be one of the few with strong interest here. Brady is coming off a game where he fell flat against the Dolphins in his home stadium causing his team to fall to the third seed and the reason they are even playing this week. If Brady isn't dust, then this will be one of his rebound performances to atone for his dud the previous week. Brady should be able to get it going with Julian Edelman ($6500) in the slot. Edelman gets to see the worst of the Titans corners Logan Ryan, who has allowed a QB Rating of 129.3 with 38 catches for 501 yards and 4 TDs (16.0 PPR per game) in his coverage since week 10 (when they lost Malcolm Butler for the year). The rest of his receiving corp is guesswork. In theory, the Patriots surrendered a 2nd round pick for Mohamed Sanu ($3900) so they could get an experienced WR opposite Edelman who could help them win another super bowl in Tom's window. Sanu is an interesting option this week with his pricing down in the punt range. He's seen 5 or more targets for three straight weeks but the fantasy points have not followed. If I end up building 5 or more lines I'll probably get to him. He's a tougher one to buy with 3-Max and Single-Entry stuff though.
James White ($5700) could play somewhat of a de facto #2 receiver role and security blanket for Brady here. Tennessee allows 22% of their targets allowed to filter to the RB position, which is second-most for the slate. White is typically just a high-floor play that is often over-priced but as we saw in Houston he has 30+ point potential if that's what the game-plan calls for. Sony Michel ($4600) has been resuscitated over the past 3 weeks, carrying the ball 19, 21, and 18 times in that span. However, this newfound usage has not yet reached a 100-yard bonus on DK and he only produced 1 touchdown. It was nice to see the two games in there where he had 2 targets each but last week he was back to his usual absence in that component of the offense. Both White and Michel getting touches is bad for each other from a fantasy perspective but may the way the Pats continue to call plays this week. Neither should see high ownership so mixing them into multi-entry games is worth consideration.
Minnesota Vikings (21.25/+7.5) at New Orleans Saints (28.75/-7.5) [50]
The Vikings are the biggest dogs for the weekend but will finally be back to full health (or as close as you can be at this time of year) across their offensive skill positions. The Vikings beat the Saints in the divisional round 2 years ago when Stefon Diggs ($6600) caught a game-winning 61-yard TD on the final play of the game (known as the Minnesota Miracle). That was in Minnesota and with Keenum at QB. This year they'll have to beat Brees in the Superdome (which is tough) and do it with Kirk Cousins ($6100) at QB. Cousins will likely be the lowest owned QB on the slate so there's leverage there. The Saints are allowing the third-most points on the slate to QBs and the biggest bump in points to opposing #1 WRs. The Saints secondary is dealing with a few injuries right now and it would be a good idea to keep an eye on beat reports the next couple of days to see if any of them miss the game. Marshon Lattimore may be asked to shadow Stefon Diggs but could also just play on side of the field and take whoever lines up across from him (Diggs or Thielen) since Minnesota runs 12 personnel at a 45% rate (2nd-most in the NFL behind Philly's 50%). Adam Thielen ($6200) would get the more beneficial match-up with either Eli Apple or Janoris Jenkins in 2-WR sets and should get plenty of slot reps against P.J. Williams who has allowed 5 TDs since week 12. Even with Lattimore in coverage, Stefon Diggs carries big-play potential we cannot ignore simply due to the match-up. Diggs leads the league with 6 deep passing TDs (all 6 of his TDs) and his 29 deep targets are the 3rd-most in the league this year. Cousins is 9th in deep-ball pass rate among QBs and the Vikings will likely be chasing this game at some point, if not early. The pair of Cousins and Diggs won't be highly owned making them quite interesting in tourneys. Thielen has yet to show he's a reliable play since returning from injury, which in conjunction with his unfriendly salary per production will keep the field mostly off of him making him a solid pivot in multi-entry contests.
The tight ends have vanished with Thielen back in the mix and are in the same class as the Texans TEs, play them only if you're rolling 150 lines. Dalvin Cook will be back this week and figures to take on the bulk of the workload for as long as possible, assuming the Vikings stick to tendency (3rd in run percentage this year) and play a run-heavy game. Cook went through a stretch during the middle of the year where he was seeing 6-7 targets per game and he could be called on to be a bigger part of the passing game. New Orleans has been terrific at stopping the run this year (4th lowest rush yards allowed) which could force Minnesota to get Cook touches through the screen game. The opportunity in this offense is concentrated through Cook, Diggs, and Thielen making it likely one of these guys has a great fantasy score trying to keep up with the Saints.
New Orleans also has a highly concentrated offense that typically flows through Michael Thomas ($9300), Alvin Kamara ($7400), and when they get into the red-zone Jared Cook ($4900). Tre'Quan Smith ($4000) has caught 4 TDs over his last 6 games but has yet to score higher than his 16.6 from last week. Expect the offense to continue to run through those first three with Smith possibly chipping in another TD and Latavius Murray ($5000) seeing around 10 opportunities (carries and targets). Drew Brees ($6600) is the battery of the offense and trying to stop him in the Superdome is one of the most difficult tasks for any defense in the league. In my opinion, Brees is hands down the top play at QB for this slate because of how good he's been in his dome (59 more pass yards per game and 0.66 more passing TDs per game in a dome) Just this year Brees' fantasy points per game are 12 greater than when he takes to the road with a 27.7 average at home. Minnesota will want to pick apart those Atlanta game tapes to see what they did to slow him down since no one else could.
Seattle Seahawks (23.5/-2) at Philadelphia Eagles (21.5/+2) [45]
Russell Wilson ($6800) has a career 4-0 record against the Eagles which includes 2 games in Philly, one of which was played earlier this year when Seattle won 17-9 in week 12. Seattle's 2 TDs came from Penny on the ground and Malik Turner ($3300) through the air. There's a good chance they will be without both guys for this game since Penny is already on IR and Turner is in the concussion protocol. The running back room has changed since that week 12 game with Travis Homer ($5300) and Marshawn Lynch ($5200) now the one-two punch. Homer showed off some pass-catching chops against the 49ers strong defense last week. The Eagles are a stouter run defense than San Francisco making Homer a likely bet to be used in the same capacity again this week. Lynch will play the grinder role, which will not provide much value against the Eagles front-7. I'll more than likely pass on both this week but 150-entry players will want exposure. Luke Willson's ($2500) return to the field this week will be a boost for Homer and Lynch from a blocking perspective.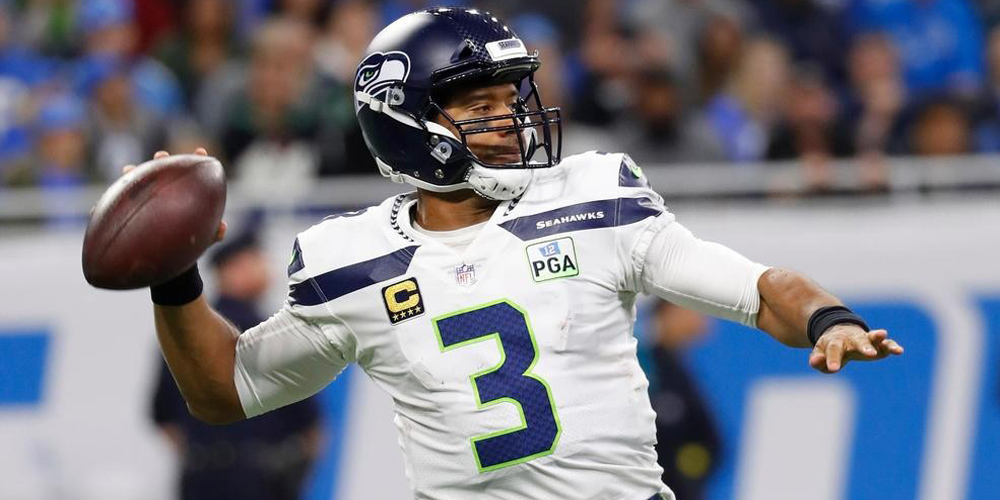 Russell Wilson only threw the ball 25 times in the previous meeting between these teams but we might expect that number to rise with the depleted back-field and by comparing Wilson's pass totals in other tough run defense match-ups this year. He threw 40 times last week against the 49ers, 36 times a few weeks ago versus the Rams. 34 times in SF, 43 times against Tampa, 41 times against Baltimore, and 50 times against the Saints. The Eagles defense has been strong at home and is only allowing the least amount of fantasy points per game to QBs (12.3) at the Linc (Wilson had 11.5 in week 12), so it's interesting to me how DraftKings priced him as the top QB. Perhaps they are expecting increased pass volume as well. Wilson's top two targets Tyler Lockett ($7200) and DK Metcalf ($6100) have combined for 7 plays of 40+ yards between the two of them. However, both guys were held under 40-yards each last game in Philly. Lockett has the greater potential to post a slate breaking score (he has 3 games of 29 or more this year) but Metcalf could easily post a strong score for $1100 cheaper. Jacob Hollister ($4300) and David Moore ($3400) are in dart throw worthy in MME contests. Given the total and tight spread on this one both DST are in play and are priced within $100 of each other. Wentz fumbled three times against the Hawks in week 12 and may be without RT Lane Johnson again (he missed week 12, then missed the final 3 regular-season games) and just lost RG Brandon Brooks to IR (Brooks left the Seahawks game early as well), giving cause for considering the Seahawks DST ($2800), who scored 17 in the week 12 match-up.
Like the Seahawks, the Eagles have also taken a beating to their offensive skill group. Jordan Howard ($4900) was unavailable in the week 12 meeting and Boston Scott ($5800) only played 3 snaps and didn't touch the ball. Miles Sanders ($6200) was a bell-cow back for that game and averaged 5.25 yards per carry on 12 totes, adding 3 catches for 23 yards totaling just 11.6 DK points for the day. Sanders is dealing with an ankle injury heading into this week and Doug Pederson has said Howard will have a role on offense. Whether that is as the lead back in Sanders' absence or as a member of a 3 back committee if Sanders is healthy has yet to be clarified. With so many injuries at receiver and with Zach Ertz ($6000) ailing, the running game expected to play a prominent role this week so we'll need to monitor beat reports leading up to Sunday for any clues as to who will get the volume is Sanders is out. Sanders should be expected to get the most of the second and third down touches and pass targets, if healthy. The Seahawks have been awful at stopping the run to close out the season allowing at least 128 rushing yards (172 yards per game at 5.38 per carry) and 2 or more TDs in each of their last four games.
The top TE play for the slate will be Ertz if he's healthy. If he's out, then Dallas Goedert ($5200) becomes the top play against a defense that struggles mightily against the position. Ertz saw 14 targets in the previous meeting between these teams, catching 12 for 91 yards and a TD. Goedert saw 8 targets, catching 7 for 32 yards. This will likely be the game-plan again here as Seattle has allowed the highest percentage of targets and fantasy points to go to the TE position for the slate, and allowed the second-highest points on the year to the position. Outside of TE and RB the Eagles are thin out wide where they have not seen Agholor take the field since Week 13 and are down their top 2 outside guys from the start of the year leaving practice squad call-up Greg Ward ($5200) to carry the full load among receivers, mostly doing it from the slot. J.J. Arcega-Whiteside ($3300) and Robert Davis ($3200) have done absolutely nothing as the outside guys in this offense. Deontay Burnett ($3100) was called up from the practice squad last week and produced more points (6.8) last week than JJAW has over his last three games and more than Davis has all season, most of it coming from one play (a 41-yard catch). If punting on an Eagles outside receiver, he might be the best bet. The Eagles DST ($2900) will be tasked with making up for any deficiencies in the offense and (at price) make for a solid play against the Seahawks beat-up offense.
Final Thoughts
With such a short slate the best way to jump the field is to play smaller entry limit contests and fade the obvious plays. You may end up with no ROI if the chalk hits but you also won't be tied with a bunch of other people if you climb the board. If you're playing multiple lines you can make a couple of chalky lines, a couple of mixed lines using chalk with pivots, and then a couple of low-chalk/high-pivot with some punt lines. Guys I think will be chalky include Brees and Allen at QB; Singletary and Sanders at RB; Thomas, Edelman, and Smoke at receiver; Ertz and/or Goedert at TE; and DST spread out to what you can afford that doesn't contradict your line-up. Some of my favorite pivot options will be Brady and Cousins at QB; Henry and Hyde (possible Howard) at RB; Diggs, Thielen, AJ Brown, Beasley, and Fuller at receiver; and Jared Cook at TE with Kyle Rudolph my top punt option for the TE spot. Other punts include Howard and Duke at RB; Sanu and Burnett at WR; and Josh Perkins if Ertz misses. I'll have more listed in my player pool as I continue to configure that leading up to the DK lineup lock. Good luck this week, and thanks for reading!
STAY IN TOUCH
Sign up for FantasyData's newsletter and get awesome content sent to your inbox.
We'll never share your email address and you can opt out at any time, we promise.
---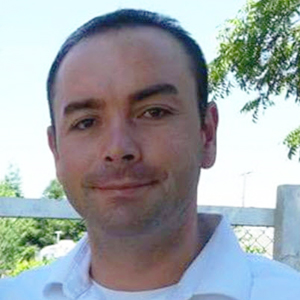 NorCal native Jesse Jones has been obsessed with fantasy football since first joining and winning a league in 1994. Always looking for an edge, Jess has been ahead of the curve mining data and building customized spreadsheet rankings and projections while others showed up to draft day asking for a pencil and a cheat sheet. As an avid NFL DFS, Bestball, and re-draft player Jess will work hard to find the edge you need to win in all formats. Jess is married to the wonderful wife of their 2 kids and enjoys traveling, playing tabletop games, and trying new craft brews. Let's make some money at this hobby of ours!