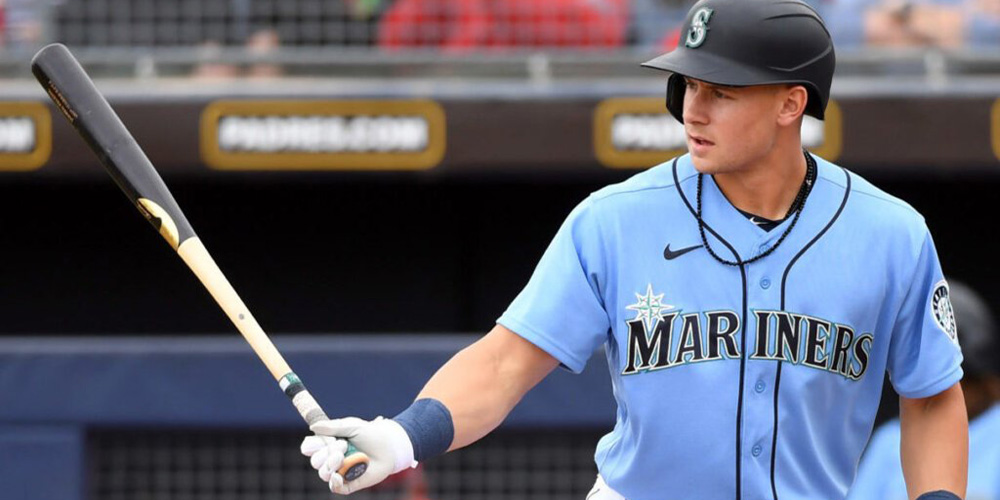 Fantasy Baseball Rankings Update (May 2021)
---
Fantasy Baseball Rankings
We're about a month and a half into the baseball season, and unfortunately, many players have suffered injuries. In leagues with no injured list spots, it leads to difficult roster decisions each week. Even in leagues with injured list spots, fantasy managers have needed to make tough decisions with so many injuries to key players. In the past week or so, we had the pleasure of welcoming Jarred Kelenic, Logan Gilbert, and Shane McClanahan. However, Daniel Lynch didn't experience the same amount of initial success that led to the Royals optioning Lynch back down to the minors.
We'll note some notable risers and fallers with reasons why they moved up or down the rankings. A quick reminder that rankings are fluid and I tend to put players into buckets or mental tiers. However, there isn't a clear cutoff for any player and rankings change daily and weekly based on a player's performance, injury, and opportunity.
Feel free to reach out with any questions/comments on Twitter.
May Rankings Highlights
Vladimir Guerrero Jr., 1B/3B, Toronto Blue Jays
We love to see it - Vladimir Guerrero breaking through in 2021 with a .329 batting average, 11 home runs, 30 runs, 30 RBI, and one steal. With all the talk about too many groundballs for Guerrero, he improved and lowered his groundball rate to 46.4% down from a career rate of 50.4%. Although it's not a drastic change, it's translating into positive results paired with his 13.4% barrel rate and .444 wOBA. Unfortunately, I didn't land Guerrero anywhere, but he's a top-3 1B/3B for me right now.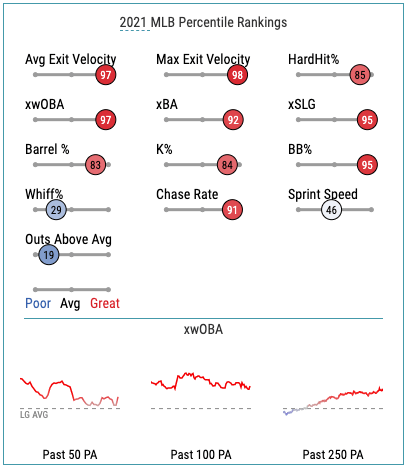 Jarred Kelenic, OF, Seattle Mariners
With Jarred Kelenic's callup, I aggressively moved him inside the top-25 for outfielders given his power/speed skills. I wanted to move him even farther up into the top-20, but let's see a bit more data and results before that happens.
Notable Risers
John Means, SP, Baltimore Orioles
Admittedly, I had concerns about John Means since he pitched for the Orioles. Enter Dylan Bundy and Kevin Gausman, but with the Orioles' new management maybe I should've considered Means a bit more. Means suffered some hardships in 2020 with the passing of his father, which is one of those unquantifiable aspects that impact people, including baseball players. Dan Connolly of The Athletic wrote an article on this story in April 2021.
All that said, Means moved inside the top-40 of starting pitchers in this group of must-start pitchers. In 52 innings, Means has a 1.21 ERA, 0.71 WHIP, 28% strikeout rate, and 5.3% walk rate. He boasts a career-best 15.4% swinging-strike rate and 31.3% CSW%.
Although his curveball isn't missing as many bats, his changeup looks filthy with a 25.6% swinging-strike rate and 40.9% whiff rate. Means is keeping those four-seamers up with the changeups down and away on his arm side. Meanwhile, his curveball continues to have above-average horizontal movement. Means, Trevor Rogers, and Freddy Peralta have all solidified themselves as must-start options.
Tyler Rogers, RP, San Francisco Giants
As a sidearm/submarine pitcher, Tyler Rogers doesn't miss a ton of bats. However, once a saves plus holds target, Rogers received opportunities for saves in recent appearances. Rogers has five saves in seven opportunities with three saves coming in the past four games. Jake McGee struggled in recent games with an 8.53 ERA and 1.74 WHIP in May. However, McGee earned a save on Wednesday against the Reds, so he'll still factor in for now. Regardless, Tyler Rogers shoots up the reliever rankings into the Lou Trivino range of closers sharing opportunities.
Notable Fallers
Victor Robles, OF, Washington Nationals
The production stinks for Victor Robles. However, we notice some positive signs with his 30.1% line drive rate, career-low 21.7% O-Swing%, and 85.7% Z-Contact%. That means Robles keeps hitting line drives, which we like, and he's chasing less than ever before while also making a healthy amount of contact. Sure, the hard-hit metrics look awful with a 2.6% barrel rate and 31.2% hard-hit rate, but that's never been his calling card. I still have hope, but he keeps falling since he bats ninth, lacks the stolen base attempts (outside of this week), and not producing counting stats.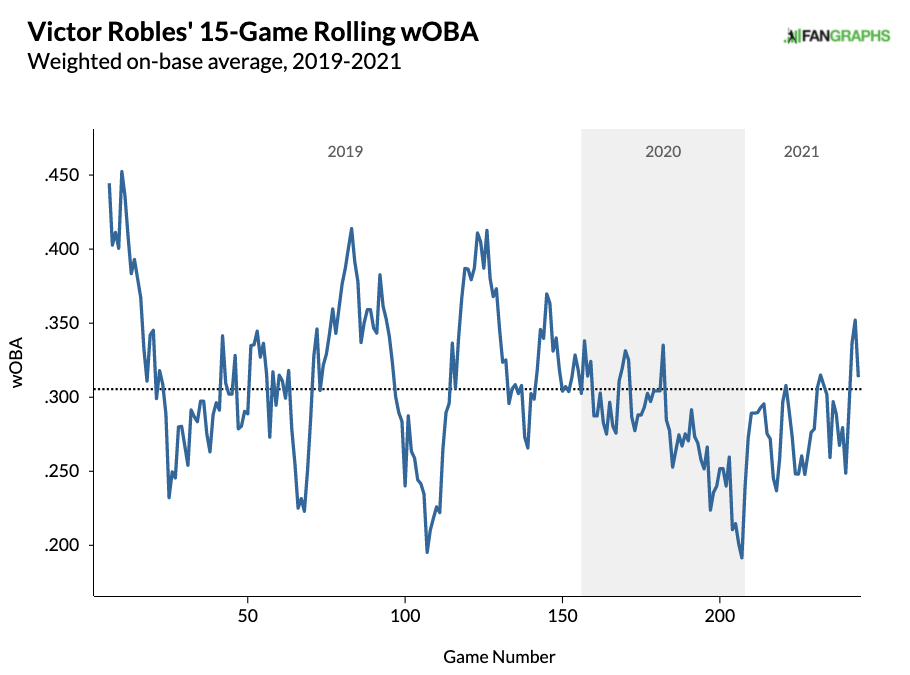 Luis Castillo, SP, Cincinnati Reds
One of the narratives early on for Luis Castillo includes pitching in cold/terrible weather, lowered fastball velocity, and a less-effective changeup. Once a top-10 starting pitcher, he kept inching down the rankings with his early struggles. Even without the weather playing a role, decreased fastball velocity and his best pitch not performing as well lead to several concerns. However, I'm preaching patience with Castillo though I'm also heavily invested with him in several leagues.

In Tuesday's start, Luis Castillo allowed three earned runs with six hits, three walks, and 11 strikeouts in five innings. His velocity was up on all pitches, particularly his four-seamer and changeup. Castillo notched a season-high 11 strikeouts, which is a positive sign, especially with a 57% whiff rate and 31% CSW% on his changeup. Overall, Castillo finished with a 49% whiff rate and 37% CSW% - his best whiff rate and CSW% of the season. Let's hope this is a turning point for Castillo with the buy-low window closing.
STAY IN TOUCH
Sign up for FantasyData's newsletter and get awesome content sent to your inbox.
We'll never share your email address and you can opt out at any time, we promise.
---

Corbin is passionate about fantasy baseball and football. He loves diving into and learning about advanced metrics. Corbin is a Mariners and Seahawks fan living in the Pacific Northwest. Corbin's other hobbies are lifting weights, cooking, and listening to fantasy sports podcasts.