Everything You Need to Know About Advanced Metrics
---
Advanced metrics are widely used amongst the fantasy football industry to help us decide which players we should be buying and selling each season. All of these stats help breakdown individual player performance better to give us an understanding of their strengths and weaknesses. In fantasy football, however, we are after one thing; fantasy points. So, I wanted to do a few things to get a better understanding of what the advanced metrics offered at FantasyData (powered by PlayerProfiler) mean to us for each position.
The correlation was made possible with some help from my friend and Fantasy FAQs Podcast co-host, Seth Keller (@FFTheAtHomeDad). The correlation turned into the meat of this project as we wanted to know which metrics are the most valuable in fantasy. This is important to know because it's something that we can utilize in predraft mode before the season starts and in-season to identify value in a player that hasn't broken out yet. You can also use it when analyzing trades to know if a player's value could go up or down based on how they rank in the most critical metrics or while building lineups for DFS purposes.
Let's get to the numbers.
Quarterback
Here is a list of the advanced metric categories we will be analyzing for QB and their meaning.
Protection Rate (Pro. Rate): Percentage of plays in which a QB is well protected.
Pressured Completion Percentage (Press. Cmp%): The percentage of passes completed while under pressure from a defender.
Total Air Yards: Isolates the yardage gained by wide receivers and tight ends strictly from the depth of a quarterback's throws.
Air Yards Per Attempt: Divides total air yards by the number of pass attempts
Deep Ball Attempts: Passing attempts that travel 20 yards or farther in the air.
Target Separation: Average target separation for all running backs, wide receivers, and running backs receiving passes beyond the line of scrimmage.
Dropped Passes: Catchable passes dropped by the intended target.
Red-Zone Attempts: Attempts close to the goal inside the player's 20-yard line
Red-Zone Completion Percentage: Percentage of passes completed inside the red zone.
Interceptable Passes Per Game: Amount of passes thrown per game that could have been intercepted by the defense.
Which Metrics Matter the Most?
Here is a list of how well these advanced metrics have correlated to final ranks in fantasy over the last three years on average. While PPG rank isn't necessarily an advanced metric, I included it as well for reference. Also, just because a metric doesn't correlate closely to final ranks in fantasy doesn't mean it's not useful. These all have a place in analyzing player performance. Some are just more useful than others from a fantasy perspective.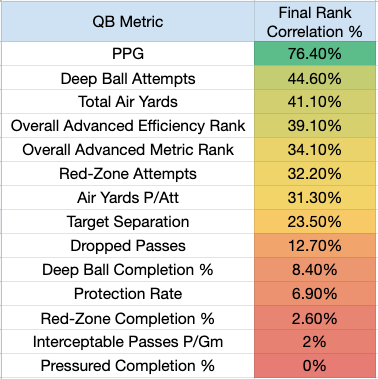 So, deep ball attempts and total air yards come out on top, which tells us that the more a QB is pushing the ball down the field, the better. While that shouldn't shock anyone, what is also interesting to see if that it doesn't even really matter how accurately they are pushing it down the field as deep ball completion percentage correlates just 8.4% of the time. Red-zone attempts are the third-most crucial individual metric and probably underutilized by a vast majority of the public in fantasy. This also makes sense as the more passes a QB is throwing near the end-zone, the more TD passes they're going to throw overall. Rounding out the top five for QB are both the overall advanced-metric and advanced-efficiency ranks that I have compiled. This is essentially creating an average rank of all of a player's advanced metric and efficiency ranks combined over the last three years. We'll list those all below. You can also sort through QB advanced metrics on your own.
Deep-Ball Attempts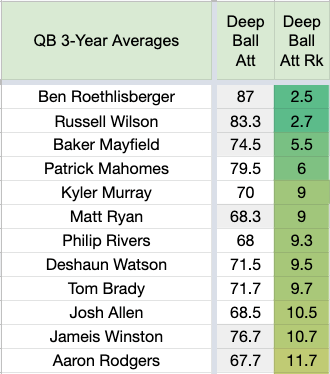 With deep-ball attempts correlating most closely to final ranks in fantasy, you could use that alone to argue that any of these guys belong in the QB1 tier. Baker Mayfield is impressive ranking third here. He also fell just outside the top 12 in total air yards ranking 13th.
The bottom 12 in this category with the worst listed first are:
Drew Lock
Teddy Bridgewater
Dwayne Haskins
Jimmy Garoppolo
Marcus Mariota
Cam Newton
Ryan Tannehill
Ryan Fitzpatrick
Gardner Minshew
Drew Brees
Sam Darnold
Mitch Trubisky
Total Air Yards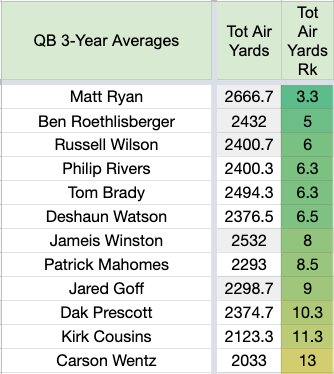 Some interesting new names creep into the list of air yards leaders that we don't see in the deep-ball attempts leaders list with Jared Goff, Dak Prescott, Kirk Cousins, and Carson Wentz. This could hint that Goff and Cousins are undervalued heading into 2020 based on where they were being drafted.
The bottom 12 in this category of expected starters with the worst listed first are:
Drew Lock
Teddy Bridgewater
Dwayne Haskins
Ryan Tannehill
Cam Newton
Josh Allen
Jacoby Brissett
Mitch Trubisky
Sam Darnold
Tyrod Taylor
Daniel Jones
Aaron Rodgers
Red-Zone Attempts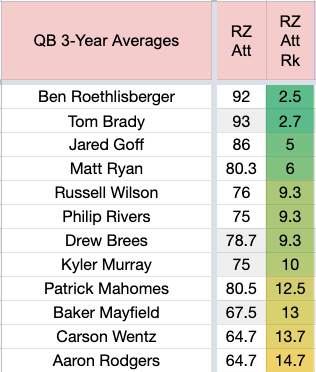 Goff moves up again in this list with the third-most red-zone attempts per season over the last three years on average. I promise this wasn't meant to be a Jared Goff hype piece.
The bottom 12 in this category of expected starters with the worst listed first are:
Dwayne Haskins
Drew Lock
Teddy Bridgewater
Ryan Tannehill
Josh Allen
Lamar Jackson
Ryan Fitzpatrick
Sam Darnold
Mitch Trubisky
Deshaun Watson
Tyrod Taylor
Cam Newton
Overall Advanced Metric and Efficiency Ranks
The last step of this advanced metric research that I wanted to do was to compile all the data from the previous three years to give us a single, overall rank in both the advanced metric and advanced efficiency categories we have available on the site. As we showed earlier, these ranks correlated well to final ranks in fantasy, which could be used as a decent indicator for predicting future performance as well. Here are the leaders in both of those categories and how they have ranked in each stat over the last three years on average.
Three-Year Average Overall Advanced Metric Ranks

We saw most of these guys throughout the lists of metrics that correlated most closely with final ranks, but a few new names pop up. Ryan Fitzpatrick's metrics combined between 2018 and 2019 are more impressive than he gets credit for. His INT issues continue to keep him from holding a starting role wherever he goes. Jimmy Garoppolo's numbers are solely based on his 2019 stats, so a smaller sample size helps him here. Though his deep ball completion percentage ranked best amongst all QBs, he isn't getting it done in the volume categories that are necessary to translate into fantasy success with poor showings in the total air yards and deep-ball attempt categories.
The bottom 12 in this category of expected starters with the worst listed first are:
Dwayne Haskins
Drew Lock
Josh Allen
Ryan Tannehill
Sam Darnold
Teddy Bridgewater
Daniel Jones
Gardner Minshew
Mitch Trubisky
Cam Newton
Matthew Stafford
Aaron Rodgers
Three-Year Average Overall Advanced Efficiency Ranks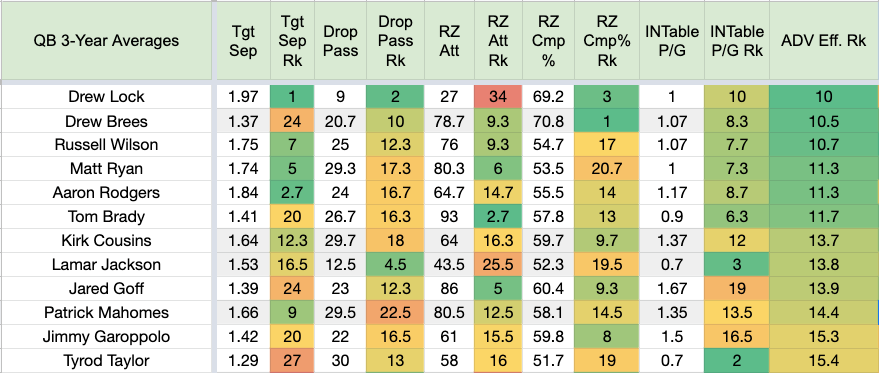 The overall advanced efficiency ranks correlated to the final ranks 39.1% of the time, slightly better than the overall advanced metrics categories (34.1%). The most important one here was RZ attempts. Drew Lock on top was certainly a surprise here. The only thing dragging him down was RZ attempts, which is no surprise given he didn't play a full season, and it's a volume-based stat. Lock didn't rank very well in the other advanced metric categories; however, when looking at the less volume-driven stats like air yards per attempt (33rd) and deep-ball completion percent (31st). More volume could change that, though, and with the new weapons he has heading into 2020, it will be interesting to see how his advanced metrics change.
The bottom 12 in this category of expected starters with the worst listed first are:
Gardner Minshew
Daniel Jones
Sam Darnold
Dwayne Haskins
Josh Allen
Ryan Fitzpatrick
Mitch Trubisky
Matthew Stafford
Dak Prescott
Baker Mayfield
Ryan Tannehill
Ben Roethlisberger
Running Back
Here is a list of the advanced metric categories we will be analyzing for RB and their meaning.
Snap Share: Percentage of total team offensive plays that the player was on the field.
Opportunity Share: The percentage of the total team running back carries plus targets.
Stacked Box %: Percentage of carries with eight or greater defenders in the box.
Light Box %: Percentage of carries with six or fewer defenders in the box.
Juke Rate: Isolates a running back's on-field elusiveness and tackle-breaking power by dividing the total number of evaded tackles by the total number of touches (carries plus receptions).
Evaded Tackles: Total number of unsuccessful tackle attempts by the defender.
Total Yards Created and Yards Created per Game: All yards above and beyond what was blocked. Yards created are generated by the runner after the first evaded tackle.
Breakaway Run Totals and Percent: Total carries of 15 or more yards.
Fantasy Points per Attempt, Target, and Opportunity
Total Drops
Drop Rate
Which Metrics Matter the Most?
- - - - Signup To Continue Reading This Article - - - -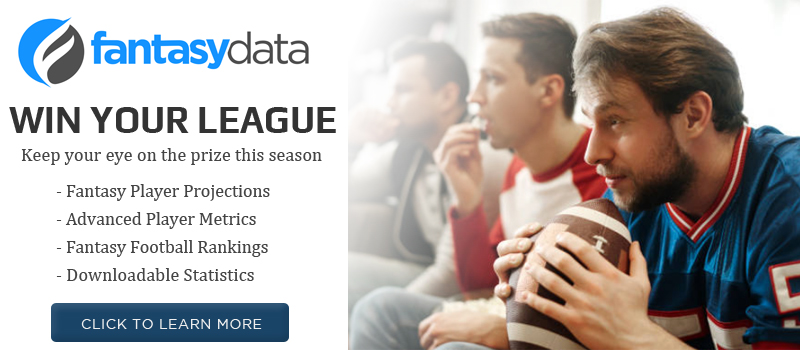 Dominate Your Fantasy League!
Become a member at FantasyData and get access to the industry's best fantasy subscription available!
---
STAY IN TOUCH
Sign up for FantasyData's newsletter and get awesome content sent to your inbox.
We'll never share your email address and you can opt out at any time, we promise.
---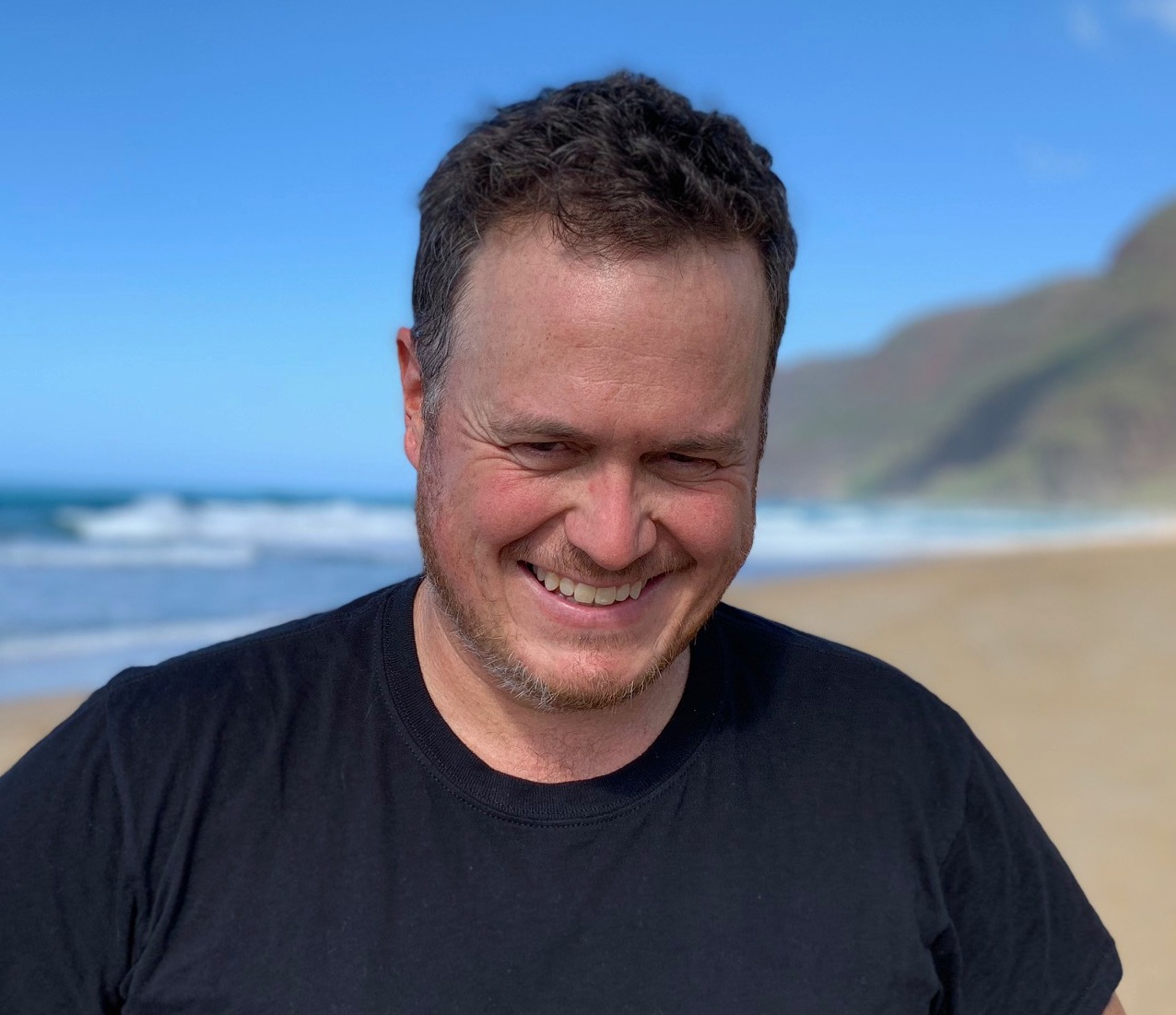 John Ferguson is an avid Fantasy Football fanatic with 10+ years of experience in friends and family leagues, paying public leagues, and DFS Tournaments. Ferguson specializes in draft strategies, trade negotiations (Buy Low/Sell High) and DFS value picks amongst other parts of fantasy football analysis. When Ferguson isn't spending time skimming over stats while at the beach, he follows the Oakland Athletics closely as a diehard fan and enjoys spending quality time with his beautiful wife and three children. A native of Monterey, California, Ferguson now calls Quintana Roo, Mexico home.