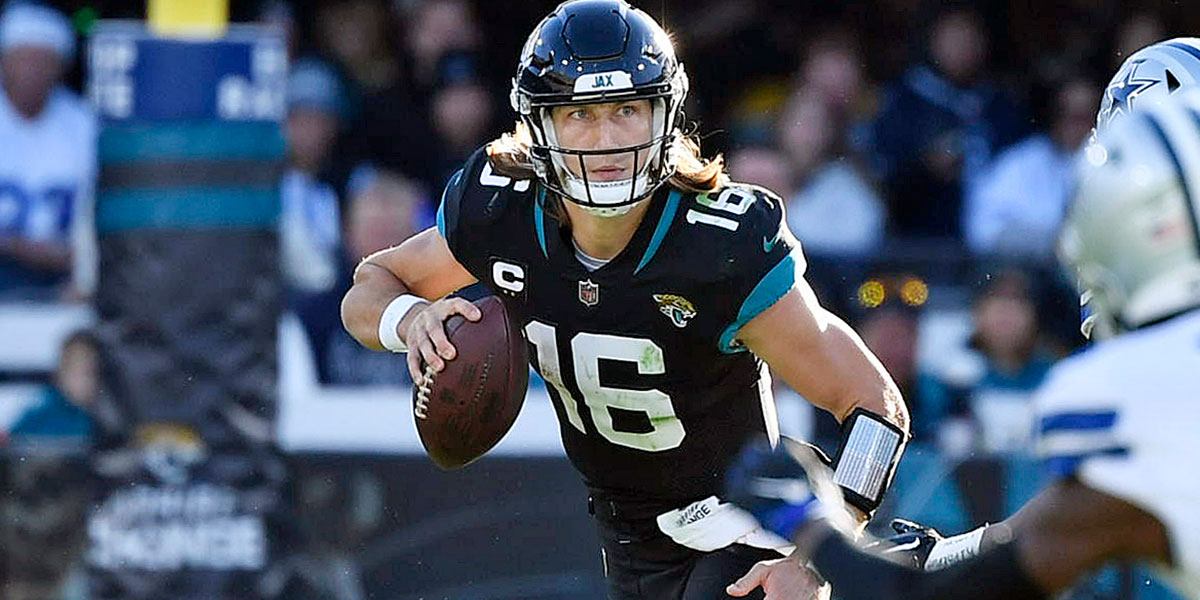 Fantasy Football Rankings vs. ECR Week 17
---
Fantasy Football Rankings vs. ECR Week 17
Every year FantasyPros hosts a Fantasy Football Rankings Accuracy contest with over 200 of the industry's top writers and experts. The scoring is fierce and requires experts to perfectly predict the order in which Quarterbacks, Running Backs, Wide Receivers, and Tight Ends will rank at the end of every NFL Week. Check out the bottom of the article for my most up-to-date rankings for Week 17 and notes on FantasyPros, as I anticipate a lot of news will come out to change my ranks between now and Sunday at 1 PM EST. Best of luck in your fantasy championships and toilet bowl matchups.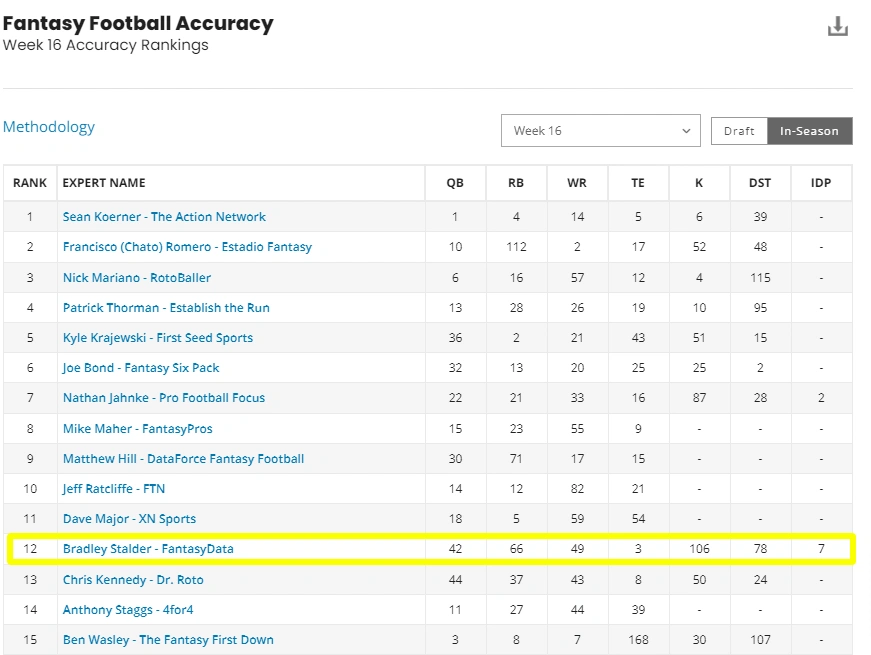 Last week, I finished 12th overall in the contest, with a 3rd overall finish at TE rankings and 7th at ranking at IDP. Entering Week 17, I'm 45th overall, 32nd at WRs, 33rd at TEs, and 7th at IDP in accuracy out of 211 fantasy rankers year-to-date. Just a reminder that I also advise FantasyData's weekly Rankings. They're an excellent resource for anyone looking to win their league along with their player projections and advanced metrics.
Follow me on this journey as I highlight a few players I want to be higher or lower than the consensus for Week 17.
Higher Ranked QB
Brock Purdy - Fantasy managers have to hand it to the rookie QB. He's taken over for Jimmy Garoppolo and played admirably both in real life and in fantasy. Purdy has finished with no fewer than 15 fantasy points in a contest, and has two or more TDs in each of his four starts. While he may not throw for 300+ passing yards to access elite QB numbers, nor does he rush for many fantasy points, Purdy competently gets the ball to his pass catchers. Now he gets a "green" matchup against the Las Vegas Raiders, who just benched long-time starter Derek Carr, who allows the 5th most passing yards and 8th most fantasy points to QBs. The Raiders also rank as the most favorable pass DVOA matchup and have the 2nd lowest sack rate among defenses in the NFL. Per PFF, the 49ers OL projects to have a 22% Pass Block advantage over the LV defensive line. Purdy should have plenty of time to throw and allow plays to develop down the field to George Kittle and Brandon Aiyuk. Purdy is my QB11 this week.
Purdy is the consensus QB15.
Lower-Ranked QB
Trevor Lawrence- Lawrence has crushed for fantasy lately. He's finished as a top-5 QB in three of the last five weeks and has seven top-8 weekly QB finishes on the season. But there are larger factors at play for the Jaguars in Week 17. This game does not matter for their playoff futures. If the Jaguars win Week 18 against the Titans, they make the playoffs. While Doug Pederson may not announce that he will bench starters for the Jaguars, there is a scenario later in the game fantasy managers should recognize could play out where Lawrence, Etienne, Kirk, and others may get pulled to preserve them for the Week 18 game and playoffs. Pederson has a history of unorthodox benchings including when he benched Jalen Hurts for Nate Sudfeld at the end of the 2020 season. To make matters worse for Lawrence, the Houston Texans allow the 2nd fewest fantasy points to Quarterbacks on the season-- not because they're a lockdown defense-- but because opposing teams opt to run the ball and do so effectively. The last time Lawrence played Houston, he finished 25/47 for 286 passing yards and 2 INTs with 0 TDs, ranking as the QB21 on the week. There are many paths to Lawrence "failing" for fantasy managers-- which is why he ranks outside my top-10 of QBs in Week 17.
Lawrence is the consensus QB7.
Higher Ranked RB
Chuba Hubbard - Since the Christian McCaffrey trade, Chuba Hubbard has quietly played well rotating in with D'Onta Foreman. Foreman may have five games this season with over 100 rushing yards, but Hubbard has four games with at least 63 rushing yards, albeit on fewer carries. Fantasy managers should recall that Hubbard was announced as the starter in Week 7 against Tampa Bay, and proceeded to rush 9 times for 63 yards, catching 2 passes for 10 yards, and score a TD before leaving with an injury. Hubbard worked his way back and has 12+ carries and 65+ rushing yards in three of the last four games, including a season-high 125 rushing yards against the stout Detroit Lions rush defense in Week 16. Since Week 14, Hubbard is 3rd in rush yards per attempt (7.0), 5th among RBs in breakaway run rate (46.9%), and 10th among RBs with 3.4 yards after contact per attempt. But it's not only the rushing, but it's also the receiving as Hubbard has sprinkled in 3 targets in four of the last seven games. Hubbard will be in my top 30 of running backs this week.
Hubbard is the consensus RB38.
Lower-Ranked RB
Josh Jacobs - It's likely that Jacobs' magical 2022 season will sputter out here at the end of the season. Jacobs has finished as the RB20 and RB39 each of the last two weeks despite 39 carries and 3 receptions over those games. But there are two major factors that will impact Jacobs in Week 17: Jarrett Stidham and the San Francisco 49ers. The 49ers give up the fewest fantasy points to opposing RBs on the season (13.2 ppg), the fewest rushing yards (59), and have not allowed a RB TD on the season. In the eight games where Jacobs does not score a TD, he finishes on average as the RB26, with three of those games outside the top 30 of running back. It's a scary floor for Jacobs. What's even scarier is that his quarterback, Jarrett Stidham, has only 4 career games with 10+ pass attempts. In half of those games, Stidham has below a 40% completion percentage. The Raiders are only projected to score 16.25 points in this matchup, limiting the upside of Jacobs. Josh Jacobs likely won't make my top-18 of Running backs in Week 17.
Jacobs is the consensus RB11.
Higher-Ranked WR
DJ Chark - Chark has been absolutely on fire lately, as he's finished three of his last four games with 94+ receiving yards. Four of Chark's nine games have finished as a top-23 WR and nearly all of them against plus secondaries. The Chicago Bears are the 4th best pass DVOA matchup and have allowed 25 or more points to opposing teams since Week 8, on average giving up 32 points per game. While Chark wasn't active for the last matchup against the Bears, Kalif Raymond and Tom Kennedy combined 4-91 on 5 targets as the outside WRs. The only bust game for Chark since his injury was when he was shadowed by ROTY candidate Sauce Gardner. The Bears have no such player in their secondary. In fact, the Bears project to only start one DB in Sunday's matchup who has any draft capital at all. Chark is my WR26 for Week 17.
Chark is the consensus WR35.
Lower-Ranked WR
Mike Evans - The only highlight for Mike Evans this year is that he's within striking distance of achieving his 9th straight 1,000 receiving-yard season. Evans has finished no better than the WR32 over the last seven games, on average finishing as the WR48 during that span. Evans hasn't scored a TE since Week 4 against Kansas City, despite earning 8 or more targets in eight of his last ten games. Brady has really struggled to throw downfield, as evidenced by Evans' 57.8% catch rate on the season. Evans had 65% and 64% catch rates in the two previous Brady-led seasons. Evans hasn't helped the cause as he's 6th among WRs with 7 drops. Evans ranks as a back-end WR3 for me this week.
Evans is the consensus WR21.
Higher Ranked TE
Logan Thomas - Thomas has been drawing dead for most of the fantasy season. He's TE33 in fantasy points per game, TE35 in yards per route run, and averages only a 12.9% target share, 22nd best among TEs. Why the sudden optimism for Logan Thomas during championship week? Logan Thomas has 5 or more targets in four of the five games he's played with Carson Wentz this season. When Wentz took over for Heinicke mid-game against the San Francisco 49ers, he proceeded to target Thomas 6 times on 16 pass attempts, good for a 37.5% target share. In seven Taylor Heinicke games, Logan Thomas earned 5+ targets just once. If you're desperate at TE, Logan Thomas offers a glimmer of hope now that Carson Wentz has been announced as the starter against the Cleveland Browns. Logan Thomas is my TE17 for the week.
Thomas is the consensus TE25.
Lower-Ranked TE
Mark Andrews - The consensus really can't let go of Mark Andrews, can they? I feel like a broken record-- but I haven't been wrong about Andrews yet. Andrews has finished no better than TE19 each of the last three weeks and has finished on average as the TE21 since Week 7. Andrews still hasn't scored since Week 6, and with Tyler Huntley expected to start yet again with Lamar Jackson missing his 11th straight practice, the optimism of Andrews's upside hasn't matched his production. Andrews had one the best matchups in Week 16 against the Atlanta Falcons and only mustered 3-45 on 5 targets. Mark Andrews is my TE13 for the week, which still feels too high.
Andrews is the consensus TE5.
STAY IN TOUCH
Sign up for FantasyData's newsletter and get awesome content sent to your inbox.
We'll never share your email address and you can opt out at any time, we promise.
---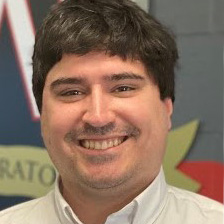 Bradley Stalder has over twelve years of fantasy football experience in auction, dynasty, redraft, and bestball formats. Before developing the Fantasy Football Fanalysts Podcast (@FFFanalysts) with Billy Muzio (@FFMuzio), he also wrote fantasy football articles and created comprehensive player and team projections for 3CoSports.com. He earned his BS in Mathematical Science from Franciscan University and MEd with focus in Mathematics Education from the University of Notre Dame. He lives near Detroit, Michigan with his wife and three daughters. He teaches Math by day to 7th and 8th graders. You can follow him on Twitter at @FFStalder.