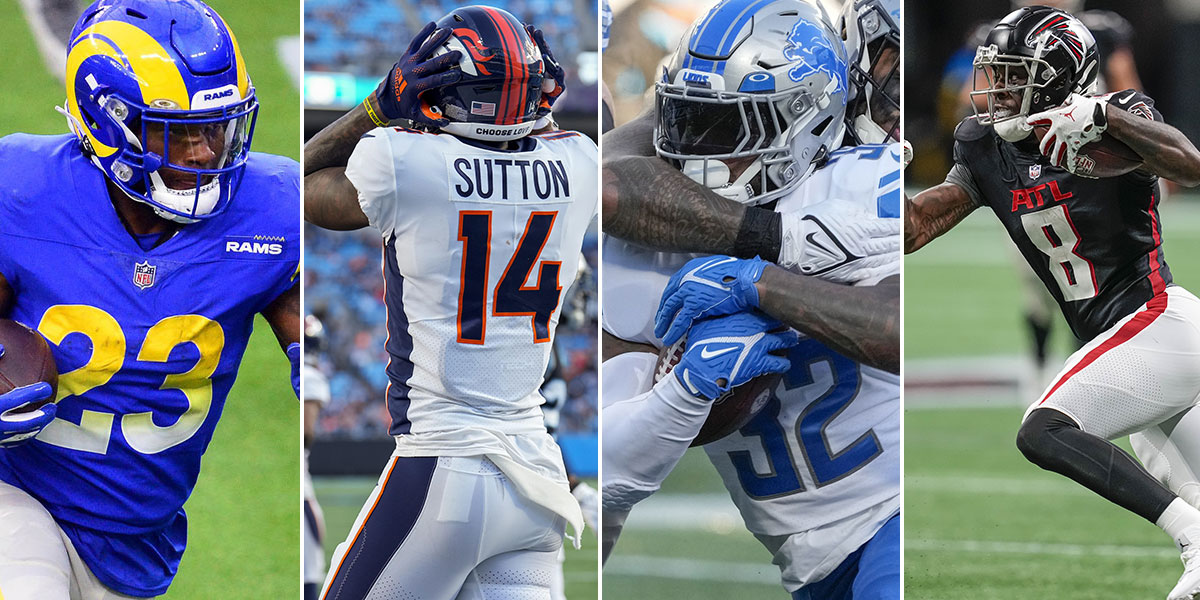 Fantasy Football Recap: 10 Biggest Duds of 2022 Season
---
10 Biggest Duds of the 2022 Season
You know we couldn't have one without the other, right?!? This is our "10 Biggest Duds of the 2022 Season" article, so if you aren't familiar, I'll get you up to speed quickly. I'll review my top duds for the 2022 fantasy season in this article. And there are quite a few of them! But that's just how fantasy football is. Not every player is going to have a stellar performance every season. Some players will trend up, while others dive for a season.
Some of the players that made my list were guys I had really high hopes for coming into the fantasy season. Others were players that didn't perform up to snuff and let fantasy managers down in a big way. So let's get right into these duds!
*Disclaimer: In no way, shape, or form is this an article to disrespect these players. They are awesome and perform at the top of their class as players in the NFL. But they sucked this year, and that's ok. It happens.
Top 10 Biggest Duds
Matthew Stafford, QB - LAR
If Matthew Stafford's performance for the 2022 fantasy season could be personified in a rap line, it would have to be the one from Jay-z's infamous diss track "The Takeover" when he dissed Nas saying, "You went from top 10 to not mentioned at all…" because that's exactly how it went! Matthew Stafford finished as the QB6 last season and followed it up by absolutely stinking it up this season with a horrendous QB32 finish.
Stafford played just nine games of the regular season before getting knocked out for the rest of the year because of a neck injury and didn't crack 15+ fantasy points but twice the entire season. Not to mention Stafford averaged just 12 fantasy points per game on the season too!
Stafford's poor performance also hurt the fantasy value of other players on the team not named Cooper Kupp. Allen Robinson was a mere afterthought in that offense (don't worry, you'll see that name later on) and Kupp was the only viable option in the Rams offense that Stafford was willing to throw to. Could you imagine winning the Super Bowl and finishing as a top-10 quarterback and then turning around and flopping so hard the following season?
What makes it worse is that Stafford was drafted as a top-12 quarterback (QB12 ADP). To flop that hard is ridiculous! That script the NFL sent over to him must've been a doozy.
Russell Wilson, QB - DEN
Russell Wilson's season was something that I don't think a lot of people didn't see coming. Russ landing in Denver was the perfect opportunity for the Broncos to get over the top finally. They had a solid defense, they had the offensive pieces, and the line was decent. Everything looked good on paper until the season started.
Russell Wilson had one of the worst seasons of his career. Wilson would finish with a career low in touchdowns (3,524), with a touchdown to interception ratio of 16:11. And if fantasy managers thought they were getting value at the quarterback position as Wilson was being drafted as the QB9, you likely felt bamboozled. Wilson would finish as the QB16, averaging 15.1 fantasy points per game.
Report: In Nathaniel Hackett's final weeks in Denver, Russell Wilson had taken complete control of the organization.

The 'last straw' came as Wilson forced Hackett to work out of his car so his office could be converted into a dance studio for wife Ciara, per source. pic.twitter.com/c8z6pyquaL

— Jordan Loupe (@CantALoupe_FF) February 24, 2023
Wilson's inconsistent play and the lack of ability to sustain drives cost fantasy managers thinking they were getting a good shot at a quarterback looking to prove himself with a new team. He also sacked the values of the skill positions around him. Fortunately, Sean Payton is the new head coach in Denver and looks to right the ship heading into 2023. Maybe that will be enough for fantasy managers to buy back into the Broncos and Russell Wilson. Hopefully, Russ won't try and get this head coach fired...
Jonathan Taylor, RB - IND
Now this one hurts a little bit. Even though I wasn't a proponent of Taylor being the overall number one running back in this season's fantasy draft, I still felt that Jonathan Taylor was going to be a top 5 back this year. Man was I wrong on that one. To be honest, I can't blame Taylor too much, though. After dropping Carson Wentz like a bad habit, the Colts' front office thought it was going to be alright with former Falcons QB Matt Ryan taking the reigns. But that didn't seem to help the Colts' offense.
Taylor's season fantasy points per game average dropped from 19.6 in 2021 to a career-low 10.8 in 2022. Taylor couldn't sustain his fantasy production from the prior season. After a strong showing in Week 1 against the Houston Texans (31 carries for 161 yards and a touchdown, 23.5 fantasy points), Taylor would average just 8.8 fantasy points per game from Weeks 2-8. Taylor would eventually succumb to a season-ending ankle injury but that would take place after playing 15 games.
Taylor can still be a good running back, but this season wasn't his best showing and fantasy managers that were hoping for an encore to his last season were vastly disappointed.
Cam Akers, RB - LAR
Talk about frustrating. I had high hopes for Akers this season as he came in with the possibility of Akers taking over the Rams backfield with Sony Michel leaving the team in the offseason. Though Akers was returning from a torn Achilles injury, the thought that he would come out of the gate and be completely unusable became a horrible reality for fantasy managers. Over the first 12 games of the regular season, Akers would sniff the end zone for a touchdown just one time with his usage being in constant flux.
Over those first 12 games, Akers would see double-digit carries just four times, seeing over 15 carries or more just one time. Akers was a big flop as an RB2, averaging just 9.4 fantasy points per game throughout the season. Most fantasy managers sent him back to the waiver wire after it became apparent that the Rams wouldn't run the ball with him. Yes, he did come back over the final four weeks of the season, hitting double-digit fantasy points against the Packers, Broncos, Chargers, and Seahawks but by then, if you didn't get eliminated from playoff contention by holding on to him it was a case of the "too little, too late" for Akers managers.
Courtland Sutton, WR - DEN
Another receiver that I thought was going to have a great year under Russell Wilson. It seemed like the writing was on the wall for Sutton to have a potential breakout year. But another letdown was in store for fantasy managers. Sutton just couldn't get anything going as Russell Wilson and the Broncos' offense struggled for most of the season to sustain drives and put up points even in good-looking matchups. Scoring just four touchdowns on the season with a 10.6 FPPG average, Sutton was nearly unusable for most of the season, forcing managers to either bench him or drop him back to the waiver wire.
Sutton was supposed to be a steal at his WR25 ADP but finished well below his draft value as the WR45. Not getting over 1k in yards (just 829 receiving yards) and not seeing much of the endzone made it too crippling to keep him in fantasy lineups, even when good matchups came around. The hope now is, as mentioned before, that Sean Payton can come in and right the ship and get this team, and particularly this offense, back on track.
Diontae Johnson, WR - PIT
I wish I had called this one because Diontae Johnson used to be a pretty solid selection for fantasy football. With Ben Roethlisberger in 2021, Johnson averaged 10.6 targets per game and caught eight touchdowns but with the retirement of Big Ben and the anointing of rookie quarterback Kenny Pickett, that all would change in 2022.
Diontae Johnson's stats would take hits across the board in Kenny Pickett's first season under center, from targets to receptions and, most importantly, touchdowns. Johnson would pull a Miles Sanders and go super donut throughout the entire 2023 season despite seeing 18 targets inside the red zone. Diontae Johson's WR16 ADP put hope back into fantasy managers that even without Big Ben around, Johnson would still be a heavily targeted wide receiver for the Steelers.
That much would turn out to be an accurate assumption. Johnson led all Steelers wide receivers with 147 targets (26.8% target share) with 86 receptions. Despite the 147 targets (tied for sixth with Garrett Wilson), Johnson would get only average 10.6 fantasy points per game on the season.
D'Andre Swift, RB - DET
Swift was another player that was getting a lot of love during the 2022 offseason, and rightfully so. Swift boasts incredible game-breaking abilities, shiftiness out of the backfield, and excellent receiving skills. In his first two seasons in the NFL, Swift averaged 14.6 fantasy points per game in 2020 and 16.1 fantasy points per game when he was active. Swift does have the ability to be a good fantasy player. The problem that makes him unreliable is his injury history.
Swift's nagging lack of durability has hindered his upside for the last three seasons now. Swift has missed ten games over the last three seasons which may not seem like a big deal overall. However, it looks like the "injury-prone" tag is starting to stick with Swift. What made it worse this season is that he got hurt, and the Lions opted to scale back his workload upon his return.
After returning after a three-game absence, Swift would average just 6.5 carries per game the rest of the season and would cede red zone work to fellow Lions running back Jamaal Williams. Swift would be nearly useless, too, only having two games with double-digit fantasy points in Weeks 13 and 17. Swift may have finished as the RB16 in points per game at 13.6, but it certainly didn't feel that way if you were looking for him to do something (anything) after coming back from injury.
#NFLRumors: #Lions D'Andre Swift is not expected to be part of long-term plans. The team could try to add a RB early in the #NFL Draft. pic.twitter.com/3PMMUf8fI8

— NFL Rumors (@nflrums) February 24, 2023
Now with rumors circulating that Swift isn't being considered a "long-term option", it may be only a matter of time before we see Swift on another squad sooner rather than later.
Allen Robinson II, WR - LAR
Now, this stinker right here really got to me. The Rams were bad overall, but I can't hold it against Allen Robinson, either. His usage was just downright awful. The fact that Matthew Stafford couldn't even get him the ball consistently was ridiculous, to say the least. And I know he got hurt down the stretch of the season, but that still doesn't give him a pass (this time). Allen Robinson managed to play ten games in 2023 before landing on injured reserve.
Robinson would average just 8.5 fantasy points per game and couldn't get on the same page with Matthew Stafford all season. Even after being brought in to be the number two receiver for the Rams, Robinson would see just 5.2 targets per game in his first year as a Ram. Meanwhile, Cooper Kupp would see nearly 11 targets a game.
Stafford would throw 303 attempts in 2023 before going down with his injury (everybody in a Rams uniform was catching a beating from the injury stick). Still, Robinson would command a 10.1% target share among the Rams wide receivers. That's lower than Ben Skowronek. How did that even happen
2022 #FanstasyFootball All-Bust Team

QB: Russell Wilson
RB1: Jonathan Taylor
RB2: Clyde Edwards-Helaire
WR1: Allen Robinson II
WR2: Elijah Moore
WR3: Courtland Sutton
TE: Kyle Pitts
FLEX: Chase Edmonds
FLEX: Rashod Bateman

— Joe Beldner (@JoeBeldner) January 30, 2023
Kyle Pitts, TE - ATL
This one feels wrong because it can come off like I'm beating a dead horse. But among all the tight ends this season, Pitts was by far the worst of them. Considering the promise he showed during his rookie season with a 19.8% target share under Matt Ryan, seeing 110 targets as a rookie tight end promoted hope for fantasy managers. Unfortunately, it was short-lived.
The Falcons would move on from franchise quarterback Matt Ryan and implant Marcus Mariota as the starting quarterback and Kyle Pitts's downfall was all she wrote. It was a bit strange to see, considering that Mariota actually had good production with the tight ends in the past. We can't forget what Delanie Walker meant to Mariota while he was with the Tenessee Titans, right?
But Mariota's quarterbacking wasn't enough to keep Pitts in the fantasy spotlight on the season. Pitts would have a sophomore season that he would likely want to put behind him as fast as possible. With just 59 targets on the season for 356 yards and two touchdowns with a 7.6 fantasy point per game average, Pitts would be near-worthless for the Falcons and fantasy managers in 2023.
STAY IN TOUCH
Sign up for FantasyData's newsletter and get awesome content sent to your inbox.
We'll never share your email address and you can opt out at any time, we promise.
---

William has been playing fantasy football since 2012 and has loved every year of it. Plus, trash-talking with friends over football is great too. He's been writing over the past 3 years, contributing for RealDealFantasyHQ.com, Fantasysphinest.com, and LeagueWinners.com just last season. He also started up his own fantasy football podcast "The Fantasy's Phinest Podcast". William enjoys helping provide advice through research and when he's not doing that, he's taking care of his family and cooking in the kitchen.