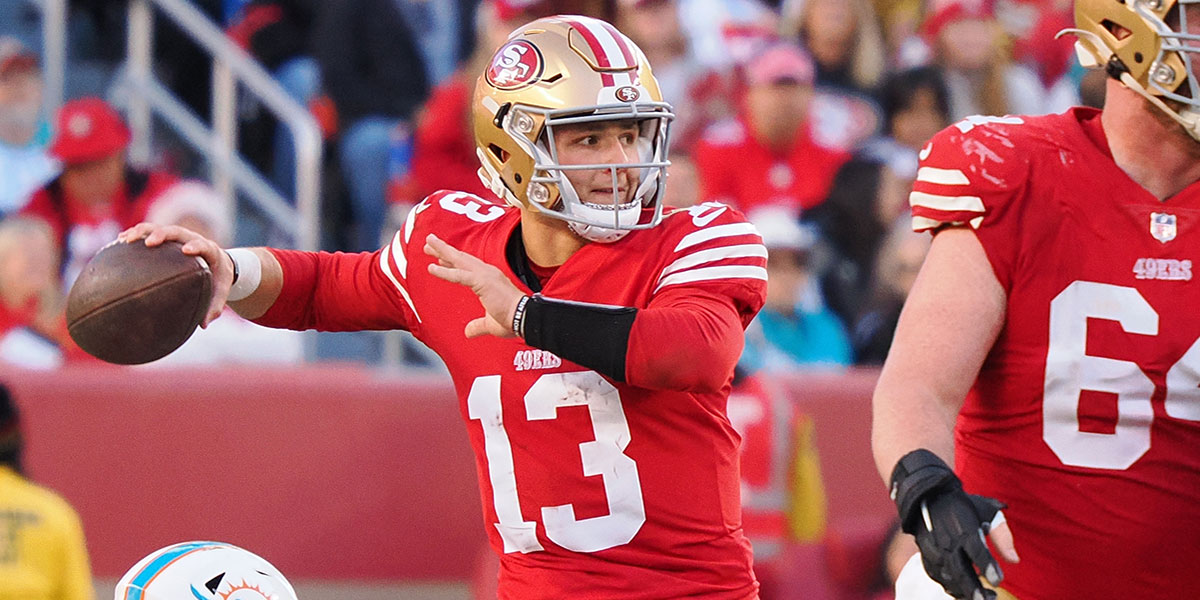 Fantasy Football Recap and Overreactions from Week 13
---
Week 13 Fantasy Reactions
The following is a recap of all the fantasy football action that took place in week 13.
Quick Links
Bills vs Patriots
Did anyone play Marcus Jones this week?! Doubt it. That was pretty cool, though. Unfortunately, that was the Patriots' only touchdown so no offensive player scored (Marcus Jones is a DB technically). I'm starting to believe Mac Jones isn't all that good. But it could be coaching as well. We'll see. For fantasy, Rhamondre Stevenson was the high scorer. He got 13.8 points. A TD away from a solid day for fantasy purposes. The next high score besides Mac was Jakobi Meyers with 5.2 and he was not involved much after he got hurt. Bad outing for the Patriots.
Josh Allen didn't have his best night but he did well. Threw for 223 and 2 TDs. Not as much rushing work from Josh, which is unusual. He scored 17, which as I said, isn't his best, but not bad by any means. Stefon Diggs had the best night. 22 points from 7 catches, 92 yards, and a TD. I really liked seeing James Cook thrive. He had his first 100-yard game coming from both the ground and the air. 16 points for the rook is his season high. Cook might be earning his way to a league winner! Singletary salvaged his day by finding the endzone. 11 points for the former Seminole.
Steelers vs Falcons
Hey, look at that! Najee had another 5 yards per carry week. You love to see it. Especially, when the Steelers pull out the win. Clearly, that was a big reason why. The passing game was jiving quite as much. Only 197 for Pickett. Only 1 TD to Connor Heyward (brother of Cam Heyward). Pet Freiermuth had a solid fantasy day. 3 catches for 76 yards is 10.6 points, which is good for a tight end nowadays. Diontae Johnson was able to haul in 5 for 60 yards, good for 11 points. Not bad if you had to play him in a pinch this week.
The Falcons just were not getting the job done. They didn't score a touchdown until the last minute of the third quarter when Mariota threw a TD to MyCole Pruitt. Drake London put together a decent game, notching 6 catches for 95 yards (15.5 pts). Mariota stunk, and had 167 passing yards and 1 TD. Barely over 10 points. I almost traded for him right before this game started today in a dynasty league. Today was a good reminder that my 2nd rounder is more important. Not very much fantasy production from this game as a whole. Maybe next week.
Bears vs Packers
Well, looks like Aaron Rodgers still owns Chicago. He didn't have to do too much because the run game was working. A.J. Dillon had 93 yards and a score (20.9 points). Christian Watson not only had 3 catches for 48 yards and a score, but he also tacked on a 46-yard rushing TD as well. Huge 24-point day from the rook. I think he's got 7 touchdowns in the last 4 weeks. He's on fire. Lazard finished with 11 points and Aaron Jones got to 10 but was banged up in this game.
Justin Fields has a decent game in his return from injury. It would have gone better if he didn't throw two interceptions, but he was able to throw for 250 and rush for 71 and a TD (19 points). Not his best week, not his worst. David Montgomery finished with a solid 16.7 points. He has consistently been solid in the later part of fantasy season the past few years. I'm not shocked he's been doing well. It's largely due to his increased role right now, but it still counts. Cole Kmet sure helped my lineups scoring 13 points. I will take that from a tight end EVERY. WEEK. They are so volatile. Not much production from anyone else in the Windy City.
Jaguars vs Lions
I don't know about you, but I feel as though the national media isn't emphasizing the Lions dropping 40 points on the Jaguars. The Jaguars are not an easy matchup. Only 3 games this season haven't finished as a one-score game for the Jaguars. Sunday is one of them. They fight. Their offense just was not gelling well. Lawrence wasn't in a rhythm and also got banged up. Travis Etienne in his first game back was okay? But only 54 yards. Hopefully, he continues to heal up and gets back to his mid-season self. Christian Kirk had the best week for the Jags. 6 catches for 104 yards. No TD this week, though. 16.4 points for the WR1. If you were in a pinch and started Evan Engram, you were a happy camper. 14 points from the tight end. Like I said, gimme that every week.
The Lions got the better of the Jags, though. 40 points from Goff and the boys. Amon-Ra St. Brown had a huge day. 11 catches for 114 yards and 2 TDs. A nuclear 34.6-point week for the 2nd year receiver. Just shy of an overall WR1 week. WR2 currently for week 13. Jared Goff threw for 340 yards and 2 TDs that both went to Amon-Ra. Swift also had a 21-point week. Over 100 scrimmage yards and a TD for Swift this week. D.J. Chark had 14 points this week, I'm sure people were starting him due to injuries. Lions grab their 5th win.
Jets vs Vikings
The Mike White experience is a beautiful thing for fantasy purposes. Garrett Wilson is back to 24-point weeks - 8 catches for 162 yards. Couldn't be happier about that. Hell, even Zonovan Knight (rookie out of NC State) had a great game. He filled in in Carter's absence logging 15 carries for 90 yards. Just shy of 17 fantasy points. Corey Davis caught 5 passes for 85 yards, solid 13.5 pts for him. Mike White had a solid real-life game, but fantasy wasn't terrible either. It was just a tease because he threw for 369 yards, but no touchdowns. Minus his rushing TD. He ended with 17.5 points. Again, not bad at all. But imagine if two of their field goals were passing TDs by Mike…
The Vikings made this a close one, in the end, winning 27-22, but they had control of the game most of the way. Kirk Cousins was held to 173 yards and 1 TD. Which would be why the Jets climbed back into this game. Only 11.8 points for Kirk. Luckily, Dalvin Cook had a solid game. 20 carries for 86 yards and a TD (16.3 pts). Justin Jefferson was the lucky recipient of Kirk's only TD. Justin Jefferson wound up scoring 18.5 fantasy points, but it could have been closer to 10 without being the TD recipient. Luckily, he wasn't. Not Jefferson's ceiling but still a good week nonetheless. T.J. Hockenson had a quiet week, with only 7 points from him. He should be fine.
Dolphins vs 49ers
I had to sleep on this game before I recapped it (I'm a Dolphins fan). After a tough night of slumber, I think this loss will do more good than bad. Tua hadn't lost as a starter yet, so I think it was a humbling experience for him. Either way, we lost. But we will be back! Tua threw for 295 and 2 TDs but had 2 interceptions to go on top of it. Only 13.8 points for the Samoan Prince. Tyreek Hill had a huge week, yet again. 29.6 points off 9 catches for 146 yards and a TD. Unfortunately, for the Dolphins, and probably some of your lineups, that was it for fantasy production from the Phins. Trent Sherfield looked like he was going to pop off on Sunday, scoring a 75-yard TD on the first play, but did nothing after that. On to next week.
The 49ers walked away with the win but lost Jimmy G for the rest of the season. I'm curious to see if they ride out Brock Purdy for the remainder of the season or if they bring in a veteran QB. Christian McCaffrey carried the 49ers' offense. 146 yards of offense and a TD (28.6 points). Just like the Dolphins, CMC was the only fantasy-relevant player in this game for the 49ers. Deebo Samuel did get you 12 points, which doesn't suck, but it isn't amazing. Brock Purdy did have 14 points, but no one played him. The 49ers get a big win.
Commanders vs Giants
Yep, another tie in the NFL. When are they going to get rid of this shit? Rhetorical question, I know. They're never going to get it right. Despite his big day, Saquon Barkley wasn't able to put the Giants overtop the Commanders. Saquon had 19 points on 63 rush yards, 5 catches and a rushing TD. Daniel Jones put up 17 points, not hurting your team, but not providing elite #'s this week. Darius Slayton continues to provide fantasy production (15 points). 3 out of the 4 weeks since their bye he has scored 13+ points. Perfect flex play. Isaiah Hodgins came out of nowhere with 5 catches for 44 yards and a TD. Solid 15 points from Hodgins.
The Commanders had some success on offense. Taylor Heinicke had 275 passing yards and 2 TDs (17.6 points). Solid day, simply not enough for the win. Brian Robinson rushed for 96 yards on 21 carries, good for 13 fantasy points with his handful of catches. Terry McLaurin is back on the map after a couple of low-scoring weeks. He dropped 24.5 points off his 8 catches for 105 yards and a TD. Love to see McLaurin back! We also saw Jahan Dotson (16.4 points) and Curtis Samuel (14.6 points) return to their beginning-of-the-season form. As I said, ties in the NFL are stupid and I hope they change it sometime soon. But I doubt it.
Titans vs Eagles
This game was electric! Minus on the Titans' side of the ball… When Ryan Tannehill leads the Titans in rush yards, you know the Titans had a bad day. Derrick Henry was held to 30 rushing yards…yikes. The Eagles' defense means business. Treylon Burks caught a 25-yard TD pass, but he got hit hard and was ruled out for the remainder of the game. I sit here, wondering what kind of game Burks would have had if he did not get knocked out. He had 9.5 fantasy points in the first quarter…could have been a big day for Mr. Burks. Hope he is alright, but the Titans took a tough loss here.
The Eagles had a MUCH better day. Jalen Hurts and A.J. Brown exploded! Hurts threw for 380 yards and 3 TDs. Huge day. A total of 34.4 points. A.J. Brown was the biggest benefactor of Hurts' day. Brown caught 8 passes for 119 yards and 2 TDs giving him 31.9 points. If you're like me and drafted that duo, you probably had a great week. DeVonta Smith had a solid day as well. He caught 5 for 102 and a TD, which gave him 21.2 points. Points everywhere! Hell, even Miles Sanders got involved. 11.8 points from him, mainly from his goal-line touchdown. The Eagles look more and more impressive every week!
Broncos vs Ravens
This game…this game was something. The Ravens won 10-9. Yes. The final score was 10, to 9. There is not much to cover here. I will highlight Greg Dulcich's best game of the season, however. Dulcich caught 6 passes for 85 yards. Had 14.5 points which are his season (and career) high. Love seeing him thrive. I hope it continues. Jerry Jeudy and Latavius Murray each had 10 points, which isn't terrible. And at this point, they may be riding your bench. Tough to see Wilson throw for 189 yards with no TDs.
The Ravens lost Lamar Jackson to a knee injury in the middle of this game so Tyler Huntley took over. Huntley only threw for 187 yards but was the leading rusher with 41 yards. Which, isn't…great. Kenyan Drake had 29 yards and Gus Edwards had 12. Not ideal. Mark Andrews only had 4 catches for 53 yards (9.3 pts) and Demarcus Robinson led the receivers with 7 catches for 41 yards (11.1 pts). How they wound up winning this game, I don't know. Ravens got the win but took the biggest loss by losing Lamar for a couple of weeks potentially.
Browns vs Texans
Well, Deshaun Watson looked about how you would expect a guy who hasn't played NFL football in two years to look. Rusty and missing gimme plays. If you looked at the fantasy scores from Cleveland, you would probably think they lost. Donovan Peoples-Jones led them with 13.4 points. Even Kareem Hunt outscored Nick Chubb. The Browns won this game from defensive touchdowns and special teams. The defense scored 31 points. 31! That would be why the Browns won.
The Texans had nothing going for them. Kyle Allen had 200 passing yards, a TD, and 2 interceptions. 6 fantasy points. Dameon Pierce led the Texans with 12.5 points from his 73 rushing yards and a handful of catches. Nico Collins had another 10+ point week, which makes 3 out of the last 4 weeks. Set and forget flex player if you ask me. The Texans are probably going to have 2 early first-round picks. Should be interesting.
Seahawks vs Rams
Weirdly enough, this game was closer than most probably thought. Seattle was favored by nearly a touchdown but won by a mere 4 points. The Seahawks' offense was missing for a little bit in the second half. Tyler Lockett led the Seahawks with 27.8 points with D.K. Metcalf not far behind him with 26.7. Combined they had 17 catches, 254 yards, and 2 TDs. Hell of a day for the duo.
No disrespect, but the Rams are a dumpster fire. Stafford is on IR, there's no run game and everyone is injured it feels like. Talk about a Super Bowl hangover! Yikes. The only positive note from this game is Cam Akers had 2 TDs (19 points). That's it. No one else, at least for fantasy purposes, had a noteworthy day.
Chiefs vs Bengals
Crazy to me that Burrow is 0-4 against the Browns but 3-0 vs Mahomes. The Bengals' defense was able to hold Mahomes to 223 passing yards and a TD. This also means Travis Kelce was shut down, only scoring 7.6 points. Mahomes was able to score 19 points thanks to his rushing TD. Isiah Pacheco had a solid day. 66 rush yards, a TD, and a couple of catches. 16 points for the rookie. Jerrick McKinnon also had a good day. 14 points from 51 rush yards, a receiving TD, and some catches to go with it all. Not bad from the vet. As I mentioned, Kelce had a quiet day and so did JuJu.
Joe Burrow was in his bag! 30 fantasy points off 286 passing yards, 2 TDs, and even 41 rush yards with a rushing TD. Love to see it. Samaje Perine had yet another solid game filling in for Joe Mixon. 21.5 points for Perine. He had 106 rush yards and almost 50 receiving on 6 catches. Ja'Marr Chase scored 16.7 in his return. He caught 7 passes for 97 yards. Tyler Boyd would have had a bigger day than his 10 points had he caught that touchdown pass that doinked off his facemask. C'mon Boyd…you're in the NFL! Use your hands! Great win by the Bengals and also my CIN +2.5 bet.
Chargers vs Raiders
At the bare minimum, I'm glad Keenan Allen is back supporting fantasy lineups. 20.8 points from the vet. Allen had 6 catches for 88 yards and a TD. Austin Ekeler didn't have his worst game, scored 13.2 points from 35 rush yards and 64 receiving (5 catches). No TD for the TD machine this week. Gerald Everett put up 13 points as well from his 5 catches for 80 yards. If I remember correctly, he was a yard or two away from a TD, too. Justin Herbert threw for 335 yards and a TD, which is probably why they lost. He needs to be throwing at minimum 2 TDs. Joshua Palmer had a decent day with 13, which seemed to be a theme among Chargers' WRs.
The Raiders keep on rolling. That's three in a row for them! If they keep this up, they might be able to sneak into the AFC wild card spot based on the way the Broncos and Chargers are playing. I know Raiders fans will be cheering for my Dolphins this Sunday! Josh Jacobs is on a tear. Another big game for the 4th-year back. 144 rush yards and a TD to go with it. 21 points for the work horse. Davante Adams was the headliner, however. 8 catches, 177 yards and 2 TDs for 37.7 points! That makes it 4 out of the past 5 weeks that Davante Adams has scored 27+ points. Did you read that correctly??? That's insane.
Colts vs Cowboys
At the end of the first quarter, we had ourselves a ball game. It was 10-7 Colts with the lead. But that didn't last long. The Cowboys scored 2 TDs in the 2nd quarter. And it was all Cowboys from there on. Matt Ryan cuouldn't get much going, he had 3 interceptions and a fumble. Literally subtracted 8 points from his score in some leagues. He wound up with 9 points. The Colts' high scorer was rookie Alec Pierce. 4 catches, 86 yards and a TD gave him 18.6 points. Jonathan Taylor had 13.3 points, which is one of those "not great, but not bad" kind of weeks. There were a good chunk of studs who were like that this week. Michael Pittman failed managers yet again, scoring 3.6 points in crunch time. You hate to see it.
Saints vs Buccaneers
This game was much better on paper than in real life. The final score was 17-16 and the Bucs had to drive and score with 3 second left in the game. Truly and example of "it's not over until the clock hits zero. You know when the Saints leading fantasy scorer was Taysom Hill, with 13 points, that the Saints had a bad day. Andy Dalton had 229 passing yards and 1 TD to Taysom. Alvin Kamara couldn't get anything going, he only had 5 points. Chris Olave only had 10, so he was simply missing that TD boost for his score. Just a super average, not great day for the Saints. They could have held on to the win too, but screwed that up.
The Bucs really didn't do much better, they simply were able to squeak out the win. Tom Brady finished with 281 yards and 2 TDs. Which is good, because he almost had more hissy fits on the sideline than TDs. I enjoy Tom Brady banter, sue me. Leonard Fournette led with 49 rush yards and also tacked on 6 catches for 32 yards. 14 fantasy points. Once again, a stud player in the mid-teens. Rachaad White had a great night. The rookie had 6 catches for 4 yards and a score (16.9 points). Cade Otton (rookie TE) also had a good night. He caught 6 passes, only for 28 yards, but scored! 14.8 for Otton. I'd like to personally thank Mike Evans for taking the night off (kind of) as I barely got a victory by .02 points since he did not go off.
STAY IN TOUCH
Sign up for FantasyData's newsletter and get awesome content sent to your inbox.
We'll never share your email address and you can opt out at any time, we promise.
---

Ever since Tony decided he was going to major in Sports Management at the University of Cincinnati, he knew his life would revolve around sports. Tony is an avid Miami Dolphins fan who grew up in Columbus, Ohio. Home of the Buckeyes, who Tony was born and raised to root for. Tony has been playing fantasy football for just over a decade. He approaches fantasy football with the same mentality he approaches everything else, "If you ain't first, you're last." Specializing in redraft, Tony's goal is to bring a fresh perspective to the Fantasy Football world.