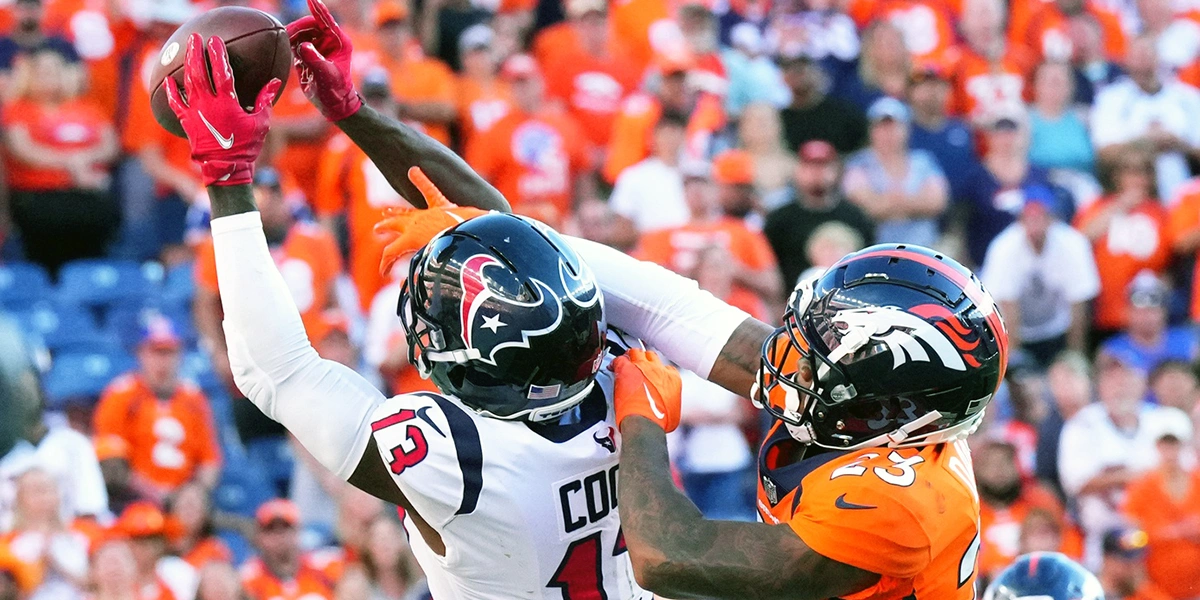 Fantasy Impact Brandin Cooks Traded To The Cowboys
---
The Cowboys created a mess at the wide receiver position last season after they traded star wide receiver Amari Cooper to the Cleveland Browns for fifth and sixth-round picks. They followed up the move by not bringing in the talent required to replace Cooper, opting to go through the draft, and selecting wide receiver Jalen Tolbert in the third round. Unfortunately, Tolbert didn't see much action during the 2022 season playing just three games all year. During the course of the season the front office, knowing that they made a huge mistake in moving on from Amari Cooper and not replacing him with adequate talent tried to find help during the season. This led to the team constantly flirting with free agent wide receiver Odell Beckham made headlines (and you know Jerry Jones loves those) and ultimately led to the signing of free agent wide receiver T.Y Hilton during the month of December.
One move that may have gone under the radar was that the Cowboys had tried to get a deal done to get then-Texans wide receiver Brandin Cooks during the 2022 season but it never came to be. Now the Cowboys returned full circle this offseason to fix their mistake last year. In recent news, the Cowboys sent 2023 fifth and sixth-round picks to acquire the Texans wideout which plugs one of the significant needs on the Cowboys roster.
To complete the Brandin Cooks trade, Texans agreed to pay $6M of his $18M salary in 2023, a person familiar with situation said. So Cowboys acquire Cooks for two Day 3 picks and save one third of his salary. @AaronWilson_NFL first reported the financial element to deal.

— Michael Gehlken (@GehlkenNFL) March 19, 2023
There has been some debate as to whether or not the Cooks trade was either a "splash" or a "drip" but the fact that the Cowboys were able to get a top wide receiver for so little, as well as having the Texans pay six million of Cooks current contract is a big win for the Cowboys and their cap situation. But the move the Cowboys have made with adding Brandin Cooks to the roster is a bigger move than some realize. And yes, Cowboys Nation did want DeAndre Hopkins and if I'm being honest, I hope the Cowboys still find a way to pull that trade-off. Fantasy managers should also check into this move too because the value could be there during the draft.
Can Brandin "Cook" With The Cowboys?
One of the main questions on everyone's mind when it comes to Brandin Cooks and the trade to Dallas is, how will the move benefit both Brandin Cooks and the Cowboys' offense? To answer that, let's look at what the Cowboys are getting. Despite being traded four different times over his nine-year career, Cooks has been an overall productive wide receiver throughout most of that time, especially when he has a competent quarterback. Cooks has finished inside the top 15 among wide receivers in receiving yards five times over that span. From 2015 to 2018, Cooks averaged 15 yards per reception with a 64.4% catch rate as well as 7.3 touchdowns a season.
What the Cowboys are getting from Brandin Cooks is something the Cowboys' offense lacked at the wide receiver position last year... speed and separation.
Brandin Cooks deep TD catch, great throw by Taylor, Texans up 14-3 pic.twitter.com/SgnbedRxpZ

— Rivers McCown (@riversmccown) November 28, 2021
Last season, Cooks averaged 2.8 yards per separation, according to Next Gen Stats. He also averaged nearly four Yards After The Catch Per Reception during the 2022 season. That was with Texans quarterback Davis Mills throwing him the ball. Cooks gives the Cowboys, who were bottom tier in separation (outside of Ceedee Lamb) another viable wide receiver that can get open and create separation against this opponent. Last season, the big topic of the Cowboys quarterback was that the was committing too many interceptions. Why is that? Because the Cowboys' wide receivers behind Ceedee Lamb were unable to separate. Dak for his part doesn't shy away from throwing in tight windows but when your receivers are unable to put space between their defenders it allows those defenders to either make plays on the ball or create plays where other defenders can be involved.
Here's one view of the toll these tight windows took on Dak's completion rates in must-pass situations.

Surprisingly, Dak's EPA was still good in these situations because he targeted high-payoff areas, drew penalties and ran for first downs — none of which shows up in CPOE. pic.twitter.com/pgIGGBLagS

— Cowboys Stats & Graphics (@CowboysStats) March 22, 2023
The Cowboys OL ranks 31st in PBWR

The Cowboys WRs rank last in separation

The Cowboys still have the 3rd best scoring offense and top 3rd down offense in the NFL

— Cowboys Due Diligence (@StevieJPTX) December 15, 2022
With Cooks now likely to serve as the Cowboys' number two receiver and a healthy Michael Gallup looking to be back as the wide receiver three, Cowboys quarterback Dak Prescott will look to lower that interception total (15) from the 2022 season.
While I'm not calling for Brandin Cooks to put up wide receiver one number in fantasy, Cooks could low-key be a very viable wide receiver two for fantasy managers in 2023. Over the course of Cooks career, the former Texans wide receiver averaged 15+ fantasy points in four different years and averaged 14.5 fantasy points just two seasons ago during 2021. That average in 2021 put him in company with wide receivers Ceedee Lamb and D.K. Metcalf. Now Cooks will get an upgrade at quarterback in 2023 catching passes from Dak Prescott, who averaged nearly 33 pass attempts last season, finishing 19th among quarterbacks in pass attempts with 394 total pass attempts on the season. Keep in mind that Dak Prescott missed five games due to a thumb injury. If you factor in his passing attempt average at 32.8 over those five missed games, that puts Dak at an additional 164 pass attempts bringing his total up to 558. That would put Prescott at 10th overall, sandwiching him between Aaron Rodgers (542) and Josh Allen (567).
Brandin Cooks ADP post-trade has him sitting on average as the wide receiver 20 coming off of draft boards so far. That puts him firmly in the discussion as a potential wide receiver two for fantasy heading into the 2023 season. If you're looking for what his potential target share could be here's something you can sink your teeth into. With Noah Brown departing for the Texans in free agency, his 13.4% target share should likely be absorbed by Brandin Cooks. Brown saw 73 targets last season with the Cowboys and that number could have been higher had Dak played those five missed games.
I'd expect Michael Gallup to give up a little piece of his pie as well sliding back as the WR3 for the Cowboys next season. Gallup saw 74 targets for a 13.6% target share on the season. Should both Cooks and Prescott not miss any time next season, I dare say Cooks could see just over 100 targets with the Cowboys next season. Back in 2021 when Amari Cooper and Ceedee Lamb were the top tandem, Cooper saw 103 targets (16.2% target share) with Lamb taking the lead with 120 targets, a nearly 19% target share.
Some may overlook Brandin Cooks based on his production last season with the Texans. The 699 receiving yards, just three touchdowns, and an 11.2 FFPG average aren't going to draw in the crowd. But you have to keep in mind that the Texans' offense was awful last season under Davis Mills. Mills ranked 28th in completion percentage, 16th in passing yards with a 17:15 touchdown to interception ratio, and a 31st ranked passer rating at 78.8. The Texans' offense finished 30th overall last season as well while the Cowboys, with no wide receivers behind Ceedee Lamb, finished as a top 3 offense.
Landing with the Cowboys couldn't have been better for Brandin Cooks heading into this season. Though Cooks may not be the wide receiver he was a few years ago, he's still got plenty of juice left and he's still just two seasons removed from his last thousand-yard season. If you miss out on Ceedee Lamb in your fantasy drafts, you should strongly consider Brandin Cooks as your second option at wide receiver for your fantasy team.
---

William has been playing fantasy football since 2012 and has loved every year of it. Plus, trash-talking with friends over football is great too. He's been writing over the past 3 years, contributing for RealDealFantasyHQ.com, Fantasysphinest.com, and LeagueWinners.com just last season. He also started up his own fantasy football podcast "The Fantasy's Phinest Podcast". William enjoys helping provide advice through research and when he's not doing that, he's taking care of his family and cooking in the kitchen.